Gordon Ramsay's Tuna Tartare Recipe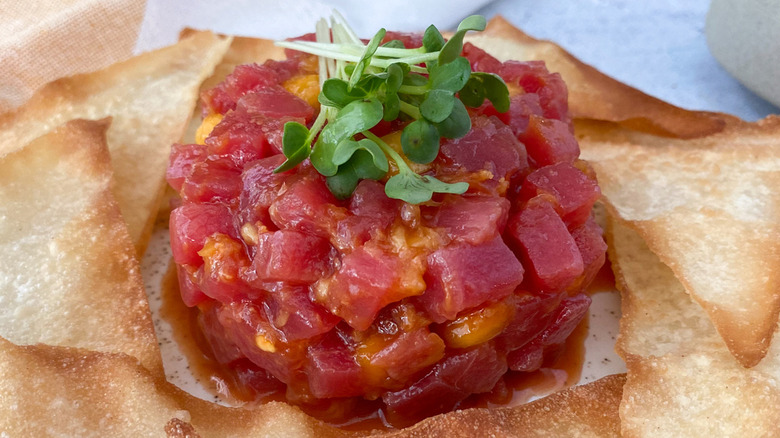 Hayley MacLean/Mashed
Gordon Ramsay is quite possibly one of the most renowned chefs around the world, a culinary powerhouse whose expertise in the kitchen has paved the way for restaurants, television shows, and books that all tap into his unrelenting taste for the delicious. For any aspiring chef, a Ramsay recipe is a great foundation to work with, not just for its taste but for the ability to experiment with a roadmap courtesy of one of the greats. "The smallest tweak can change the entire taste of a dish," Ramsay said when discussing culinary experimentation and inspiration (via WebMD).
Recipe developer Hayley MacLean knows this perfectly well and has her own twist on Ramsay's tuna tartare recipe. A unique blend of Asian flavors, tuna tartare is the creation of chef Shigefumi Tachibe, who was born in Japan and trained in France. According to The Atlantic, Tachibe created the recipe for tuna tartare in 1984 in Beverly Hills, California, while he was working at restaurant Chaya Brasserie.
With a preparation time of just 5 minutes and an even shorter cook time of 2 minutes, MacLean's twist on Ramsay's dish is as simple as it is delicious. Here's you need to get started.
Gather the ingredients for your tuna tartare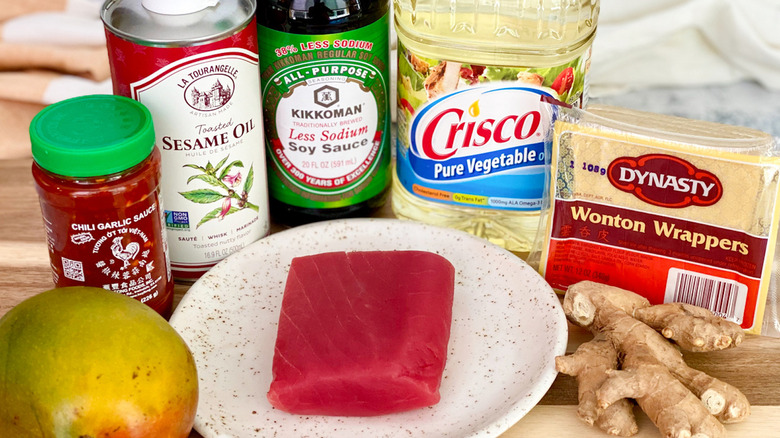 Hayley MacLean/Mashed
The centerpiece of this recipe is naturally the fresh, sushi-grade tuna. If you can't find any at your local grocery store, you might have to do a bit of searching. Just make sure you don't use anything other than sushi-grade tuna, and be sure to use a trusted supplier. SushiFAQ notes that there are no specific Food and Drug Administration requirements for the label, so it's worth it to get the best possible tuna available to you.
You'll also need some fresh mango that you've diced up, along with soy sauce, sesame oil, chili garlic sauce, freshly grated ginger, vegetable oil, and wonton wrappers, which you will need to cut in half diagonally.
Par freeze your tuna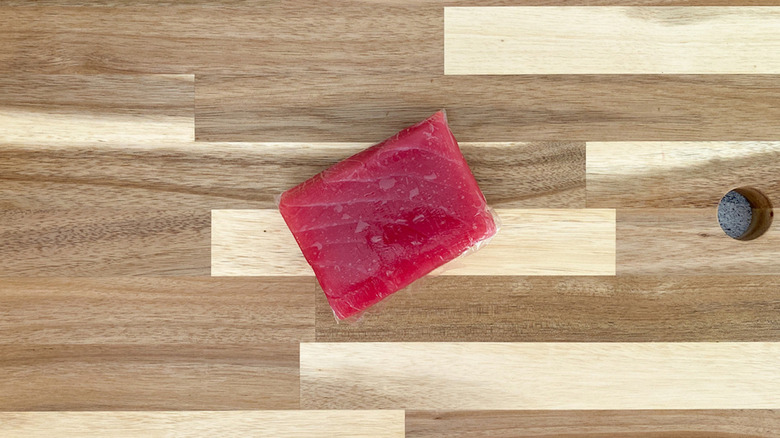 Hayley MacLean/Mashed
The first thing you need to do is wrap your tuna in plastic wrap and put it in the freezer to harden until it's par frozen. This will make it easier to cut into the small pieces necessary for this recipe. If you're having trouble determining how much time in the freezer is enough, your hands are your best friend.
"Making sure it is par frozen is very much about feel," says MacLean. "[Y]ou want it firm but not so solid it's like a block of ice! It should be easy to hold without sagging in your hand, and not have much give when pushing your fingers into it while cutting."
Prepare your sauce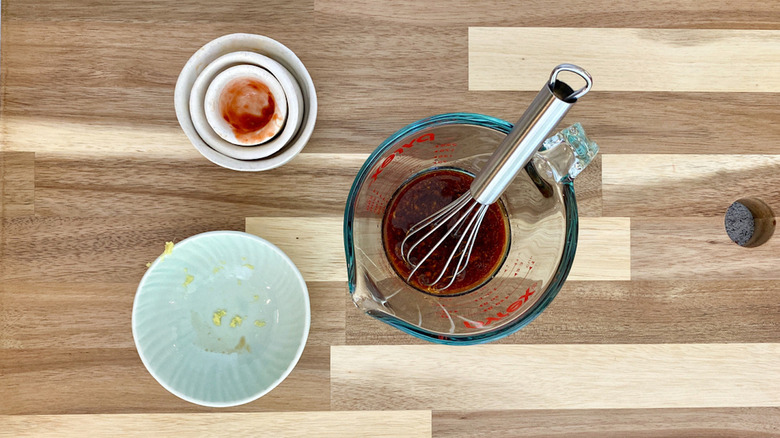 Hayley MacLean/Mashed
While your tuna is chilling out in the freezer, you can start making your sauce. Add the soy sauce, sesame oil, chili garlic sauce, and ginger together in a small bowl and mix until the ingredients form a sauce of an even consistency. This step is almost identical to Ramsay's recipe, but MacLean chose to add some ginger for a bit of an extra bright flavor that's a great contrast to the mango you'll add later.
 Once you're done mixing the sauce, set the bowl aside and get ready to flex your chopping skills.
Dice the tuna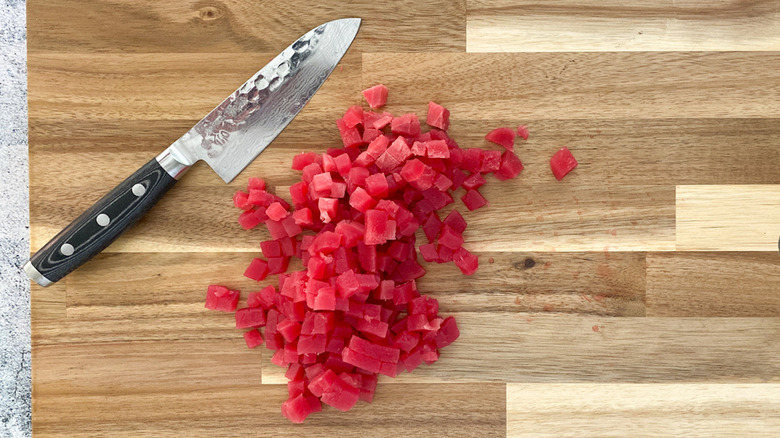 Hayley MacLean/Mashed
With the tuna par frozen, you can start dicing it into small cubes. Use a sharp knife and carefully cut your tuna into cubes approximately about ¼-inch in diameter. 
While cutting, take your time and pay attention to your knife skills. "To dice the tuna, just make sure to tuck your fingers!" MacLean says. "It cuts very easily, so being attentive to nice consistently sized cuts so it defrosts at the time is the best." If you're dicing the tuna and still feel that it's too soft, then simply toss it back into the freezer until it's firm enough to make smooth cuts through the fish. If you feel frustrated by the extra time, remember that it's all in service of a great dish. The last thing you want is to finish your recipe and find that mushy tuna ruined your dish.
Mix your tuna and sauce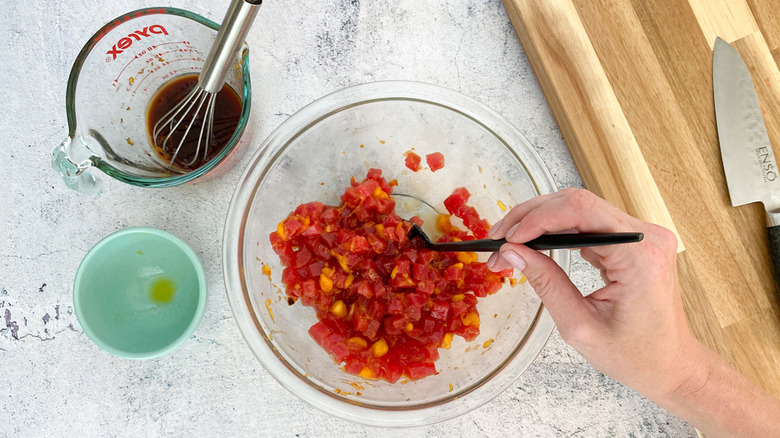 Hayley MacLean/Mashed
Next, take your tuna cubes and add them into a medium-sized mixing bowl along with the mango and prepared sauce. Mango is another one of MacLean's additions to Ramsay's recipe, and one that she feels is a crucial ingredient. "The mango adds such a fun tropical twist to this! Paired with the ginger in the sauce, it gives a sweetness and bite that is totally wonderful. The mango also gives a great soft texture throughout and really helps hold the tuna together," she says.
Gently mix all of the ingredients together until the ingredients are evenly distributed and the tune and mango are coated int the sauce. Now, put your tuna and sauce mixture in the fridge to defrost.
Once again, your (clean) hands are a good way to determine if the tuna is ready. "To make sure the tuna is fully defrosted, it should be soft and not feel like there are any ice crystals in it. Being such small cuts, it defrosts very quickly!" MacLean notes.
Fry your wonton wrapper halves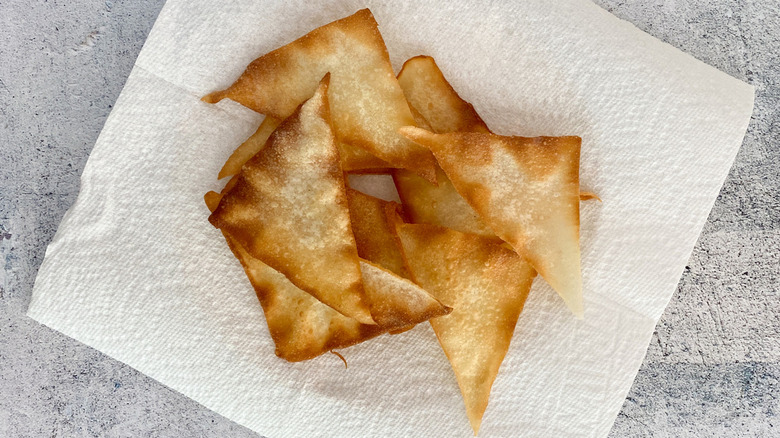 Hayley MacLean/Mashed
While the tuna is defrosting, you can take a few minutes to fry up the wonton wrapper. First, add your vegetable oil into a large, heavy-bottomed skillet and place it on medium-high heat. Leave it on the stove's burner to heat until the oil is shimmering. 
Once the oil is ready, add your wonton wrapper halves. Two at a time is ideal, to avoid overcrowding the skillet and lowering the oil temperature. Fry the wrapper pieces for about 12 to 15 seconds on each side. You'll know they're ready when they begin to brown on the edges. After they're done cooking, place them on a plate lined with paper towels and leave them to drail and cool.
Serve your tuna tartare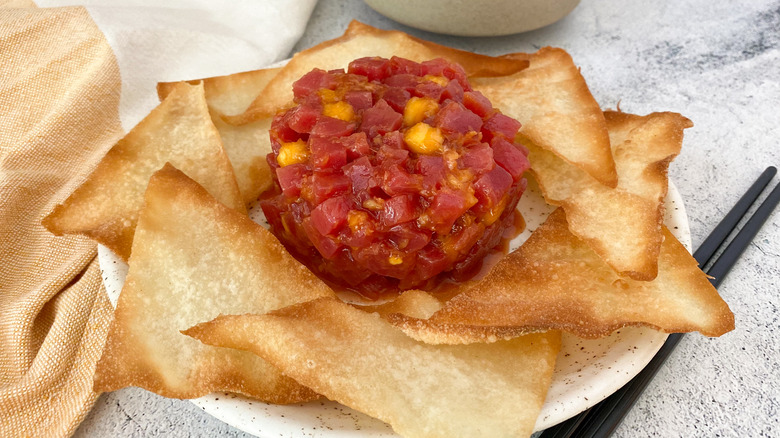 Hayley MacLean/Mashed
With everything ready to go, you can certainly dive right in and start eating your tuna tartare with the fried wontons. Of course, like any home chef, you might be thinking of how you can experiment with your food, and so MacLean has some great recommendations for ways to otherwise finish this meal. "This would be great topped with some toasted sesame seeds and thinly sliced green onions — or placed on a bed of avocado to make a tartare tower! To spice it up you could also add some Sriracha on top or into the sauce," she says.
As for meal pairings, you have a few choices at your disposal. "This is a great appetizer on its own," MacLean notes, "but to turn it into a meal it would go great with a salad with sesame ginger dressing and some fried rice. It is a super refreshing and light dish, so you don't want to pair it with anything too heavy!"
MacLean recommends eating the dish immediately so as to avoid any breakdown in the texture of the fish. Nevertheless, if you can't finish your meal, you can put it in the refrigerator for up to one day. Just make sure not to keep it for any longer or the fish will spoil.
Gordon Ramsay's Tuna Tartare Recipe
Gordon Ramsay is well known, but what about a new take on his tuna tartare? This recipe draws inspiration from Ramsay but adds in some twists along the way.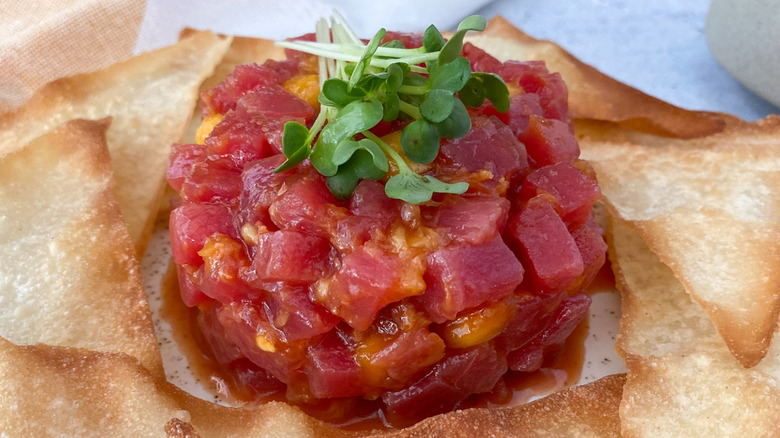 Ingredients
6 ounces fresh sushi-grade tuna
2 tablespoons soy sauce
½ tablespoon sesame oil
1 teaspoon chili garlic sauce
1 teaspoon fresh ginger, grated
¼ cup fresh mango, diced
½ cup vegetable oil
5 sheets wonton wrappers, cut in half diagonally
Optional Ingredients
Toasted sesame seeds
Sriracha
Avocado
Green onions
Directions
Wrap the tuna tightly in plastic wrap. Place it in the freezer until it's firm and easy to cut.
Mix together the soy sauce, sesame oil, chili garlic sauce, and ginger in a small bowl. Set the mixture aside.
Remove the tuna from the freezer when it's par-frozen. Remove the plastic wrap.
With a sharp knife, dice the tuna into small cubes about ¼-inch around.
Toss together the tuna, mango, and prepared sauce in a medium-sized mixing bowl. Place the mixture in the refrigerator to finish defrosting.
Heat the vegetable oil on medium-high heat in a large, heavy-bottomed skillet.
Fry the wonton wrapper halves — 2 at a time is best — for about 12 to 15 seconds on each side after the oil is shimmering. Cook them until they are just beginning to brown on the edges. Transfer the cooked wonton wrapper halves to a paper towel-lined plate.
Remove the fully defrosted tuna from the refrigerator.
Serve the tuna tartare with the fried wontons and your choice of optional toppings.
Nutrition
| | |
| --- | --- |
| Calories per Serving | 700 |
| Total Fat | 60.3 g |
| Saturated Fat | 4.4 g |
| Trans Fat | 0.4 g |
| Cholesterol | 35.0 mg |
| | |
| --- | --- |
| Total Carbohydrates | 16.1 g |
| Dietary Fiber | 0.9 g |
| Total Sugars | 2.9 g |
| Sodium | 1,032.1 mg |
| Protein | 24.3 g |