Costco Fans Are Freaking Out About This Ice Cream Party Box
Costco is celebrating National Ice Cream Month in a big way. As shared by @thecostcoconnoisseur on Instagram, the store is offering a special ice cream party box that has many people screaming for more, more, more! Although ice cream is not included (naturally it would melt), the party box does offer nearly everything needed for an overflowing ice cream bar. According to the Instagram post, the party box includes a bottle of Hershey's chocolate syrup, Joy waffle cones, six different candy/cookie/sprinkle toppings, and cups and spoons. Looking at the pictures, the candy and cookie toppings included appear to be M&M's, NERDS, Black Forest Gummy Bears, Oreo mini cookies, marshmallows, and rainbow sprinkles.
Even better, @CostcoBuys reports that this party box retails for $17.99, and given all the components inside, the price seems like a big value. Comments on both Instagram accounts have been overwhelmingly positive. From the "kids loved it" to "ice cream night social" to even "late night wedding snack," it seems that everyone is finding a use for this special summertime offering. The only question left on the table is which ice cream flavor should be served?
Choosing the ice cream flavors for this party box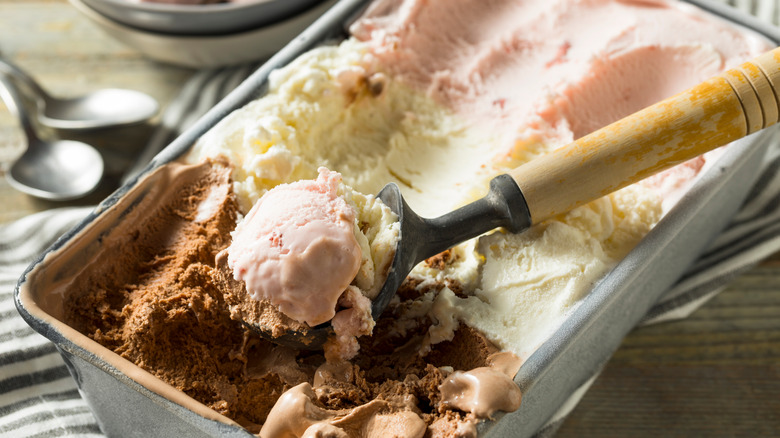 Shutterstock
While Costco fans are running to their local warehouse to purchase that ice cream party box, one additional ingredient is required: ice cream. Although everyone might have a flavor preference, a few choices always seem to top the favorite list. Newsweek got the scoop — according to the article, the top three most popular ice cream flavors are, in order, chocolate, vanilla, and strawberry. 
While kids might want some sweeter options, it seems that the classic Neapolitan flavors never go out of style and will be the perfect fit to accompany the ice cream party box, if you're using it for a social gathering and trying to appeal to a wide variety of tastes. There are 20 cups and 24 spoons inside, so the more the merrier!
Though they may seem basic, those three flavors can also be easily transformed with all the various sundae toppings inside the party box. From NERDS topping the strawberry flavor to Oreos dusting the top of vanilla, everyone will be screaming for another scoop in their waffle cone.