Healthy Guacamole With Pomegranate Seeds Recipe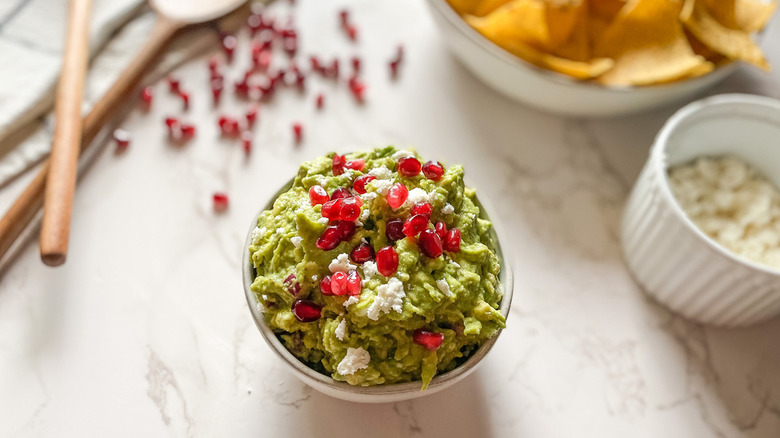 Kristen Carli/Mashed
Oh guacamole. It's gooey, it's green, and it tastes fantastic scooped up on nacho chips. Guacamole is an incredibly versatile dip in that it also can be slathered on an enchilada, globbed on a taco, or smeared across a hearty plate of nachos. Or, if you're a Mexican food nut, you probably will eat it straight off the spoon.
Made from mashed raw avocados, guacamole can be spiced up, dressed up, and fully loaded with a variety of additions. Many guacamole dips have festive ingredients such as tomatoes and onions along with lime juice, garlic, cilantro, and jalapenos, but it can also be infused with fresh yellow corn, peas or edamame, bacon bits, and pesto. Nutritionist and recipe developer Kristen Carli has whipped up an amazing guacamole recipe that uses none other than pomegranate seeds.
It may sound odd, but fruit actually can liven up a guacamole recipe. Sliced fresh strawberries, mini mandarin oranges, tropical pineapple bits, sweet peaches, and munchy mangoes give guacamole a extra sweet punch of flavor. Give Carli's recipe a try the next time you're craving a good ol' scoop of guac on a chip.
The power of guacamole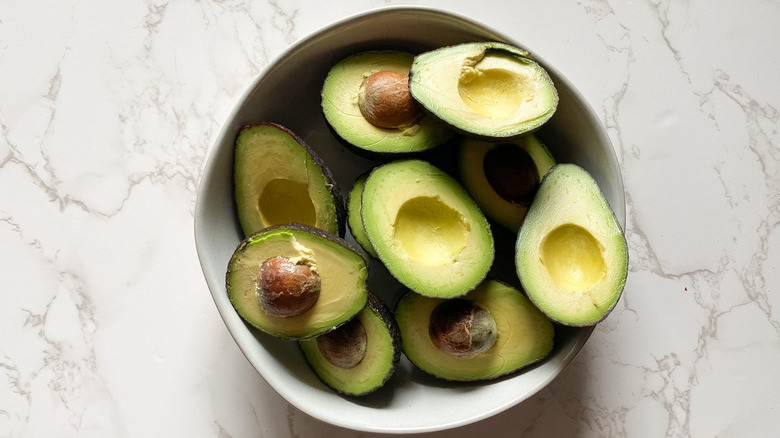 Kristen Carli/Mashed
Because guacamole is made with a super food, avocados, it offers loads of nutritional benefits besides tasting terrific. With roots dating back to the Aztecs, guacamole has proven to be packed with potassium, filled with fiber, brimming with heart healthy fats, and is believed to offer an assortment of antioxidants.
The awesome aspect of Carli's recipe is that it includes pomegranate seeds, another super food. They're also high in antioxidants and are believed to have heart healthy benefits.
"The pomegranate seeds bring a brightness and sweetness to the guacamole that is wonderful. It is common to have pomegranate seeds on guacamole at restaurants in Arizona," Carli says.
Gather up the ingredients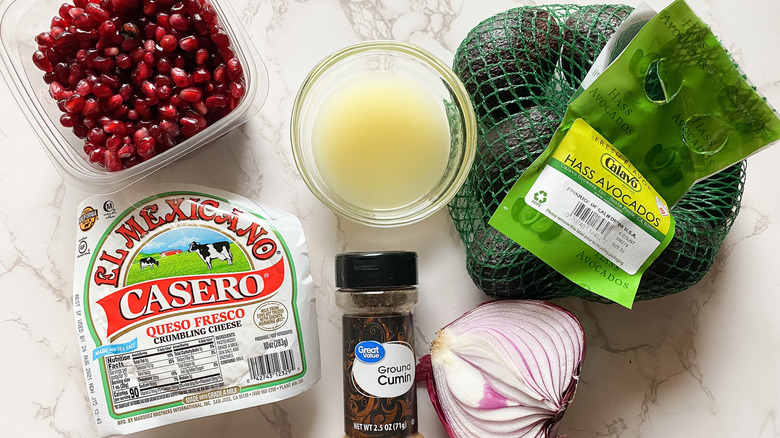 Kristen Carli/Mashed
For this fantastic tasting and wonderfully healthy recipe that takes a mere 5 minutes to prepare, you'll need eight ingredients. Select 5 small avocados, just ripe but not overly ripe, a red onion that you'll dice up, lime juice that can be either bottled or fresh squeezed (Carli uses bottled for this recipe), ground cumin, salt and pepper, queso fresco, and pomegranate seeds.
If you've never used queso fresco, you typically can find it in the dairy section at most grocery stores, Carli says. Queso fresco, which means fresh cheese, is a Mexican cheese that's considered milky and mild with a slight salty-sour tang. Cheese in guacamole? Yes please!
How to select the best avocado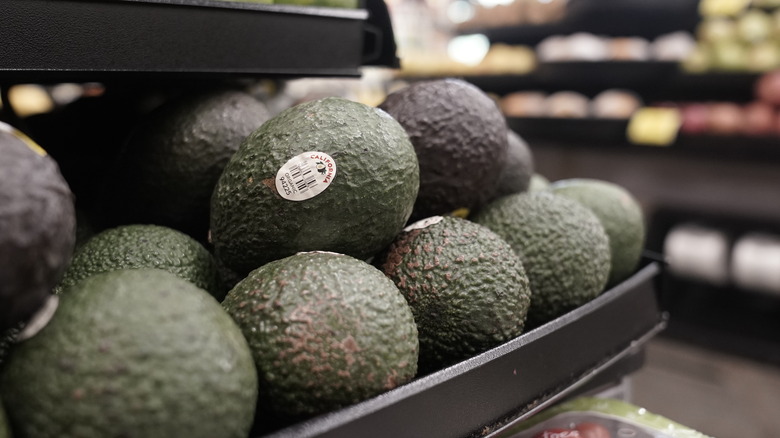 Bloomberg/Getty Images
When choosing 5 small avocados for this recipe, Carli says to make sure the avocados are just ripe, not overripe. According to Love One Today, fresh avocados don't ripen on the tree but rather after they've been picked. As they ripen, they change from their dark green color to a deep purplish hue. Don't use the color to as the only criteria when selecting the avocados though.
Avoid any fruit with indentations, as this usually is a sign of bruising. Gently squeeze the avocado with your hand — not your fingertips — and make sure it moves oh-so slightly without feeling mushy. If it doesn't yield to pressure in the slightest, it's not yet ripe.
Mash up the avocados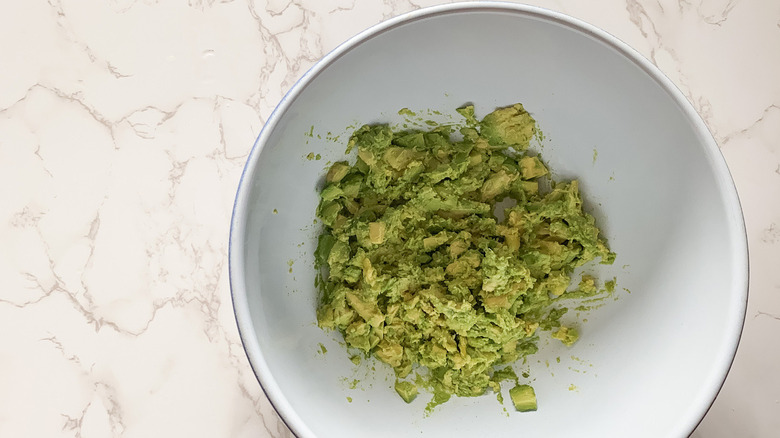 Kristen Carli/Mashed
Peel and remove the pits from your avocados. Know the easiest way to peel away that tough exterior? Wash the fruit first, then dry them off. Place each avocado lengthwise on a firm surface like a counter or cutting board and hold it firmly in one hand. Slice slowly down the center of the avocado lengthwise, moving around the large seed. Nestle the avocado in the palm of one hand and grasp ahold of the top half of the fruit then twist it, rotating the two halves and ultimately pulling them apart. Remove the seed by slipping a spoon between the seed and fruit and work it up out of the fruit. Now just grab ahold of the outer layer and pull it away from the fruit.
Place the avocado wedges in a large bowl and, using a potato masher, mash the avocados.
"If you do not have a potato masher, you can use a fork and some extra arm muscle," Carli said.
Infuse flavor with add-ins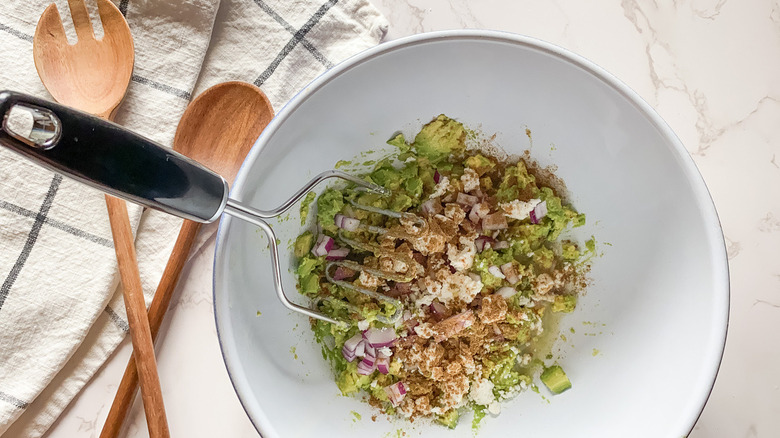 Kristen Carli/Mashed
Add in ¼ of a diced red onion (approximately 2 tablespoons). Pour in 2 tablespoons of lime juice, sprinkle in 1 teaspoon of ground cumin, add in ½ a teaspoon of salt and ¼ of a teaspoon of pepper, then stir the mixture to combine thoroughly.
"I love cumin in guacamole. It brings a little extra depth and flavor to guac," Carli says.
Scoop in ¼ of a cup of queso fresco and stir again to mix completely. "You simply crumble it. It will not melt or combine into the guacamole. You want to find the crumbles in the bites," Carli explains.
Top with pomegranate seeds and serve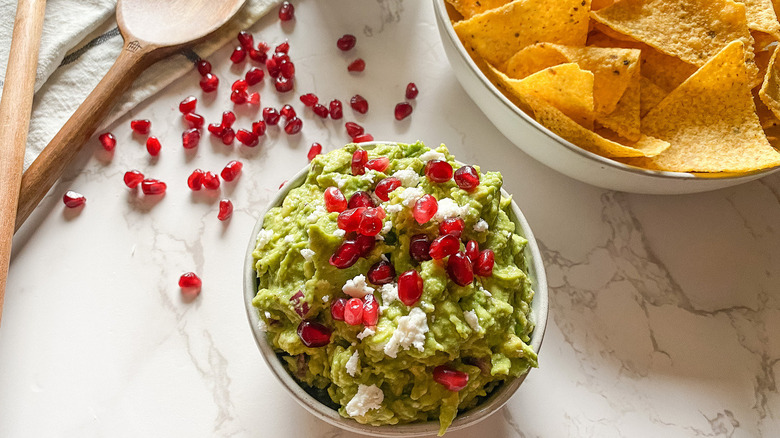 Kristen Carli/Mashed
Scoop the guacamole out of the mixing bowl and into a serving bowl. Sprinkle the dip with 2 tablespoons of pomegranate seeds and serve alongside tortilla chips. Carli doesn't have a particular brand of pomegranate seeds she gravitates toward, but for the freshest pomegranate seeds, extricate them from the actual fruit. The crunchy, juicy seeds known as arils can be obtained by making a thin slice across the bottom of the pomegranate. The blossom end should be cut off next in a shallow slice. 
Then make small vertical cuts along the outside of the pomegranate along the ridges. You should make approximately six cuts. Pry open the fruit over a bowl so that any seeds that fall out land in the bowl. Then pluck off the seeds from the peel and the membranes. Don't forget: pomegranate seeds stain.
Once you have your seeds, break out your tortilla chips and dip in!
Healthy Guacamole With Pomegranate Seeds Recipe
Looking for a refreshing and healthy spin on guacamole? Try this version with heart-healthy pomegranate seeds, sure to spice up your appetizer life!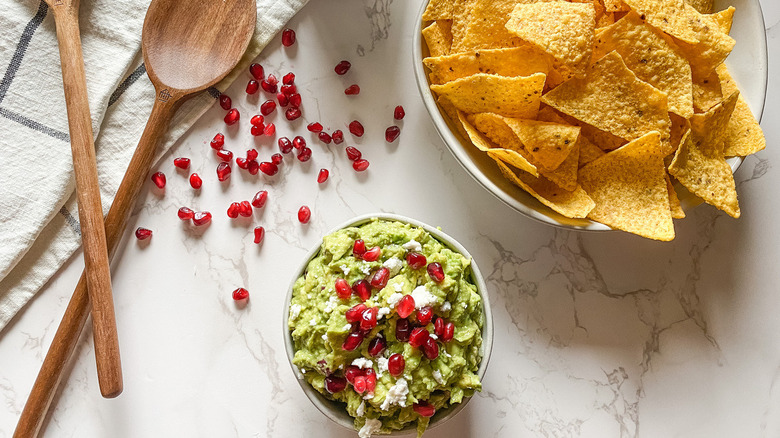 Ingredients
5 small avocados, pitted and peeled
¼ of a red onion, diced
2 tablespoons lime juice
1 teaspoon ground cumin
½ teaspoon salt
¼ teaspoon pepper
¼ cup queso fresco
2 tablespoons pomegranate seeds
tortilla chips for serving
Directions
In a large bowl, add the avocados. Using a potato masher, mash them.
Add the red onion, lime juice, cumin, salt, and pepper. Stir to combine.
Add the queso fresco. Stir to combine.
Scoop into a serving bowl.
Top with pomegranate seeds.
Serve with tortilla chips.
Nutrition
| | |
| --- | --- |
| Calories per Serving | 411 |
| Total Fat | 33.0 g |
| Saturated Fat | 5.4 g |
| Trans Fat | 0.1 g |
| Cholesterol | 5.3 mg |
| | |
| --- | --- |
| Total Carbohydrates | 29.2 g |
| Dietary Fiber | 13.8 g |
| Total Sugars | 2.8 g |
| Sodium | 409.2 mg |
| Protein | 6.5 g |