Easy Palak Paneer Recipe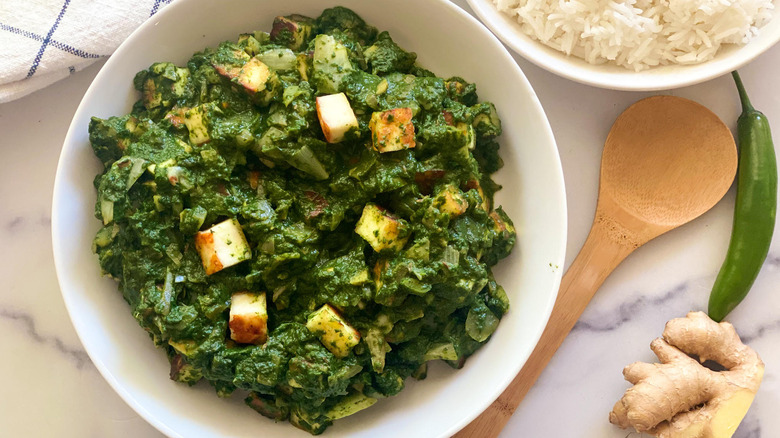 Miriam Hahn/Mashed
It's definitely fun to experiment with new recipes drawn from around the world, but it can also be intimidating when the list of ingredients is completely unknown to you. Take Indian cuisine, which is widely beloved for rich and satisfying dishes layered with complex flavors. Many traditional Indian meals require laboring in the kitchen all day long, so it's always satisfying to come across a unique recipe that can be easily and quickly made with many of the same delicious results. 
This easy palak paneer shared by recipe developer Miriam Hahn can be made in less than half an hour. Spinach and the fresh Indian cheese known as paneer are the stars of the dish, enhanced by the subtle use of spices. It's definitely packed with flavor and you'll surely want to add this delicious meal to your regular rotation after making it the first time.
It's also pretty darn healthy. Hahn remarks, "I love that this dish has so much spinach in it." This recipe is a new way to incorporate the vegetable into a dish if you're used to eating spinach salads or creamed spinach as a side and want something new. Hahn is a fan of the idea, enthusiastically noting, "I love veggie-forward meals that pack in the greens!" She also has some recommendations to make the dish entirely vegan and plant-based, though it is already vegetarian. 
Gather the ingredients for your palak paneer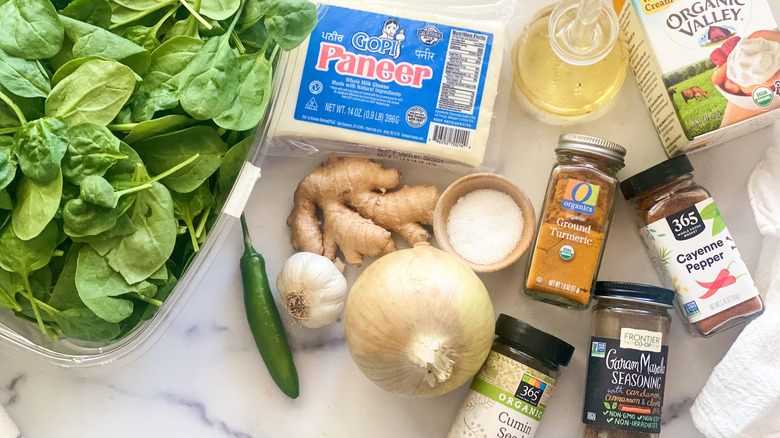 Miriam Hahn/Mashed
For starters, you'll need paneer, which makes up the bulk of the dish. Paneer is an Indian cheese made from freshly curdled milk. It has a mild taste and a slightly firm texture similar to that of tofu. It is an excellent source of vegetarian protein and, thanks to its subtle flavor, can be used in many dishes. Hahn notes that "you can substitute the paneer with extra firm tofu if you want to make it plant-based." You'll need some oil to brown the paneer in a pan and to cook the vegetables, so choose your favorite with a relatively high smoke point. 
Palak means spinach in Hindi, a pretty good indication that this dish is filled with leafy greens. Hahn opts for fresh spinach for simplicity but notes that "you could make it with frozen spinach if you let it thaw and drained all of the water out." Fresh onion, garlic, and ginger are a base in many Indian dishes thanks to the complex aromas they infuse. Add a bit of heat with a serrano pepper. Hahn recommends seeding it for a milder take, but you can keep the seeds if you're feeling brave. A few key spices do wonders to season this dish, namely cumin seeds, garam masala, turmeric, cayenne, and salt. Finally, to add some creaminess to the overall texture use heavy cream or an equal amount of coconut milk as a plant-based option.
Cube the paneer and heat it in a pan until golden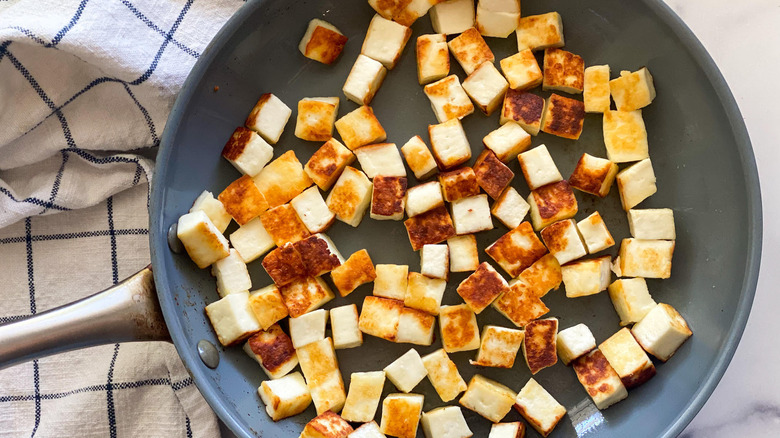 Miriam Hahn/Mashed
First of all, cut your block of paneer into ½-inch cubes. This will give you plenty of surface area to make your paneer extra golden. Turn your stove burner to medium and heat 1 tablespoon of oil in a frying pan. Add in the cubed paneer, making sure that it fits into the bottom of the pan so that all of the cubes can evenly brown. Let the cubes sit without touching them for 4 minutes. 
Then, stir the paneer with a wooden spoon or spatula and then leave them to brown for another 3 to 4 minutes. Keep cooking them for 5 minutes, continuously stirring to prevent sticking. Remove the pan from heat when the cubes are nice and golden all over and set them aside.
If you are opting for tofu to make this dish plant-based, first press out the tofu to remove excess water. Hahn suggests using a tofu press or alternatively, "placing the tofu block in a shallow bowl, then placing a plate on top with something heavy on it for 20 minutes." Once your tofu is drained, cube it and cook it following the same instructions for the paneer. Hahn notes that "You could also bake the tofu at 350 [Fahrenheit] for 30 minutes." 
Add spinach to boiling water to wilt, then blend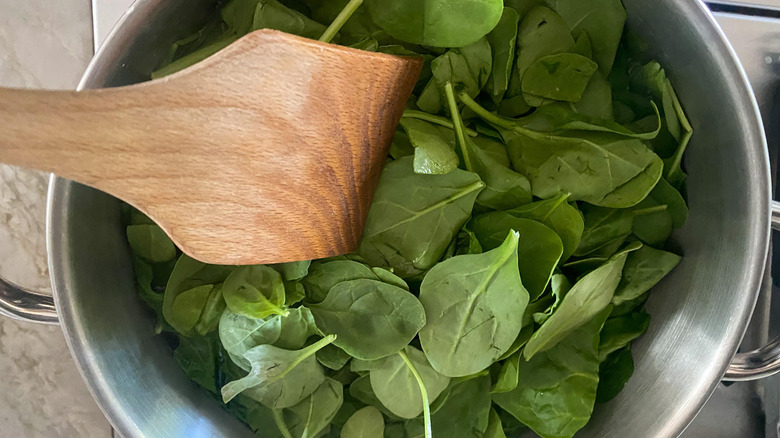 Miriam Hahn/Mashed
Meanwhile, heat a large pot of water on the stovetop and bring it to a boil. Once the water is boiling, toss in all of the fresh spinach and cook it for 1 minute until it has just wilted. Immediately drain the water — you don't want to overcook the spinach — and add the cooked greens to a food processor. Blend the spinach until it has reached a smooth, uniform consistency. 
If you are using frozen cooked spinach, to a few minutes to thaw and drain it before blending it in a food processor, just to avoid adding unnecessary water to the final mix and extending your cooking time. 
Cook the aromatics in a pan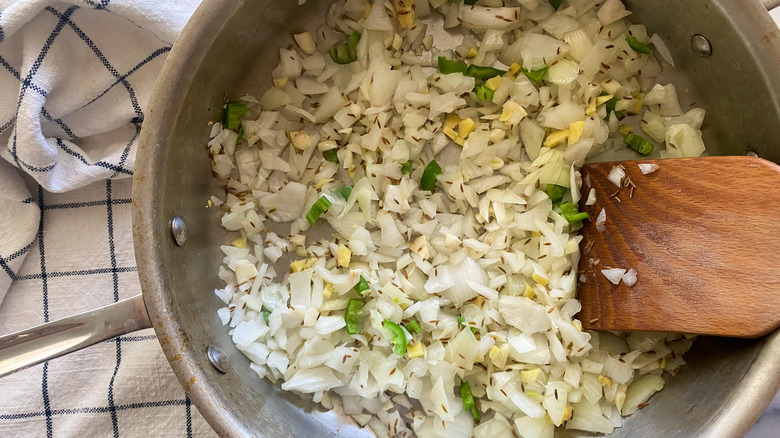 Miriam Hahn/Mashed
Heat up the rest of the oil in a frying pan and add the diced onion and serrano pepper, along with the minced garlic, ginger, and cumin seeds. Remember to leave out the seeds from the pepper if you don't want the dish to be extra spicy. 
Cook the vegetables and spices for 5 minutes in the pan as the onions start to soften and the whole mixture becomes fragrant. Frying the cumin seeds prior to adding the other spice also helps to further release the aromas.
Add more spices to the pan and stir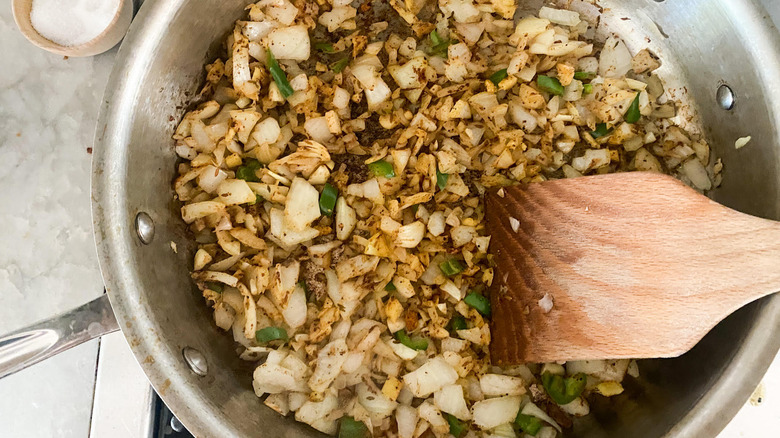 Miriam Hahn/Mashed
Next, add in the rest of the spices: the garam masala, turmeric, and cayenne. Stir, making sure that the veggies and peppers are thoroughly coated in the spice mixture. Introducing the powdered spices after the onions have had a chance to soften helps prevent any burning for the spices, which could alter the taste of the final dish in a decidedly unpleasant way. 
And why are you using these particular spices, anyway? Garam masala is a blend of numerous spices, which add complex layers of flavor. Turmeric is often used in Indian cooking. You'll often notice its presence thanks to its vibrant yellow-orange color, which will lend a distinct hue to the other ingredients in the pot. Finally, cayenne adds some fiery spice — feel free to omit it if you prefer a milder experience. 
Add the blended spinach, cream, and salt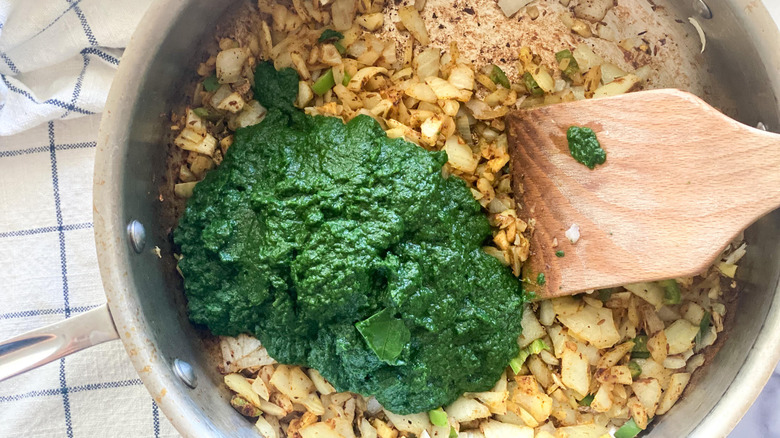 Miriam Hahn/Mashed
Now that the aromatics and spices are cooking, it's time to pour the blended spinach, heavy cream, and salt into the pan. Alternatively, swap the cream for coconut milk for a rich coconut flavor that is also vegan and dairy-free (assuming you used tofu instead of paneer as well).
Whether you choose cream or coconut milk, mix everything together another time to ensure even distribution. This means that there should be no chunks of onion, ginger, or garlic visible once you've finished stirring everything in. At this point, the dish will be a uniform bright green color.
Mix in the cooked paneer and serve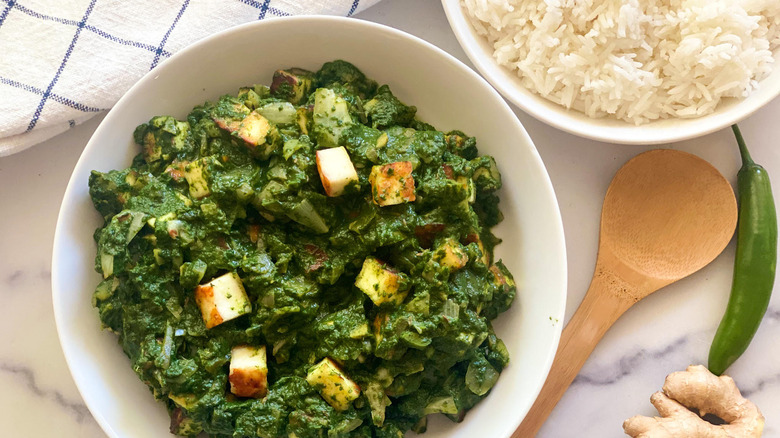 Miriam Hahn/Mashed
Finally, it's time to mix in the cubed paneer. Stir the pot well yet again to make sure that the spinach cream sauce covers everything while mixing evenly with the other ingredients. Remove the pan from heat and serve the palak paneer with rice if you want some sort of starch to soak up the sauce. Otherwise, the rich creamy sauce and chunks of paneer are sufficiently nourishing to fill you up all on their own. 
If you don't manage to finish the whole thing in one sitting, Hahn recommends storing any leftovers for "up to 3 days in the fridge in an air-tight container." However, chances are pretty good that you'll see it won't be hard to finish this delicious palak paneer well before then!
Easy Palak Paneer Recipe
This easy palak paneer can be made in less than half an hour. Spinach and paneer cheese are the stars of the dish, enhanced by the subtle use of spices.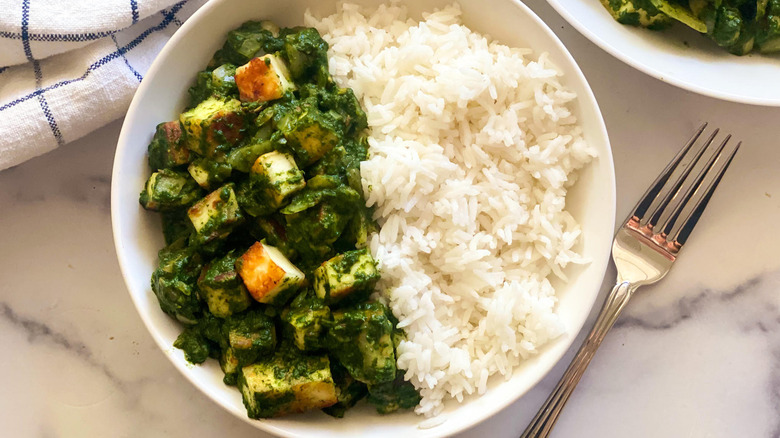 Ingredients
14 ounces paneer
2 tablespoons oil, divided
16 ounces fresh spinach
1 onion, diced
4 cloves garlic, minced
1 tablespoon ginger, minced
1 serrano pepper, seeded and diced
1 teaspoon cumin seeds
2 teaspoons garam masala
½ teaspoon turmeric
¼ teaspoon cayenne pepper
½ cup heavy cream
1 teaspoon salt
Directions
Cut the paneer into ½-inch cubes.
Heat 1 tablespoon of oil in a frying pan and add the cubed paneer. Allow the cubes to sit for 4 minutes at medium heat before stirring. Let it sit for another 3 to 4 minutes.
Cook the paneer for another 5 minutes, stirring frequently. When it is golden brown on all sides, remove it from the heat.
While the paneer is cooking, fill a large pot with water and bring it to a boil. Add the fresh spinach and cook it for a minute until it is just wilted.
Drain the water and add the spinach to a food processor. Blend it until smooth.
Heat up the remaining oil in a frying pan and add the onion, garlic, ginger, serrano pepper, and cumin seeds.
Cook the mixture for about 5 minutes, then add the garam masala, turmeric, cayenne, and stir.
Next, stir in the blended spinach, cream, and salt.
Finally, mix in the cooked paneer.
Serve the dish alone or with rice.
Nutrition
| | |
| --- | --- |
| Calories per Serving | 312 |
| Total Fat | 23.0 g |
| Saturated Fat | 9.2 g |
| Trans Fat | 0.0 g |
| Cholesterol | 57.6 mg |
| | |
| --- | --- |
| Total Carbohydrates | 13.8 g |
| Dietary Fiber | 3.6 g |
| Total Sugars | 5.4 g |
| Sodium | 671.2 mg |
| Protein | 15.7 g |