Classic Lemon Madeleines Recipe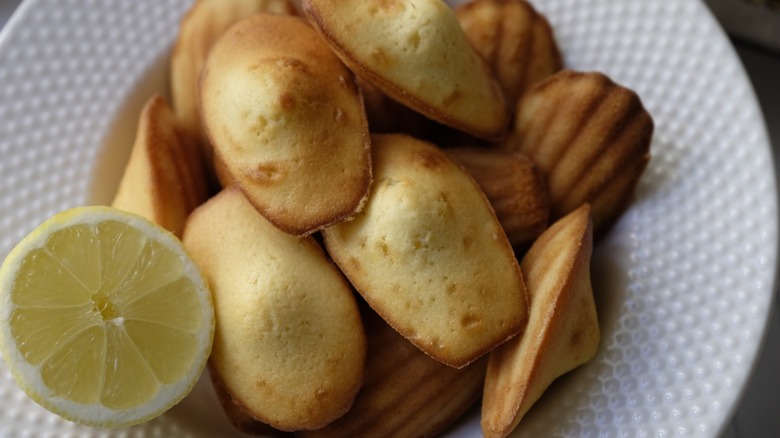 Eric Ngo/Mashed
If there's one famous cookie that has cemented its place in literary history, it would be the madeleine. This classic cookie triggered a memory that launched Marcel Proust's seven-volume opus "A la Recherche du Temps Perdu," better known to the English-speaking world as "Remembrance of Things Past." Proust described the cookie as "one of those short, plump little cakes called Petites Madeleines, which look as though they had been moulded in the fluted scallop of a pilgrim's shell" (via Reading Proust).
Whether or not you're big a fan of epic French literature, you're sure to find recipe developer Eric Ngo's lemon madeleines to be memorable indeed. Ngo says madeleines are his go-to recipe for afternoon entertaining, and he describes them as "quick to make and bake, and amazingly delicious when they're fresh." As he tells us, "Once I had tasted freshly baked madeleines, I haven't purchased store-bought madeleines ever since!"
Assemble the ingredients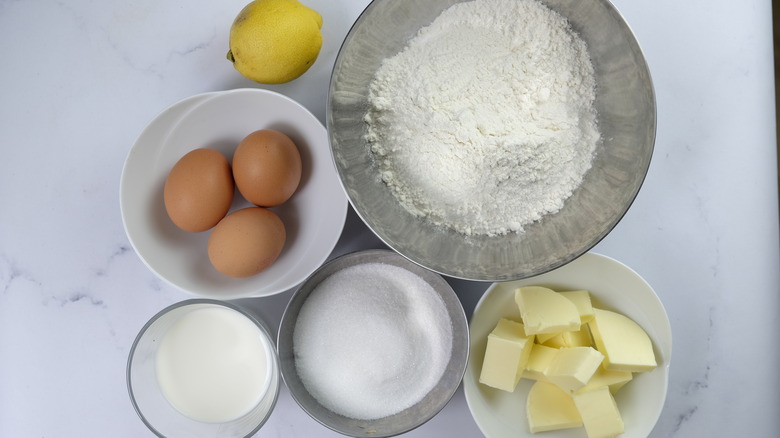 Eric Ngo/Mashed
Even though these madeleines are a classic example of French pastry, you won't need any special ingredients to make them. All you're really going to need is eggs (standard-sized large ones), sugar (the plain granulated stuff), milk, all-purpose flour, baking powder, unsalted butter, and a lemon. That's it! Actually, you won't even be using the entire lemon, either — just its zest. The rest of the fruit can be saved for a later, zest-free use — perhaps a citron pressé.
Prepare the batter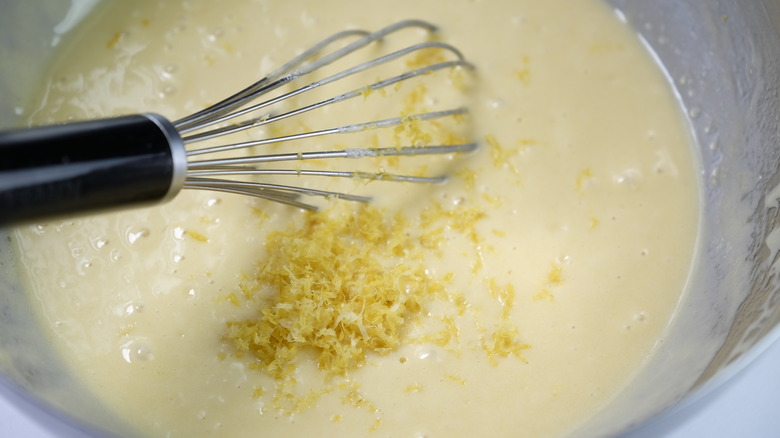 Eric Ngo/Mashed
Begin making the madeleines by melting the butter in a small, microwave-safe bowl, then setting it aside. Next, whisk the sugar together with the eggs for four minutes, at which point the mixture should be a pale color. Add the milk to the eggs and stir, gently, for 30 seconds. Add the flour and the baking powder, stirring these in for two minutes until you have a smooth batter. Finish by stirring in the melted butter and the lemon zest.
Now comes the really, really important part: Cover the bowl of batter with plastic wrap, and stick it in the fridge for at least two hours. Ngo says that resting the batter is the secret to getting the madeleines' shape to come out just right. As he tells us, "Madeleines should have a high bump! If they don't, it usually means the batter was baked right away without proper resting time in the refrigerator."
Fill the madeleine molds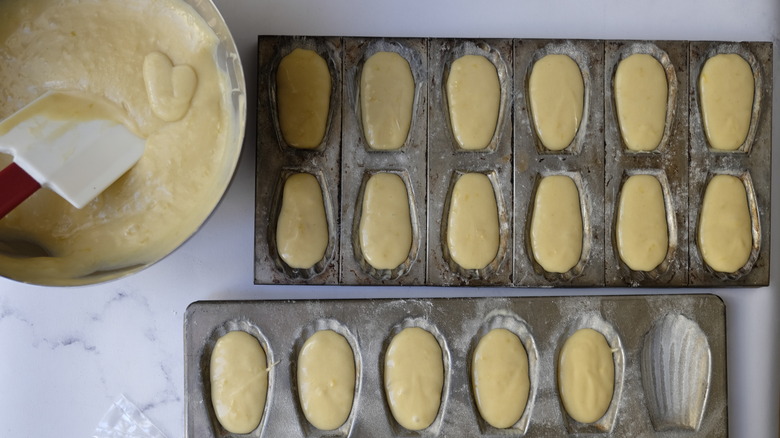 Eric Ngo/Mashed
As your madeleine batter is chilling, you can butter the madeleine molds and lightly dust them with flour, which Ngo says will prevent the madeleines from sticking to the molds when baked. Once the two hours of resting time is almost up, you can go ahead and preheat the oven. Bake the madeleines at 425 or 430 degrees, depending on what your oven allows.
Fill a piping bag or a Ziploc with the madeleine batter, and pipe it into each madeleine mold, filling them just three-quarters of the way in order to prevent overflow. If you don't have madeleine molds, Ngo says you could always bake them in a mini muffin pan. In such a case, he says, "They would look like regular cupcakes or cake" rather than having that distinctive scallop shell shape, but they would still be delicious.
Bake the madeleines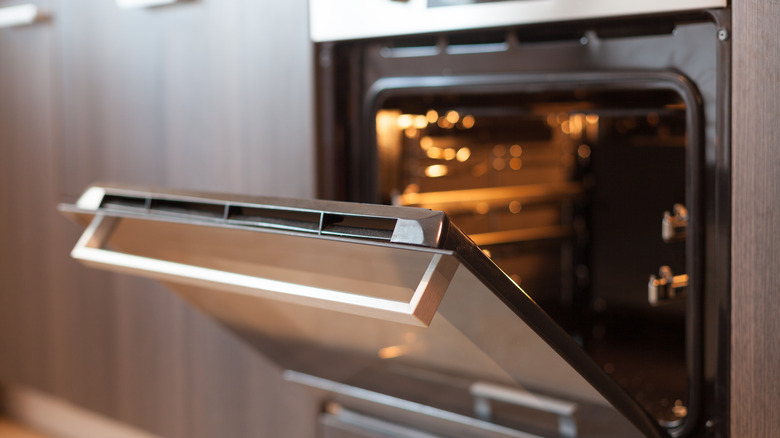 Shutterstock
Once the oven is hot and the madeleines are in their molds, place the molds in the oven and bake the cookies for three to four minutes. At this point, lower the oven temperature to 350 degrees and bake them for another four to five minutes. Ngo describes what the madeleines should look like at this point: "The edges should be a light brown color and the middle still a pale yellow color."
They should also, of course, have that "signature madeleine bump," as Ngo calls it. In order to achieve this, you not only need to rest the batter, as previously mentioned, but he says, "It is important to have the cold batter go into a super hot oven so that a temperature shock will occur." This temperature shock is what causes the madeleines to rise and form that bump.
Serve the madeleines warm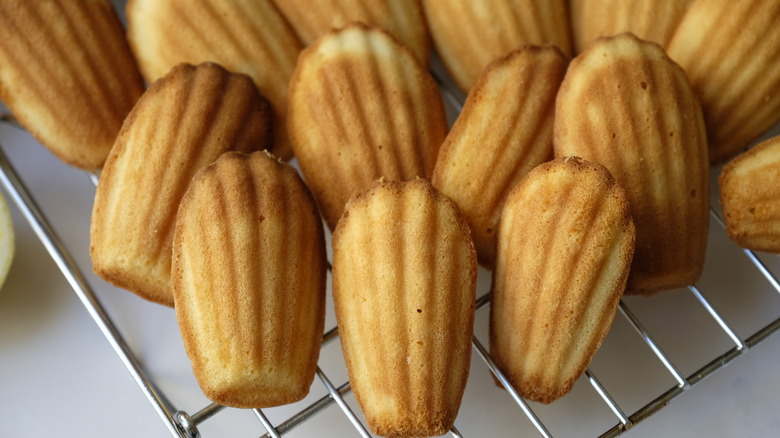 Eric Ngo/Mashed
As soon as the madeleines are done, take them out of the oven and use a small knife to pry each one out of its mold, inserting the knife down the side of the mold. Let the madeleines cool for just five minutes, then serve them warm. While you could eat them cold, Ngo says warm is by far the best way to go. "I don't think you've truly appreciated madeleines until you've had one freshly baked in front of you," he tells us, and goes on to explain, "They will have a special crispy edge that you won't find in the supermarket versions."
If you don't finish all of the madeleines when they are fresh out of the oven, congratulations — you do have a little restraint! Sadly, this is one instance where willpower doesn't necessarily pay dividends. While you can store the cookies in an airtight container, Ngo warns that they will really only last for about two more days, and they will likely lose their delicious, crispy edges.
Try a different version of these madeleines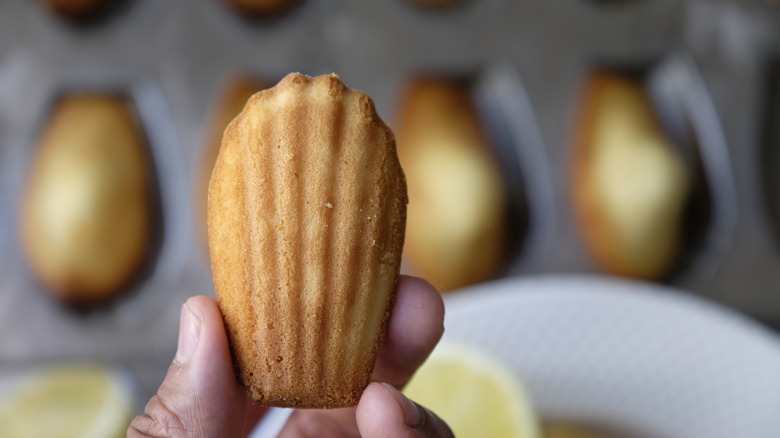 Eric Ngo/Mashed
These lemon-flavored madeleines are actually only the second-most popular variety of this classic cookie. Ngo explains that the typical madeleine is "usually 'natural' or vanilla-flavored," instead, but he explains that you can easily make such a version by substituting a teaspoon of vanilla extract for the lemon zest in this recipe. He also says you could tweak this recipe to make orange madeleines by using the zest of that fruit, or, if you want chocolate madeleines, you could leave out the lemon zest and add a tablespoon of cocoa powder to the batter. For some extra-chocolatey indulgence, you could even sprinkle these cookies with some mini chocolate chips before you bake them.
Classic Lemon Madeleines Recipe
These madeleines are a go-to recipe for afternoon entertaining. Even better, they're super simple to make and everyone in the family will love them.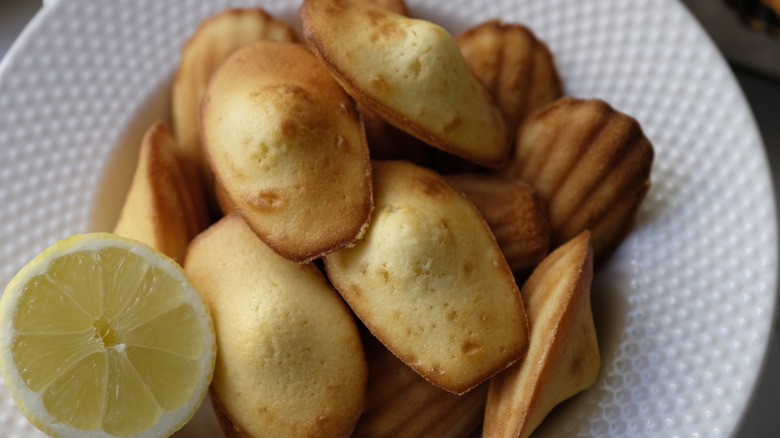 Ingredients
½ cup (1 stick) of unsalted butter
¾ cups of sugar
3 eggs
½ cup of milk
2 cups of all-purpose flour
2 teaspoons of baking powder
Zest from 1 lemon
Directions
Melt butter in a small bowl in the microwave and set aside.
In a large bowl, whisk sugar and eggs for 4 minutes or until the mixture becomes pale in color.
Add milk and gently stir for 30 seconds.
Add flour and baking powder and stir for 2 minutes or until smooth.
Add melted butter and stir until smooth. Finish by stirring in lemon zest.
Cover batter with plastic wrap and let it rest in the refrigerator for 2 hours.
Butter madeleine molds and lightly dust with flour.
Preheat oven to 430 degrees Fahrenheit.
Once the batter is cold, fill piping or Ziploc bag with batter and carefully pipe into the madeleine molds. They should only be filled ¾ of the way to prevent them from overflowing.
Bake madeleines for 3 to 4 minutes, then lower oven to 350 degrees for another 4 to 5 minutes The edges should be a light brown color, and the middle should be pale yellow.
Take the madeleines out of the oven and use a small knife inserted on the side of each mold to gently remove each one.
Cool the madeleines for 5 minutes before serving.
Nutrition
| | |
| --- | --- |
| Calories per Serving | 54 |
| Total Fat | 2.3 g |
| Saturated Fat | 1.4 g |
| Trans Fat | 0.1 g |
| Cholesterol | 15.3 mg |
| | |
| --- | --- |
| Total Carbohydrates | 7.4 g |
| Dietary Fiber | 0.2 g |
| Total Sugars | 3.3 g |
| Sodium | 20.5 mg |
| Protein | 1.0 g |