Burger King Fans Won't Want To Miss This Bacon King Deal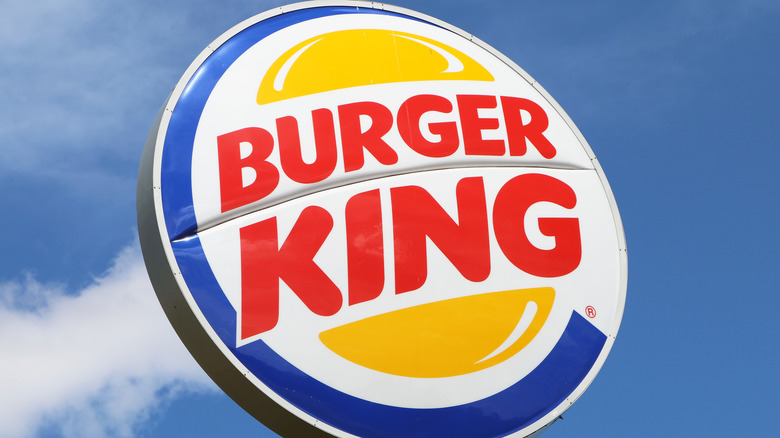 Shutterstock
You may be familiar with Burger King's Bacon King sandwich, a monstrously meaty amalgamation of two quarter-pound beef patties, thick-cut smoked bacon, and the works inside of a sesame seed bun that packs two meals into one. For those that want the flavors of a Bacon King in a slightly smaller package, the burger chain has released the Single Bacon King, which has one patty, three half slices of bacon, American cheese, ketchup, and mayonnaise (via Chew Boom).
To celebrate the arrival of the new sandwich, Burger King is adding the Single Bacon King to both its two for $10 Meal Deal and Buy One, Get One for $1 menu promotions for a limited time. The first deal gets you two entrees, two small fries, and two small drinks for $10, while the second lets you purchase one select menu item at its normal price and a second (of equal or lesser value) for $1. 
How customers are rating the Single Bacon King
If you're curious about the new Single Bacon King, YouTube fast food reviewer Peep This Out! has a detailed look at the new sandwich. The first thing you'll notice about the burger is that despite the description's inclusion of "half slices" of bacon, amply sized pieces of crispy pork are criss-crossed on the patty for bacon in every bite. As for the beef, the reviewer calls it "pretty sizable" and "substantial" even without the extra Whopper patty.
The outlet calls the Single Bacon King a "nice alternative" to the original for those that aren't quite hungry enough for the double-beefed Bacon King. "It's the classic BK flavors with the seasoning, the same type of flame-grilled taste, but just on a smaller scale," they said, adding that the sandwich lives up to its "King" name with plenty of bacon. Their final rating of the new meal was an impressive eight out of 10.