Space Jam Fans Won't Want To Miss McDonald's New Happy Meal Toys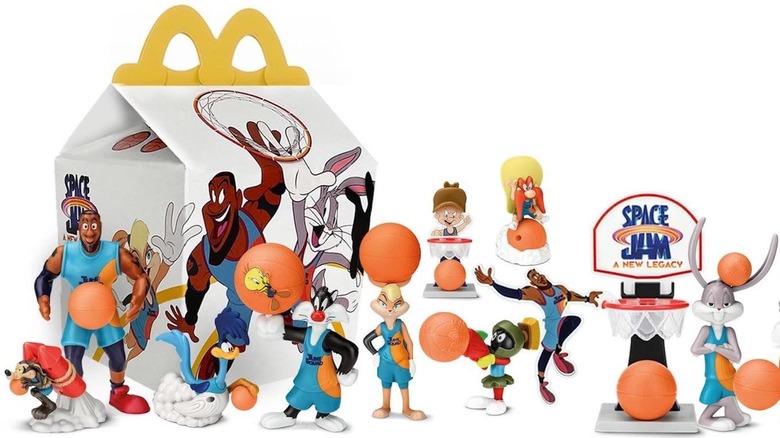 McDonald's
Space Jam fans just got served an alley-oop: McDonald's has launched their "Space Jam: A New Legacy" Happy Meal toys, available for a limited time at participating locations, as reported by QSR Magazine. The whole Tune Squad is represented in the new Happy Meal collection (even King James) and was released on July 6. 
Fans of the two brands are also advised that McDonald's is extending the availability of its Space Jam-themed merchandise, which was released a few weeks ago in collaboration with Diamond Supply Co., as they announced on Instagram. The much-in-demand clothing and gear includes colorful jerseys and shorts, emblazoned with Looney Tunes characters and the Mickey-D's logo. Availability of the merchandise ended in early July, but the remaining stock will be given away for free via raffle, McDonald's announced. Between now and July 12, customers can enter the raffle by adding a Happy Meal to any purchase made on the McDonald's app (or on McDelivery, where the offer is valid through July 15.) And if your number isn't picked, you'll at least get a collectible out of the deal.
Space Jam and McDonald's have a merchandising legacy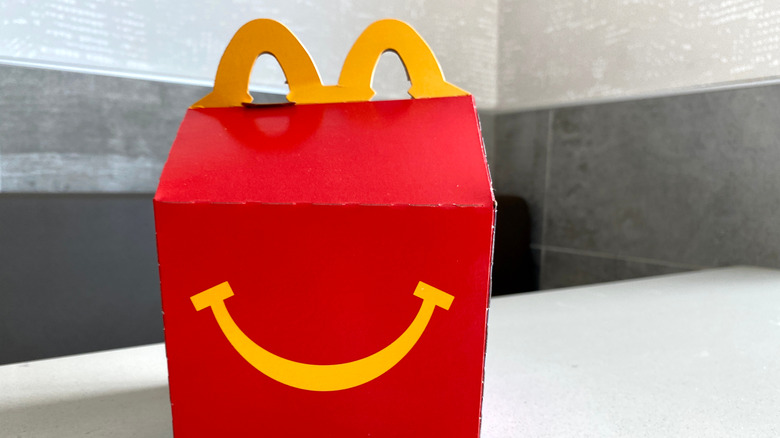 Shutterstock
McDonald's first partnered with the Tune Squad over 20 years ago, in 1996, releasing a line of Looney Tunes-themed figurines in time for the first "Space Jam" movie. If sales of the 2021 product tie-in do even half as well as they did in 1996, Mickey D's and Warner Bros are in for a big payday. An industry insider disclosed to the Chicago Tribune that merchandising from the "Space Jam" franchise had generated somewhere between $4 and 6 billion in revenue, globally. Happy Meals wouldn't have accounted for all of that sum, with "Space Jam" licensing in 1996 including almost 80 unique products. But with its new line of Diamond Supply Co. gear, clearly marketed to adults — and concurrent promotion of its mobile app — McDonald's looks poised to get the most out of its partnership with the Warner Bros. brand.
The "Space Jam" movie itself is due for a July 16th release. It's been a long and winding road for the sequel to the cult classic: The idea was being kicked around as early as 2014, when Lebron James was announced as a candidate for the lead role (via Deadline). Four years later, with Lebron successfully onboarded, the film's director Justin Lin abandoned the project, as reported by The Wrap. Thankfully, Warner Bros. secured Terence Nance to finish the job, and now, in 2021, "Space Jam: A New Legacy" has finally arrived. Let's hope it lives up to the hype generated by merchandise.