Easy Baked Haddock Recipe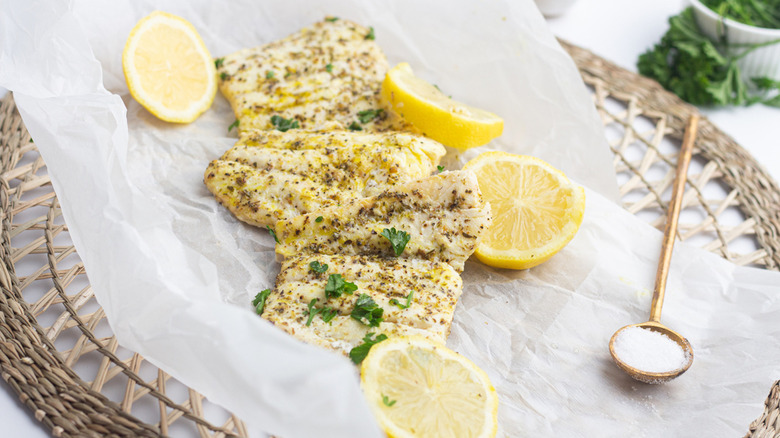 Susan Olayinka/Mashed
Who doesn't love a simple dinner that comes together in just 20 minutes and is made with a handful of basic ingredients you probably already have on hand? This easy baked haddock recipe is a perfect example that shows that you really don't need a complicated recipe with exotic ingredients in order to prepare a delicious meal for the family. Recipe developer Susan Olayinka of The Flexible Fridge is a passionate cook who is always eager to share stress-free recipes that don't skimp on the flavor. This baked haddock is no exception and a favorite in Olayinka's home. "We are big fish [lovers] in our house — especially baked fish," she says.
This will surely become a popular meal in your home, thanks to the scrumptious combination of lemon, butter, and garlic in the marinade. Olayinka adds a few extra touches to obtain the best kind of flavor, and she also has some suggestions if you want to use this recipe as a base for other variations. "A great substitution would be a Mexican theme, having spices like cumin, garlic powder, onion powder, paprika, etc.!" Whatever you opt for, the core recipe is straightforward and easy to whip up during a busy week. You'll certainly enjoy having this one in your repertoire, so let's get into the details.
Gather the ingredients to prepare this easy baked haddock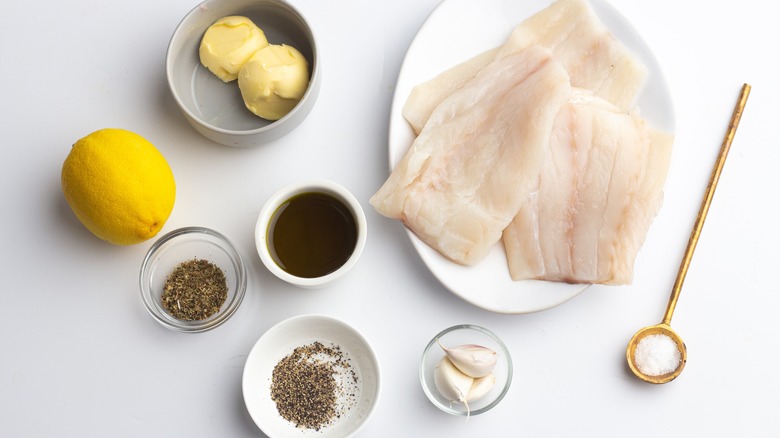 Susan Olayinka/Mashed
First things first: You'll want to gather the ingredients to prepare this easy baked haddock. Most of the ingredients will be used to make a marinade to cook the fish. To start, you'll need some butter to add plenty of rich creamy flavor. Next, a good dose of fresh garlic is great for building up flavor without using a bunch of extra ingredients. Lemon is such a great pairing with fish, and the juice blends perfectly into the marinade with the butter. A sprinkling of dried oregano is subtle, yet infuses just the right amount of herbal notes into the marinade. Never underestimate the use of a bit of salt and black pepper to season a dish — especially for a protein like fish. Finally, add some extra-virgin olive oil to the marinade to provide more liquid for the fish to cook in.
Now that you have all the ingredients for the marinade, you just need some simple haddock fillets. Haddock is a white fish similar to cod, with a firm texture that flakes up nicely once it's cooked. The taste is quite subtle which makes it the perfect base for a delicious marinade. As Olayinka remarks, "Haddock is such a mild fish, which makes it very easy to season." Finally, you will garnish the fish with some chopped parsley for a fresh green touch.
Melt the butter, and chop the garlic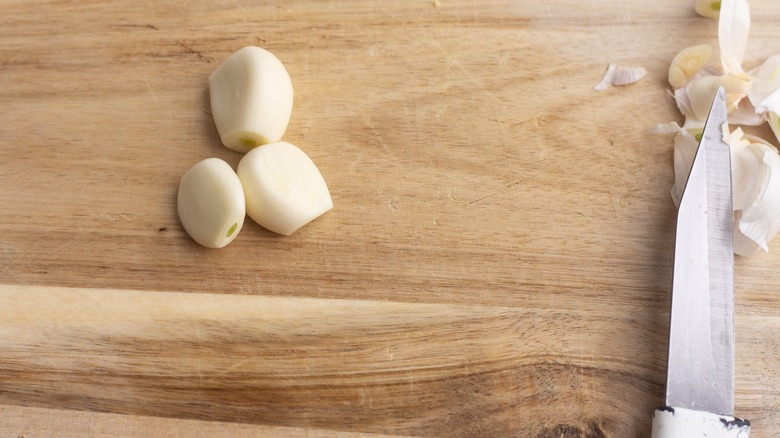 Susan Olayinka/Mashed
To begin, get your oven ready by preheating it to 350 F. Next, put the butter in a microwave-safe bowl, and heat it in short intervals until it melts completely and becomes liquid. Set out your cutting board, and mince the garlic into small pieces so that they blend smoothly into the marinade and cook properly in the oven. Once the garlic and the butter are prepped, it's time to whip up the marinade.
Mix the melted butter, lemon, dried oregano, salt, pepper, garlic, and extra-virgin olive oil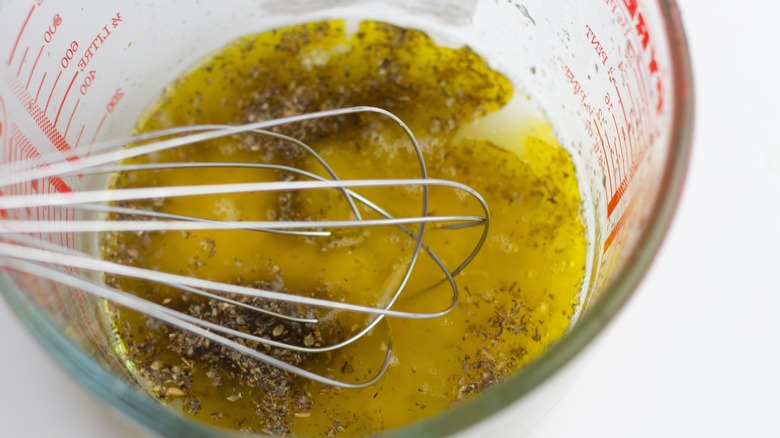 Susan Olayinka/Mashed
In a small bowl or measuring cup, add the melted butter, the juice from one lemon, the dried oregano, salt, pepper, and extra-virgin olive oil. Using a whisk or a fork, mix everything together thoroughly until all of the ingredients are properly combined. The marinade should be uniform without separating so that the fish can absorb all of the components. If the consistency isn't smooth, give it an extra whisk. 
Place the fish in a casserole dish, and pour the marinade on top to coat it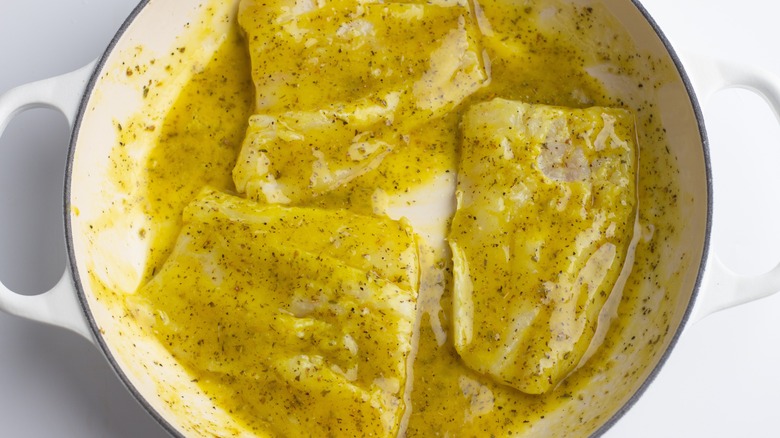 Susan Olayinka/Mashed
Place the fish in an oven-safe casserole dish, and pour the marinade on top of it to cover the entire surface. Using tongs, flip the pieces of fish to completely coat them with the tasty marinade. This will help the fish cook evenly and soak up all of the delicious flavors from the sauce. Once the fish is well marinated, it's ready to bake.
Bake the fish for 15 minutes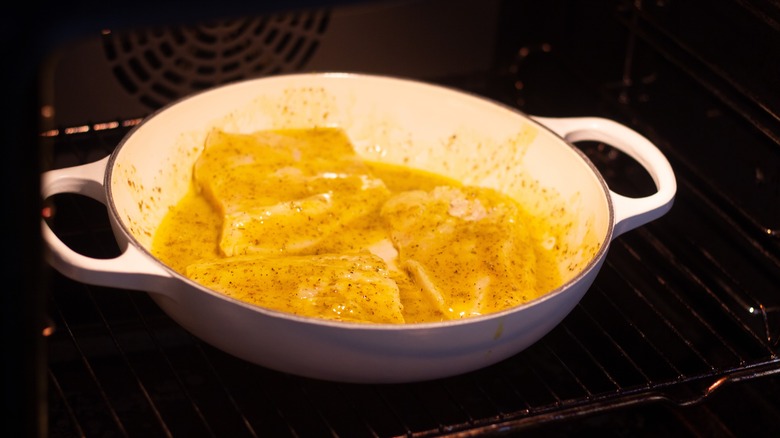 Susan Olayinka/Mashed
Get excited, because you are one step closer to enjoying this delicious recipe. Check that your oven has reached 350 F before placing the casserole dish on the oven rack. Bake the fish for 15 minutes, until "it is less opaque and more white," according to Olayinka. You can also poke it with a fork to see if the fish flakes easily. 
Once it is ready, remove the fish from the oven immediately to avoid overcooking and drying it out. Pull out a nice platter so you can get ready to make a nice presentation in the next step.
Garnish with parsley, and serve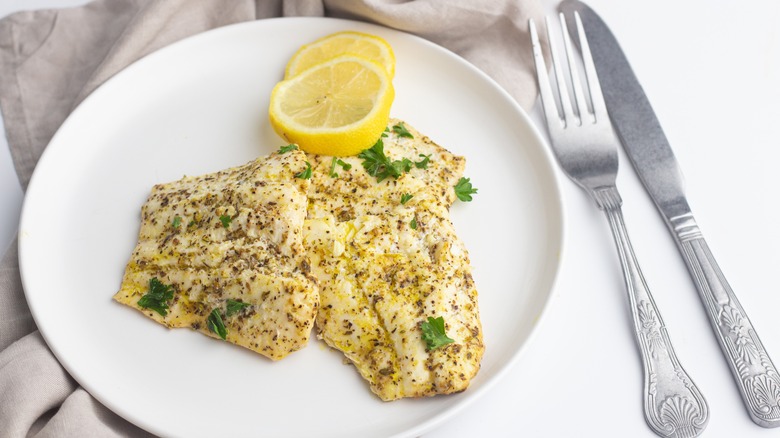 Susan Olayinka/Mashed
Chop up some fresh parsley, and sprinkle it on top of the haddock for garnish if you want a touch of green. You can place the fish on one large serving platter in the middle of your table or buffet, or you can plate each serving individually for your family or guests.
And there you have it — a delicious fish dish ready in just about no time at all! You can serve the fish alone for a light meal or with a side to make it more filling. Olayinka notes, "Roasted potatoes make a great side," and we don't doubt it for one second. Alternatively, you could serve this baked haddock with mashed potatoes, cilantro lime rice, a freshly tossed green salad, or steamed vegetables to keep the dish light and simple. 
Fish is best eaten the same day, as it can't be stored for more than a few days and tends to dry out when it is reheated. For best results, cook a portion you will be able to finish quickly!
Easy Baked Haddock Recipe
Who doesn't love a simple dinner that's ready in 20 minutes and made with basic ingredients you likely have on hand? This baked haddock recipe fits the bill.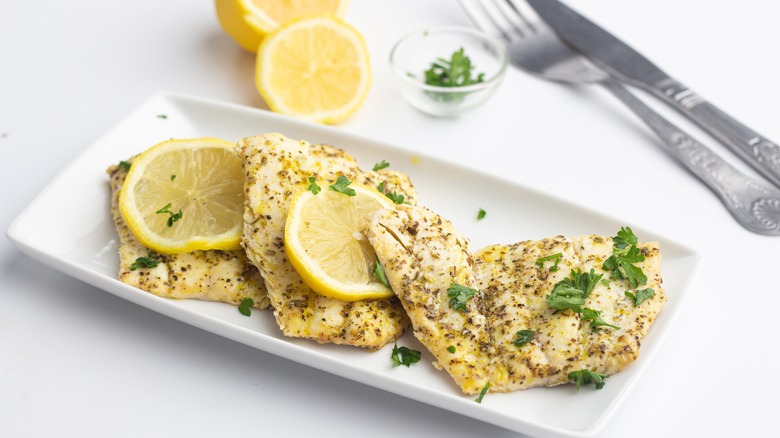 Ingredients
2 tablespoons butter
1 lemon
1 teaspoon dried oregano
¼ teaspoon salt
¼ teaspoon black pepper
3 cloves of garlic, minced
3 tablespoons extra-virgin olive oil
3 haddock fillets
Optional Ingredients
chopped parsley, for garnish
Directions
Preheat the oven to 350 F.
Melt the butter in the microwave until it becomes completely liquid.
Mince the garlic into small pieces.
In a small bowl, mix together the melted butter, the juice of 1 lemon, dried oregano, salt, pepper, minced garlic, and extra-virgin olive oil.
Add the fish to a casserole dish. Pour the marinade on top, and use tongs to coat the fish.
Bake the fish for 15 minutes in the preheated oven.
After 15 minutes, immediately remove the casserole dish from the oven.
Sprinkle on some chopped parsley as an optional garnish, and serve.
Nutrition
| | |
| --- | --- |
| Calories per Serving | 341 |
| Total Fat | 22.1 g |
| Saturated Fat | 6.9 g |
| Trans Fat | 0.3 g |
| Cholesterol | 124.6 mg |
| | |
| --- | --- |
| Total Carbohydrates | 3.2 g |
| Dietary Fiber | 0.8 g |
| Total Sugars | 0.5 g |
| Sodium | 555.5 mg |
| Protein | 32.0 g |