Moist Cranberry Bread Recipe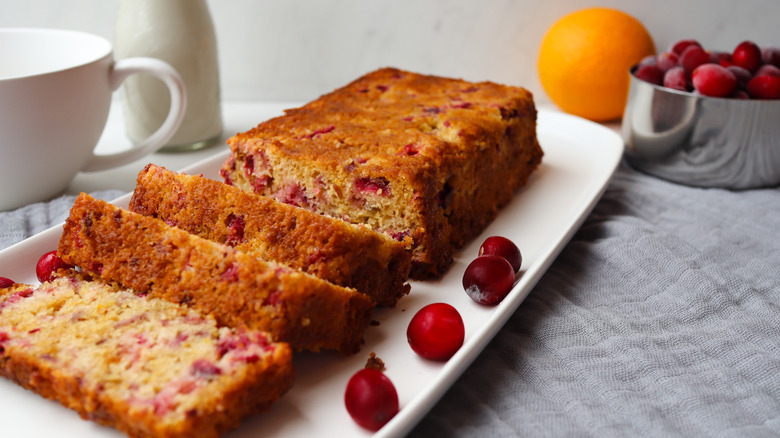 Courtney Moeslein/Mashed
It's true: Cranberry and orange is the perfect flavor combination when it comes to fall cuisine. Fortunately, this classic cranberry bread is delicious enough to be eaten all year round. As a simple, elegant, and adaptable treat, feel free to eat it in slices for breakfast or as an afternoon snack.
Blogger and recipe developer Courtney Moeslein of The Southern Spoonful loves making this cranberry bread because of the homey, fruity aroma it brings to her home. "I enjoy this recipe because it is a perfect blend with the cranberries and orange juice," she says. "The bread comes out moist and fills the house with the smell of fall." Yum!
Moeslein also notes that the best time to eat her sweet snack is as soon as it's done. "I enjoy eating [this] bread right out of the oven," she says — so be sure to dig in while it's nice and fresh! With a pat of butter on each slice, this flavor-packed bread is sure to win over any guest or family member. And if you're looking for an extra kick of sugar, feel free to whip up a simple orange glaze of confectioner's sugar and 1 to 2 tablespoons of orange juice, which you can drizzle on top. Sounds pretty delicious, right?
Gather the ingredients to prepare this moist cranberry bread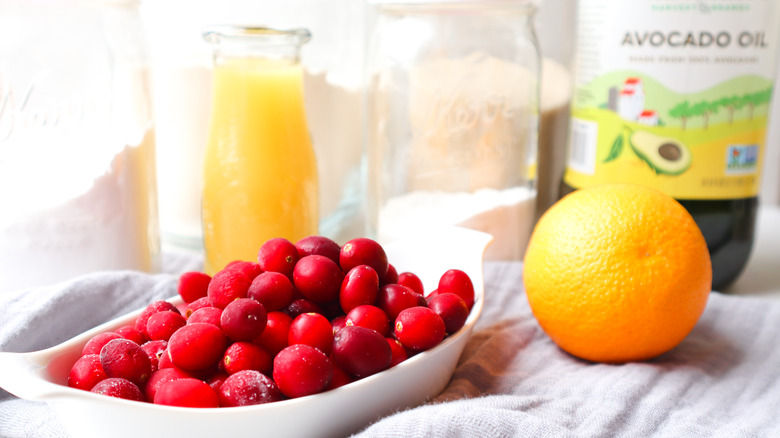 Courtney Moeslein/Mashed
Unlike many dessert bread recipes, this cranberry bread requires very little prep and zero extreme-precision work. There are just five dry ingredients in Moeslein's recipe: flour, sugar, baking powder, baking soda, and salt. Wondering why both baking powder and baking soda are in the mix? According to The Kitchn, baking soda helps balance out the acid in the batter, while baking powder provides additional boost to give the finished bread a beautiful fluffy texture.
The wet ingredients are a relatively simple list as well. They include orange juice, avocado oil, grated orange peel, egg, and fresh or frozen cranberries. That's literally it! You probably have most of the ingredients at home already. This is a great recipe to get to know how to make, so let's get started.
Why you should sift your flour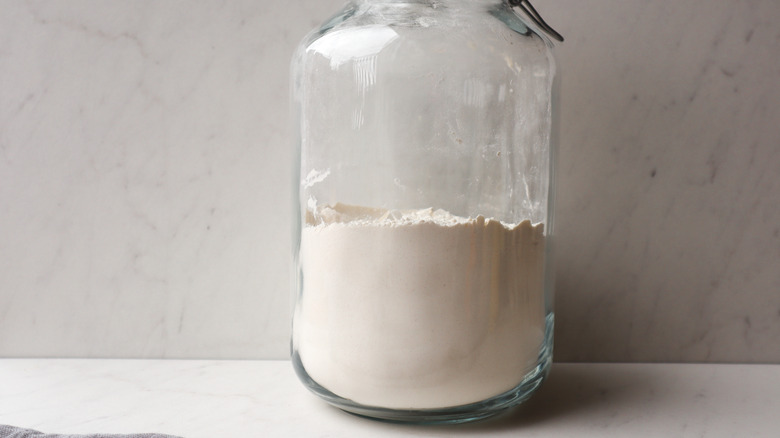 Courtney Moeslein/Mashed
Though it's not a requirement, sifting your dry ingredients will elevate your cranberry bread and take it to a professional level. Sifters break up the clumps, making it much easier to achieve a smooth batter with an even distribution of all the ingredients. Lumps of flour are basically a major burden in the batter, so eliminating them will create a fluffier, lighter bread, per Southern Living.
A classic, inexpensive flour sifter does the job perfectly. Plus, this step adds only one minute or so to your prep. To use it, simply pour your measured dry ingredients into the sifter over your mixing bowl, and tap the side of the sifter repeatedly so that the dry ingredients fall into the bowl.
The benefits of using orange juice in cranberry bread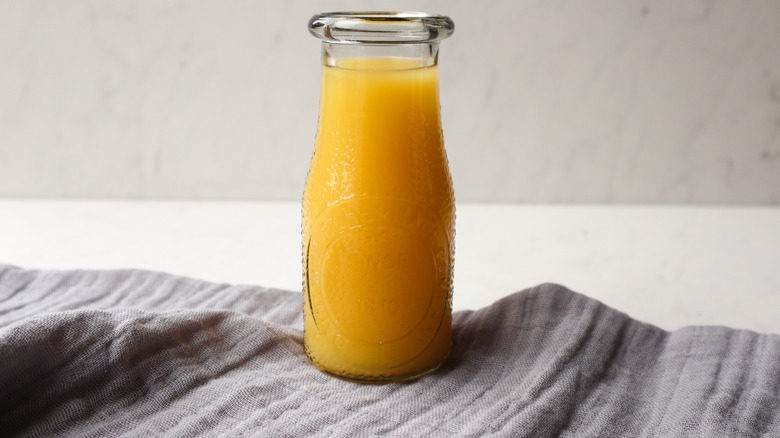 Courtney Moeslein/Mashed
As many of us know, orange juice pairs beautifully with cranberry and provides a pop of tangy flavor. However, this isn't the only reason to include orange juice in a dessert bread.
In addition to adding moisture to the batter, orange juice is a delicate touch of acid, according to My Recipes. It helps give breads a moist, tender crumb. It also works to shine a spotlight on the other flavors in the recipe, bringing out the vibrant, tart notes in the cranberries.
Are you wondering whether you should use fresh or bottled orange juice? "I like using [bottled] orange juice that is not from concentrate, as it is time-saving," Moeslein notes. "But squeezing the oranges will give you the same results." No-pulp juice is probably best, however you can use a pulp-filled orange juice in a pinch. Just be sure to use exactly how much orange juice Moeslin recommends in her recipe and not more. Too much liquid can cause the bread to sink in the middle.
Using fresh versus frozen cranberries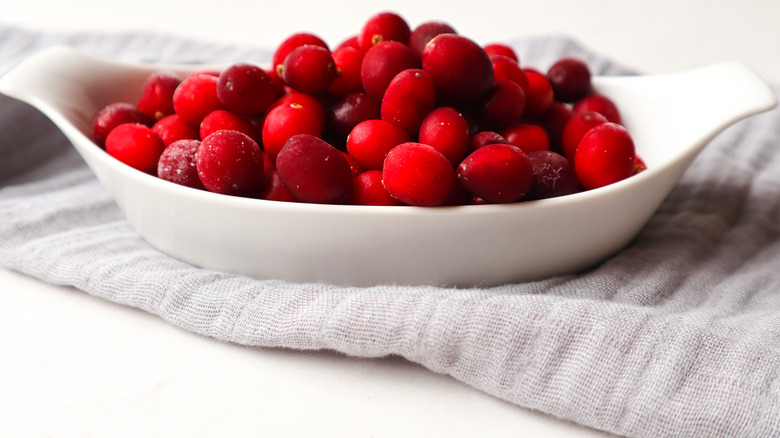 Courtney Moeslein/Mashed
Moeslein notes that you can use fresh or frozen cranberries in this recipe, a flexibility that appeals greatly to the baker pressed for time. But is one better than the other?
There's no doubt about it: Both frozen and fresh cranberries will provide a delicious effect in your bread. (However, The Spruce Eats noted that frozen cranberries won't bleed as much of their red color into the bread as fresh cranberries would.) Whether you use fresh or frozen, just remember to chop your cranberries. Interestingly, whole cranberries usually move to the top of the batter while it bakes (via Lette's Culinaria), whereas the chopped fruit will sit evenly throughout the bread.
Use whatever you're comfortable using, or whatever is easier to find in the store when you pick up your ingredients.
Combine the ingredients for the cranberry bread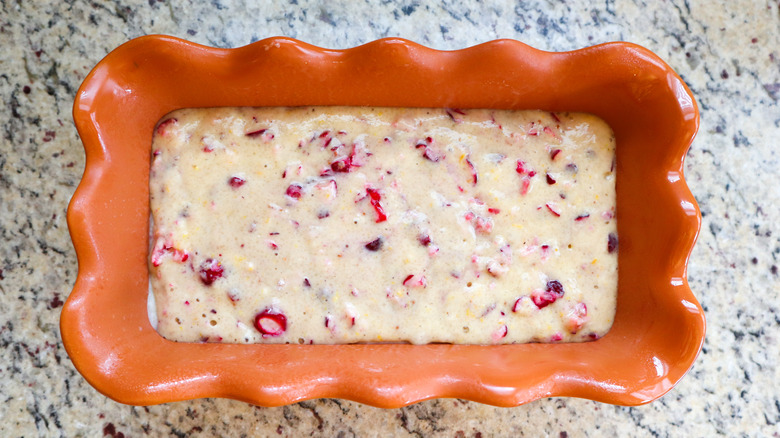 Courtney Moeslein/Mashed
Now that you know the benefits and properties of the ingredients you're using, you can create a batter, and bake your cranberry bread with ease. Moeslein recommends stirring together your dry ingredients first, then incorporating the wet ingredients one by one, leaving the cranberries for last.
Remember to stir the ingredients until they are just combined, and no more. Over-mixing your batter will create a tough and firm bread, as you will have stirred out all the air that helps create a fluffy crumb. "The batter is thick, and not completely smooth," Moeslein explains. In other words, those extra lumps are a good thing.
Add in the cranberries, and bake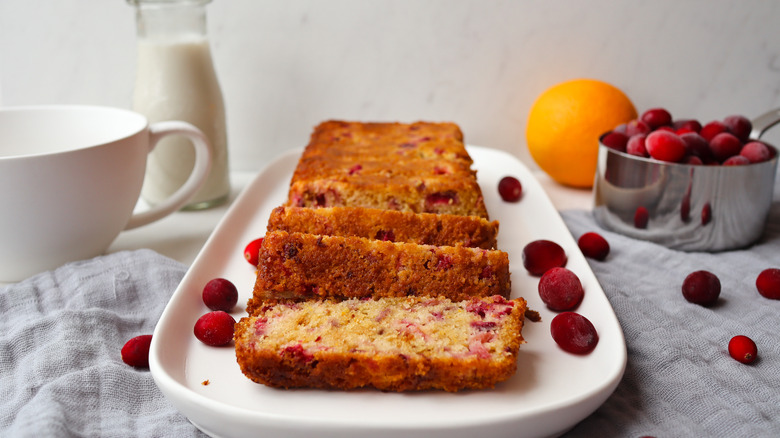 Courtney Moeslein/Mashed
Once you have mixed your batter just until the ingredients are combined, gently fold in the chopped cranberries. Pour the batter into your favorite loaf pan — which hopefully is already sprayed with oil or buttered — and pop it in the oven.
Baking the bread is usually the most nerve-wracking moment for amateur bakers. Still, Moeslin promises that this recipe should give you few to no problems. "If you follow the recipe, you should not have issues," she says. "I like to start checking the bread with a toothpick five to 10 minutes before the cooking time is up. Once the toothpick comes out clean from piercing the center of the bread and the edges are slightly pulling away from the pan, your bread will be cooked to perfection."
This is a great recipe to whip up if you're having company or to wrap up nicely in cellophane and ribbon to bring to a picnic or friend's house for dessert.
Moist Cranberry Bread Recipe
This cranberry bread is a perfect blend of cranberries and orange juice. It comes out moist and fills the house with the aroma of fall.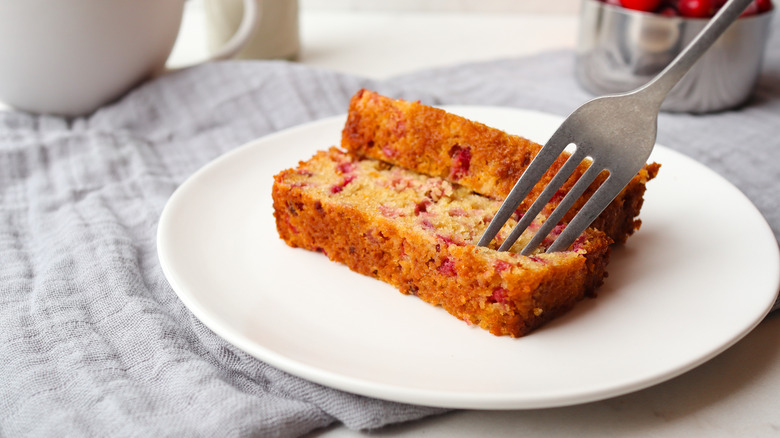 Ingredients
2 cups flour
¾ cup sugar
1 ½ teaspoons baking powder
1 teaspoon salt
½ teaspoon baking soda
¾ cup orange juice
2 tablespoons avocado oil
1 tablespoon grated orange peel
1 egg beaten
1 ½ cups fresh or frozen cranberries, chopped
Directions
Preheat the oven to 350 F.
Spray a 9x5-inch loaf pan with nonstick cooking spray.
Mix together the flour, sugar, baking powder, salt, and baking soda in a medium mixing bowl. Stir in orange juice, avocado oil, grated orange peel, and beaten egg. Mix until well blended.
Stir in the cranberries. Then, pour the batter into the loaf pan.
Bake for 55 minutes, or until a wooden toothpick inserted in the center comes out clean.
Cool for 10 minutes before enjoying.
Nutrition
| | |
| --- | --- |
| Calories per Serving | 246 |
| Total Fat | 4.4 g |
| Saturated Fat | 0.6 g |
| Trans Fat | 0.0 g |
| Cholesterol | 20.0 mg |
| | |
| --- | --- |
| Total Carbohydrates | 48.0 g |
| Dietary Fiber | 1.9 g |
| Total Sugars | 21.6 g |
| Sodium | 243.4 mg |
| Protein | 4.2 g |