Aldi Fans Are Freaking Out About This Cold Brew Coffee System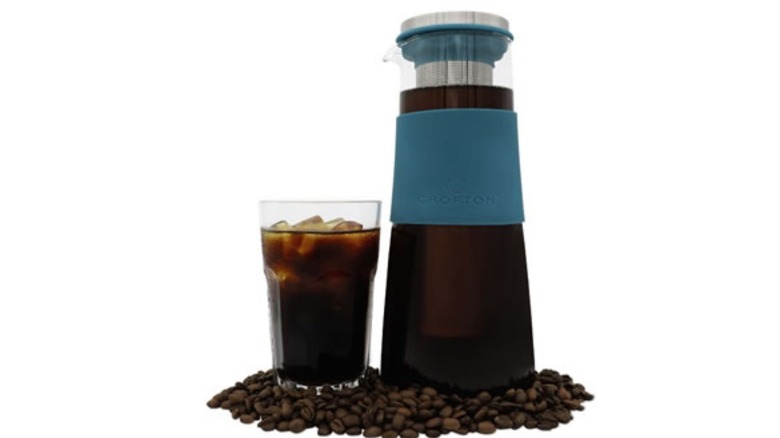 Aldi
Need a smooth, strong caffeine fix? Aldi fans have spotted a cold brew coffee system, and it might be the best way to enjoy a cup of coffee on a hot day. According to the Aldi website, the Crofton Cold Brew Coffee System has a 44.8-ounce capacity, which equates to about four coffee servings. The glass pitcher with stainless steel filter is said to be easy to pour and to clean. Available in four colors — teal, navy, gray and baby blue — the retail price is listed at $12.99.
Looking at various Aldi fan Instagram accounts, the feedback on the cold brew coffee system is positive. From Instagram comments like "the best of the best" to "highly recommend," it seems that this Aldi find will be flying off store shelves. In addition, some comments mentioned that the Crofton item can be used with loose tea as well as coffee. Also, it appears that this cold brew coffee system was available previously. Some comments referenced having purchased the same item last year. More importantly, people are still using it. For people who are tired of overpaying for cold brew coffee at the local coffee shop, this $12.99 investment might be well worth it.
How do you use the Aldi cold brew coffee system?
While many people might be purchasing the Crofton Cold Brew Coffee System from Aldi, the kitchen gadget isn't necessarily like using other coffee makers. Instead of coffee at the push of a button, the process does take a long time to extract that perfect sip of caffeine. But, for those willing to wait, the smooth, strong, satisfying flavor is a sip to savor.
As seen on AldiFavoriteFinds Instagram stories, the process to make cold brew coffee isn't complicated, but it is time-consuming. While these videos are from 2020, it appears to be the same system. Basically, coffee grounds are added to the stainless steel cylinder, water is added to the container, and the coffee is steeped for 12-24 hours. The resulting beverage is a concentrated coffee. When serving or pouring the coffee, it seems to be best to remove the filter. While the box comes with instructions, it is best to either save them or commit the process to memory. Although users might tweak the process depending on flavor preferences, one aspect is key to remember. Cold brew coffee is not a quick caffeine fix. Without hours and hours of "brewing" time at home, satisfying that smooth, strong sip might require a run to the coffee shop.