The Best Dish Maneet Chauhan Ever Ate On Chopped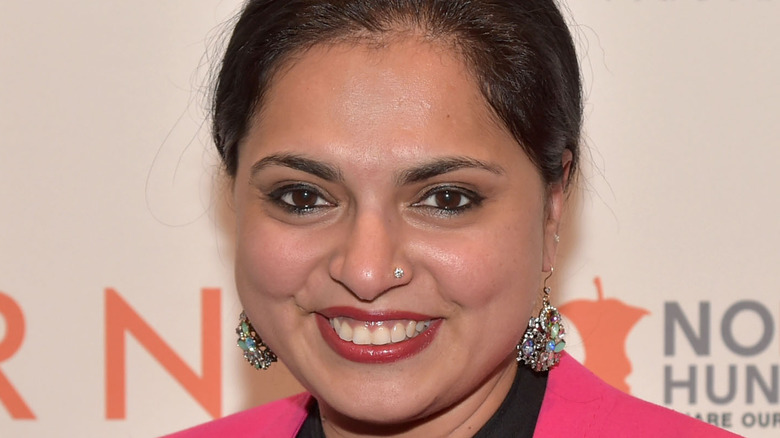 Theo Wargo/Getty Images
On paper, judging a cooking competition show sounds like one of the most exciting gigs you could possibly have. After all, who wouldn't want to spend the entire day eating scrumptious food without having to step foot in the kitchen? However, if you've ever watched an episode of "Chopped," you know that not every plate of food that makes its way to the judge's table is a five-star meal. In some cases, it's the contents of the mystery basket that make the dish hard to swallow — remember the episode when contestants had to work with river rat? Other times, it's a simple mistake like undercooked lentils that makes for a plate of food that is less than ideal.
As you can tell, serving as a judge for the hit Food Network cooking competition series doesn't always guarantee three rounds of mouthwatering food, but that's not to say that they haven't had their fair share of memorable meals either. In fact, longtime "Chopped" judge Maneet Chauhan, remembers one particular dish that stands out more than the rest.
Maneet Chauhan has fond memories of eating this sweet treat on "Chopped"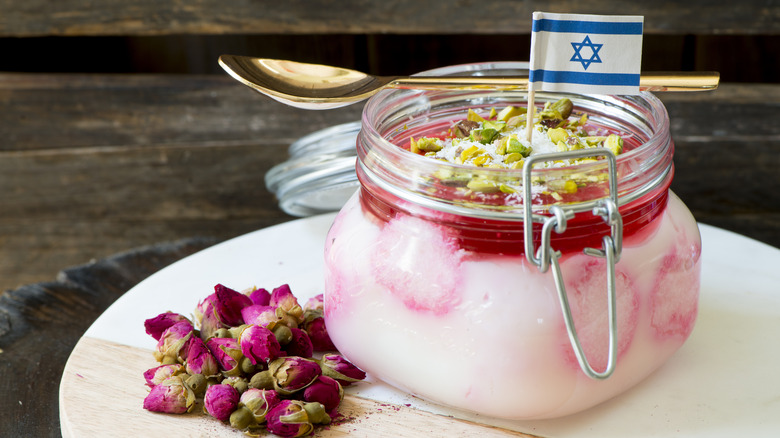 Shutterstock
The dessert round is notoriously the most problematic for "Chopped" contestants, as many of them have little to no experience making pastries or other dishes that are common to the food course. However, this part of the competition isn't always a disaster, and for Chauhan, it actually produced one of the best dishes she's ever eaten on the show. Per Insider, the esteemed chef and cookbook author has fond memories of eating the Israeli dessert malabi when a contestant made it during the final round of the show. 
For those unfamiliar with this sweet treat, malabi is a floral-scented milk pudding that has been made in Middle Eastern cuisine for centuries. The pudding itself is described by The Spruce Eats as being "silky-textured and light," while a few extra toppings like syrup, nuts, or shredded coconut bring some additional texture and flavor to the "spoon sweet." We don't know about you, but we're salivating over here, and can totally see why Chauhan enjoyed this dessert so much.