IHOP Fans Won't Want To Miss This One Day Only Throwback Deal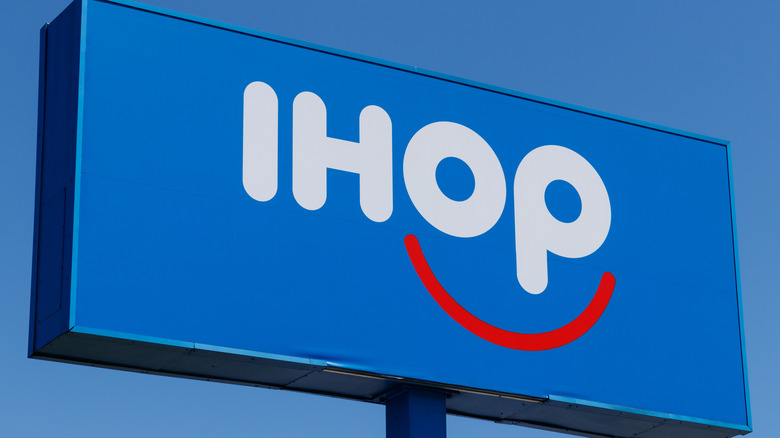 Shutterstock
Since first opening in Southern California back in 1958, IHOP has become one of the most recognizable breakfast joints on the planet. Through its decades-long history, the chain has seen some changes and menu expansions, but what's always remained consistent is their signature meal: pancakes. Whether your preference is to top them with strawberry preserves and a whipped cream smiley face, or to drown your stack in a pool of maple syrup, they're pretty much guaranteed to leave you satisfied no matter what time of day it is.
And now there's some big news for the short stack fans of the world. According to Foodsided, the chain is set to offer a flipjack of a deal to celebrate its upcoming 63rd anniversary on July 13 — 58 cent pancakes for all. That's right, for one day only (from 7 a.m. to 7 p.m), it'll cost less than one dollar for a full short stack of fluffy, buttermilk bliss. You can't even make plain toast for that price! And given all the buzz the news is receiving online, we're pretty sure it's going to be one of the biggest mornings of 2021, so be sure to mark your calendars because the deal is only available while supplies last!
IHOP always has more in store for pancake lovers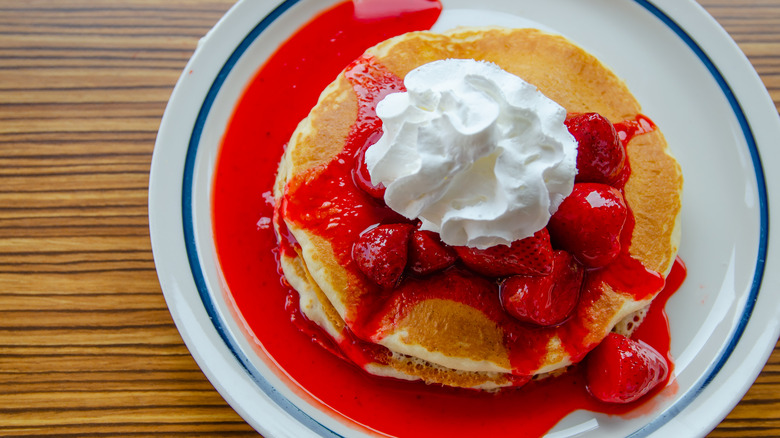 Shutterstock
One of the main reasons IHOP has stuck around since 1958 is because the restaurant doesn't just serve its famous pancakes. It celebrates them. This is best evidenced in the chain's gift to the world every year — Free Pancake Day — a day that many people wish was an official holiday just so we could have the time off to go sit and enjoy it. 
However, after a year of being limited from enjoying in-person dining due to the pandemic, it's clear many of us have been long deprived of our favorite griddle cakes. Thankfully, the chain is determined to remind us all that no matter how long it's been, we can always count on their pancakes to bring us joy. As IHOP CMO Kieran Donahue said in a statement supplied to Foodsided, "After a year that can only be described as challenging, we are ready to reconnect with our guests, smile and laugh together over delicious food including pancakes, omelettes, burgers and the rest IHOP has to offer."
As such, the brand recently launched a new "pancake support" campaign, a silly, yet entertaining social media effort designed to uplift anyone that has been bogged down by the stress of the past year. And they even got actress Chrishell Stause to appear in it on Instagram. For the past few weeks, fans have taken to the 'Gram and Twitter to share lighthearted, embarrassing quarantine stories that all culminate with the same hashtag: #Ineedpancakesupport. Late for work? You could use a pancake. Tripped in the middle of the store? You could probably use a pancake. Overwhelmed with existential dread over the world reopening? You could use a pancake.
Of course, if you're anything like us, you don't need a reason. Sometimes you need a pancake just because they're delicious. With that in mind, why not treat yourself to a full stack for 58 cents on July 13? It might just be the cheapest, most delicious form of therapy you'll ever get.