Easy Cauliflower Adobo Recipe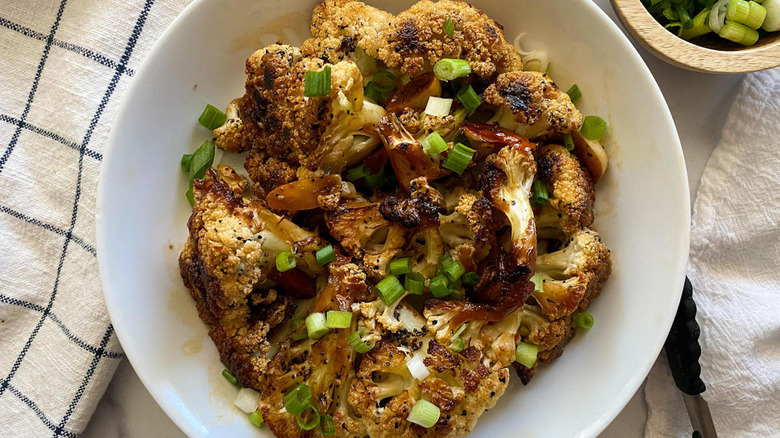 Miriam Hahn/Mashed
Adobo is the national dish of the Philippines, but that doesn't mean that there's one specific recipe for it that's representative of the entire Southeast Asian country. Quite the opposite, actually: The best take on adobo is often debated, and the exact ingredients vary depending on who you ask. The main part of this dish is protein braised in vinegar, but almost every other addition is fair game. 
For vegetarians, vegans, or fans of cauliflower, recipe developer Miriam Hahn of YouCare-Selfcare has a great meat-free variation on adobo. With a mix of cauliflower, some Thai chilies for spice, and some salt, pepper, and brown sugar for a nice contrast and melding of flavors, Hahn says this recipe is a great "spicy and sweet" dish. 
"This is super delicious!" she says. "Cauliflower is a cruciferous vegetable, making it super healthy. It is a nice vegetable to work with because it takes on the flavors you add to it. This is probably my favorite way to eat cauliflower!"
With a preparation time of five minutes and a cook time of 21 minutes, this is also a quick and easy meal you can enjoy is less than half an hour. If you're ready to get started, let's take a look at the ingredient list for this tasty meal.
Gather the ingredients for your cauliflower adobo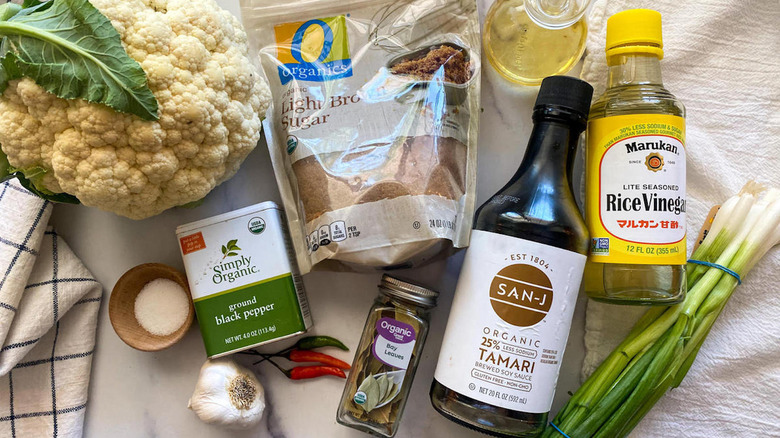 Miriam Hahn/Mashed
For this recipe, you'll need one large head of cauliflower, avocado oil, salt, pepper, rice vinegar, garlic cloves, soy sauce, brown sugar, water, bay leaves, Thai chili peppers (deseeded and sliced), and some scallions or green onions for topping.
Although Hahn says that she usually prefers avocado oil, while you can swap it with olive oil here. "I always use avocado oil for cooking on the stove or [in the] oven because it has a high smoke point," she says. "Since this recipe uses mainly medium-high heat, it would be fine to use olive oil as well."
Chop and sear the cauliflower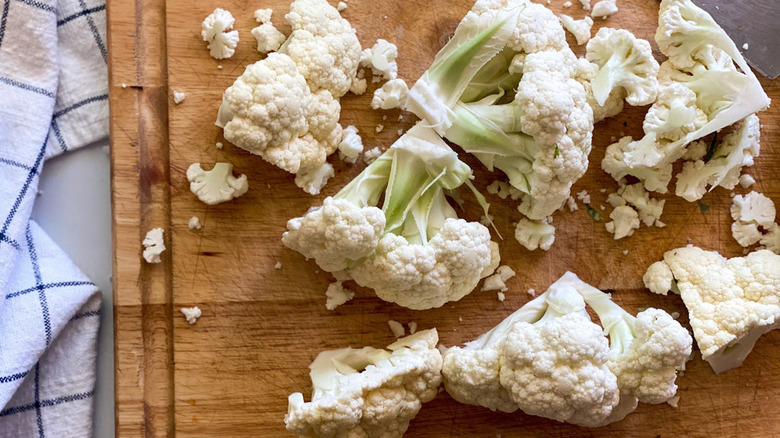 Miriam Hahn/Mashed
The first step is searing the centerpiece of this recipe, the cauliflower, until it's nice and crispy. Start by cutting the cauliflower head in half and removing the core from each side. Now, cut the two halves into eight pieces and save any small bits. Try and keep each of the cauliflower pieces as evenly sized as possible. Not only will this benefit the aesthetic of your dish, it will ensure that the cauliflower pieces cook evenly.
Once you're done chopping, heat the avocado oil in a large pot on medium heat. Now, add the cauliflower pieces and sprinkle them with some salt and pepper. Leave the cauliflower to sear for four minutes, undisturbed. After the time is up, flip the pieces over and sear the other sides for another four minutes.
Simmer the cauliflower with the remaining ingredients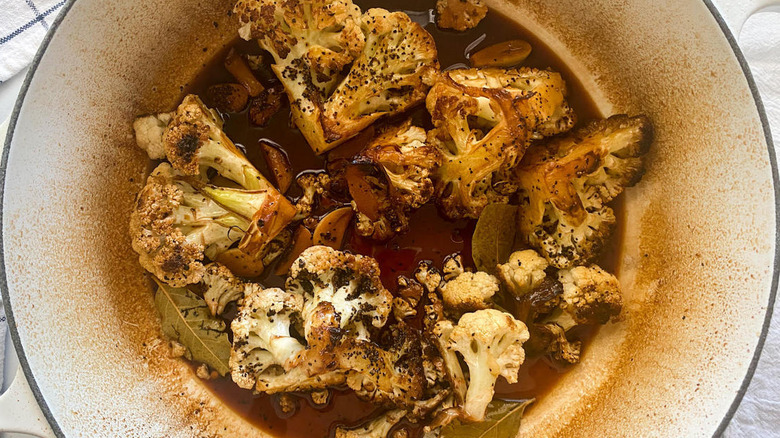 Miriam Hahn/Mashed
Once the cauliflower is seared on each side, add the rice vinegar, garlic slices, soy sauce, brown sugar, water, bay leaves, and Thai chili pieces. The chilies are very hot; as a general rule, one is mild, two is medium, and three is hot, so only use as many as you think you can handle. 
After all the remaining ingredients are added (except the scallions), stir them to blend them evenly into the mixture. Cover the pot, turn the element down to medium, and simmer the combination for five minutes. Finally, uncover the pot, turn the element back to medium-high, and cook the mixture for an additional eight minutes. 
At this stage, the sauce should be thickened and the cauliflower cooked through. "The cauliflower is cooked if it is tender," Hahn said. "So you can stick a knife in and it should come out pretty easily."
Serve your cauliflower adobo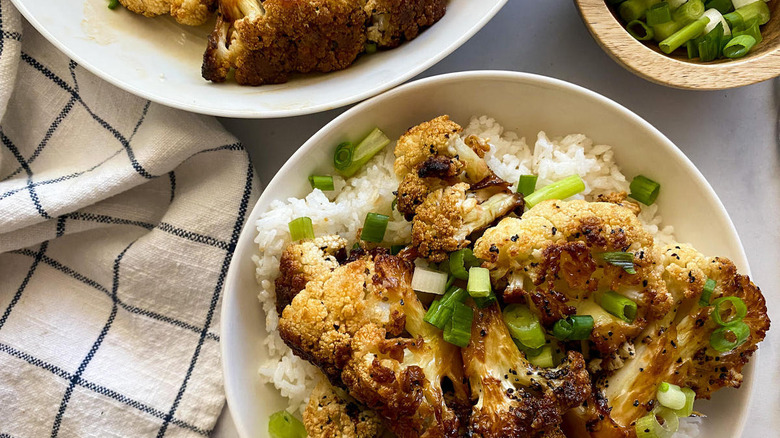 Miriam Hahn/Mashed
Before serving your dish, add the scallions and consider some additional toppings before digging in. "You can also top with fresh parsley (flat-leaf) or cilantro," Hahn says. "Fresh herbs are always a nice topper."
You have plenty of options when it comes to pairing your adobo with other meals and sides. "This is a great side dish for just about anything!" Hahn says. "Great alongside any meat or fish. I often add it to a buddha bowl. Also great with hummus. I love serving it over rice. Also great over soba or rice noodles."
If you have any leftovers, keep your cauliflower adobo in the refrigerator in a sealed container and it will keep for about three days.
Easy Cauliflower Adobo Recipe
This easy cauliflower adobo recipe is a meat-free, vegetarian take on Filipino adobo, with chilies, rice vinegar, and brown sugar for a sweet and spicy flavor.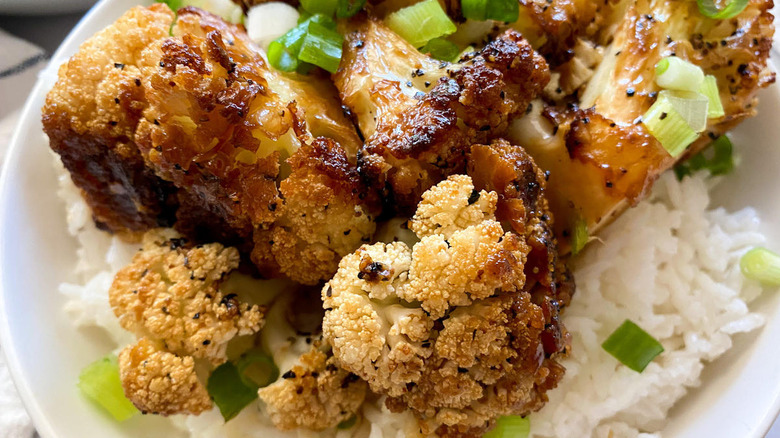 Ingredients
1 large cauliflower head
2 tablespoons avocado oil
½ teaspoon salt
½ teaspoon pepper
½ cup rice vinegar
5 garlic cloves, sliced
5 tablespoons soy sauce
2 teaspoons brown sugar
¼ cup water
3 bay leaves
1 to 3 Thai chilies, seeded and sliced
3 scallions, for topping
Directions
Cut the cauliflower in half and remove the core from each half. Cut the halves into 8 pieces and reserve any broken, smaller pieces.
Heat the avocado oil in a large pot on medium-high heat, then add the large cauliflower pieces. Sprinkle on the salt and pepper.
Cook the mixture without stirring for 4 minutes.
Turn the cauliflower halves over and sear the other sides for 4 minutes.
Add the rice vinegar, garlic slices, soy sauce, brown sugar, water, bay leaves, and Thai chili pepper pieces. Cover the pot and simmer on medium for 5 minutes.
Uncover the pot and cook the mixture on medium-high for 8 minutes. The sauce should coat the cauliflower.
Top your adobo with scallions and serve.
Nutrition
| | |
| --- | --- |
| Calories per Serving | 149 |
| Total Fat | 7.8 g |
| Saturated Fat | 1.1 g |
| Trans Fat | 0.0 g |
| Cholesterol | 0.0 mg |
| | |
| --- | --- |
| Total Carbohydrates | 15.7 g |
| Dietary Fiber | 5.1 g |
| Total Sugars | 6.0 g |
| Sodium | 1,166.1 mg |
| Protein | 6.2 g |