The Top Cooking Tip Guy Fieri Learned From His Mom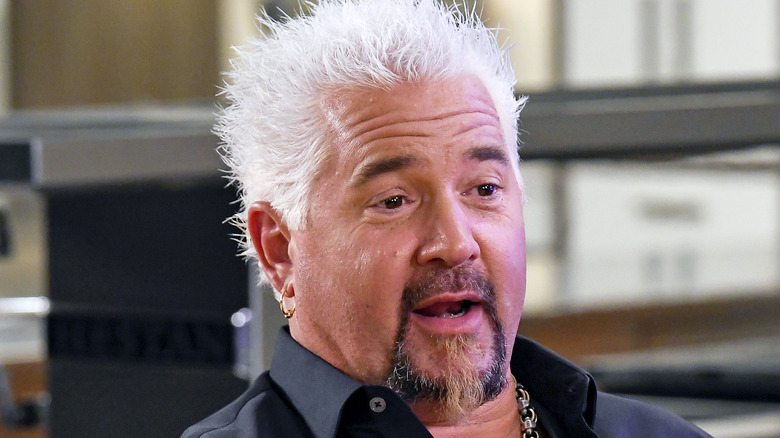 Steve Jennings/Getty Images
Guy Fieri is a small-town guy at heart. The host of Food Network's "Diners, Drive-Ins and Dives" hails from a little Victorian town in northern California called Ferndale, where he recently purchased the town's historic Meat Co. building, according to the Ferndale Enterprise. Per Eater, the Emmy-winning celebrity chef grew up eating healthy foods. In fact, Eater notes that Fieri revealed on an episode of the Food Network cooking special, "Chefography," he was deprived of the childhood joy of eating white bread and baloney. Instead, he recalled eating steamed fish, brown rice, and bulgur. 
But when he left home to spread his wings and experience France, he explained to Delish that his food palate really took off. He said, "I wrote home to my parents, saying 'I had steak and potatoes yesterday, and it was like I'd never had them in my life.' My parents were really good cooks, and we ate really well, but I'd never had anything like the food there. I knew exactly then what I wanted to do." But the big-city cook still embraces his small-town upbringing, incorporating the things he's learned from his mom, Penelope Ferry, into his own recipes. Fieri once shared his top cooking tip from her with TODAY, and it is so wholesome, it will make you smile. 
Stir and rotate your granola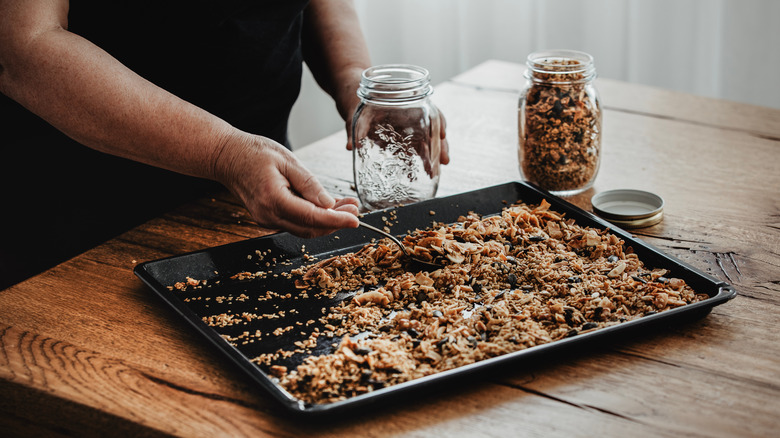 Shutterstock
"The top cooking trick I learned from my mom is to stir and rotate your granola," Fieri shared with TODAY. "My mom, to date, is my favorite granola chef," he gushed. "I never appreciated it as much as I should have." If you've never tried Fieri's Ferndale Granola recipe, it definitely calls for breaking out the sheet pan. Granola is delicious with good-for-you ingredients, plus the addition of rosemary is both fragrant and yummy. But how did Fieri learn to make his hometown-inspired granola? 
"I learned my lesson on cooking granola when I was learning to cook from my mom on our old Franklin gas and wood fire stove — which we still have," Fieri told TODAY. "It had incredible hot spots, which allowed the granola to burn easily. It was a really great lesson in keeping an eye on what you're doing." That sounds like a guiding principle we should all follow. Perhaps that is why Fieri is so successful, by keeping his eye on what he's doing and where he's going. Either way, we are grateful that Fieri's mom passed along her cooking tips and tricks. As for Fieri's willingness to share it with us, well, that is yet another important life lesson.