Slow Cooker Apple Cobbler Recipe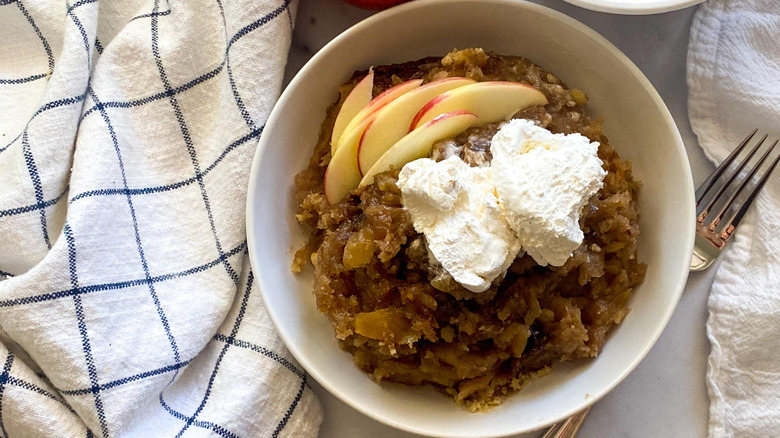 Miriam Hahn/Mashed
Once you start using a slow cooker, it can be extremely tempting to use it to prepare all of your meals. It reduces the amount of hands-on time in the kitchen, eliminating any extra stress from meal prep (which is always a plus). Slow cookers are also ideal for giving whatever food you're preparing such a rich flavor over the course of the cooking process.
You may have used your handy dandy slow cooker to whip up a hearty soup or stew, but have you ever tried to make a sweet treat for dessert? Recipe developer Miriam Hahn of YouCare-SelfCare has created a delicious recipe for a slow cooker apple cobbler that will surely become a new favorite in your house. Not only does the slow cooker minimize the amount of effort required, but Hahn also opts for an easy cake mix to make the bulk of the cobbler. What's better than a quick and simple recipe that basically makes itself?
Thanks to Hahn's choice of spices, the lovely aromas that will come out of your slow cooker and fill up your entire kitchen will make your mouth water and get your appetite going. Hahn notes, "I love that it is warm and so full of cinnamon flavor." So if that all sounds like a dream come true to you, it's time to get started.
Gather the ingredients to prepare this slow cooker apple cobbler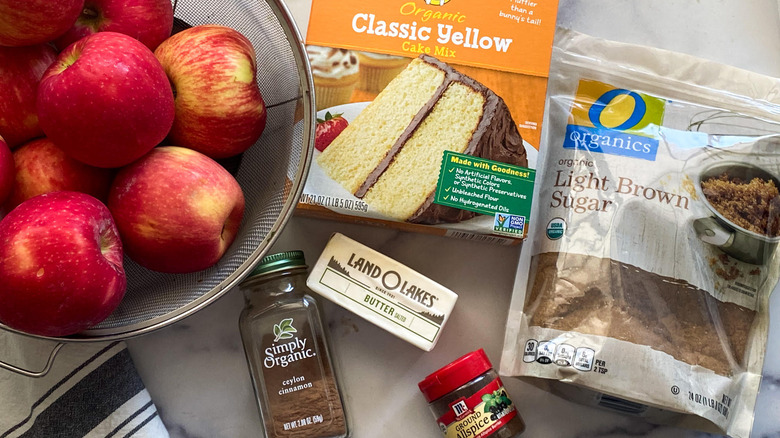 Miriam Hahn/Mashed
To start, gather the ingredients needed for this tasty apple cobbler. You'll need apples, and Hahn recommends choosing Honeycrisp or Fuji varieties since both hold their shape and are sweet and juicy. Next, you'll need powdered cinnamon, a match made in heaven when paired with apples! Brown sugar is ideal for this type of baked good since the molasses infuses plenty of caramelized aromas to the dish. Hahn also uses a pinch of allspice to add even more complexity to this delicious dessert. Allspice is actually a single spice made from dried berries, however if you don't have the real deal, it can be substituted with a blend of cinnamon, cloves, nutmeg, and black pepper for a similar flavor.
Next, Hahn keeps this dessert straightforward by using a box of classic yellow cake mix, essentially a basic cake containing flour, sugar, and butter. Thanks to this shortcut, you don't have to mix a separate cake batter for this cobbler recipe. Finally, Hahn uses melted butter to moisten up the cake mix and help the ingredients blend together in the slow cooker. Since no other salt is added, Hahn opts for salted butter — if you use unsalted butter, just add a pinch of salt to balance the flavors.
As for substitutions such as coconut oil or maple syrup, tread cautiously, as Hahn remarks, "I haven't tried it with those substitutions, so I'm not sure how that would affect the outcome."
Peel and slice the apples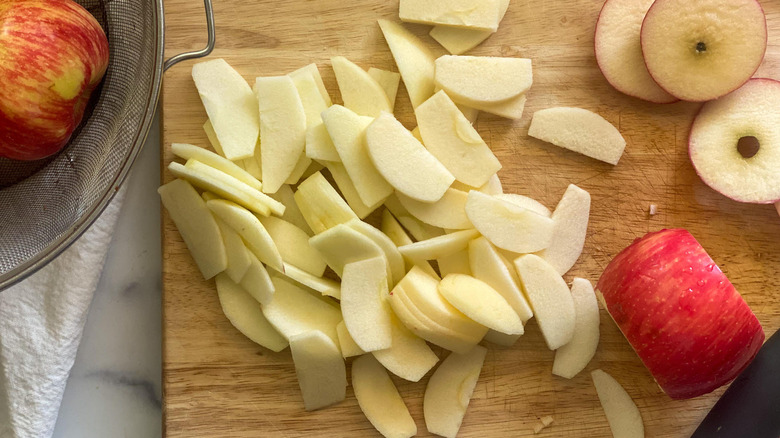 Miriam Hahn/Mashed
First things first: You have to prepare the star of the show — aka the apples! Get excited, because once you get through this step, the rest of the recipe is a total breeze. 
You'll start by peeling the apples and removing the cores. If you enjoy the extra texture, you can keep the skin on, however, keep in mind that it may separate from the flesh during cooking. Next, slice up the apples into ⅛ to 1/16-inch thick pieces. Aim for uniform sized slices so that the apples cook evenly through.
Grease the slow cooker, and add the apples, brown sugar, cinnamon, and allspice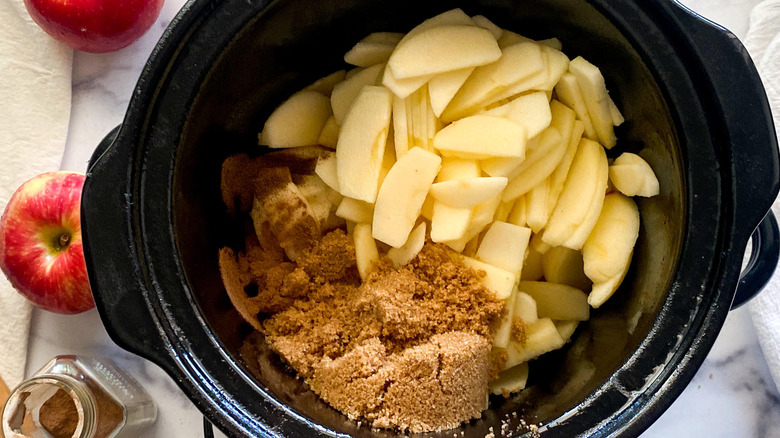 Miriam Hahn/Mashed
Once you've cut up all of the apples, you'll want to grease the bottom of your slow cooker with cooking spray. Then, add in the sliced apples, cinnamon, brown sugar, and allspice. Mix everything together thoroughly to ensure the apples are entirely covered with the sugar and spices. This will make each bite extra flavorful, so be sure not to leave any apples bare during this step!
Add the cake mix and the melted butter, and stir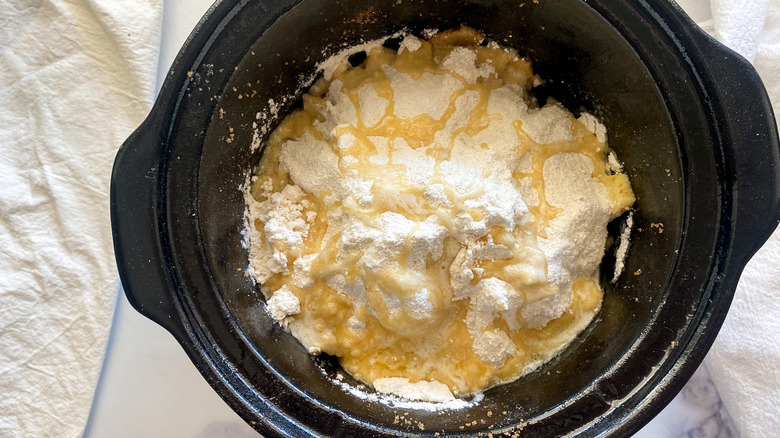 Miriam Hahn/Mashed
You'll now empty the contents of the yellow cake mix on top of the apples. Drizzle the melted stick of butter on top of the cake mix, and using a spoon, spread the butter to cover the surface of the mix, distributing it evenly across. Hahn warns, "If you don't do this evenly, you can end up with some cake mix that is still powdery." 
Alternatively, she suggests an option that will require an extra step, but is "more foolproof." Instead of adding the cake mix directly on top of the apples, "Mix the melted butter with the cake mix in a separate bowl and then layer that on top."
Cover, and cook high for two hours and 30 minutes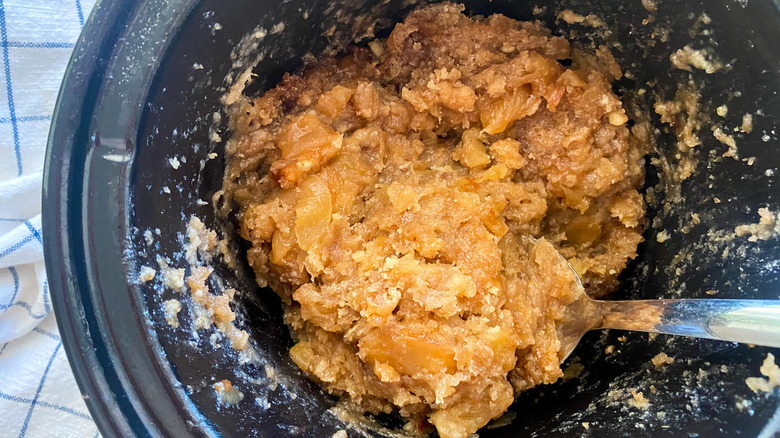 Miriam Hahn/Mashed
Once the cake mix topping is ready, cover the slow cooker with the lid. Turn the heat to high, and cook the apple cobbler for 2 hours and 30 minutes. This will give the apples time to soften up nicely and cook into a heavenly consistency. At the same time, the cake mix will have plenty of time to cook and absorb all of the delicious flavors from the spices, brown sugar, and apples. Be prepared, because your kitchen is about to fill up with the most amazing aroma that will transport you to a crisp fall afternoon.
Serve your apple cobbler with fresh whipped cream or vanilla ice cream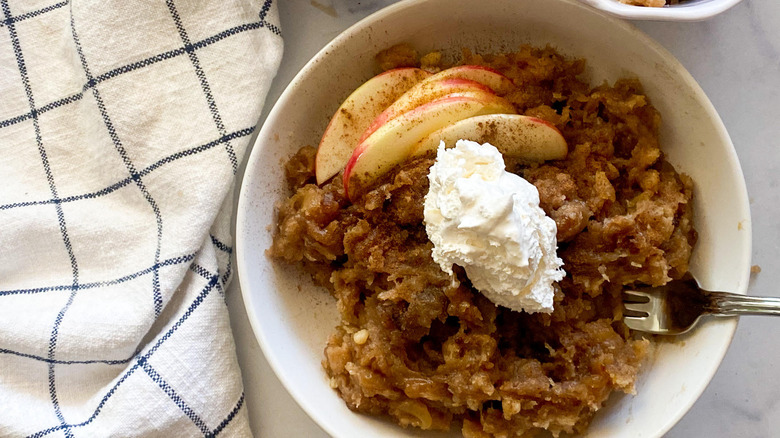 Miriam Hahn/Mashed
When the time is up, turn the slow cooker off, and dish out this delectable apple cobbler. Take Hahn's advice, and serve it with a dollop of fresh whipped cream or a scoop of vanilla ice cream for a creamy contrast. Enjoy it for dessert, a snack, or as a decadent breakfast if you want to kick off the day on an especially sweet note. (We seriously support that!)
Once you've eaten to your heart's content, Hahn notes that the cobbler will stay good for up to three to five days in the refrigerator, so long as it's stored in an airtight container. We are willing to bet that it won't last that long, though, once you dig in and have a taste!
Slow Cooker Apple Cobbler Recipe
This slow cooker apple cobbler recipe will fill up your kitchen with a lovely aroma that will transport you to a crisp fall day.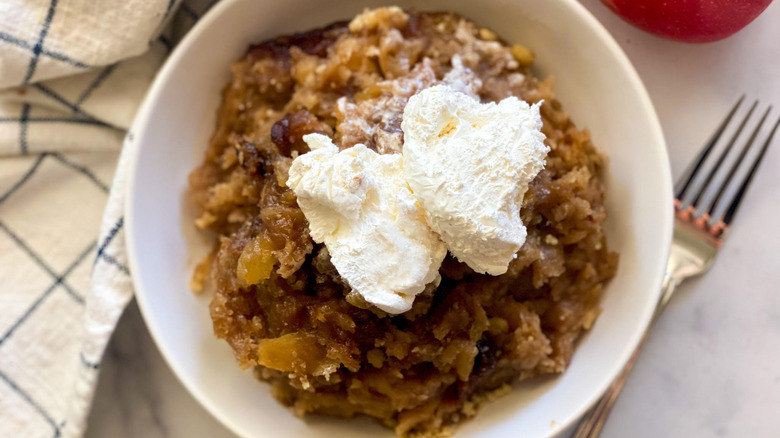 Ingredients
6 to 8 apples, equal to 6 cups, peeled and sliced (Honeycrisp or Fuji)
1 teaspoon cinnamon
½ cup brown sugar
½ teaspoon allspice
1 box yellow cake mix
1 stick (4 ounces) butter, melted
Directions
Peel, core, and slice the apples about ⅛ to 1/16-inch thick.
Spray the slow cooker with cooking spray, and add the sliced apples to the pot.
Add the cinnamon, brown sugar, and allspice, and stir well.
Add the cake mix, and drizzle the melted butter on top. Then, take a spoon, and smooth out the butter over the entire surface of the cake mix.
Cover, and cook on high for 2 hours and 30 minutes.
Serve with whipped cream or vanilla ice cream, if desired.
Nutrition
| | |
| --- | --- |
| Calories per Serving | 590 |
| Total Fat | 18.6 g |
| Saturated Fat | 11.1 g |
| Trans Fat | 0.8 g |
| Cholesterol | 40.6 mg |
| | |
| --- | --- |
| Total Carbohydrates | 103.2 g |
| Dietary Fiber | 4.0 g |
| Total Sugars | 64.4 g |
| Sodium | 642.7 mg |
| Protein | 3.7 g |