Jamika Pessoa Thinks You're Using Truffle Oil All Wrong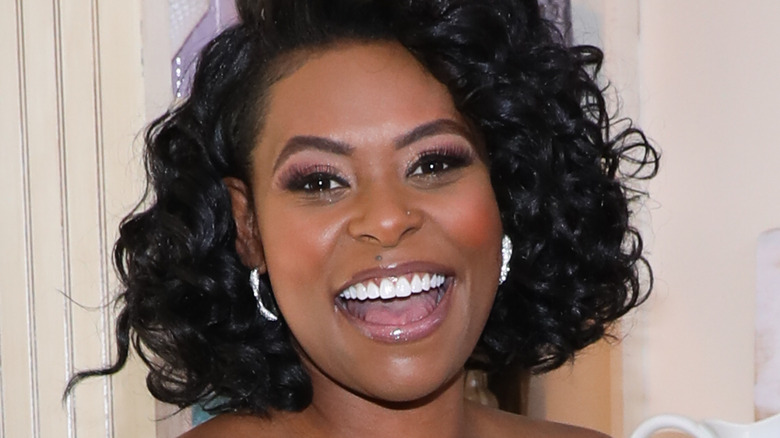 Paul Archuleta/Getty Images
It wasn't too long ago when truffle oil took the culinary world by a storm. While real truffles are much sought-after by chefs and diners across the world, they tend to be extremely expensive. For one thing, white truffles are only found in certain regions of Northern Italy, and there's a very short harvesting window, making it hard to get hands on them all year round (via Reader's Digest). Truffle oil offers a considerably cheaper and more accessible option than real truffles. Drizzle it over cheesy, saucy pasta, and it can turn another boring home-cooked meal into a pretty luxurious repast.
However, Jamika Pessoa, a former contest of "Next Food Network Star" and judge of "Sugar Showdown," says that people, including contestants on food shows, don't use truffle oil correctly. In an interview with Insider, Pessoa admits that contestants often add truffle oil as a last-ditch attempt, thinking that the exotic-sounding oil might save their food. Instead, the truffle oil ends up overpowering the entire dish. "MasterChef" judge Aarón Sánchez agrees. Sánchez thinks that truffle oil is quite delicate but can easily overpower other flavors.
Jamika Pessoa and Aarón Sánchez aren't the only ones who think that truffle oil is used far too often, and usually incorrectly. Ken Frank, the chef of Michelin star restaurant La Toque, says that truffle oil oftentimes has no real truffle in it at all.
How to use truffle oil correctly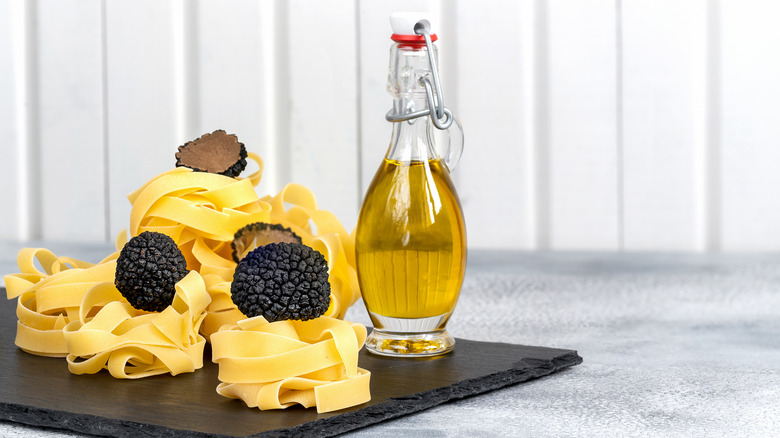 Shutterstock
As Frank told the Napa Truffle Festival in 2017 (he was the host chef), truffle oil is actually made from 2,4-Dithiapentane, a synthesized liquid that is made from a petroleum base and which imitates the odor of real truffles. In reality, Frank says that truffle oil tastes nothing like real truffles.
Truffle oil may not be the real deal, but it is cheaper, and when used correctly, can add an earthy complexity to any dish. Since truffle oil is made from a synthesized liquid, it tends to have a metallic and chemical-like taste that is incredibly strong, and so it can be a tricky oil to cook with (via Serious Eats).
According to the Food Republic, the biggest mistake people tend to make when using truffle oil is by using it as a cooking oil. Unlike olive oil, truffle oil is meant to be used as a finishing oil — that is, it should be used to finish off a dish after it is cooked to make the most of the oil's flavor. When cooked, the oil loses all its truffle-like flavor and turns into a regular cooking oil. To make the most of it, the website suggests using less than a teaspoon of truffle oil per two servings, but only after you're done with all the cooking, and then eating the food immediately after.