Slow Cooker Mulled Cider Recipe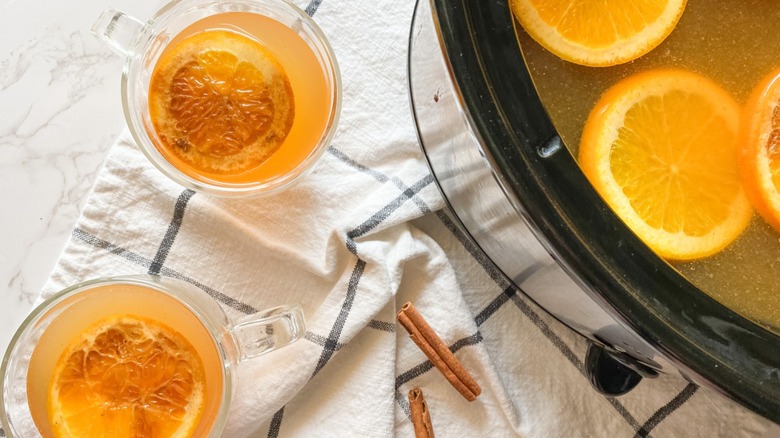 Kristen Carli/Mashed
When it comes to delicious cold drinks, there's really a plethora of options. Whether you like something sparkling or still, fizzy and sugary, or a sip that's filled with fruity flavors, there's no shortage of fun thirst quenchers — but what about when you want something warm and comforting?
Sure, there's always coffee and tea, but for those times when you want something different, we've got you covered with this incredible — and incredibly easy — slow cooker mulled cider from recipe developer and private practice registered dietitian Kristen Carli.
While apple cider might bring thoughts of the cooler autumn months, don't fret, because you're not going to need fresh cider to make this delicious, hot, and healthy drink. You certainly can opt to go the fresh cider route if you'd like, but that's not always possible. If there's no cider mill nearby, don't worry! Simply pop into your favorite grocery store, and you'll find everything you need there, no matter what the season. Because let's face it: A taste of autumn is fun to create any time of the year.
Gather the ingredients to prepare this slow cooker mulled cider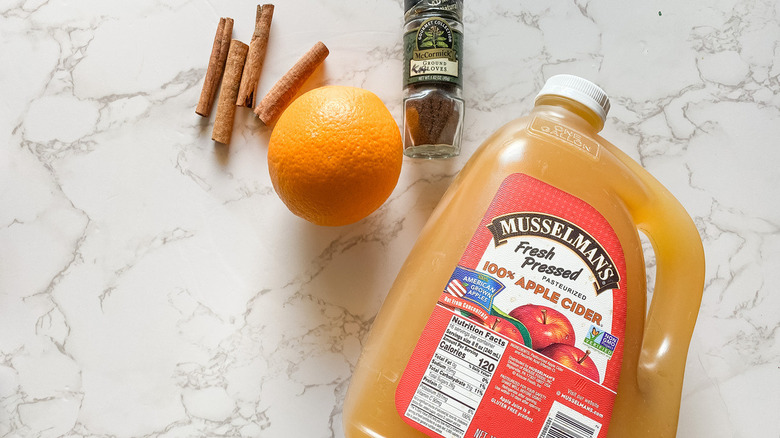 Kristen Carli/Mashed
It's no secret that eating healthy can cost an arm and a leg, so if there's anything we love, it's healthy recipes that aren't going to break the bank. This mulled cider recipe definitely falls under that great category.
First off, you'll need to gather up all of your ingredients. You're going to need one orange, ground cloves, and four whole cinnamon sticks, along with your cider base — and that's literally it! Once you've got all of your items together, it's time to get out your slow cooker, and get to cooking.
A note about apple juice versus apple cider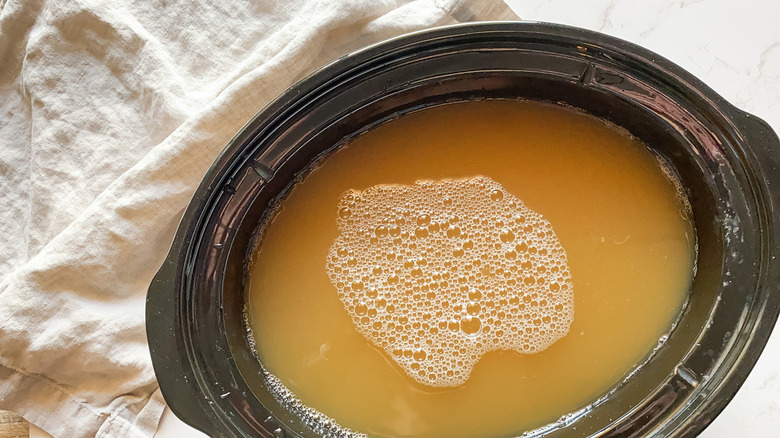 Kristen Carli/Mashed
Carli's recipe calls for 1 liter of either apple cider or apple juice, and let's spend just a minute talking about what the difference is, because it could make a difference for you, and there are just a few things to consider when it comes to deciding which way you're going to go.
Carli says, "The biggest difference between cider and juice is that cider will include the pulp since it's made from mashed apples, whereas juice is filtered. The taste is the same, [the two are] just a little bit different [texturally]."
So, if you're not a fan of having pulp in your drink, then reach for the apple juice when you're at the grocery store. That comes with a caveat, too. The other thing you might want to consider is sugar content. A lot of fruit juices have a ton of added sugar, so be sure to read the labels before you buy.
Add everything to the slow cooker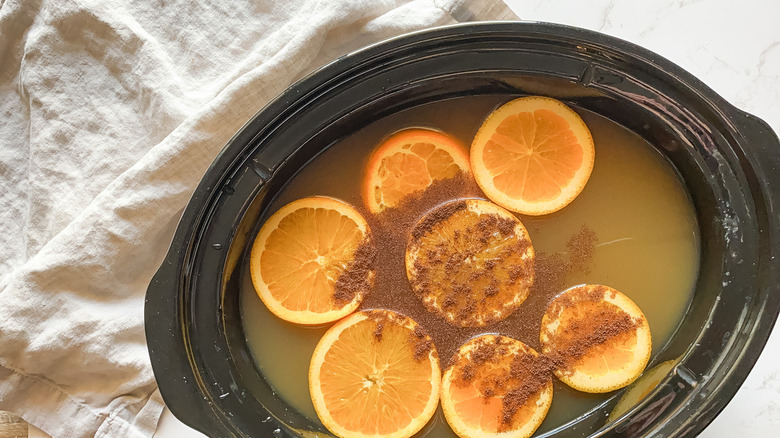 Kristen Carli/Mashed
Now it's time to put everything into the slow cooker. You're going to pour in the apple juice or cider, add 2 teaspoons of ground cloves, and the four cinnamon sticks — keeping them whole. Then, cut up your orange into slices, and drop them into the cooker as well. It really is just that easy, but here's the thing: Now, you're going to have to have a little patience, as the rest of this recipe is hands-off.
Let the magic happen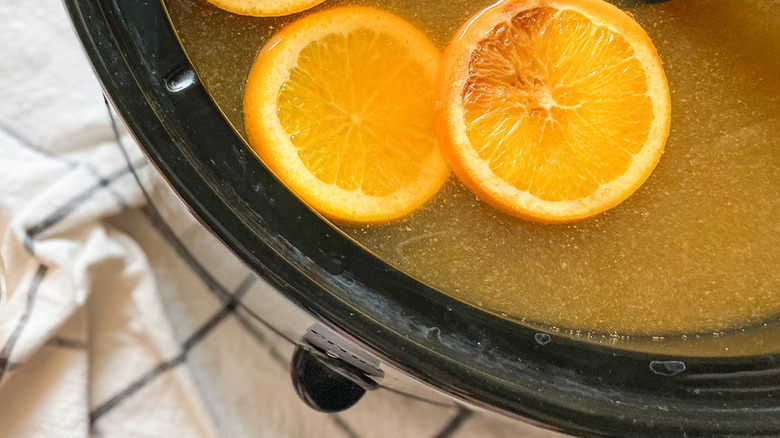 Kristen Carli/Mashed
It's going to be a while before your hot, delicious beverage is ready to serve up and enjoy, so there's definitely some planning ahead to be done here if you want it to be ready at a certain time. Plan on letting your slow cooker run on low for around four hours, and that's when the magic happens.
Fun fact: "Mulling" refers to this part of the process. It's been done for a long, long time — as far back as ancient Rome and Europe — and it's essentially letting something cook low and slow so that all of the flavors of the delicious ingredients are infused into the liquid. It might be a bit of a long wait, but the end result is nothing short of divine. And in the meantime while your beverage is cooking, you can tend to other things on your to-do list or simply kick back and relax.
Serve and enjoy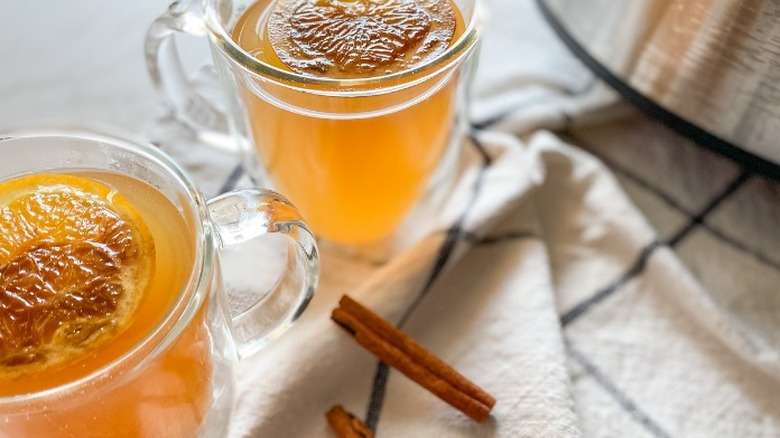 Kristen Carli/Mashed
Once the four hours are up, it's time to give your cider a try. Grab a ladle, scoop up some of your delicious beverage, and pour it into heat-resistant mugs. If you'd like, you can definitely add one of those orange slices to each mug, and float it on top for the most aesthetically pleasing presentation. And the more flavor, the better, right? You can also go all out and add a cinnamon stick just for an additional Pinterest-worthy appearance. Be sure to snap some pics of your lovely creation before you take that first sip!
But wait, there's a lot of cider here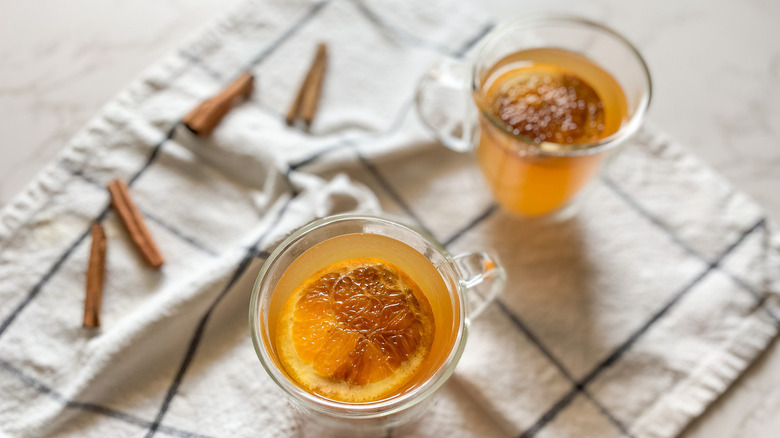 Kristen Carli/Mashed
Carli's recipe breaks down into 24 servings, but what if you're not having friends over and just feeling like whipping a batch up for yourself? Don't worry, because Carli says that once the mulling is done, you can store this in the fridge for later. Just be sure to strain it and let it cool first!
Carli adds that you can definitely reheat this in the microwave for another piping hot beverage, but here's another great thing about mulling. "You can drink this cold, too! Just be sure to remove [the] oranges and cinnamon sticks," she says.
All the flavor will still be there if you strain and chill it, and doesn't this sound like an absolutely brilliant alternative to your standard, out-of-the-carton breakfast juices? We certainly think so!
Slow Cooker Mulled Cider Recipe
There's always coffee and tea, but for times when you want something different, we've got you covered with this incredible slow cooker mulled cider.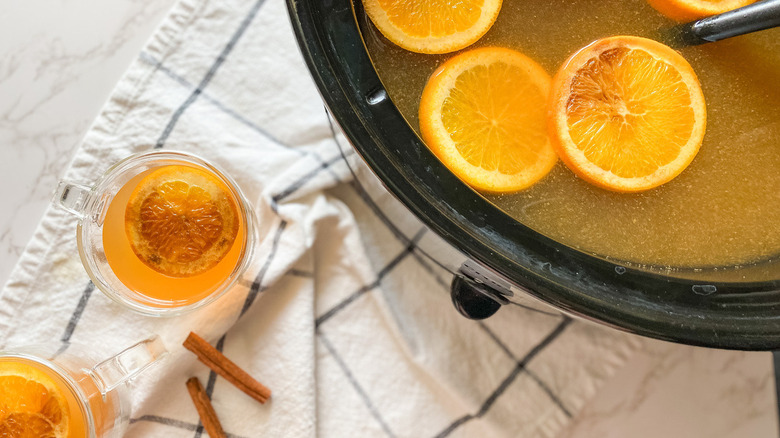 Ingredients
1 liter apple cider or apple juice
1 orange, sliced
2 teaspoons ground cloves
4 whole cinnamon sticks
Directions
Add all of your ingredients — 1 liter of apple cider or apple juice, the orange slices, 2 teaspoons of ground cloves, and 4 whole cinnamon sticks — to a large slow cooker.
Cook the mixture on low for 4 hours.
Ladle the drink into each glass. Garnish with an orange slice and cinnamon stick, and enjoy.
Nutrition
| | |
| --- | --- |
| Calories per Serving | 24 |
| Total Fat | 0.1 g |
| Saturated Fat | 0.0 g |
| Trans Fat | 0.0 g |
| Cholesterol | 0.0 mg |
| | |
| --- | --- |
| Total Carbohydrates | 6.0 g |
| Dietary Fiber | 0.5 g |
| Total Sugars | 4.7 g |
| Sodium | 2.3 mg |
| Protein | 0.1 g |