Authentic Cuban Picadillo Recipe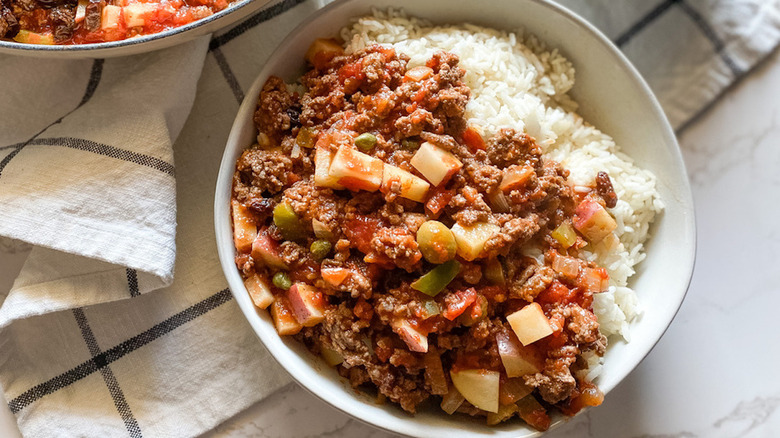 Kristen Carli/Mashed
Picadillo originated in Cuba and is based on the Spanish word picar, meaning to "chop" or "mince" in English. A tasty stew of vegetables, the dish is often served over rice and mixed with olives and raisins. It is considered traditional Cuban cuisine and has made its way into many Latin American countries, which have taken quite a liking to this comfort food. The exact ingredients vary by region, which means this dish is fairly versatile and provides the experimental home cook with plenty of opportunities to flex their skills in the kitchen and try out different flavor combinations and toppings.
Recipe creator Kristen Carli has an authentic Cuban picadillo recipe that takes just 10 minutes to prepare and 35 minutes to cook. With a bit of sautéing and frying, you'll be digging in to this classic cuisine in less than an hour. Let's take a look at the ingredients you need to get started.
Gather your ingredients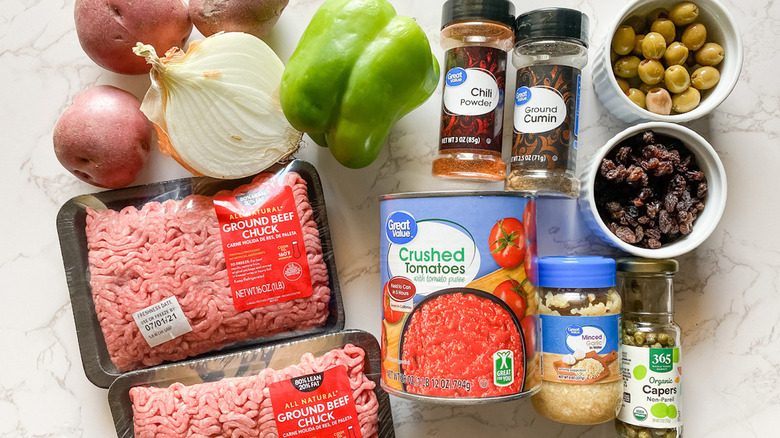 Kristen Carli/Mashed
For this recipe, you'll need olive oil, yellow onion (diced), green bell pepper (diced), minced garlic, and ground beef. You'll also need some salt, pepper, ground cumin, chili powder, red potatoes (diced), crushed tomatoes, raisins, green olives, and capers. Finally, you'll need some cooked white rice to serve with your picadillo.
Carli used 80/20 chuck beef for this recipe, which primarily comes from the shoulder area of the cow and provides the dish with a rich flavor.
Sauté your onion, bell pepper, and garlic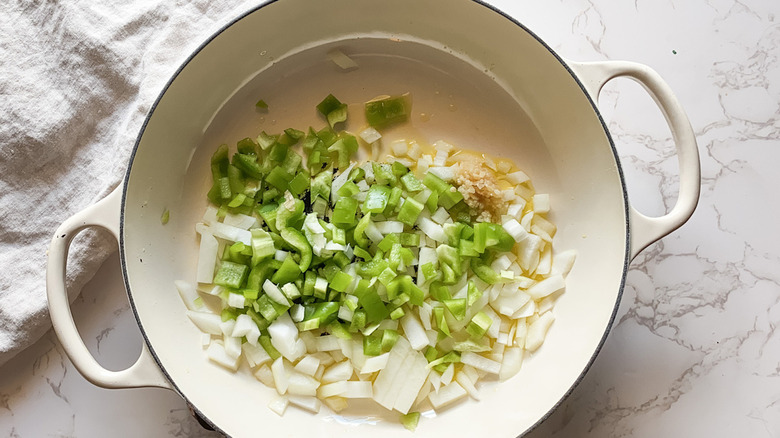 Kristen Carli/Mashed
Despite the somewhat long list of ingredients, this recipe follows a pretty simple procedure that almost entirely centers around frying. To start, add your olive oil to a large skillet over medium heat on your stove. Now, add your onion, bell pepper, and garlic, and sauté them until the onion is translucent, which should take about 5 minutes.
The word sauté comes from the French word sauter, which means "to jump" and refers to two things: the part of this cooking technique that makes the food jump in the pan using your wrist, and the fact that ingredients "jump" around in the pan when fried in oil. 
Add your beef, seasonings, and spices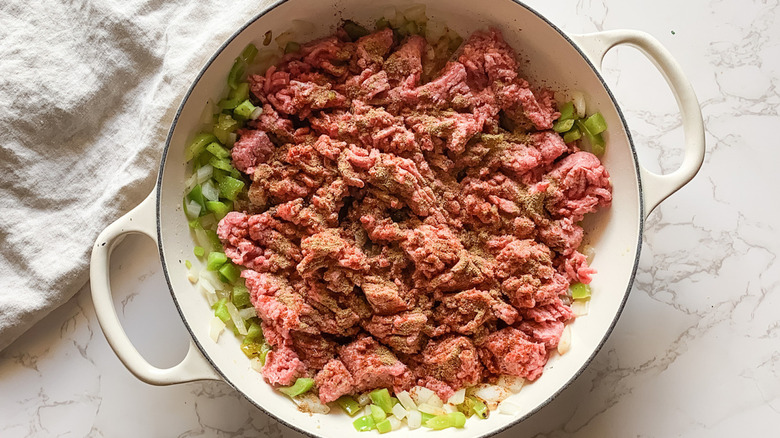 Kristen Carli/Mashed
Once your initial batch of vegetables is properly sautéed, add the beef, salt, pepper, cumin, and chili powder. From here, you're going to move from sautéing to pan-frying. Start by using a wooden spoon to break up all of the beef. Now, stir the beef along with the seasonings and spices until it's no longer pink – this should take about 15 minutes.
Add the potatoes and tomatoes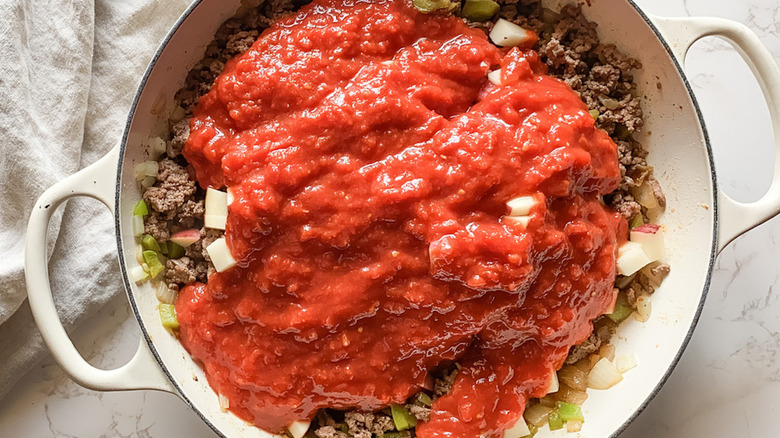 Kristen Carli/Mashed
Now that your steak is properly cooked, add the potatoes and tomatoes. Stir the mixture to properly combine them with the rest of the dish and make sure the potatoes are completely submerged in liquid. Cook your picadillo for 10 minutes, which is about the time it should take for the potatoes to cook through.
If you want a quick and easy way to check on both your potatoes and tomatoes, all you need is a fork. "Using a fork, poke the potatoes to see how easy it is to puncture them," Carli explains. "It should be very easy at the end of the 10 minutes. Once the potatoes are done, the tomatoes are done."
Mix in the remaining ingredients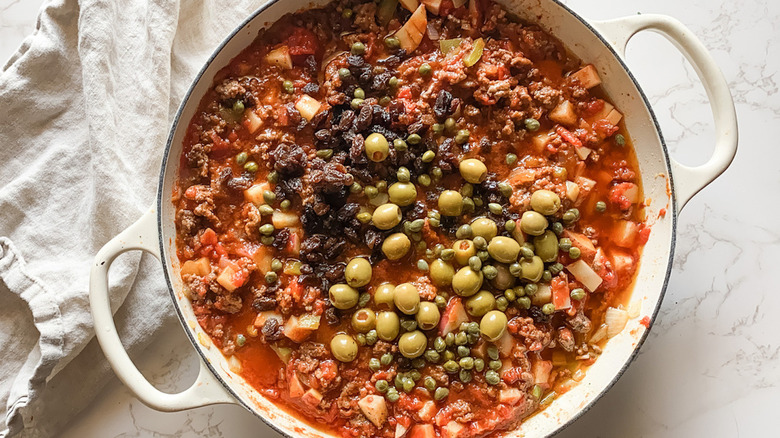 Kristen Carli/Mashed
The last step is mixing in the remaining ingredients: the olives, capers, and raisins. If you're not a fan of these final three additions, you can switch them out to suit your tastes. "Not everyone likes olives, capers, or raisins," Carli says. "You could substitute in golden raisins if needed. You can omit the olives and capers if you desire."
Whatever you decide, stir the ingredients into the picadillo until they are combined and cook your dish for another 5 minutes. Once it's done, you're ready to serve your recipe.
Serve your Cuban picadillo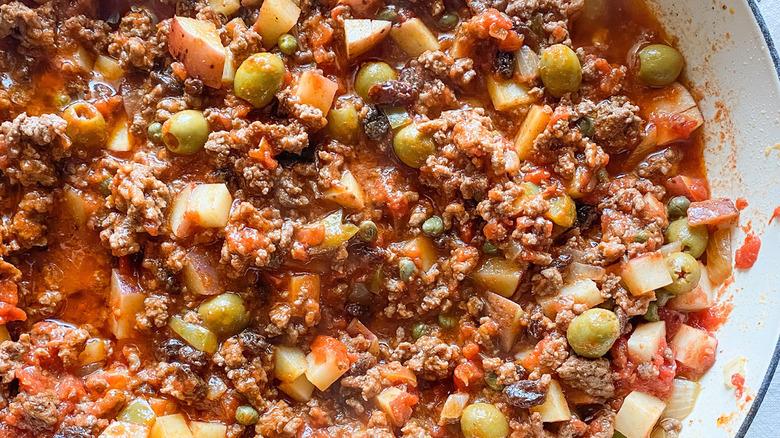 Kristen Carli/Mashed
This dish can be eaten right away without any additions and still be delicious. But for the adventurous home cook, where's the fun in that? Carli recommends serving the dish over white rice, which is common in Latin America. Another common use for this dish down south is as stuffing for tacos and burritos.
As for toppings, Carli suggests adding some cilantro, sour cream, and hot sauce. If you have any other ideas, feel free to experiment to find the best additions to satisfy your taste buds.
If you have any leftovers, Carli recommends storing them in an airtight container for up to three days.
Authentic Cuban Picadillo Recipe
Impress your family and guests with this tasty, authentic picadillo dish -- ready to be served in under an hour!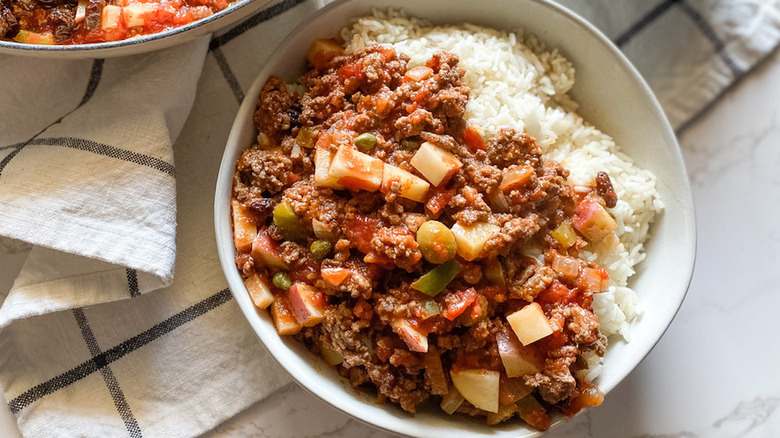 Ingredients
1 tablespoon olive oil
½ yellow onion, diced
1 green bell pepper, diced
1 tablespoon minced garlic
2 pounds ground beef
1 teaspoon salt
½ teaspoon pepper
1 teaspoon ground cumin
1 teaspoon chili powder
3 red potatoes, diced
1 (28-ounce can) crushed tomatoes
¼ cup green olives
1 tablespoon capers
¼ cup raisins
Cooked white rice, for serving
Optional Ingredients
Cilantro
Sour cream
Hot sauce
Directions
Add the olive oil, onion, bell pepper, and garlic to a large skillet over medium heat. Sauté until the onion is translucent, which should take about 5 minutes.
Add the beef, salt, pepper, cumin, and chili powder to the mixture. Break up the beef with a wooden spoon. Cook and stir the combination until the beef is no longer pink, which should take about 15 minutes.
Add potatoes and tomatoes. Stir thoroughly to combine them into the mixture. Make sure the potatoes are completely submerged in liquid. Continue to cook the combination for 10 minutes, until the potatoes are cooked through.
Add olives, capers, and raisins. Stir them into the mixture until it's an even consistency.
Cook the picadillo for 5 more minutes.
Serve your picadillo over white rice and your choice of toppings
Nutrition
| | |
| --- | --- |
| Calories per Serving | 565 |
| Total Fat | 33.8 g |
| Saturated Fat | 12.0 g |
| Trans Fat | 1.8 g |
| Cholesterol | 107.4 mg |
| | |
| --- | --- |
| Total Carbohydrates | 35.3 g |
| Dietary Fiber | 3.6 g |
| Total Sugars | 6.7 g |
| Sodium | 637.4 mg |
| Protein | 29.8 g |