'Pig' Chef Gabriel Rucker Opens Up About Working With Nicolas Cage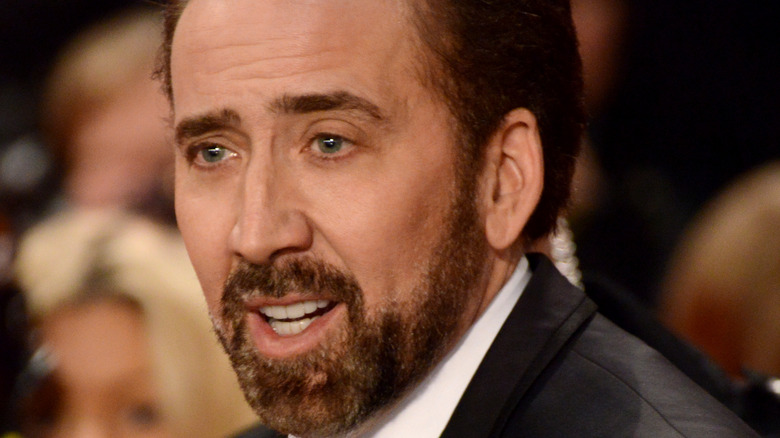 Shutterstock
Who better than Gabriel Rucker — two-time James Beard Award-winning chef and legend of the Portland, Oregon dining scene (via Oregon Live) — to train Nicolas Cage in the art of becoming a once-renowned Portland Chef-turned recluse and truffle hunter? That's who Nicolas cage transformed into for his new movie, "Pig." Variety can't get over Cage's performance. 
Recently Rucker's kept busy as a guest judge on "Top Chef" where he, per Oregon Live, showcased a dish with pigeons, carrots, and pears. He's also started bringing his coveted cooking skills into people's personal homes, an experience for which customers should dish out at least $1,500, according to Monthly Portland. But in 2019, Rucker was preparing Nicolas Cage for his role. Then, Oregon Live reported that Cage, decked out in a beard and a motorcycle jacket, had been spotted in Rucker's iconic restaurant Le Pigeon, training in the arts of the French-inspired kitchen. If Oregon Live was excited to spot Cage in Rucker's kitchen, Rucker himself recently revealed he was alarmed by Cage's appearance.  
Nicolas Cage looked off when he worked with Gabriel Rucker. Here's why
Portland chef Gabriel Rucker recently opened up to Eater about working with Nicolas Cage on "Pig." "He came in at like 7 in the morning and he looked like s***," Rucker revealed. "Little did I know that that's what he was supposed to look like for the role. I was like, Oh geez, he hasn't been taking care of himself."  Watch Nicolas Cage in the trailer (via Youtube), preparing the pigeon breast, wild chanterelle, and huckleberry-filled dish, and you'll understand Rucker's alarm. The actor looks grimy, long-haired, and sad as he narrates: "I remember every meal I ever cooked. I remember every person I ever served.
The dish that Rucker helped Cage cook, on the other hand, looks exquisite. Rucker also told Eater that Cage was a pleasure to work with. "He wasn't too cool for school," Rucker said. "It's nice when you meet someone famous and they're not an a***h***." Rucker further revealed, "He just jumped right in and was super respectful. He was himself: his voice and his mannerisms ... He's just Nicolas f***ing Cage."  
Want a taste of what Gabriel Rucker might have taught Nicolas Cage? Le Pigeon's menu currently boasts lobster tortellini, beef and truffle, and strawberry tropézienne.