Creamy Tortellini Pasta Salad Recipe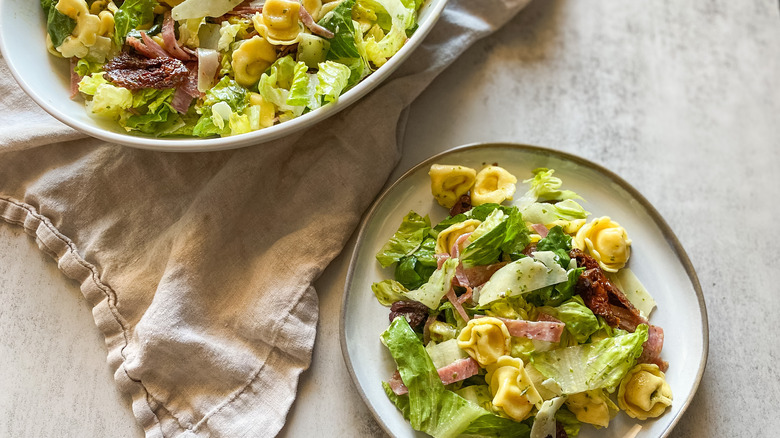 Kristen Carli/Mashed
It's a known fact that everyone needs to have a go-to pasta salad dish. It's a perfect thing to prepare and can easily serve as a side with any meat or fish or take to a buffet picnic. Pasta salad is a great meal that's quite easy to make but that will still impress and satisfy everyone who comes to the table. And as far as this recipe's concerned? This one is nice and easy, and as chef, recipe developer, and private practice registered dietician Kristen Carli of Camelback Nutrition & Wellness says, "This one is delicious." 
With just a few minutes of prep work and even less cooking time, this creamy pasta salad with tortellini will impress and satisfy a whole crowd, and what's more, it can easily be served as a main course, or it can be doled out in smaller portions as a side or a starter. "I love this salad on its own, but it would be great with a side of garlic bread," Carli says. Just don't plan to make it too far ahead of time, because even though it does need to chill some, if you leave it in the fridge for too long, those stuffed pasta noodles will become too thick and chewy.
"This does not keep well. I recommend to eat this upon making it," Carli notes. But before we can do that, we have to make it, so let's get cooking!
Gather the ingredients to prepare this creamy tortellini pasta salad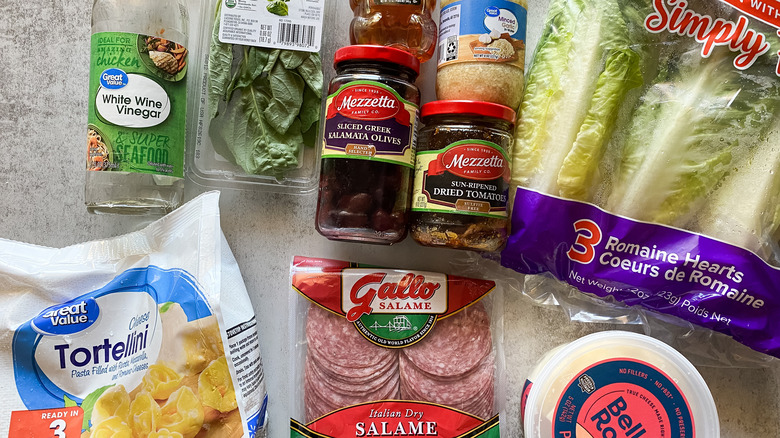 Kristen Carli/Mashed
This recipe is so easy because the main player, so to speak, is store-bought frozen cheese tortellini. To make it, you'll need a bag that gives you about 20 ounces of said frozen cheese tortellini, a head of romaine lettuce (which you will chop), a couple tablespoons of sun-dried tomatoes (packed in oil), sliced kalamata olives, some shaved Parmesan cheese, julienned salami, fresh basil leaves, white wine vinegar, minced garlic, honey, olive oil, and of course, salt. You'll need plenty of water for boiling those frozen noodles as well. It's a lot of ingredients, but the preparation goes by really quickly. Everything combines to make a really tasty dish, and we're sure you'll agree.
Boil then chill the tortellini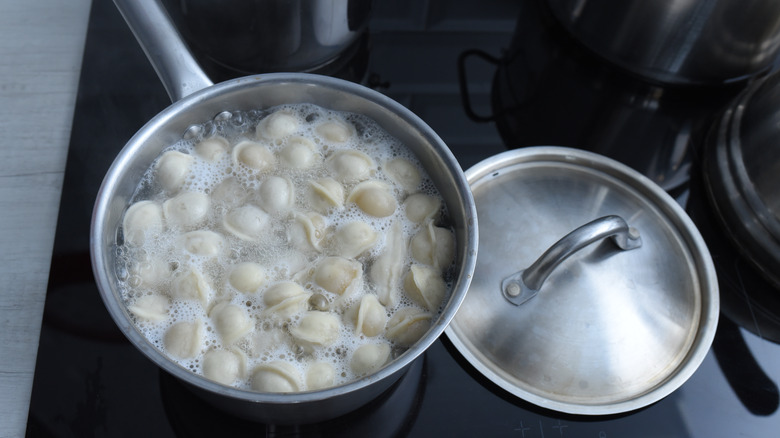 Shutterstock
Bring a large pot of water to a boil (a few dashes of salt in the water being a good idea). Once the water is at a full rolling boil, add the frozen tortellini, and immediately stir to prevent them from sticking to one another. Cook the stuffed noodles for three minutes, stirring occasionally, and as soon as they are all starting to float, cut the heat. You will then drain the pasta in a large colander or strainer, let the excess water drip off, then quickly rinse them in cool water. Next, put the cooked noodles into a bowl, and place them into the fridge to chill.
Prep the salad and the dressing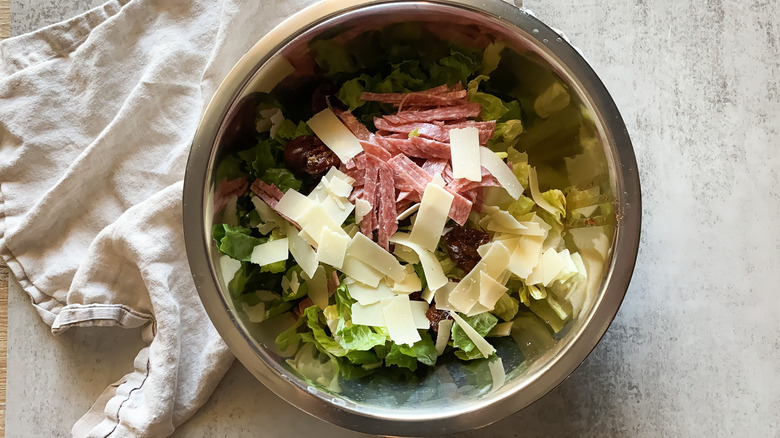 Kristen Carli/Mashed
In a large bowl, add the chopped romaine, tomatoes, sliced olives, shaved cheese, and the finely sliced salami. Once everything is in the bowl, briefly toss these ingredients to mix them together well.
Next, in a food processor, add the fresh basil, the vinegar, garlic, honey, olive oil, and the salt, and process these ingredients until a smooth, even dressing is formed. If the noodles are still warm, go ahead and put everything into the fridge to chill for a bit. If the tortellini is already cool, you can move right ahead to the next (and final!) step of this simple recipe.
Finish the salad, then serve and enjoy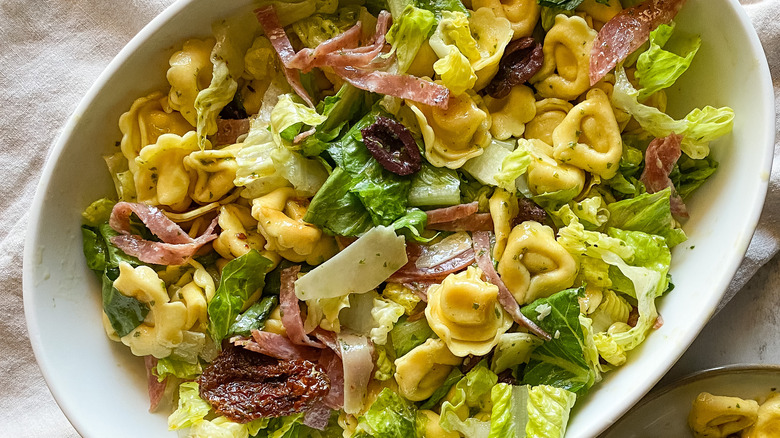 Kristen Carli/Mashed
Because this salad is best served fresh yet chilled, it really is a great step to briefly chill the pasta component, the dressing, and the lettuce, salami, et al in separate containers. Just as soon as everything is cool, it's time to get the gang together.
Add the chilled tortellini to remaining salad ingredients, spoon in the dressing, and toss everything to combine well. Then, get the dressing and evenly coat all of the components.
Like a bit of "heat" in your chilled salad? Carli says, "You can spice this up with some red pepper flakes in the dressing." Any which way you like it, don't wait too long to serve and enjoy this dish. Place it on a great platter or in a bowl, and put it on the table. This is a summer keeper for sure!
Creamy Tortellini Pasta Salad Recipe
This creamy tortellini pasta salad recipe is a summer keeper for sure.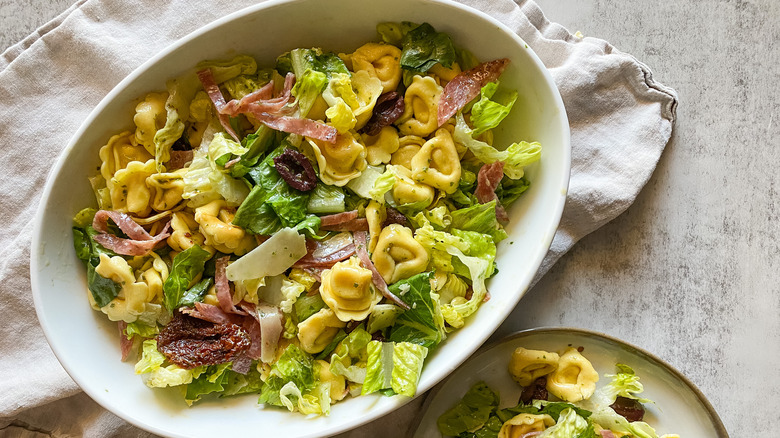 Ingredients
20 ounces frozen cheese tortellini
1 head of romaine, chopped
2 tablespoon sun-dried tomatoes, packed in oil
¼ cup kalamata olives, sliced
2 tablespoons shaved Parmesan cheese
½ cup salami, julienned
1 ounce basil leaves
¼ cup white wine vinegar
1 tablespoon minced garlic
1 teaspoon honey
¼ cup olive oil
1 teaspoon salt
Directions
Bring a large pot of water to a boil, then add the tortellini.
Cook the tortellini for 3 minutes, then drain and place in fridge to chill.
In a large bowl, add the chopped romaine, sun-dried tomatoes, kalamata olives, shaved Parmesan cheese, and julienned salami.
In a food processor, add the basil, white wine vinegar, minced garlic, honey, olive oil, and salt, and process until smooth.
Add the chilled tortellini to remaining salad ingredients, then toss with dressing to combine.
Nutrition
| | |
| --- | --- |
| Calories per Serving | 489 |
| Total Fat | 23.6 g |
| Saturated Fat | 7.4 g |
| Trans Fat | 0.1 g |
| Cholesterol | 62.1 mg |
| | |
| --- | --- |
| Total Carbohydrates | 50.6 g |
| Dietary Fiber | 4.4 g |
| Total Sugars | 3.6 g |
| Sodium | 810.1 mg |
| Protein | 19.6 g |