20-Minute Sausage And Potatoes Recipe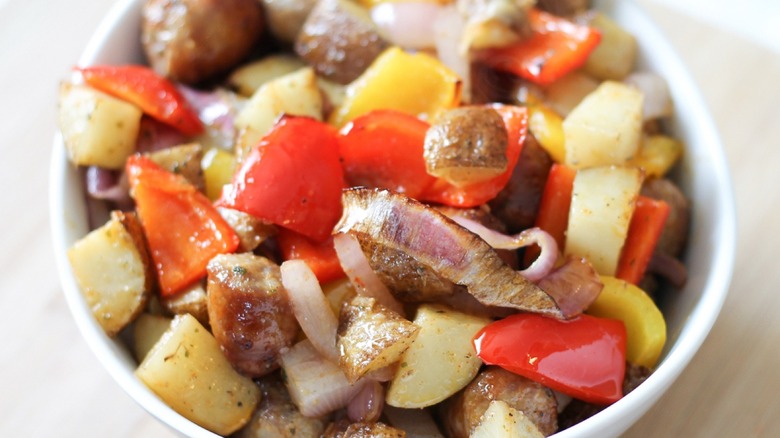 Melissa Olivieri/Mashed
Whenever recipe developer and food blogger Melissa Olivieri would pay her late mother-in-law a visit she could always count on a hearty meal of sausages with potatoes and peppers. Olivieri was aware that her mother-in-law's old-school recipe involved quite a bit of work and hours of her time, and she always appreciated it. But as a busy recipe developer, Olivieri wanted to find a way to create the same dish — in under a half an hour. And that is what we have here. 
Olivieri's air fryer 20-minute sausage and potatoes recipe is meant to honor her mother-in-law, but in basically no-time flat. What's not to love, right? No, seriously, we're trying to find anything not to love about this delightfully easy, incredibly fast air fryer recipe.
The only thing we can think of is that maybe this particular recipe is so good that you might have trouble deciding whether to make it for lunch, dinner, breakfast, or brunch. While your first thought might turn to dinner (and Olivieri points out, you can serve this with a side salad or with a vegetable side, rice, or pasta), you could just as easily warm a bowl of it up for lunch or even serve it alongside a cowboy breakfast skillet for brunch. Whatever you decide, enjoy both the dish and the fact that it only took 20 minutes to make!
Gather your ingredients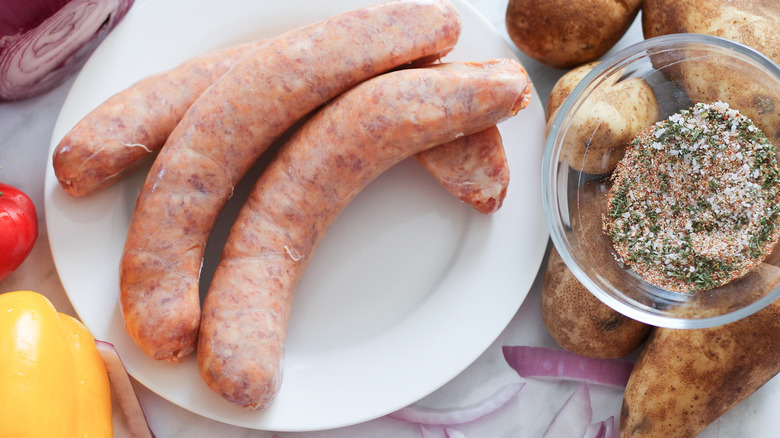 Melissa Olivieri/Mashed
For this recipe for 20-minute sausage and potatoes, perhaps not surprisingly, the ingredients you will need include sausage and potatoes. Specifically, you'll need 10 ½ ounces of the sausage of your choice (which is the equivalent of 300 grams) and four large russet potatoes, both of which you will be dicing up into one-inch chunks. You'll also need two bell peppers of any color and a large red onion. As for the seasonings that make this dish smell and taste so good, you'll need kosher salt, black pepper, garlic powder, paprika, dried parsley, and a tablespoon of vegetable oil. 
Prep your peppers and onions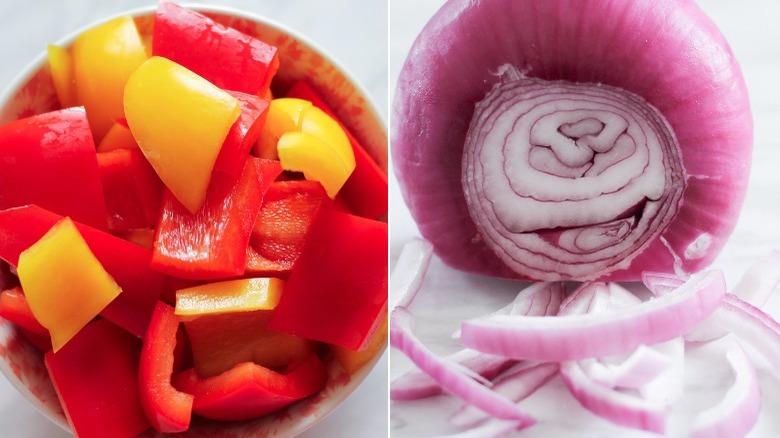 Melissa Olivieri/Mashed
You have a few different items that you'll need to prep and the order you prep them in is important. Because the flesh of potatoes can begin to turn brown once cut, you'll want to do as much of the rest of your prep first. That means beginning with the bell peppers and onions. 
First, slice both bell peppers in half and discard the seeds and filmy flesh inside. Then, slice each half into long strips, and cut each strip into several pieces. Now, slice up a cup's worth of red onion by slicing an onion into discs and quartering each disc as shown.
Dice your sausage and potatoes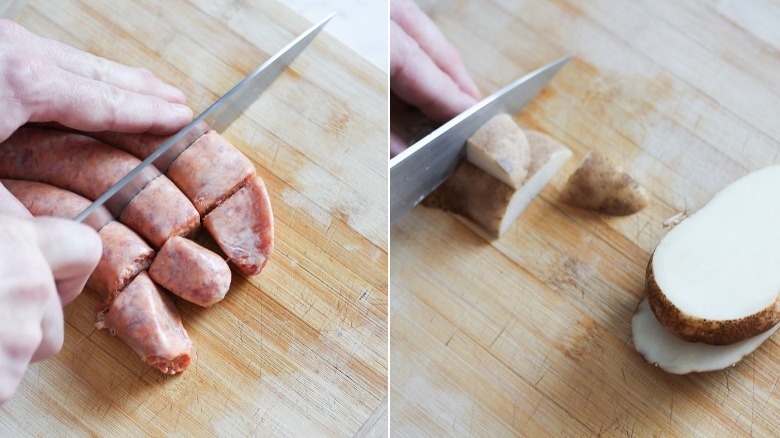 Melissa Olivieri/Mashed
Assuming that you have been keeping your sausage in the refrigerator and that you have a sharp chef's knife, slicing the sausage into one-inch chunks should be a breeze and shouldn't take you much time at all. 
After dicing the sausage, it's time to dice the potatoes into cubes. Here's how to get that done in a snap: Wash each potato, and using a chef's knife, slice it in half lengthwise. Then slice each half into thinner slices on the horizontal so that you end up with several oblong potato "flats". Stack the flats, and slice into one-inch strips, before slicing the strips into one-inch cubes. Et voila!
Spice up those potatoes and cook them in the air fryer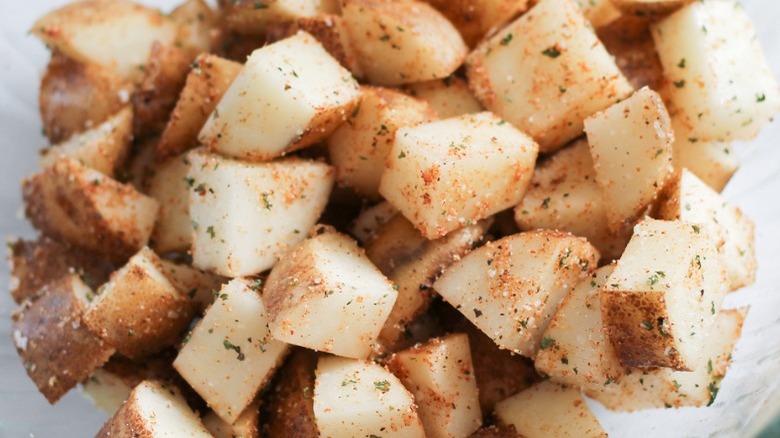 Melissa Olivieri/Mashed
Now it's time to preheat your air fryer. While the preheating is happening, measure out your oil and seasonings in a medium-sized bowl, add the potato cubes, and toss to fully coat the potato cubes as shown. Once the air fryer has been fully preheated, add the seasoned potato cubes and the sausage chunks into the fryer basket. Set a timer for 10 minutes, and then don't forget to press the start button on your air fryer (who amongst us hasn't forgotten to hit start at least once or twice, right?).
Add the onions and peppers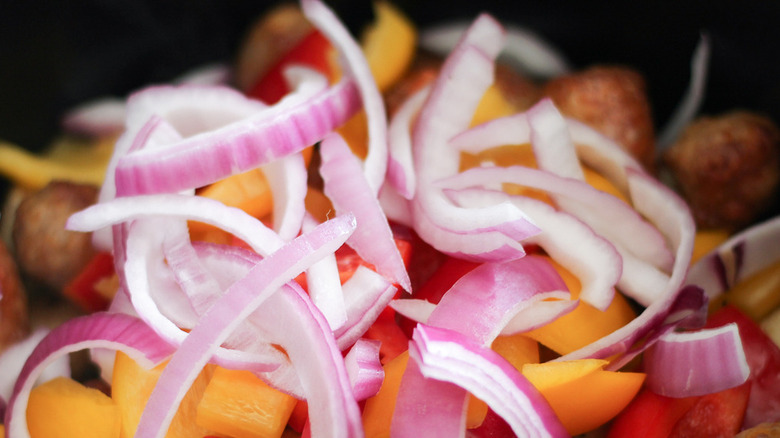 Melissa Olivieri/Mashed
When that 10-minute timer goes off, it's time to add the sliced-up bell pepper and red onion into the air fryer basket. Toss them in and set the timer for another 10 minutes, and just as before, don't forget to hit start. 
At the end of 10 minutes, the sausage should be browned and fully cooked. If not, you can add on another minute or two. Toss the ingredients gently to combine the various components and allow the flavors to marry, and serve the dish immediately with a side salad or accompanied by your favorite vegetable side dish. 
20-Minute Sausage And Potatoes Recipe
Good luck finding anything not to love about this easy, fast air fryer recipe. This 20-minute sausage and potato recipe is quick, tasty, and filling!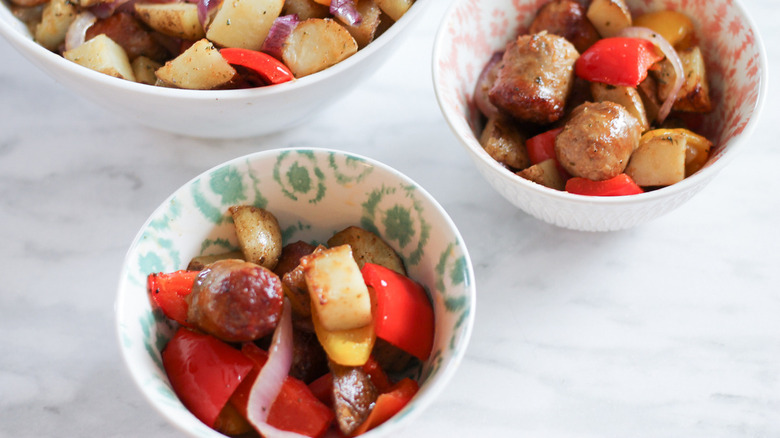 Ingredients
2 bell peppers, sliced
1 cup sliced red onion
10 ½ ounces Italian sausage
4 large russet potatoes, diced into 1-inch pieces
1 teaspoon kosher salt
½ teaspoon ground black pepper
1 teaspoon garlic powder
¼ teaspoon paprika
½ teaspoon dried parsley
1 tbsp vegetable oil
Directions
Rinse the bell peppers and slice into one-inch slices.
Slice the onions into discs, and then the discs into quarters.
Slice the sausage links into 1-inch slices.
Wash the potatoes, and dice them into 1-inch cubes.
Preheat the air fryer.
In a medium-sized bowl, mix the oil and seasonings with the potato cubes and toss them well to coat thoroughly.
When the air fryer is preheated, add the potatoes and sausage to the basket, and cook for 10 minutes.
Add the bell pepper and the red onion slices and cook for another 10 minutes, or until the sausage is browned and cooked through.
Toss to combine, and serve immediately
Nutrition
| | |
| --- | --- |
| Calories per Serving | 614 |
| Total Fat | 27.4 g |
| Saturated Fat | 8.7 g |
| Trans Fat | 0.0 g |
| Cholesterol | 56.6 mg |
| | |
| --- | --- |
| Total Carbohydrates | 74.3 g |
| Dietary Fiber | 6.7 g |
| Total Sugars | 6.0 g |
| Sodium | 1,037.2 mg |
| Protein | 19.6 g |