Seared Ahi Tuna Salad Recipe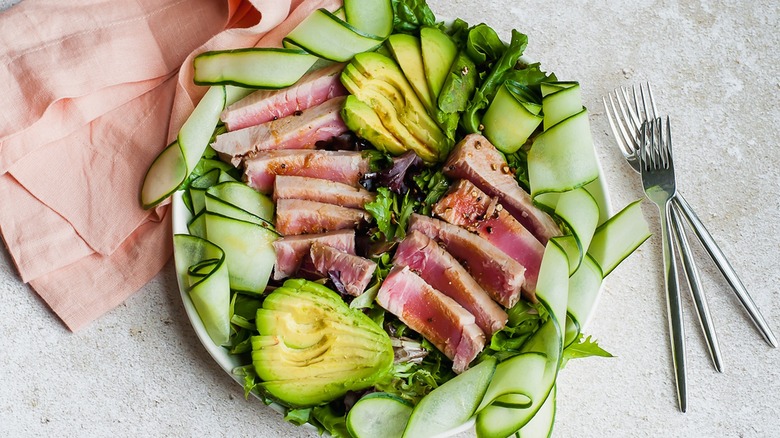 Christina Musgrave/Mashed
What's better than digging into a fresh meal packed with nutrients, different textures, and rich flavors? How about a filling seafood salad that can be ready in 12 minutes? If that sounds up your alley, then you're in for a treat. Christina Musgrave from Tasting with Tina is a food blogger, photographer, recipe developer, and chef who loves whipping up gourmet meals that don't require hours to assemble. She has developed this delicious recipe for a seared ahi tuna salad that satisfies your hunger and taste buds, and also happens to be visually stunning. 
There's no need to stand at your stove for hours preparing this meal. Not only is it fast and easy to make, but this tuna salad is impressive enough to serve to guests. It might also become your new favorite meal! 
The salad is perfect for lunch or dinner, especially in the summer when hot weather makes the thought of an oven-cooked meal unbearable. One of the best parts of this recipe is that it's versatile; it can be adapted depending on the vegetables you have on hand. 
Gather the ingredients for your ahi tuna salad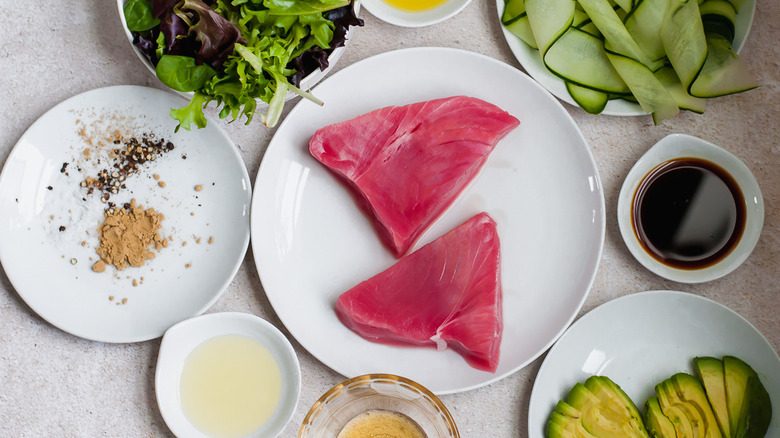 Christina Musgrave/Mashed
First, you'll need olive oil, but not extra-virgin olive oil. "Regular olive oil can be heated and that's why it's used in the pan for the tuna," says Musgrave. 
Next, ahi tuna steaks are the highlight of this tasty salad. You might find them labeled as yellowfin or bigeye tuna. This type of fish is delicious seared on both sides, leaving the interior slightly rare, so it's important to purchase fresh fish from a source that you trust. 
Next, Musgrave opts for mixed greens, which vary and can include spinach, arugula, chard, or baby lettuce. A ripe avocado adds tons of creaminess to the salad and complements the seared tuna. Musgrave also adds cucumber for an extra crunch. Those are the main items, but she enjoys switching it up and using a variety of ingredients. "Shredded carrots, sesame seeds, or green onions would be great additions to this salad," she says.
As for the salad dressing, Musgrave starts with extra-virgin olive oil as a base for a more complex flavor (you're not heating it, so it's a great choice here). Next, add low-sodium soy sauce for balanced saltiness (if you only have regular soy sauce that will work as well). For a zesty fresh taste, Musgrave incorporates fresh or ground ginger into the dressing. Then, to balance out the saltiness, she uses a touch of honey — maple syrup or sugar will also do the trick. 
Finally, every salad deserves some freshly ground pepper and a sprinkle of salt.
Pat the tuna steaks dry and sear them on each side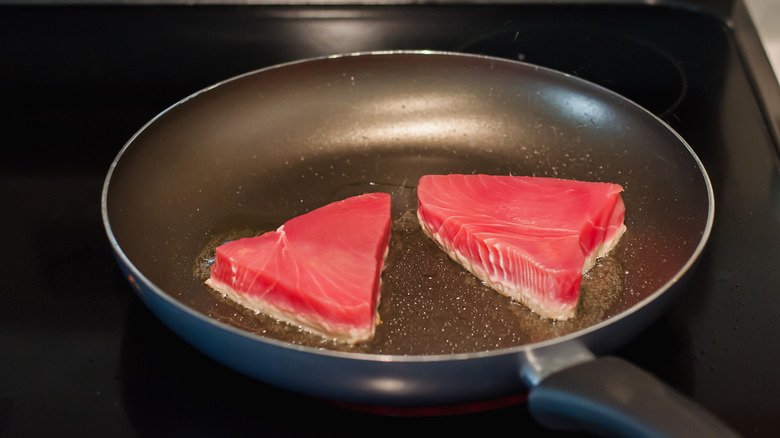 Christina Musgrave/Mashed
First of all, pat both sides of the tuna steaks dry using a paper towel or clean dish cloth. This will prevent any excess water from steaming the fish instead of searing it. Thanks to this quick step, the tuna will brown and develop a golden, crispy crust in the pan. 
Heat the regular olive oil in a skillet on medium heat. Once it's hot, add the tuna steaks and sear them for three minutes on each side. Remove them immediately from the pan to avoid overcooking. 
Musgrave points out, "This will yield a medium rare ahi tuna steak." If you're not used to eating tuna with a pink center, she recommends lengthening the cooking time to five minutes on each side, but searing tuna for a short duration results in a crispy exterior with a tender interior that practically melts in your mouth. 
Slice the tuna steaks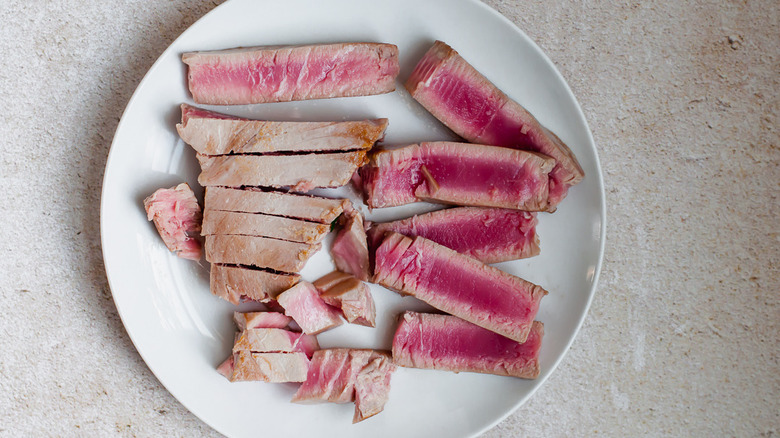 Christina Musgrave/Mashed
Once the tuna is cooked, set it aside on a cutting board. You'll want to slice it into strips for the salad so that it is evenly distributed among the other ingredients. 
Cutting seared tuna across the grain produces an ideal tender texture. To do so, look at the top of the tuna steak and locate the direction of the lines. You'll want to cut across the lines and make slices about half an inch thick.
Combine the mixed greens, avocado, cucumber, and tuna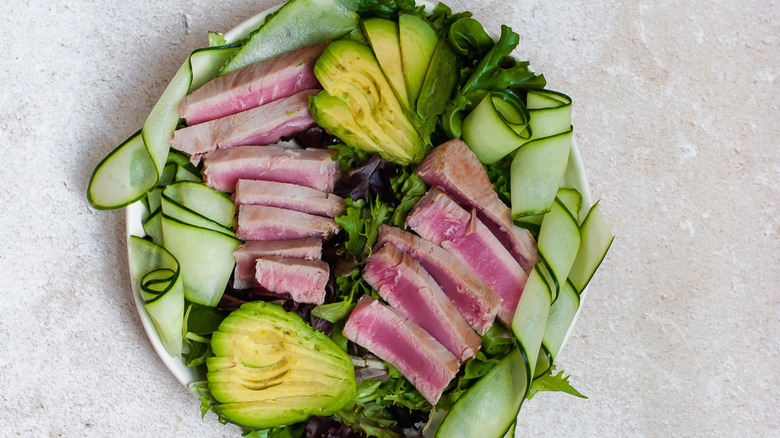 Christina Musgrave/Mashed
Now that the cooking is all done, it's time to assemble your salad. First, add your choice of mixed greens to a large bowl. Next, layer on the slices of avocado and the sliced or ribboned cucumber. Mixing and matching thickness and size of each ingredient keeps every bite interesting and unique. 
Finally, top the salad with the seared tuna slices.
Make the salad dressing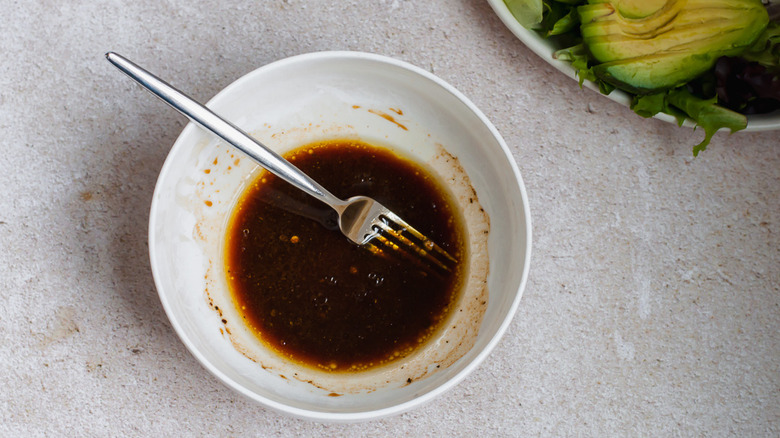 Christina Musgrave/Mashed
You're almost done, but the salad dressing is essential for infusing plenty of flavor into this dish. Using a small mixing bowl, pour in the extra-virgin olive oil, low-sodium soy sauce, fresh or powdered ginger, honey, and a sprinkle of salt and black pepper. Whisk the ingredients together using a fork until they're properly combined. 
Now that the salad dressing is made, you better have built up an appetite because you're ready to eat!
Pour the dressing over the salad and serve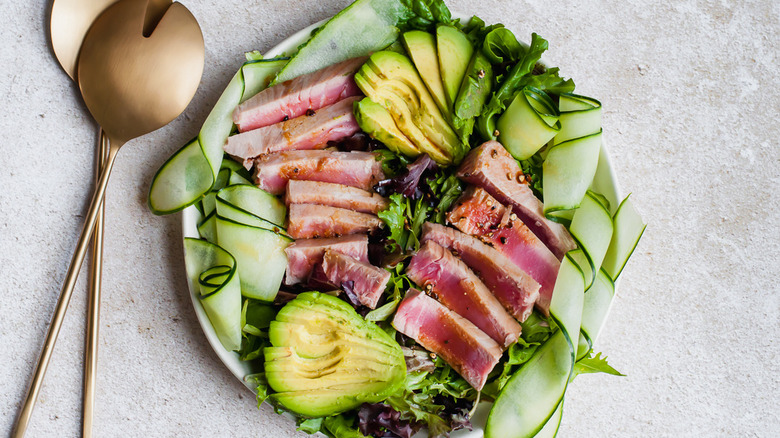 Christina Musgrave/Mashed
Pour the dressing over the salad and give it a good mix with large spoons. Musgrave notes this salad should be eaten immediately. "Ahi tuna won't keep long in the fridge once seared," she says. We're pretty sure you won't be able to resist devouring this salad anyways! 
If you're eager to find new ways to enjoy this fish preparation, Musgrave says, "Seared tuna is great in tacos or in rice bowls." It sounds like we've got a few more quick and simple meals ahead. 
Seared Ahi Tuna Salad Recipe
How about a filling seafood salad that can be ready in 12 minutes? This seared ahi tuna salad recipe is simple, but impressive enough to serve to guests.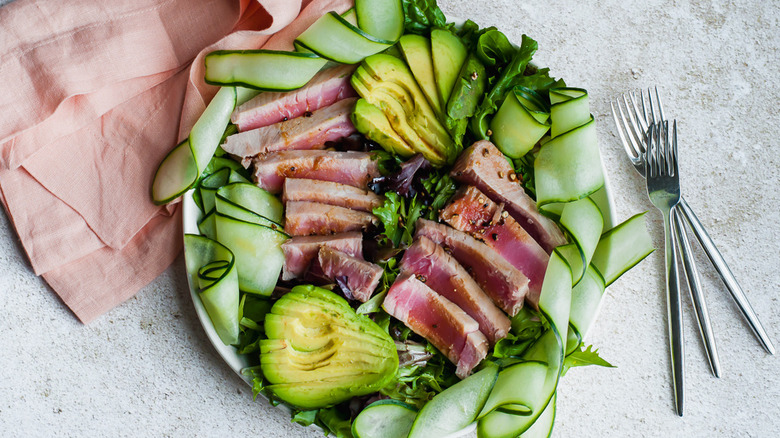 Ingredients
1 tablespoon olive oil
2 ahi tuna steaks
2 cups mixed greens
1 avocado, sliced
1 cucumber, sliced or shaved into ribbons
1 tablespoon extra-virgin olive oil
2 tablespoons low-sodium soy sauce
1 teaspoon fresh or ground ginger
1 teaspoon honey
Pinch of salt and pepper
Directions
Pat the ahi tuna steaks dry.
Heat 1 tablespoon of olive oil in a skillet on medium heat.
Sear the tuna steaks for 3 minutes on each side, then remove them from the pan.
Slice the ahi tuna steaks across the grain.
Place 2 cups of mixed greens in a large bowl.
Top the greens with sliced avocado, sliced or shaved cucumber, and the sliced ahi tuna.
Combine 1 tablespoon of extra-virgin olive oil, 2 tablespoons of soy sauce, 1 teaspoon of ginger, 1 teaspoon of honey, and a pinch of salt and pepper in a bowl.
Mix the salad dressing until well combined.
Pour the dressing over the salad and serve immediately.
Nutrition
| | |
| --- | --- |
| Calories per Serving | 515 |
| Total Fat | 29.4 g |
| Saturated Fat | 4.4 g |
| Trans Fat | 0.0 g |
| Cholesterol | 66.3 mg |
| | |
| --- | --- |
| Total Carbohydrates | 19.5 g |
| Dietary Fiber | 8.2 g |
| Total Sugars | 6.5 g |
| Sodium | 681.9 mg |
| Protein | 46.3 g |