Easy Red Lentil Soup Recipe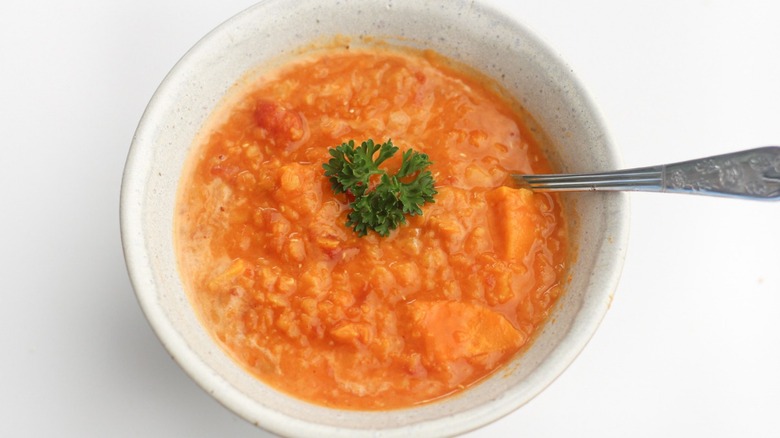 Susan Olayinka/Mashed
Despite the common impression that soup is a relatively easy dish to make, some soups are surprisingly complex, requiring a precise handling and timing of highly specific quantities of a host of ingredients if the chef hopes for the finished flavoring to be just right. Then you have other soups that will taste absolutely delicious despite being easy enough for first-time chefs to make them a success. And this tasty, nourishing soup from chef and recipe developer Susan Olayinka of The Flexible Fridge definitely falls into that latter category. "This is a very, very easy soup and pretty foolproof," she says.
As long as you can handle peeling and dicing a sweet potato, measuring out a few basic ingredients, and keeping track of the time while this soup simmers, then you are more than capable of making a batch of easy red lentil soup. And this soup is more than capable of being a starter at a fall or winter holiday feast, the counterpart to a sandwich or salad, or a meal all itself — just have two servings for that.
And while you're at it, consider making a double or even a triple batch so you can freeze and save some of this soup for later because it reheats well, and reheating this soup is just about the only thing easier than making it in the first place.
Gather your ingredients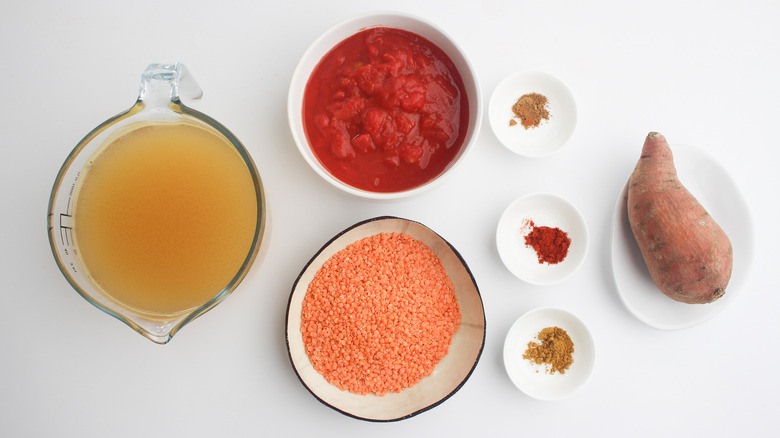 Susan Olayinka/Mashed
Along with the easy prep and cooking of this delicious soup comes a refreshingly simple list of ingredients needed to make it. All you'll need for a batch that renders 3 decent servings is 1 large sweet potato, 4 cups of chicken broth, a cup of red lentils, ¼ of a teaspoon each of cumin and paprika, and a can of crushed tomatoes (look for one that's between 14 and 15 ounces).
Also, you can use a vegetable broth to make this soup vegetarian and vegan-friendly and it will be every bit as tasty. And you can add some black pepper for a bit of kick, or some red pepper for a lot.
Prep the potato and measure your ingredients, then get cooking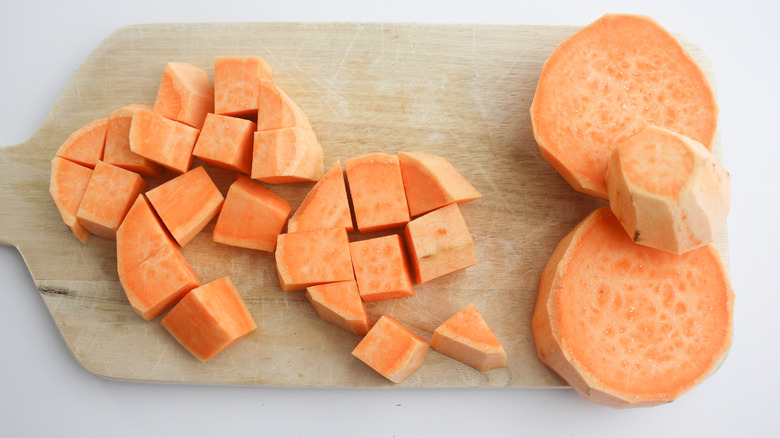 Susan Olayinka/Mashed
Start the recipe off by peeling and chopping the sweet potato into approximately 1/2-inch cubes and then set these aside. These potato chunks will break down some in the soup, but not fully, so chop them smaller if you are serving kids or if you simply prefer a soup that's closer to a puree.
Next, add the chicken broth (or veggie broth), red lentils, cumin, paprika, chopped sweet potato, and the can of crushed tomatoes to a saucepan and set a timer that will let the soup simmer on medium heat for 30 minutes, with a lid covering the pot. And don't worry, Olayinka tells us, "You do not need to pre-soak red spilt lentils thankfully — they cook so fast."
Stir and simmer, then serve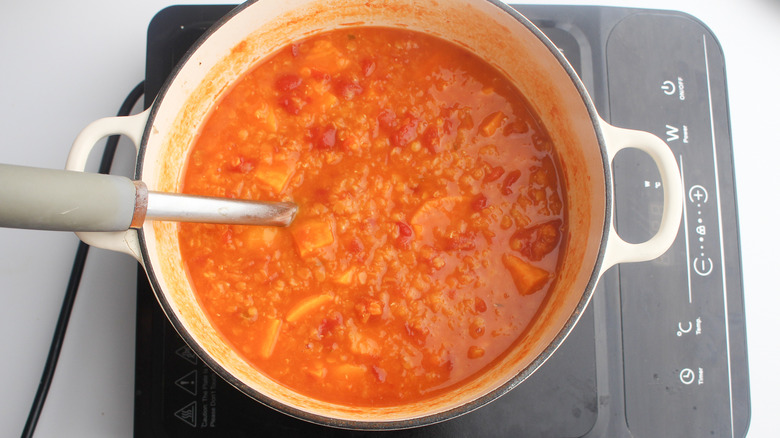 Susan Olayinka/Mashed
All told, this soup takes 30 minutes to cook. Check in on it at the halfway mark, uncovering the pot and stirring the soup at 15 minutes through the cook time. If it is cooking down too much, add a bit of broth and reduce the heat to low.
After the second 15 minutes have elapsed, the soup is ready to be served. Pour servings out into bowls and top them with an optional chopped parsley garnish, some black or red pepper, or just serve it right as it is — you'll have a tasty hit on your hands any which way.
One healthy soup thanks to two healthy ingredients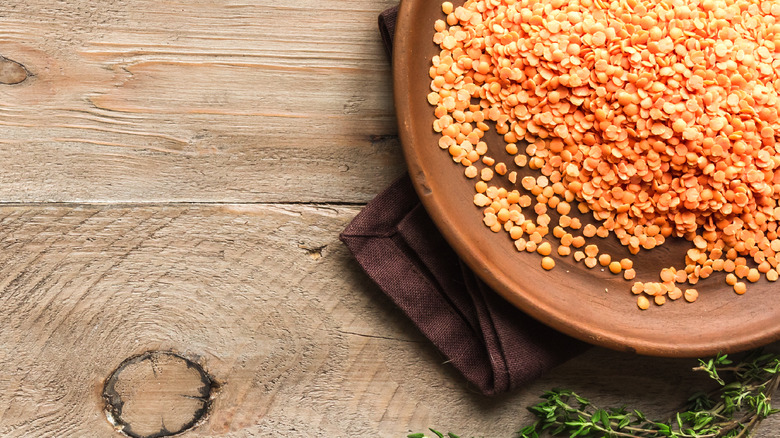 Shutterstock
This soup tastes great, and that's what's most important here. It's also, as noted many times, quite easy to make, and that's important too. The fact that all of the ingredients are affordable and easy to find? Two more pluses. And in case you need any other reasons to love it, this soup is also quite healthy.
According to Healthline, lentils are rich in protein, with nearly 18 grams per one cup serving, yet have less than a gram of fat per cup. They are also packed with fiber, folate, and iron, and are a great source of several vitamins. And sweet potatoes are healthy heavy hitters too, being a great source of vitamin C, vitamin B6, and manganese, and with a single serving (one cup, e.g.) delivering an astonishing 769% of your daily needed vitamin A.
Easy Red Lentil Soup Recipe
This hearty lentil soup couldn't be easier to make -- plus, it's filled with healthy vitamins and nutrients! Make it tonight for a quick, easy meal.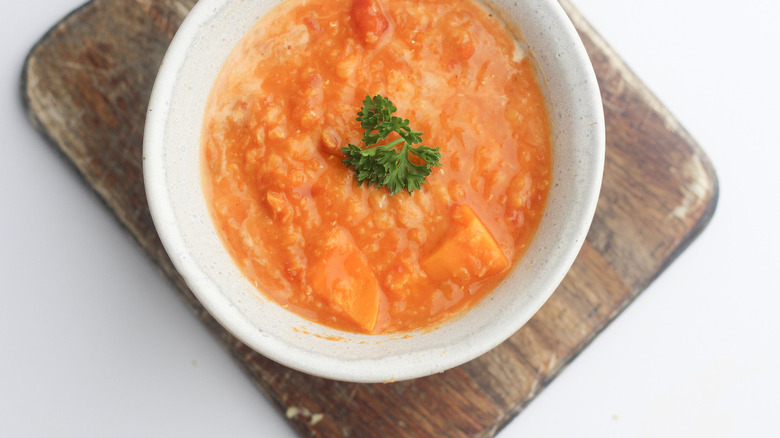 Ingredients
1 sweet potato
4 cups of chicken broth
1 cup of red lentils
¼ teaspoon cumin
¼ teaspoon paprika
1 (14- or 15-ounce) can of crushed tomatoes
Optional Ingredients
chopped parsley, for garnish
Directions
Peel and chop the sweet potato into ½-inch cubes.
Add chicken broth, red lentils, cumin, paprika, chopped sweet potato, and crushed tomatoes to a large saucepan.
Cook on medium heat for 30 minutes with the lid covered, stirring halfway.
When it's ready to be served, pour the servings into individual bowls and garnish with optional chopped parsley.
Nutrition
| | |
| --- | --- |
| Calories per Serving | 386 |
| Total Fat | 4.7 g |
| Saturated Fat | 1.2 g |
| Trans Fat | 0.0 g |
| Cholesterol | 9.6 mg |
| | |
| --- | --- |
| Total Carbohydrates | 62.3 g |
| Dietary Fiber | 8.7 g |
| Total Sugars | 9.3 g |
| Sodium | 487.7 mg |
| Protein | 24.9 g |