Instant Pot Black Beans Recipe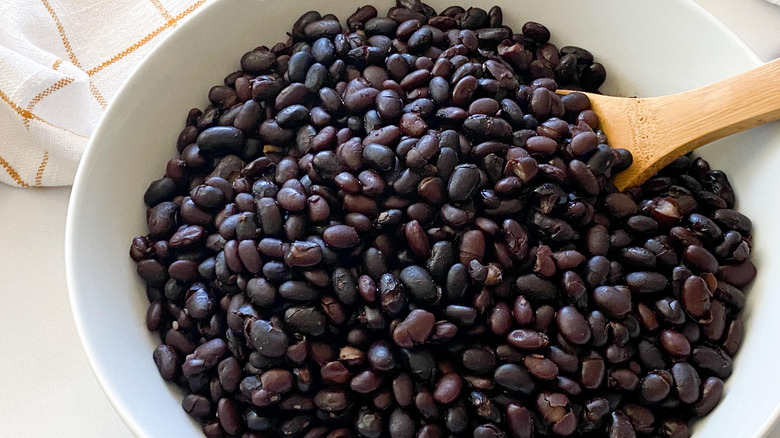 Miriam Hahn/Mashed
Black beans are a versatile and nutritious food packed with protein and fiber. They're delicious as a key component of a meatless main dish on their own as a satisfying side. And while there was once a time when the only way you could enjoy a pot of homemade black beans involved an overnight soak and several hours on the stovetop, the Instant Pot drastically reduces the time and preparation needed, making it possible to enjoy homemade black beans fast, even with a busy schedule.
"I love cooking my own beans so much!" wellness coach and recipe developer Miriam Hahn says of her recipe for Instant Pot black beans. "They taste so much fresher and it is so much more economical. Plus, most canned beans have added salt and this way you control the sodium." These black beans can be used in any recipe that calls for canned beans, or gobbled up on their own, and are easy to make ahead for later dishes. "If I make a big batch, I like to freeze them in gallon-size Ziploc bags," Hahn says. "I fill them in a thin layer and stack the bags in my freezer. Then you can just take out a bag and thaw [it] in the fridge."
Two ingredients are all you need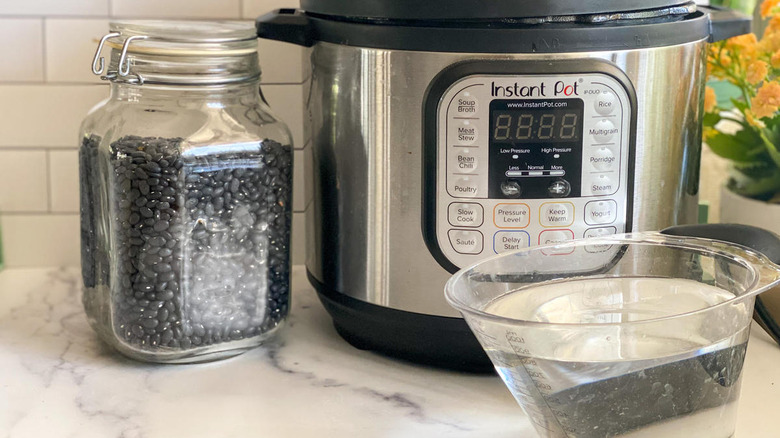 Miriam Hahn/Mashed
Dried black beans and water — and, of course, an Instant Pot — are all you'll need to prepare this simple recipe; however, if you've had the same bag of dried beans sitting in the back of your pantry for the past couple years, you might want to consider getting some new ones, though there's absolutely nothing wrong with the old ones. "If you have old beans that have been in your pantry for a while, they will take longer to cook," says Hahn. 
This recipe can also be changed up for different types of dried beans, but it's important to do a little bit of research before starting. While the method is mostly the same, you might need to adjust the cook time based on what type of bean you're using (and how old it is!).
Prepare the beans for the Instant Pot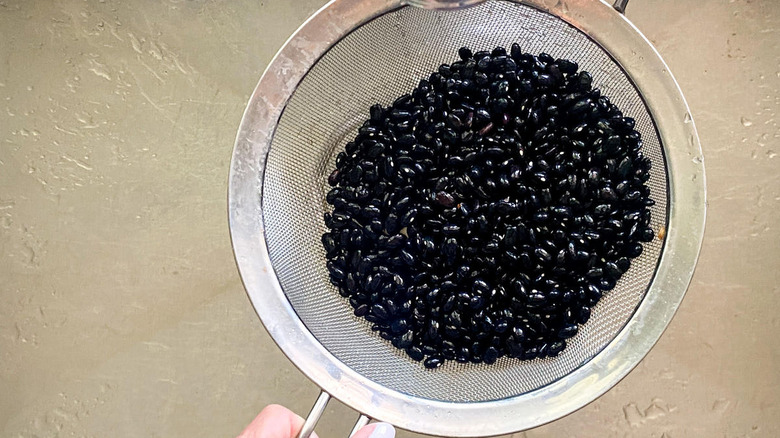 Miriam Hahn/Mashed
Whether you're buying your black beans in bulk or using bagged beans from the grocery store, it's always important to give them a good rinse before beginning to cook them. This removes any dust and dirt that might be on them, and gives you a chance to remove any grit or pebbles that might be mixed in.
Once your beans are nice and rinsed, it's time to dump them into the Instant Pot, along with the water. You can easily adjust the quantity of beans — up or down — depending on your needs, and the method will remain the same. Just make sure that if you adjust the quantity of beans, you also adjust the water, keeping the 1:2 ratio the same.
Cook your beans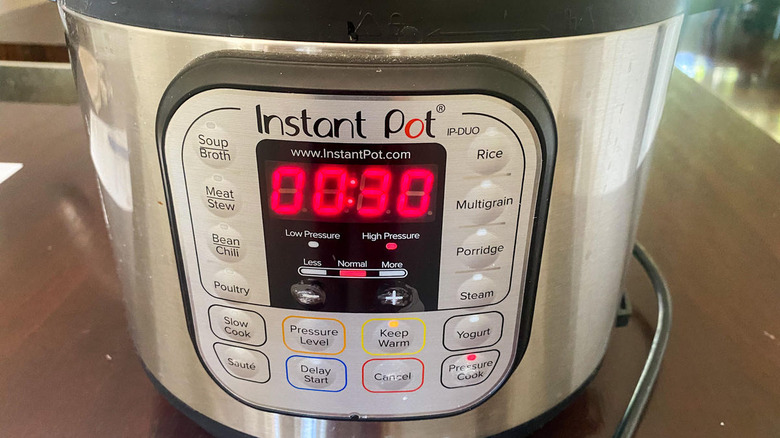 Miriam Hahn/Mashed
From here on out, the Instant Pot does all the work. Place the lid on the Instant Pot and secure it, making sure the nozzle is set to "sealing." Press the "pressure cook" button and set the timer to 30 minutes. At this point, your work is done until the cooking is complete.
Keep in mind that the cooking process won't actually start until the Instant Pot reaches pressure. This process will take about 15 minutes before the 30 minute timer will start. So plan for about 45 minutes until your beans are done cooking.
Allow the Instant Pot to release pressure naturally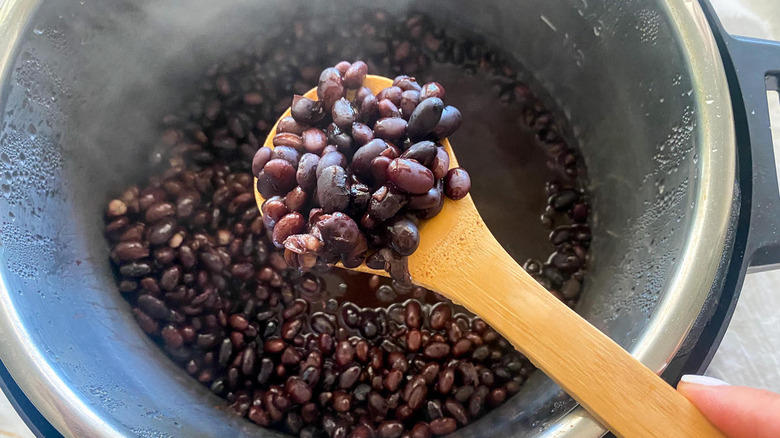 Miriam Hahn/Mashed
Once the Instant Pot timer goes off, you still have some more time to wait, although not nearly as long as it would take to cook beans from scratch on the stovetop. The way the Instant Pot cooks so quickly is by using pressure, and that pressure needs to be released before you can open it up and enjoy your beans.
It couldn't be easier to release that pressure, though. All you have to do is wait for about 30 minutes and the Instant Pot will naturally release the pressure. You don't need to change the nozzle to venting until the end of the 30 minutes.
When the 30 minutes are up, then you can change the nozzle to "venting," careful to avoid placing your face directly above any built up steam that's released. Once the steam has released, you can remove the lid safely. 
Enjoy your beans!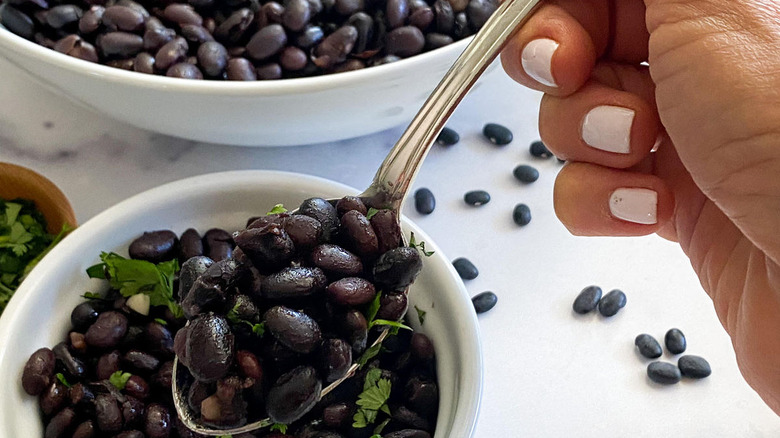 Miriam Hahn/Mashed
At this point, the beans are fully cooked and ready to enjoy. You can use them in your favorite recipes that call for cooked or canned beans, scarf them up by the spoonful (with or without cilantro), or save them to use in whichever dishes strike your fancy throughout the week. "Beans made this way will last over a week in your fridge in a sealed container," Hahn tells us. "This is great because leftover canned beans typically only last a few days."
Spicing up your beans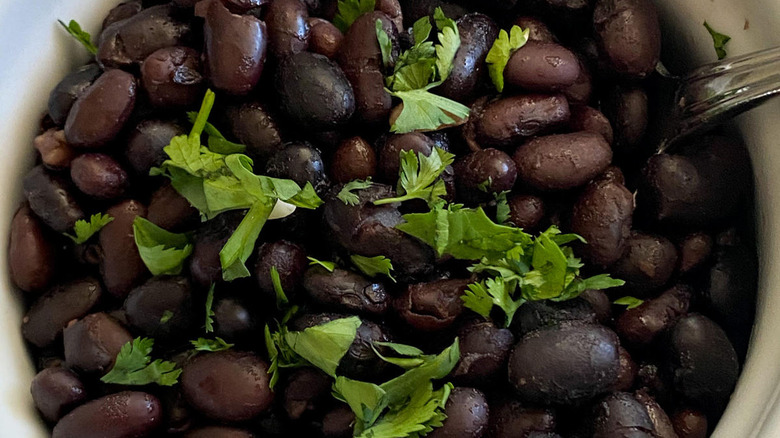 Miriam Hahn/Mashed
While this recipe doesn't call for adding any spices or other means of flavoring your beans besides their own bean-y goodness (which allows you to use them in any recipe you like), there are a number of ways to add flavor to the beans themselves as they cook.
"I usually add 1 teaspoon of garlic granules and 1 teaspoon of onion granules," Hahn tells us. "I have also added cumin. I don't like adding salt because whatever recipe I am making with the beans usually includes salt." If you're planning on eating the beans by themselves, however, you might want to add some salt at the beginning of the cooking process, along with any other herbs or spices you like.
"The other thing that is nice to add is a strip of kombu," Hahn suggests. "This is a type of seaweed that adds minerals to the beans and also helps with digestion. As a health coach, I often work with people who have digestion issues and the combination of using the Instant Pot, which cooks the beans at high pressure, and the kombu really helps." If you can't find kombu in your local grocer, you can find it online, she adds. 
Instant Pot Black Beans Recipe
This Instant Pot black bean recipe is easy to make ahead for later dishes and can be used in any recipe that calls for canned beans or gobbled up on their own.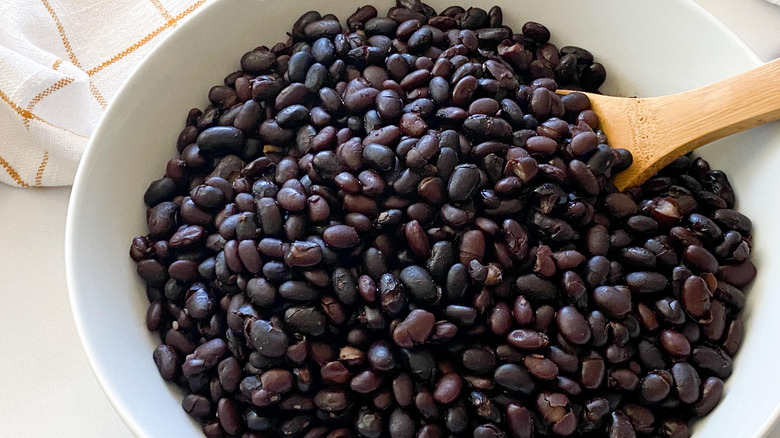 Ingredients
2 cups dry black beans
4 cups water
Directions
Put the dry black beans in a colander and rinse them well under the sink.
Add the beans and water to the Instant Pot.
Secure the Instant Pot lid and make sure the nozzle is set to "sealing".
Select the "pressure cook" button and set the time to 30 minutes.
When the timer goes off, let the Instant Pot naturally release for 30 minutes.
When 30 minutes have passed, carefully change the nozzle to "venting."
Open the lid and serve the beans.
Nutrition
| | |
| --- | --- |
| Calories per Serving | 165 |
| Total Fat | 0.7 g |
| Saturated Fat | 0.2 g |
| Trans Fat | 0.0 |
| Cholesterol | 0.0 mg |
| | |
| --- | --- |
| Total Carbohydrates | 30.2 g |
| Dietary Fiber | 7.5 g |
| Total Sugars | 1.0 g |
| Sodium | 7.2 mg |
| Protein | 10.5 g |