The Worst Cracker Barrel Menu Item According To 32% Of People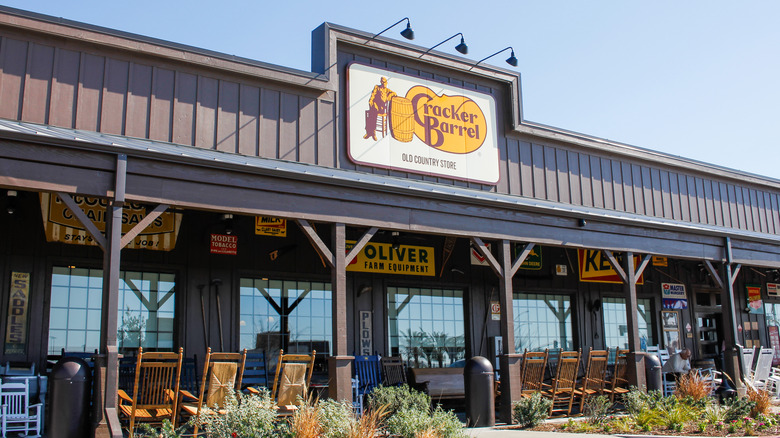 Shutterstock
There are 665 Cracker Barrel locations in the United States (per Scrape Hero), and sometimes it seems like there are just as many items on the menu. Founded in Tennessee in 1969, this restaurant is a destination both for road-trippers, thanks to its convenient highway proximity in 45 states, as well as a family tradition. You know what you're getting with Cracker Barrel: that porch lined with rocking chairs that will transport you, if only for a few moments, to a peaceful country home; that general store filled with nostalgic pieces of Americana and trinkets you never knew you needed, and food meant to stir up memories of your family kitchen. Most dishes at Cracker Barrel can't quite claim to be the most nutritious options, but they certainly can claim to nail that hearty, homemade goodness. The only constant question that remains is, whatever are you going to order?
Mashed recently polled 645 people in the U.S. to help navigate this chain's massive menu with the help of popular opinion. In that earlier survey, we found out what people think are the best menu items. The Chicken N' Dumplins took first place with 23.1% of the vote, followed by – in order – Sunday Homestyle Chicken, Pecan Pancakes, Barrel Cheeseburger, Country Fried Shrimp, and Fried Chicken Tenders. Now, we're looking at what 645 people think are the worst items. The top six best items are fair game for trying, depending on your mood. This group, meanwhile, is probably a range to avoid.
Most diners prefer to skip the trout at Cracker Barrel
The Lemon Pepper Grilled Rainbow Trout was the runaway ... well, loser? 32.4% of the 645 respondents voted this the worst dish on Cracker Barrel's menu. That's too bad, because according to the Cracker Barrel website, this is actually one of their more healthy options on the chain's menu. The Lemon Pepper Grilled Rainbow Trout comes with two trout filets, plus you get to pick two sides (like mac and cheese, turnip greens, carrots, or fried okra, among other options) along with a biscuit or corn muffin. The fish filets contain only 330 calories, so depending on what sides and bread option you choose this could be pretty a nutritious meal. The whole thing costs only $11.29, which is a comparable to other dishes like the Southern Fried Chicken and Country Fried Shrimp.
Picked as the second-worst menu item was the Meatloaf with 24.5% of the vote, then the Chicken N' Dumplins at 13.8%, the Country Fried Steak at 12.7%, the Chicken BLT at 10%, and the Chicken Fried Chicken at 6.5%.
These results might come as a shock
The fact that Chicken N' Dumplins won our poll for best Cracker Barrel menu item and then came in third for the worst is a reminder these are all opinions, and we all have our own preferences. Some people think the Chicken N' Dumplins is Southern cuisine at its best, while others are disappointed with things like its presentation. Similarly, not everyone dislikes the chain's Lemon Pepper Grilled Rainbow Trout. Even with 32.4% of our respondents declaring it the worst item on the menu, it of course has its fans (if it didn't, we're sure Cracker Barrel would have removed it from the menu ages ago). One diner wrote a glowing review of the dish on Yelp, stating that the trout was "very tender and seasoned to perfection. I was blown away by the taste and quality of this entree."
These polls are certainly helpful in guiding you through Cracker Barrel's potentially overwhelming menu, but you'll also have to trust your instincts. After all, one diner's trout is another's Chicken N Dumplins!