Easy Black Bean Soup Recipe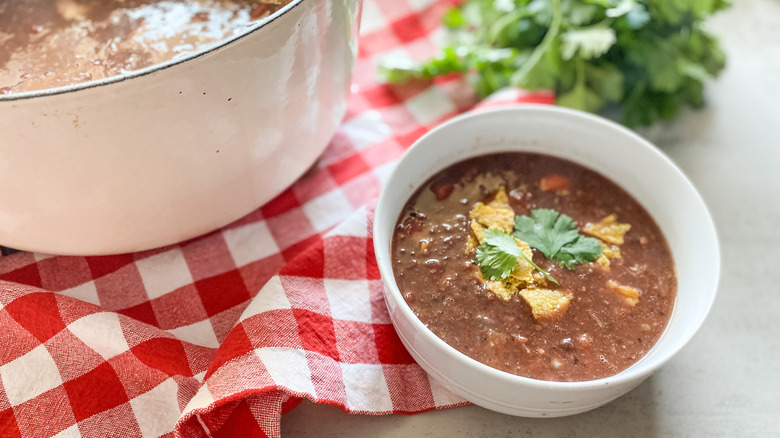 Kristen Carli/Mashed
If you're a fan of black beans and a fan of soup, then this recipe should be right up your alley. Most people are used to traditional soups like broccoli cheddar, chicken noodle, minestrone, and baked potato, and while those are all good, they're kind of "been there, done that." If you want to make something that is a little outside of the box but still incredibly delicious, then this recipe for easy black bean soup is seriously calling your name. Not to mention, beans are incredibly healthy, so it's really a great option to make all the way around.
One of the best parts about this dish is that it can be ready in no time. It requires just a couple minutes of prep time and 20 minutes of cook time — yep, that's it! Private practice registered dietician and recipe developer Kristen Carli of Camelback Nutrition & Wellness is the brains behind this soup. She shares that her favorite part is the black beans. "I love a plant-based meal. Black beans are a great source of plant-based protein and antioxidants," she raves. We'd have to agree because beans are not only delicious, but they're also super filling. So keep scrolling to find out how to make this yummy soup that is sure to knock your socks off.
Gather the ingredients to prepare this easy black bean soup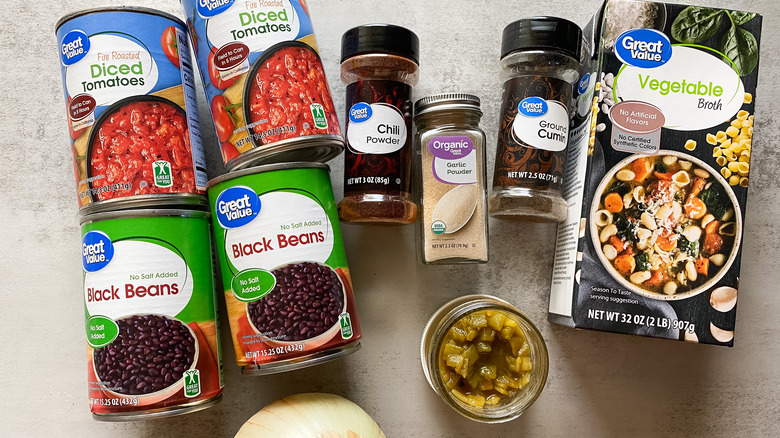 Kristen Carli/Mashed
The first step in the process is to gather everything that you need for this scrumptious meal. Take out a pen and paper, and keep inventory of what you have at home versus what you need to get at the store. For starters, you'll need olive oil, a yellow onion, and a can of black beans. You will also need a few other canned goods, including fire-roasted tomato and diced green chiles. The next big part of the soup base is vegetable broth.
In addition, add a few spices to the list, including garlic powder, ground cumin, and chili powder. That's it! Now we can begin whipping this up.
Heat the onion and olive oil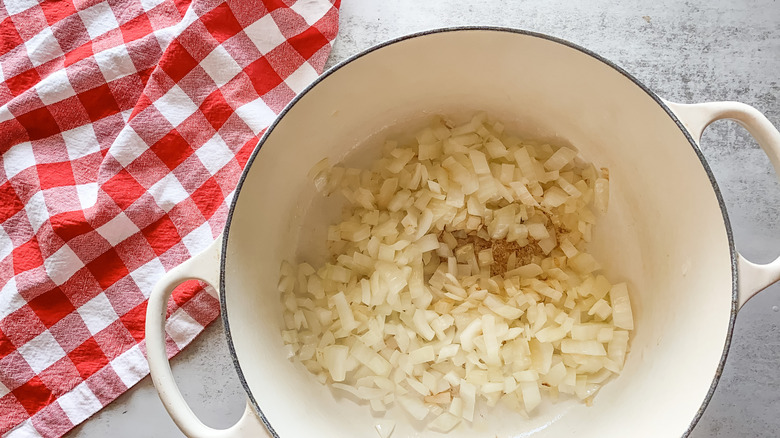 Kristen Carli/Mashed
Once you have your ingredients in front of you, take out a large pot. You can use a regular pot or a Dutch oven, as shown in the photo. Put the pot over your burner, and turn the heat up to medium so it gets nice and toasty. Go ahead and add in the olive oil and the onion first. (As a reminder, you should have already diced the onion.) Let the mixture sauté for about five minutes or so. You can tell it's done when the onion is translucent. That's a pretty easy first step, right?
Add in the other ingredients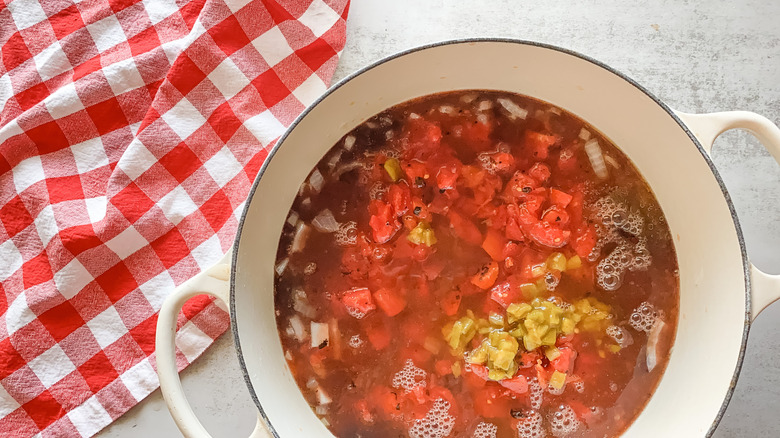 Kristen Carli/Mashed
Once you are done sautéing and the onions and soak up all that good oil, you need to add a few more items. Toss in the black beans and fire-roasted tomatoes. Once those are both in, you can add the green chilies followed by the veggie broth.
Don't stop yet ... there are a few more things that still need to go in! Add your remaining spices, including garlic powder, cumin, and chili powder. Give everything a few good stirs to combine. Now, the mixture should be looking more like soup, and your kitchen should smell pretty darn spectacular.
Bring the soup to a boil, and blend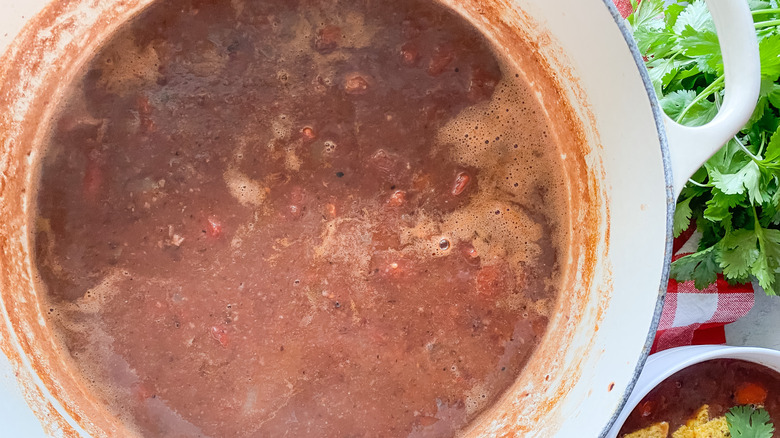 Kristen Carli/Mashed
Now that all of your ingredients are in the pot, it's literally time to get cooking. Bring the mixture to a boil. Once it starts to bubble, lower it to a simmer. Set your timer for 15 minutes, and let the mix simmer so all of the flavors blend. We know that waiting is the hardest part, but we promise these extra few minutes will be worth it in the end.
When your timer goes off, take out an immersion blender. Stick it inside of the pot, and blend about half of the soup. You still want to leave some of it slightly chunky, so it has a good consistency.
Serve the soup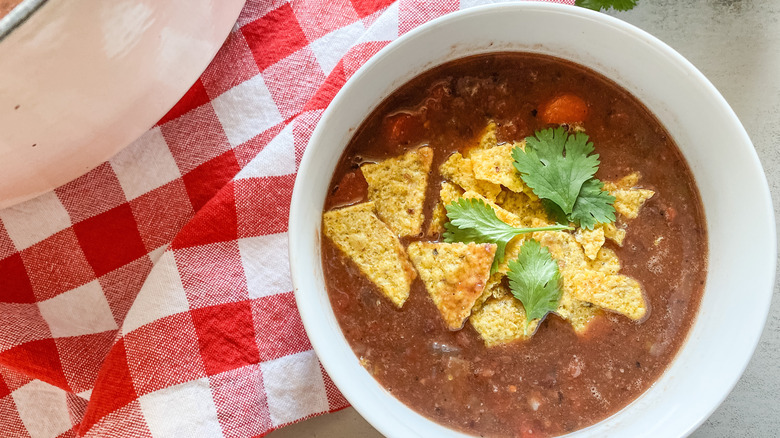 Kristen Carli/Mashed
Now, you can finally enjoy the fruits of your labor. Feel free to serve this in whatever size bowl that you see fit. Small or large, it doesn't matter — it truly depends on how hungry you are. As for serving suggestions? "I love serving this with toppings like sour cream, tortilla chips, or cilantro," Carli suggests. You can also pick up a nice, crusty loaf of bread to serve a slice with each bowl.
Leftovers will also keep. You can store them in the fridge for up to four days as long as you put them in an airtight container. "Leftovers can be frozen in an airtight container for up to three months," Carli says.
Soup is always a great idea, really any time of year. It works well to serve for a light lunch or even a hearty dinner. You can serve up a healthy green salad on the side if you want to stretch the meal a bit, too.
Easy Black Bean Soup Recipe
If you're a fan of black beans and a fan of soup, then this easy black bean soup recipe should be right up your alley.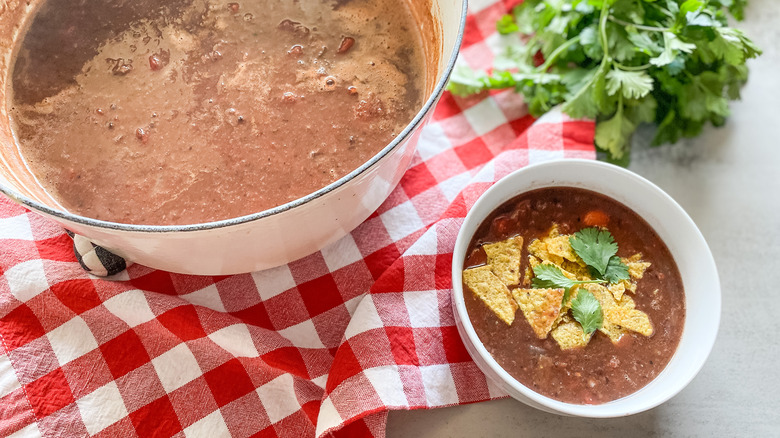 Ingredients
1 tablespoon olive oil
1 yellow onion, diced
2 (15-ounce) cans black beans
1 (15-ounce) can fire roasted tomatoes
1 (4-ounce) can diced green chiles
2 cups vegetable broth
1 teaspoon garlic powder
1 tablespoon ground cumin
1 teaspoon chili powder
Directions
In a large pot over medium heat, add the olive oil and diced onion. Sauté until the onion is translucent, about 5 minutes.
Add the black beans, fire roasted tomatoes, diced green chiles, and veggie broth.
Add the garlic powder, ground cumin, and chili powder. Stir to combine.
Bring to a boil. Then, lower to a simmer, and simmer for 15 minutes.
Use an immersion blender to blend about half of the soup, leaving it slightly chunky.
Serve, and enjoy!
Nutrition
| | |
| --- | --- |
| Calories per Serving | 270 |
| Total Fat | 4.8 g |
| Saturated Fat | 0.7 g |
| Trans Fat | 0.0 g |
| Cholesterol | 0.0 mg |
| | |
| --- | --- |
| Total Carbohydrates | 44.8 g |
| Dietary Fiber | 18.2 g |
| Total Sugars | 4.7 g |
| Sodium | 569.8 mg |
| Protein | 14.7 g |