Simple Cold Brew Cola Recipe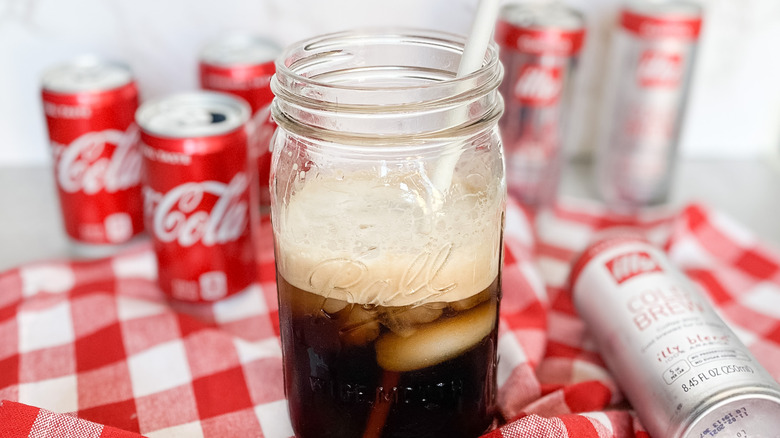 Kristen Carli/Mashed
Some foods were just meant to go together, like peanut butter and jelly, and bacon and eggs. Other food items have absolutely no business being together, such as oranges and cheese, and let's just leave that one there. (Feel free to use your imagination, though.) Then there are foods you might never expect to complement one another, but just so happen to get along quite beautifully. A few examples of harmonious relationships include ham and pineapple, red pepper flakes and chocolate chip cookies, and, last but not least, coffee and cola.
What do you get when you blend a good, strong cold brewed coffee with a sweet, tasty, and refreshing cola? According to recipe developer and private practice registered dietician Kristen Carli of Camelback Nutrition & Wellness, you get a drink that's "perfect on hot summer afternoons [with a] taste [that's] strong and sweet." An unexpected pairing, perhaps, but not an unprecedented one. None other than the Coca-Cola® company itself has gotten into this beverage category, releasing Coca-Cola with Coffee in early 2021. But when you go with a store-bought drink like this, you can't customize the flavor profile to your liking. When you make it yourself, you can feel free to adjust the balance of the liquids. But the first time you make yourself a cold brew cola, go ahead and stick with Carli's formula.
Gather your ingredients to prepare cold brew cola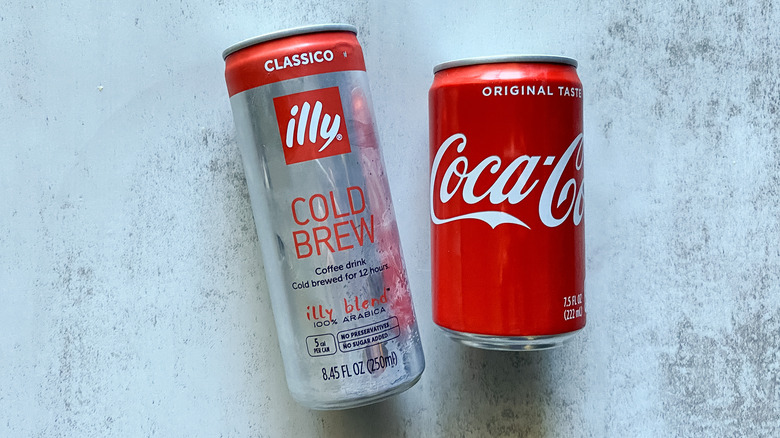 Kristen Carli/Mashed
If you don't count the ice, there are simply two ingredients required to whip up a cold brew cola, and surprise, surprise, they are ... cold brew coffee and cola. Pretty simple, right? But there's room for flexibility here despite the amazing simplicity of the ingredient list. "This would be great with a diet option or Coke Zero as [the] cola," says Carli. And of course you can use a decaf coffee and decaf cola for a refreshing beverage that won't impact your sleep later on. The possibilities are pretty great, so this is something to be excited about for a fun, refreshing option to drink that you can prepare in your own kitchen. And since we're talking about possibilities, if you want to take things up a notch, we'll talk about DIY cold brew coffee later.
Blend the ingredients, and enjoy your beverage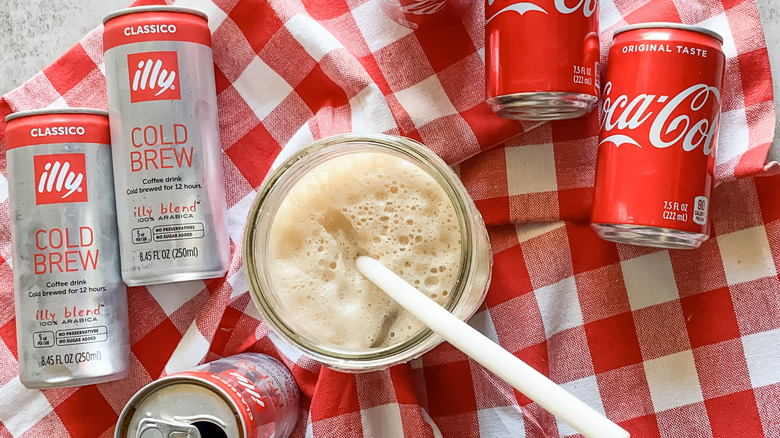 Kristen Carli/Mashed
As we mentioned, you only need ice, cold brew coffee, and cola to create your very own cold brew cola! And if there's anything simpler than the ingredient list that goes into this refreshing and energizing drink, it's the process of actually making it. For a single serving, all you need to do is simply fill a large glass with ice, and add 5 ounces of cold brew coffee. Then, you will add in 4 ounces of your preferred cola, and for a final step, you'll stir the drink to blend it. (You'll know you got the ratio right if the drink is gently bubbly, Carli notes, and if both the cola's sweetness and the robustness of the coffee remains tasty as well.) For an extra special touch, pop a straw in your glass (or don't), and enjoy your thirst-quenching, homemade beverage.
How and when to serve your cold brew cola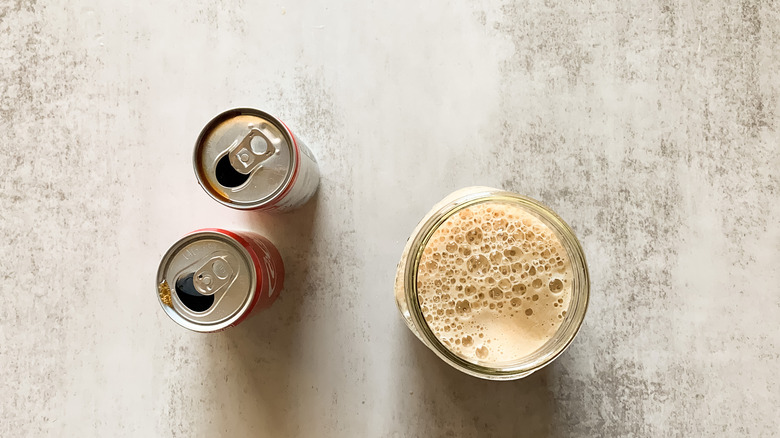 Just think about it — how fun would it be to serve up some fresh, homemade cold brew cola at your next barbecue with your burgers and fries? All of your family, friends, and guests will be super impressed with your creative effort — especially if you can find yourself some old fashioned cola glasses for an extra Pinterest-worthy presentation! Serve up your food and cola on a traditional red and white checkered tablecloth, and make sure your straws are red or white, of course. We're pretty sure you will be starting a new trend in your friend and family group, or at the very least, a new tradition at your house that everyone will look forward to for many gatherings to come.
How to make cold brew coffee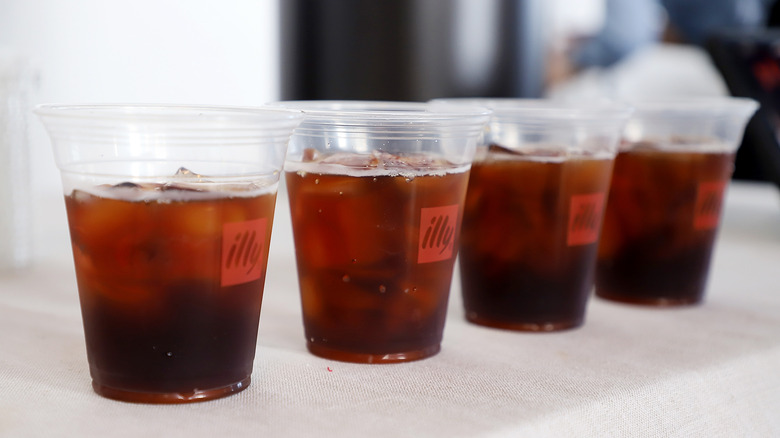 John Parra/Getty Images
For another delicious beverage, making cold brew coffee at home is refreshingly easy to do too, provided you have the free time. You can always buy a dedicated cold brew coffee maker, but unless you really get into the beverage, that's likely overkill. All you really need to do to make cold brew coffee, according to NPR, is to add ground coffee to a pitcher of cool water and wait a while. Sounds pretty easy, right?
To be specific, try blending 1 cup of ground coffee with 4 cups of water, then allow that to sit at room temperature for at least six hours. Then, strain out the grounds by pouring the liquid (which is now coffee) through a filter or cheesecloth, then pour it over ice. This drink would look so trendy served up in mason jars, and a straw is never a bad idea. So do some pouring, serving, and enjoying.
It's incredibly easy and such a great idea to make a pitcher or two to add to your outdoor gathering for another drink option. Everyone loves the idea of homemade, natural food options, so both homemade cola and cold brew coffee beverages are sure to be crowd-pleasers. You will receive lots of compliments, and will most likely get requests for both of the recipes! Serve them up and have fun with all of the curious reactions, because you'll be the cool and trendy hostess of the day for sure.
Simple Cold Brew Cola Recipe
This recipe for cold brew cola is a refreshing, delicious treat to prepare on a hot summer afternoon.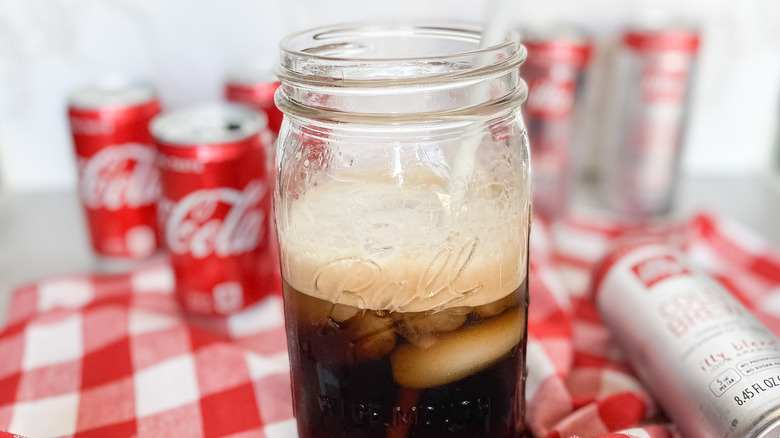 Ingredients
5 ounces cold brew coffee
4 ounces cola
1 cup ice
Directions
Fill a large glass with ice.
Add the cold brew coffee to the glass, then add the cola.
Stir the cold brew coffee and cola together until well blended.
Serve with a straw, and enjoy!
Nutrition
| | |
| --- | --- |
| Calories per Serving | 43 |
| Total Fat | 0.1 g |
| Saturated Fat | 0.0 g |
| Trans Fat | 0.0 g |
| Cholesterol | 0.0 mg |
| | |
| --- | --- |
| Total Carbohydrates | 10.8 g |
| Dietary Fiber | 0.0 g |
| Total Sugars | 10.2 g |
| Sodium | 16.9 mg |
| Protein | 0.2 g |