Creamy Sundried Tomato Pasta Recipe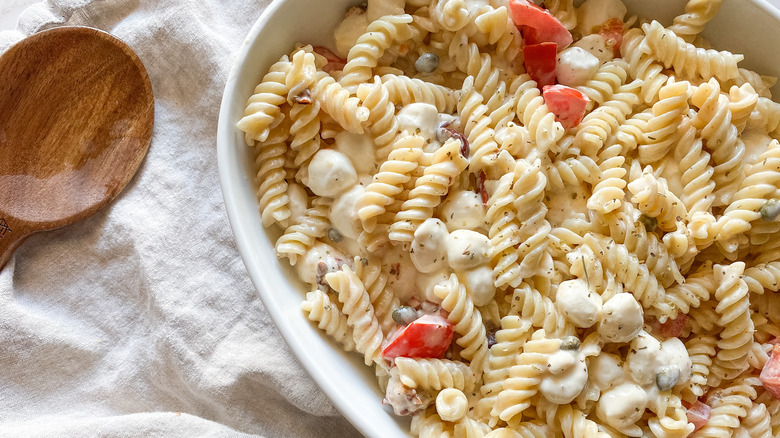 Kristin Carli/Mashed
Whether you're looking for a quick mid-week dinner or a decadent Saturday night feat, pasta almost always hits the spot. There are so many ways that you can serve pasta, but sometimes, tried and tested flavors are great to fall back on and create the tastiest dishes. And that's why you may be interested in Kristen Carli's recipe for creamy sundried tomato pasta. This recipe doesn't just include ingredients that you'll likely find in your fridge and cupboards. It plays with sweet, salty, and sour ingredients to create a delicious dish.
This recipe combines two types of tomatoes, two types of cheese, and olives and capers in a super creamy sauce to create a new twist on tomato pasta. When you're craving hearty Italian food, it can be super tempting to go out to the shops and buy a pre-made sauce. However, the fresh produce in this sauce give it a serious kick that you won't find in a jar.
This dish is also really great to make with the whole family. It doesn't require too much cooking, and as long as you take responsibility for cutting up the vegetables, kids can combine the pasta and sauce. It introduces them to more complex flavors, such as capers and olives, while giving them the satisfaction that they helped you to put it on the table.
Gather your ingredients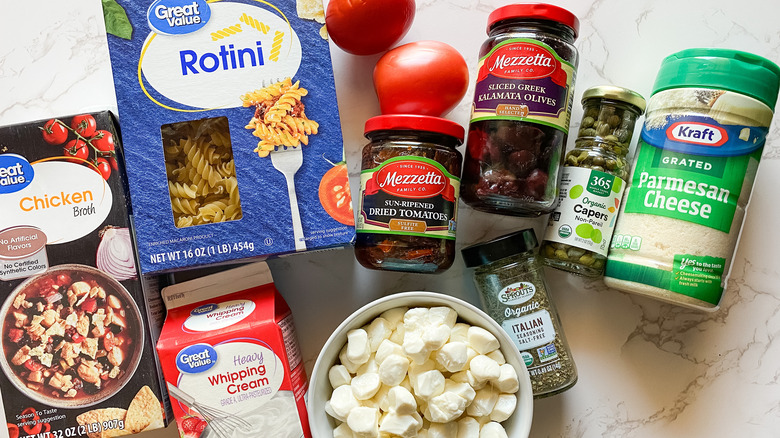 Kristin Carli/Mashed
Before you start making your pasta, ensure that you have all the ingredients you need to make this creamy sundried tomato pasta. This recipe calls for rotini. The shape isn't just really aesthetically pleasing. It also holds the sauce well and is really easy to eat. If you have an alternative pasta shape preference, it would absolutely work with this recipe. Similarly, if you're gluten-free or have specific dietary requirements, then you can swap the pasta out for products that use alternative flours.
Flour is used later in the recipe, and you can use the flour that fits your dietary requirements. You'll also need sundried tomatoes, Roma tomatoes, kalamata olives, mozzarella peals, capers, heavy cream, and chicken broth. To add extra flavor to your dish, you'll need to use Italian seasoning, Parmesan cheese, salt, and pepper. If you'd like to make any additions, such as arugula or garlic bread, then consider preparing these items now. 
Cook the rotini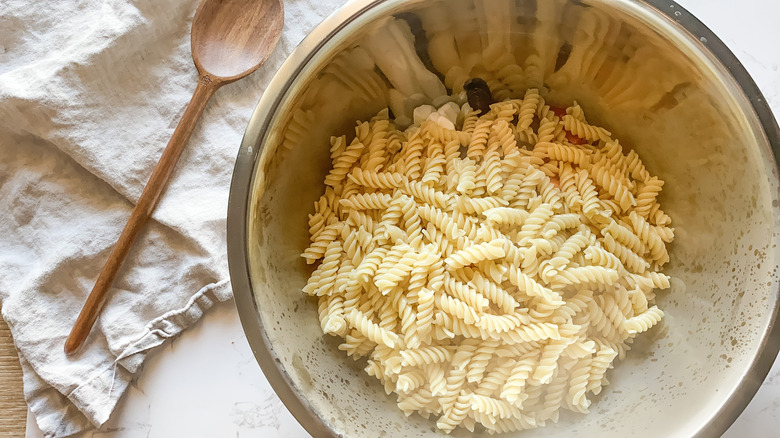 Kristin Carli/Mashed
The first thing you need to do before you start making your sauce is boiling your water. Pour your rotini into the boiling water, and give it a quick stir. You can then leave the pasta to cook on its own, stirring occasionally to prevent sticking. Double-check the packet for cooking times, as they can vary. It usually takes between eight and 10 minutes.
You can check how cooked your pasta is by stirring the water and sticking a fork in the pasta. If it's soft but firm, it's ready.
Prepare the vegetables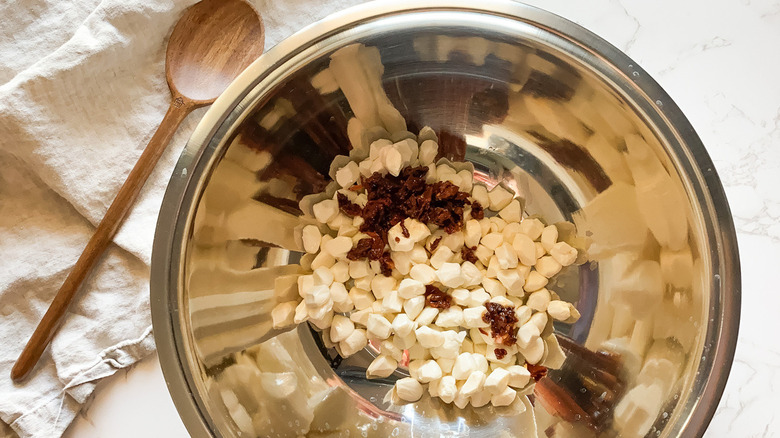 Kristin Carli/Mashed
With one eye on the pasta, you can begin to prepare your vegetables and accompaniments. Rather than throwing your tomatoes and olives into the sauce whole, it's easier to eat them when they're cut into smaller, more manageable pieces. Dice your Roma tomatoes into bite-size chunks. You can either leave your sundried tomatoes whole, halve them, or cut them into similar-sized pieces as your Roma tomatoes.
Then pour out your olives onto a chopping board and halve them. Capers are already small enough and pack a punch when left whole.
Mix ingredients in a bowl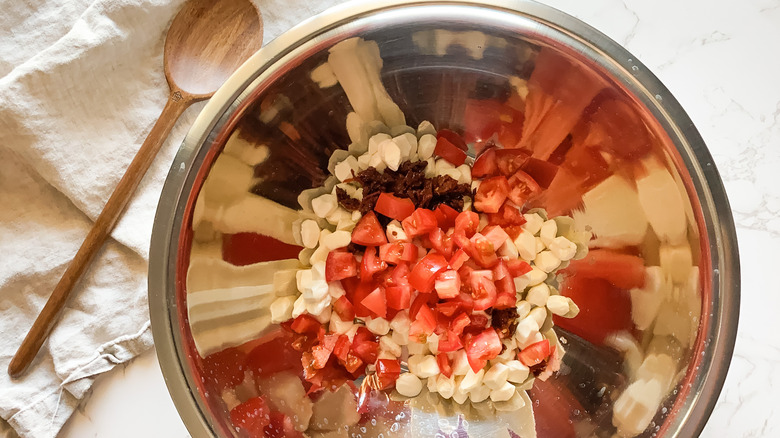 Kristin Carli/Mashed
Once all of your vegetables are prepared, you can put them into a bowl. Stir well so your tomatoes, olives, and capers are well incorporated. You can also add the mozzarella pearls at this point.
If your mozzarella pearls come in water, then make sure you drain the bag well. Pour the produce into the dish with your vegetables and stir them in. You're going to be making a sauce that will bring your dish together, so you don't need to worry about adding your pasta at this point.
Make the sauce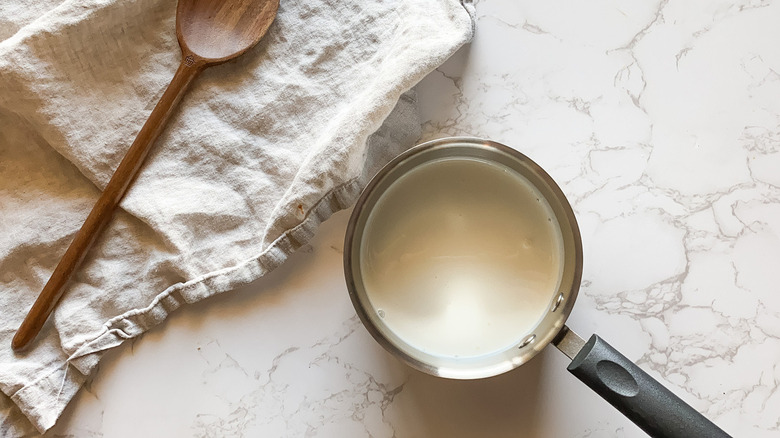 Kristin Carli/Mashed
Make sure you keep an eye on your pasta while you're preparing your vegetables and making your sauce. Nothing can make Italian food fall flat like overcooked pasta. It's the base of your dish.
In a small saucepan, you can pour your heavy cream, chicken broth, Italian seasoning, and Parmesan cheese. Stir well and monitor the heat so it's at a slight simmer. Season your sauce with salt and pepper, and add flour so it thickens. Continue to whisk the sauce over medium heat until you can see it thickening. When you're done, your sauce shouldn't have any lumps of flour or spices in it. It can take around five minutes of stirring to become smooth.
Combine and serve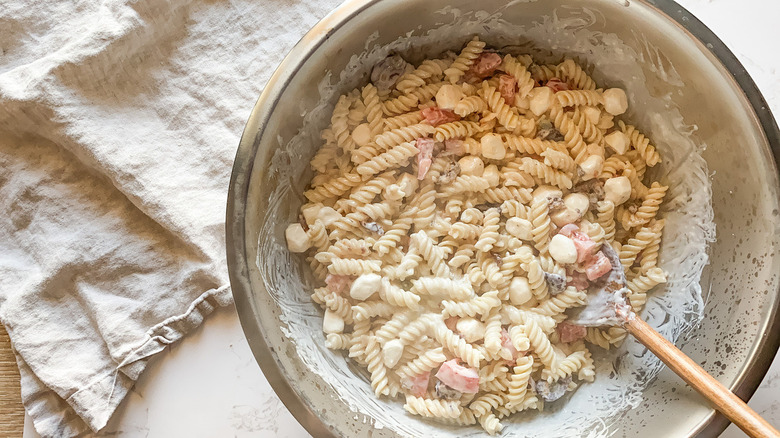 Kristin Carli/Mashed
Whether you're serving this dish to friends or eating it alone, it's good to combine all of the components before you sit down to eat. Pour the pasta into a serving bowl or dish. Then, stir in your tomato, mozzarella, olives, and capers. Stir so that the mixture is equally distributed and the tomatoes begin to cook slightly from the residual heat of the pasta
To finish the dish off, drizzle the sauce over the top. Stir it in, coating all of the pasta to ensure that your final dish has an ample serving of tomatoes and is super creamy. Then, serve it to family and friends — it's going to be a hit!
Creamy Sundried Tomato Pasta Recipe
Whether you're looking for a quick mid-week dinner or a decadent Saturday night feat, pasta almost always hits the spot.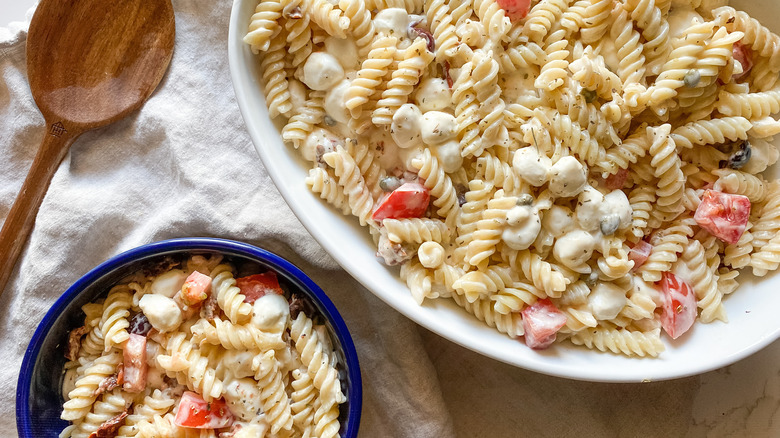 Ingredients
1 pound rotini
2 Roma tomatoes, diced
10 sundried tomatoes, diced
¼ cup kalamata olives, sliced
16 ounces mozzarella pearls
2 tablespoons capers
1 cup heavy cream
1 cup chicken broth
1 teaspoon Italian seasoning
½ cup grated Parmesan cheese
½ teaspoon salt
¼ teaspoon pepper
2 tablespoons flour
Directions
Bring a large pot of water to a boil. Add the rotini and cook according to the package directions.
In the meantime, add Roma tomatoes, sundried tomatoes, kalamata olives, mozzarella pearls, and capers to a large bowl.
In a small saucepan, pour in the cream, chicken broth, Italian seasoning, Parmesan cheese, salt, pepper, and flour. Whisk over medium heat until thick and smooth. It will take about 5 minutes.
Drain the pasta and add it to the bowl with the tomatoes. Pour the sauce over the pasta. Stir to combine and serve.
Nutrition
| | |
| --- | --- |
| Calories per Serving | 737 |
| Total Fat | 37.2 g |
| Saturated Fat | 21.6 g |
| Trans Fat | 0.0 g |
| Cholesterol | 123.7 mg |
| | |
| --- | --- |
| Total Carbohydrates | 66.3 g |
| Dietary Fiber | 3.5 g |
| Total Sugars | 6.5 g |
| Sodium | 839.2 mg |
| Protein | 33.9 g |