Copycat Chipotle Corn Salsa Recipe
Kristen Carli/Mashed
Who doesn't love going out to eat and savoring delightful new flavors and flavor combinations? While going out for our favorite dishes at a restaurant makes for a fun occasion, we'd rather not have to shell out the cash every time we have a craving. That's why we love when our recipe developers come up with copycat recipes, so that we can enjoy restaurant flavors from the comfort of our own home. 
Kristen Carli, registered dietitian and owner of Camelback Nutrition & Wellness, is enthusiastic about Chipotle Mexican Grill. In particular she remarks, "I love the Chipotle corn salsa." That's why Carli has developed the perfect version of the recipe to make at home, thanks to one of Chipotle's TikTok videos and trial and error. "These ingredient ratios matched perfectly," said Carli. 
But don't just take her word for it. If you get started now, you'll be able to taste this delicious copycat Chipotle corn salsa recipe in five minutes!
Gather the ingredients for your copycat Chipotle corn salsa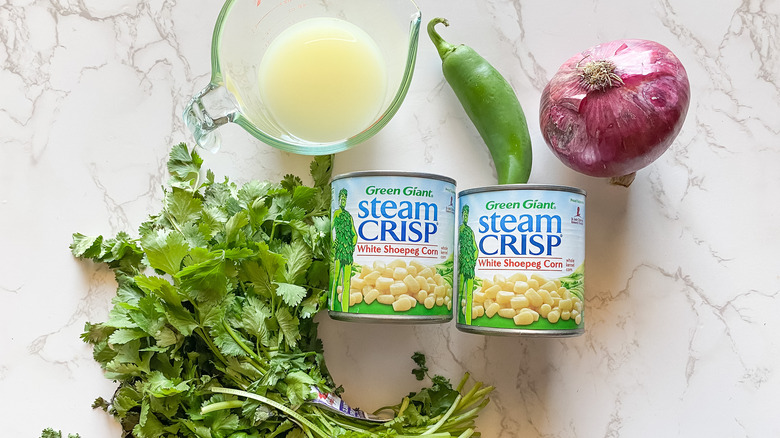 Kristen Carli/Mashed
This tasty salsa recipe is straightforward and only requires a handful of ingredients, yet is brimming with flavor. To start, you'll need some white shoepeg corn, a pale colored corn that is pleasantly sweet. The kernels are slightly smaller and sweeter than standard yellow corn. You might also find cans labeled as "country gentleman corn," so keep an eye out. Be sure to drain the liquid and rinse the corn thoroughly. 
Next, you'll want red onion, which is milder and sweeter than yellow onion, making it ideal for raw dishes such as salsa. It adds a nice crunch to the dip, contributing to the different textures. For a little kick, add some jalapeño to the salsa as well. If you like it especially fiery, then take Carli's lead: "I would love to throw in some habañero for extra heat!" 
Cilantro adds plenty of fresh herbal flavors to the salsa, so you won't want to skimp unless you're part of the 21 percent of people worldwide who can't stand it, which is the real reason so many people hate cilantro. Lime juice adds the perfect balance of sour tang to make this salsa bright and zesty. And finally, salt enhances all of the flavors. 
Serve this tasty copycat Chipotle corn salsa with quality tortilla chips and you might forget that you're eating at home. 
Chop your ingredients and juice your limes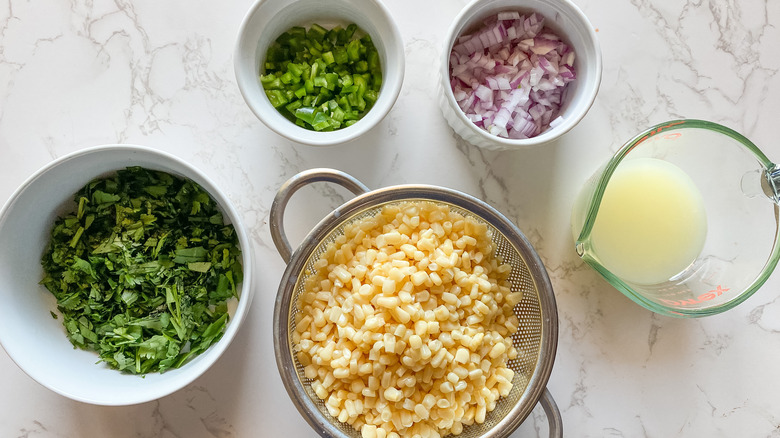 Kristen Carli/Mashed
You'll want to chop and dice your ingredients finely so that they combine together easily. So for starters, dice the red onion and the jalapeño into small pieces in order for them to distribute evenly throughout the salsa. Then chop the cilantro finely so that the fresh herb finds its way into every scoop of salsa. 
If your limes are still whole, this is the time to squeeze out the juice. 
Add all of the salsa ingredients to a large bowl and mix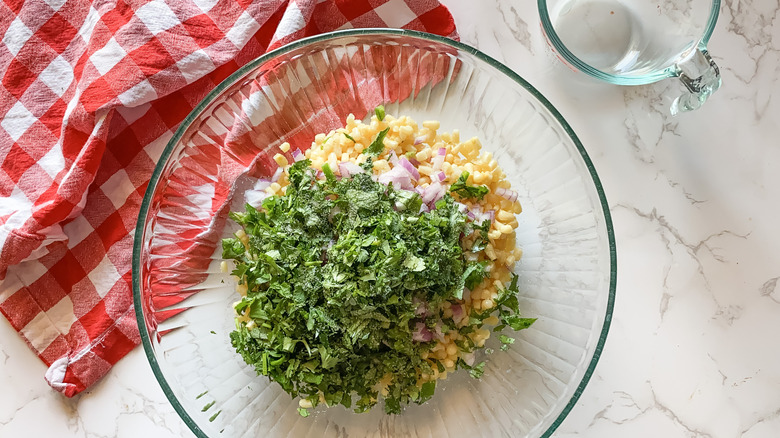 Kristen Carli/Mashed
Set out a large bowl and add the rinsed and drained shoepeg corn, the chopped red onion, the chopped jalapeño, the diced cilantro, the lime juice, and the salt. Stir thoroughly until they are well combined and the lime juice has become absorbed by all of the ingredients. You'll know the salsa is ready when it could pass for a piece of art!
Serve up this delicious copycat Chipotle corn salsa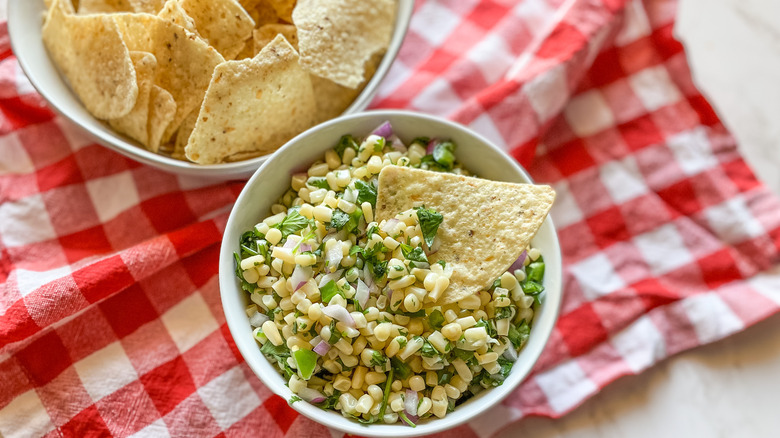 Kristen Carli/Mashed
Serve this copycat Chipotle corn salsa with tortilla chips for the classic restaurant experience. Carli doesn't stop at tortilla chips, though. She likes eating it with burritos or tacos or on top of salads. Once you make a batch of this salsa, you'll want to try the all of the different options. 
Only make what you can eat within a week, though, since Carli remarks, "This does not freeze well." She recommends storing leftovers in an airtight container in the fridge for up to seven days.
Copycat Chipotle Corn Salsa Recipe
Thanks to one of Chipotle's TikTok videos and trial and error, this copycat Chipotle corn salsa recipe is just like the real thing and takes just five minutes.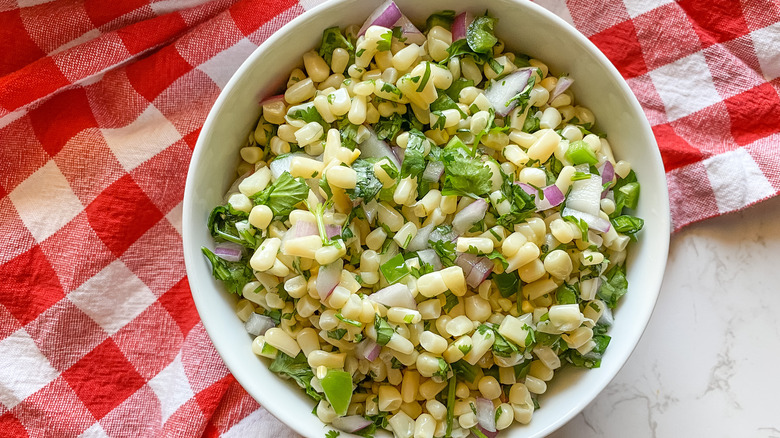 Ingredients
2 (11-ounce) cans white shoepeg corn, drained and rinsed
½ red onion, diced
1 jalapeño, diced
½ cup cilantro, chopped
¼ cup lime juice
2 teaspoons salt
tortilla chips, for serving
Directions
In a large bowl, add the corn, red onion, jalapeño, cilantro, lime juice, and salt.
Stir all of the ingredients to combine.
Serve the salsa with tortilla chips.
Nutrition
| | |
| --- | --- |
| Calories per Serving | 197 |
| Total Fat | 5.5 g |
| Saturated Fat | 0.7 g |
| Trans Fat | 0.0 g |
| Cholesterol | 0.0 mg |
| | |
| --- | --- |
| Total Carbohydrates | 36.6 g |
| Dietary Fiber | 4.8 g |
| Total Sugars | 5.0 g |
| Sodium | 481.8 mg |
| Protein | 4.9 g |