Trader Joe's Fans Can't Stop Talking About Its New Vegan Frozen Dessert Cones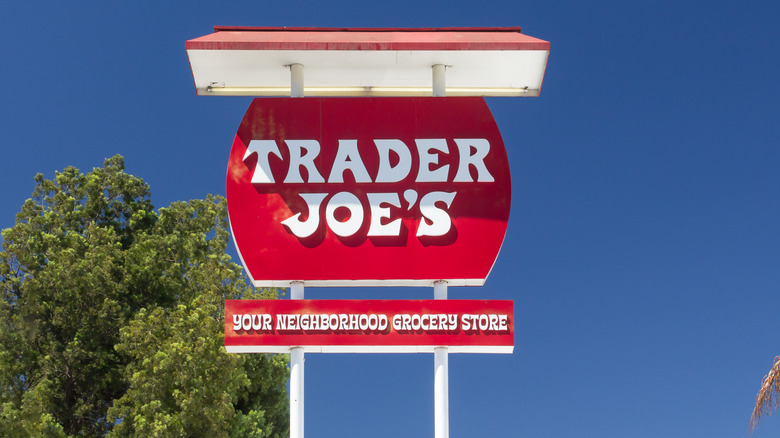 Shutterstock
It's National Ice Cream Month, and many Trader Joe's shoppers are talking about these new vegan frozen dessert cones. As seen on the @TraderJoesObsessed Instagram account, people can't get over the Hold the Dairy! mini cones. One big draw to this new treat is the serving size. Many people were flabbergasted that there are six mini cones in a single serving. With 12 cones per box, the serving size does leave some questions on the table, even though a box retails for $3.99. Still, this frozen dessert just might be the summer's best find.
According to @TraderJoesAficado, the coconut-based chocolate ice cream is the "best tasting." @TraderJoesObsessed described the flavor as "similar to the dairy free chocolate coconut ice cream in a pint." Many people appreciate the creamy consistency. In some ways, the photos look like Trader Joe's has transformed the traditional ice cream sundae cone into a mini, vegan version. Whether it is a one bite treat, a poppable snack, or something else, people are ready to buy a box. 
Still, some comments had concern over the high sugar content and the lack of a gluten-free cone. While it seems that no food will appease everyone's preferences, this new vegan frozen dessert has a lot of people screaming for more, more, more.
Popular Trader Joe's vegan frozen desserts
While Trader Joe's Fearless Flyer always has amazing products soaring into stores, there are certain food categories that many shoppers specifically want. A quick search of the brand's website shows over 50 vegan products currently on store shelves. That mix of sweet and savory options makes the company popular with certain food lifestyles, in particular vegans.
Since many people love a sweet treat, there are some popular Trader Joe's vegan frozen desserts that are always good finds on the shelf. VegNews recommends the Soy Creamy Cherry Chocolate Chip Ice Cream, Non-Dairy Oat Frozen Dessert in Strawberry, and Vanilla Non-Dairy Frozen Dessert. One of those options sounds very similar to an iconic ice cream brand's popular flavor. One Hangry Mama adds Trader Joe's Non Dairy Mint & Chip Bon Bons to the vegan frozen dessert list. All of these offerings prove that vegan desserts can have similar flavors to other popular frozen desserts. When that craving hits, everyone deserves to have it satisfied, even if dairy is off the table.