McDonald's Monopoly Is Returning To The UK With This VIP Twist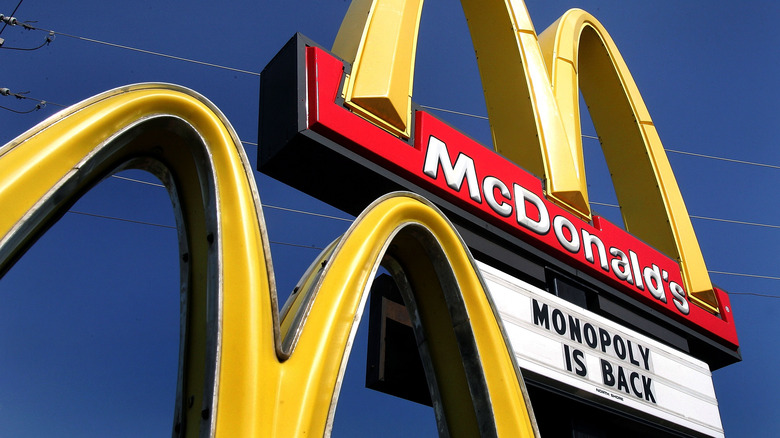 Tim Boyle/Getty Images
They call it the game with no losers. A chance to either win it big or go home with a little consolation prize of free small fries or a free drink. Some folks could call it the Clown's Roulette, others call it Grimace's Gamble, but to the rest of us, we know it as McDonald's Monopoly. For those not in the know, this widely-popular food chain "game" involves buying a certain McDonald's product like a large fry or a large soft drink, and peeling off a little sticker on the carton or the cup to see if you've won anything, per Cosmopolitan. 
There are enormous prizes to be won if you're lucky enough to buy that golden box of McNuggets on your way home from work. This summer, the United Kingdom will once again have a chance at the Monopoly high-life whenever residents visit their local McDonald's. But this time, the prize may be something that will truly give you the feeling of having the status and class of the Monopoly Man: the VIP Prize (via LAD Bible).
A chance to be a McVIP
Following a two-year hiatus due to, well, obvious reasons, McDonald's UK announced via Twitter that the beloved Mc-Monopoly-styled game is returning August 25, much to the delight of fans and fast-food fanatics in the UK. By purchasing select items, Brits can collect famous London road names such as Mayfair or Fleet Street for a chance to win enormous prizes. These could be anything from a free fry, a couple pounds off of their next meal, or if the past is any indication, more lucrative prizes such as £100,000 cash, Mini Coopers, and so on. 
The true prize, however, lies within claiming the VIP Gold Card, per Mirror. This golden card is not another flimsy gift card, but it may very well be the keys to the Kingdom of Ronald McDonaldland. Once a lucky person claims this VIP Gold Card, they will be entitled to a free medium meal every week from their local restaurant for a whole 12 months. Yes, you read that right, free McDonald's for a year. Only 1,000 people can be lucky enough to be welcomed as VIPs at Ronald's table. One thing is for certain: You either go home and feel like a clown, or you go big and dine with the Clown.