Red Robin's Menu Just Got A Whole Lot Spicier With Its New Scorpion Burger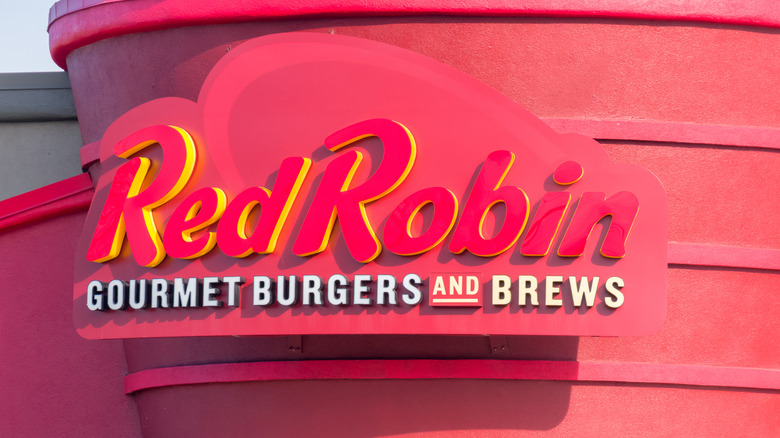 Shutterstock
When you have a hankering for a juicy burger, Red Robin can help satisfy your craving. The national chain, which has over 500 locations across the country, first opened in Seattle back in 1969 and has been serving up gourmet burgers ever since. You can find all types of meaty creations on the menu, including the black and bleu burger, the guacamole bacon burger, and the "pig out tavern double" burger. There's also non-beef options, from turkey to chicken to Beyond Meat. And you can't forget the bottomless steak fries that accompany each burger. All-you-can-eat fries? Yes, please.
Now this summer, you have a new burger to try at the popular restaurant: the spicy Scorpion Gourmet Burger. It's available for a limited-time only, so if you want to get your hands on one, you might want to hit up your nearest Red Robin ASAP. Here's what you need to know about Red Robin's latest addition to its menu.
The Scorpion Burger is topped with hot pepper sauce
The Scorpion Gourmet Burger at Red Robin starts with your standard beef patty, but it gets a lot more exciting — and a lot hotter — from there. According to Red Robin's menu, the burger is topped with spicy Scorpion Pepper Sauce, pepper-jack cheese, fried jalapeño coins, lettuce, tomatoes, pickles, red onions, and roasted jalapeños. It's sandwiched between a sesame bun smeared with roasted garlic aioli. Fast Food Post reports that the price of the burger is $13.99, although it may vary by location.
"It's got some nice kick to it for sure," the vlogger behind Just Food Reviews on YouTube says, after trying the burger for the first time. "This is really tasty, I give it a solid 8." He adds that he would like a little more heat but at an 8 out of 10 rating, it seems like it's worth trying if you're a fan of a little spice with your burgers.