Krispy Kreme's New Doughnuts Are Inspired By These Classic Carnival Treats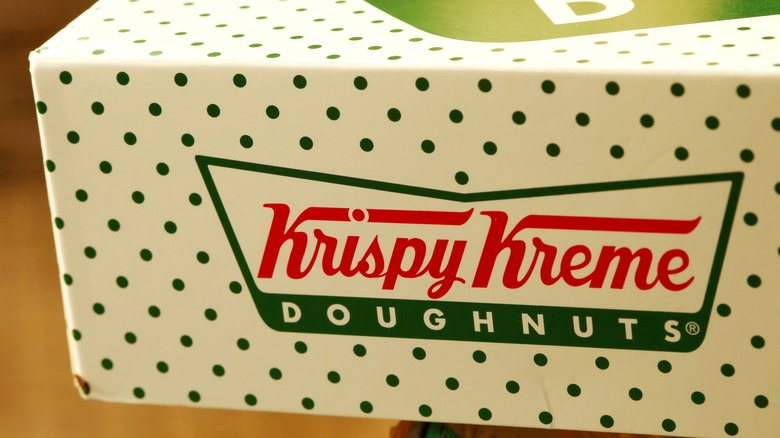 Shutterstock
In the fall, Krispy Kreme debuted its line-up of flavors including a caramel-flavored glazed doughnut and salted double caramel crunch doughnut (via PopSugar). In May, as Food Business News reported, the chain announced its island lineup including a piña colada-flavored glazed and iced donut and a key lime pie-flavored offering. And in June, per Businesswire, the chain launched its Lemonade Glaze collection. Suffice it to say, Krispy Kreme is always innovating, and its newest collection doesn't look like it will disappoint.
When you think of carnival foods, what treats come to mind? Cotton candy, funnel cake, corn dogs, and french fries are all likely suspects. Along with those are Food Network's suggestions of barbecued turkey legs, fried apple pie, kettle corn, fried pickles, and more. But when was the last time carnival made you think doughnuts? Krispy Kreme is calling back fond fair memories with its newest collection of confections.
Step right up and try the amazing new flavors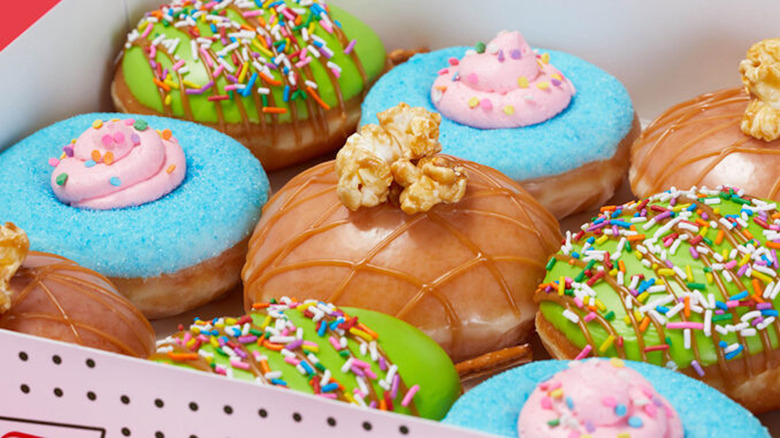 Krispy Kreme
Krispy Kreme recently announced the creation of three new signature treats all inspired by classic carnival snacks. Their press team announced on Instagram that these new confections will be available starting on July 19 through August 8th in the U.S. and Canada, giving you a quick window to taste! 
According to a press release received by Mashed, the new lineup includes the Caramel Apple Doughnut, which will be a shell doughnut filled with caramel-apple flavored Kreme and finished off with green apple icing, caramel, rainbow sprinkles, and pretzel sticks. The Cotton Candy Doughnut is a riff on everybody's favorite sugary treat and will feature a glazed doughnut dipped in candy-flavored icing, coated in candy sugar and sprinkles. Finally, the Caramel Popcorn Doughnut is a glazed shell pastry with caramel popcorn Kreme, a caramel drizzle, and it's topped with caramel popcorn bits. And the colors are as eye-popping as their flavor profiles. 
As Chief Marketing Officer for Krispy Kreme, Dave Skena noted, "Carnivals are a summertime tradition and whether yours has returned or not after a year off, you can get a taste of your favorite fair flavors with these delicious new doughnuts." And you're definitely going to want a taste!