Panera Wants To Cater Your Work From Home Meetings. Here's How
Shutterstock
Work life has changed dramatically since the COVID-19 pandemic turned many jobs unexpectedly remote in the spring of 2020. As companies are now beginning to think about what the future of work will look like going forward, many employees and employers are looking towards moving to a more virtual model, while others are planning to convert to a hybrid model. In any case, the role of the physical office space seems to be declining, and with it, so are many office-related functions, like booking meeting rooms, stocking staff pantries, and ordering catering for team events.
However, Panera, which has long prided itself on being one of the largest caterers in the country pre-pandemic, believes there is still a place for office catering even in the new virtual/hybrid work world. The company has just announced they will be restructuring its catering offerings to include all employees, no matter where they might be working.
Panera will deliver catering orders to remote employees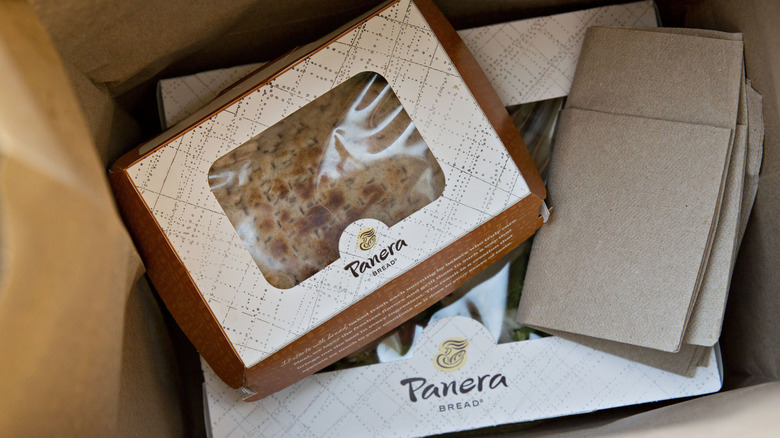 Bloomberg/Getty Images
According to CNBC, Panera has just implemented a new catering program for its loyalty members, where it will deliver catered meetings to all of the company's employees, even those working remotely. The chain will soon be rolling it out to all customers and it expects the program will soon expand to include personal celebrations, as well as company events. Panera is well-suited to adapt to this new model, thanks to its over 2,200 locations nationwide. The restaurant has also announced plans to launch a scheduled group ordering option for companies. Using this method, all employees can place their food orders individually at a discount, and the company can arrange for Panera to deliver the whole order to everyone at a prearranged date and time.
"A lot of offices are reopening, but not with the same foot traffic as before, which means some cafeterias may not be reopening," Chris Correnti, Panera's senior vice president of off-premise channels, told Forbes. "Panera Day at Work is a solution to satisfy employees and make that office environment more welcoming. It's a little too soon to tell what the future of catering looks like. As companies decide how they will work in the future, we will continue to change." Over 250 locations have already enrolled in the program, per CNBC, so it seems like Panera's new catering model is off to a great start.