Guy Fieri Has Good News For Fans In Nashville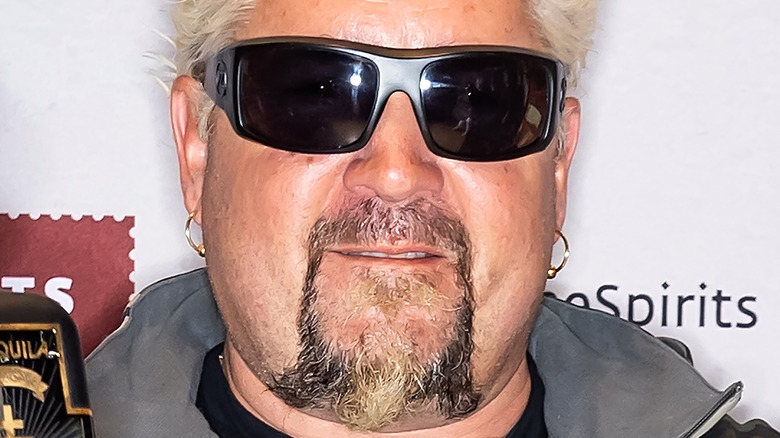 Gilbert Carrasquillo/Getty Images
Guy Fieri is known for his bold personality, spiked blonde hair, and love of flavorful food. The celebrity chef, author, and host of such popular Food Network shows as "Diners, Drive-Ins, and Dives" and "Guy's Grocery Games" is also a successful restaurateur, with restaurants around the world. Until recently, however, Fieri did not have a restaurant in Nashville, despite being a frequent visitor who enjoys chowing down on burgers and Southern classics in the city (via Outsider). That all changed with the recent opening of Chicken Guy!, which brought a taste of Flavortown to Music City.
"Nashville is one of the most exciting cities in America and I am stoked to bring Chicken Guy! to 2nd Avenue to add to the party," Fieri stated in a press release. "Music City knows great food, and we're proud to bring our 22 house made sauces, killer chicken and good times to the mix." The newly opened downtown Nashville eatery is only the fifth outlet of the Chicken Guy! brand, a partnership formed between Fieri and restaurateur Robert Earl (via the Chicken Guy! website). Here's why fans should be excited.
What fans can expect from Chicken Guy!
As the name suggests, Chicken Guy! is all about chicken — tenders, in particular. Featuring Guy Fieri's own recipe, the tenders are pounded out and brined in a mix of fresh lemon juice, pickle brine, and buttermilk, and infused with a special blend of herbs and spices (via the Chicken Guy! website). The tenders can be enjoyed on their own, in a sandwich, or as part of a salad bowl, per the online menu). Orders typically come with a choice of two signature sauces. With 22 sauce options, including a bourbon brown sugar BBQ sauce, a Nashville hot honey sauce, and Fieri's infamous donkey sauce, this could be a tough decision, though the menu helpfully breaks the sauces down into three categories, including Guy! favorite, classics, and hot 'n' spicy. Diners can also end on a sweet note with six different Flavortown shakes.
Time will tell how Chicken Guy! fares in a city known for its hot chicken. With Chicken Guy! restaurants in the works for Knoxville, Gatlinburg, and Johnson City in Tennessee alone (via Eater Nashville), definitely keep an eye on Chicken Guy! as a chicken restaurant taking over the U.S.