Copycat Chili's Chicken Crispers Recipe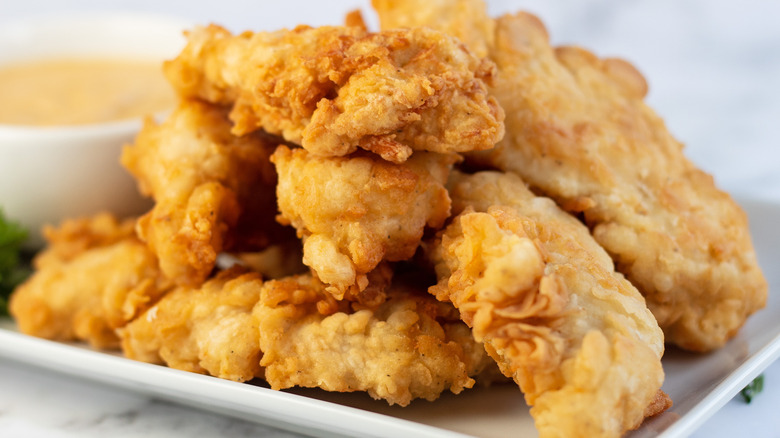 Angela Latimer/Mashed
Chili's is known for a lot on their menu, but one of our personal favorites is their beloved chicken crispers. Unlike chicken tenders at other restaurants, Chili's chicken crispers are slightly different because of the batter, which gives them a nice crunch. If you've tried them before, then you certainly know what we're talking about. If you've yet to try them, then let us tell you, you're missing out!
Angela Latimer, the mastermind of the blog Bake It With Love, came up with this copycat recipe that is next-level good. She shares that her favorite part of the recipe is the crisp factor, and we would have to agree. "They are delightfully crispy on the outside and super juicy and tender on the inside, a big plus to using tenderloins rather than sliced chicken breast."
These yummy chicken crispers are great for any occasion, including family get-togethers or even for an appetizer while watching a big game. Trust us, the possibilities are endless, and if you want a recipe to knock the socks off of your guests, then this is it. Keep scrolling to find out how to make these copycat Chili's chicken crispers.
Gather the ingredients for your chicken crispers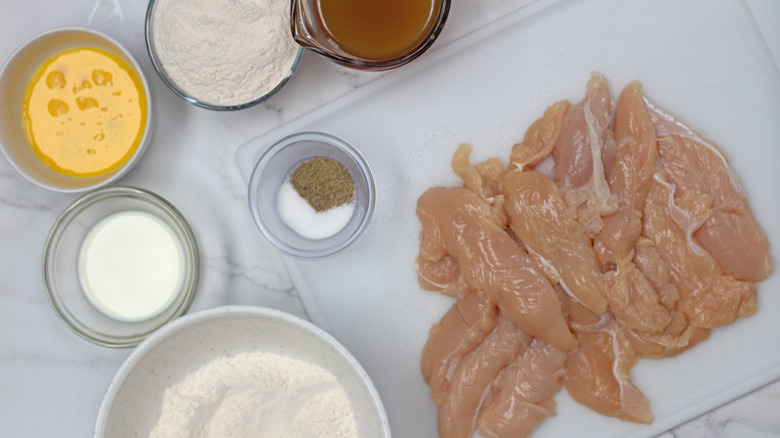 Angela Latimer/Mashed
First things first: Gather everything you need to whip up these yummy chicken tenders. Luckily, they don't require a lot of ingredients, and you may have a few of the items you need at home already. Of course, the main ingredient is chicken, and you will need about one and a half pounds of tenderloins. There are also a few items that you need to make the batter, including a large egg and either 2% or whole milk.
You will also need a cup of chicken broth. If you cook frequently, you may already have some at home. A few more standard items include salt and ground black pepper. To round off the list, add self-rising flour and all-purpose flour. Last but not least is cooking oil for frying.
Make the dredging station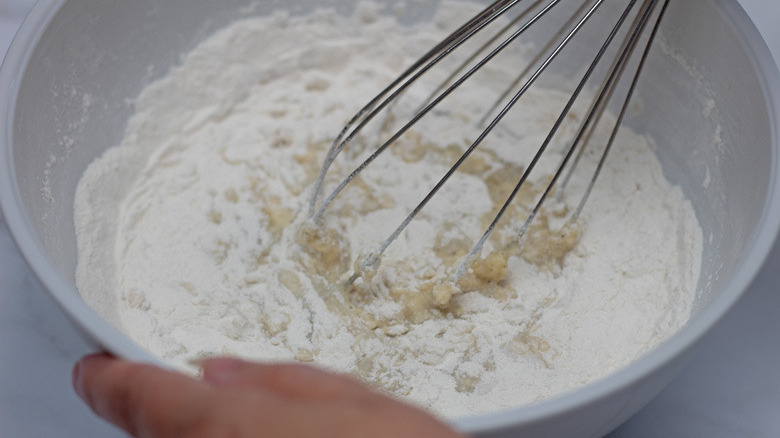 Angela Latimer/Mashed
For the first real step in the process, put together your dredging station. Take out a medium bowl and whisk together the beaten egg, milk, chicken broth, salt, and pepper. Once you mix those well, add in the flour and whisk the mixture until it's well combined. This will be the wet dip to use for your chicken so the flour will stick to it.
In a separate bowl, add the all-purpose flour. Keep everything to the side because you'll need it shortly. No, you can go ahead and move onto the next step.
Heat the oil and coat the chicken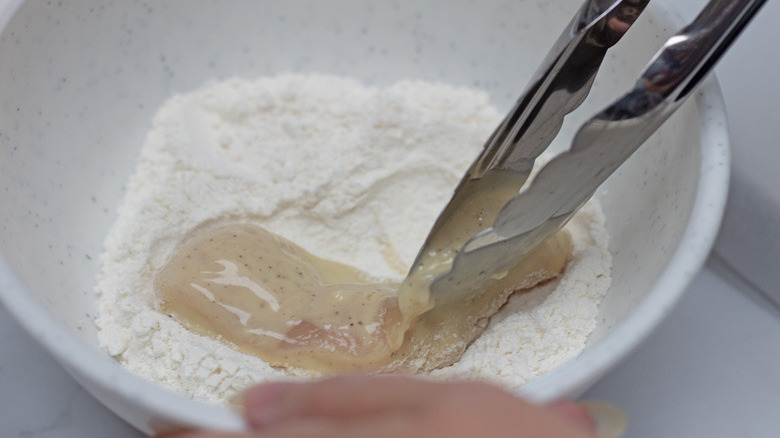 Angela Latimer/Mashed
Take out your favorite large skillet. Alternatively, you can use a Dutch oven or a fryer. Dump in the oil and heat it until it reaches 350 degrees Fahrenheit. Please note that you will need about an inch of cooking oil in the Dutch oven or pan, which is almost enough to cover the breaded chicken pieces.
Once the oil is in, take out your chicken strips. Dip each piece in the batter first, letting the excess drop off before transferring it into the bowl of flour. Flip the chicken on both sides to give it an even coat, and then transfer it into the heated oil. Repeat the process for a few chicken pieces, and then wait for the rest so the pan doesn't get overcrowded.
Fry the chicken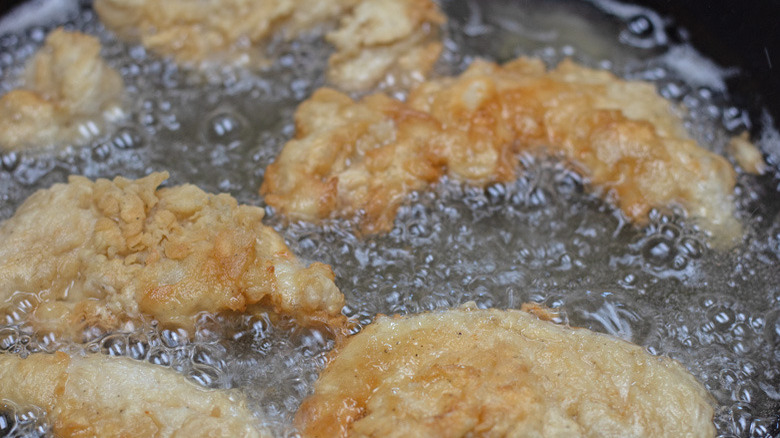 Angela Latimer/Mashed
Here's the fun part. Once the chicken is in the oil, let it do its thing and get nice and crispy. Each piece of chicken should take about eight to 10 minutes to fry, and a wonderful aroma should be filling your kitchen. Once the chicken starts to turn golden brown, that's another good indicator that it's done. If you need to double-check your work, use a thermometer to confirm. The chicken should reach a temperature of 165 degrees when it's finished. Also, make sure that there is no pink in the thickest part of the chicken.
Repeat and enjoy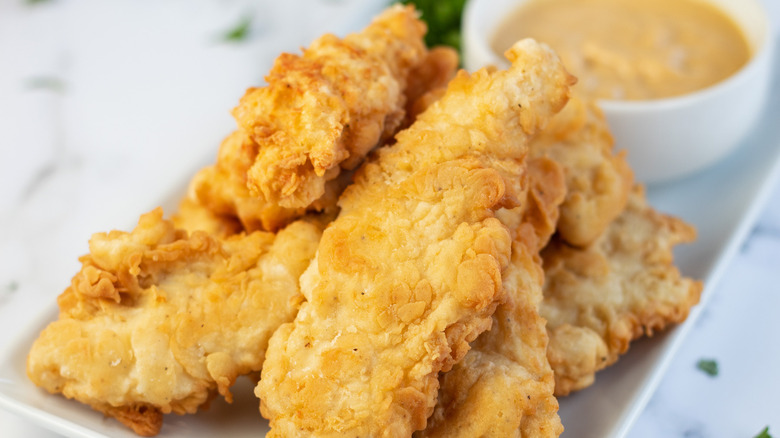 Angela Latimer/Mashed
Repeat the last two steps until all of the chicken is done frying. Latimer says that fresh oil will yield lighter golden pieces, so if you want to switch it out between, you can. When everything is finished, go ahead and serve the chicken to your lucky guests (or eat it all yourself). As far as dipping sauces go, Latimer notes that she "loves honey mustard and ranch, but any standard dipping sauce works."
If you have leftovers, they will keep, but these chicken crispers are best when enjoyed immediately. "If you do have any, store them in an airtight container and reheat within the first one to two days," she shares. "This is where an air fryer would be ideal — reheating at 350 degrees Fahrenheit for about five minutes." Now, enjoy!
Copycat Chili's Chicken Crispers Recipe
These yummy chicken crispers are great for any occasion, including family get-togethers or even for an appetizer while watching a big game.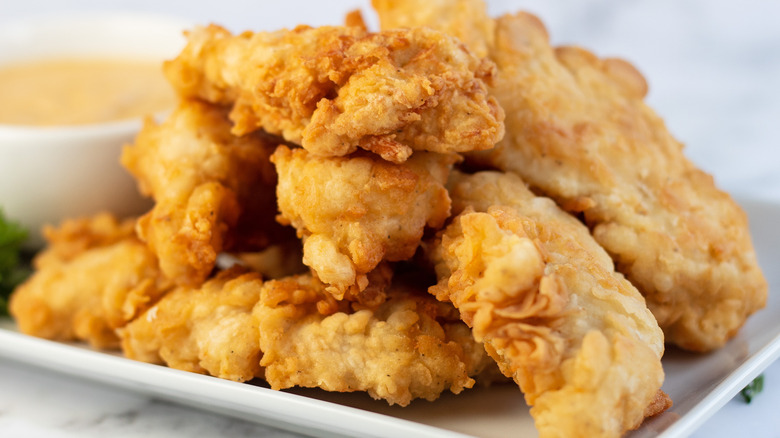 Ingredients
1 large egg (beaten)
¼ cup milk (2% or whole milk)
¾ cup chicken broth
1 ½ teaspoons salt
½ teaspoon ground black pepper
1 cup self-rising flour
1 cup all-purpose flour
Cooking oil for frying
1 ½ pounds chicken tenderloins
Directions
Make your dredging station: In a medium mixing bowl, whisk together the beaten egg, milk, chicken broth, salt, and pepper. Add the self-rising flour and whisk until well combined.
In a small bowl, add the 1 cup all-purpose flour.
Heat the oil: In a large skillet, Dutch oven, or fryer, heat your cooking oil to 350 degrees Fahrenheit. You'll need about 1 inch of cooking oil in a skillet or Dutch oven, enough to almost completely cover the breaded chicken pieces.
Coat the chicken dipping each piece into the batter and allowing the batter to drip a bit before transferring it into the next bowl of flour. Turn to lightly coat with flour, then transfer into the heated oil. Repeat for a few pieces, making sure to not crowd the chicken.
Fry for 8 to 10 minutes, or until lightly golden and cooked through. The chicken should have an internal temperature of 165 degrees Fahrenheit and not have any pink coloring in the center of the thickest pieces.
Repeat in small batches as needed until cooked. Serve immediately.
Nutrition
| | |
| --- | --- |
| Calories per Serving | 1,064 |
| Total Fat | 69.1 g |
| Saturated Fat | 9.4 g |
| Trans Fat | 0.2 g |
| Cholesterol | 119.1 mg |
| | |
| --- | --- |
| Total Carbohydrates | 75.2 g |
| Dietary Fiber | 3.6 g |
| Total Sugars | 2.3 g |
| Sodium | 1,229.3 mg |
| Protein | 34.6 g |