The Surprising Amount Of Money The World's Oldest Bottle Of Bourbon Sold For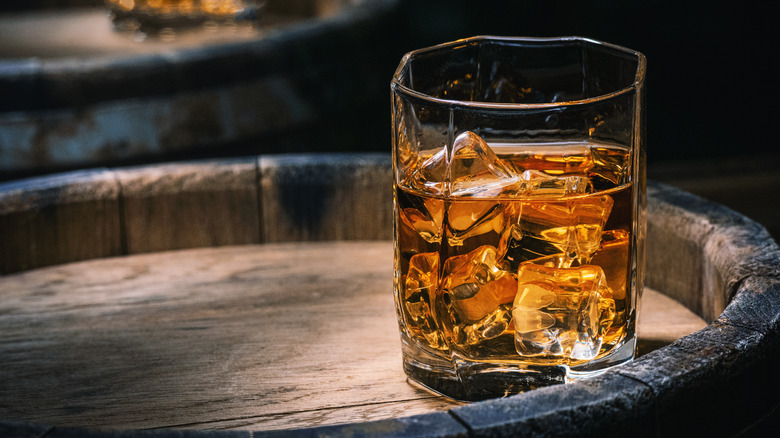 Shutterstock
While many cocktail lovers feel strongly about their spirit of choice, whether it be tequila, gin, or vodka, whiskey enthusiasts have been known to take their passion to a whole other level, and some are willing to shell out the big bucks to get a taste of the world's rarest tipples. This whiskey-fueled fervor was recently exemplified by the auction of a newly discovered 250-year-old bottle of Old Ingledew bourbon, which fetched a mind-boggling price from an unnamed whiskey connoisseur.
Rare, aged bourbons have been known to fetch such high price tags from whiskey enthusiasts that some disreputable retailers have even tried to pass off inexpensive bourbon as rare bottles to rake in thousands in counterfeit schemes.
Bourbon, which is a variety of whiskey prepared using at least 51% corn mash and aged in brand new, charred oak barrels, is made exclusively in the United States. While bourbon can be made in any U.S. state, the vast majority is distilled in Kentucky, as the state is home to robust corn farms and a unique blue limestone mineral water that is said to make for a one-of-a-kind drinking experience. According to the Kentucky Distillers' Association, 95% of the world's entire bourbon supply is made in the state.
Fetching the attention of whiskey connoisseurs around the world, an extremely rare bottle of bourbon was recently discovered by Rex Woolbright of Newberry, South Carolina while cleaning out his late uncle's estate.
Some bourbon is both rare and expensive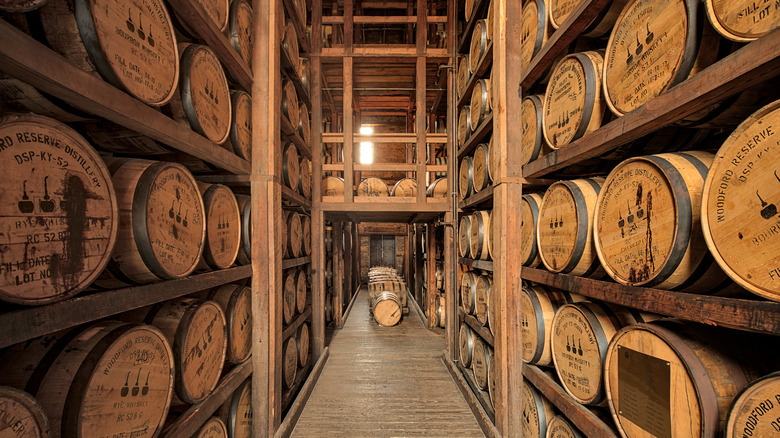 Shutterstock
The still-corked bottle bore a vague and mysterious label, which was hand-typed and stated simply that "this bourbon was probably made prior to 1865," adding that it had previously been in the cellar of John Pierpont Morgan, the famed financial magnate known more widely as J.P. Morgan (via Food & Wine).
According to The State, the only other indication of the origin of the whiskey was some raised lettering on the bottle itself, which read, "Evans & Ragland Old Ingledew Whiskey, LaGrange, Georgia." Further research indicated that J.P. Morgan had three identical bottles of the Old Ingledew Whiskey in his collection, which were passed on to his son upon his death in 1913 (via Garden & Gun).
The resident fine spirits specialist at the Skinner auction house, Joe Hyman, knew instantly that the bottle was unique and set about using a hypodermic needle to extract 2 milliliters of the bourbon to send for carbon dating at the University of Glasgow and the University of Georgia. The results revealed that the bourbon was most likely produced between 1763-1803, making this rare find the oldest known bottle of whiskey in the world.
Skinner Inc., the auction house that facilitated the sale of the rare bottle, initially estimated that the bourbon would fetch between $20,000-$40,000 at auction. However, the final selling price blew past that estimate and landed at $137,500, as The State reported.