What Food Delivery Drivers Wish You Would Do For Late-Night Orders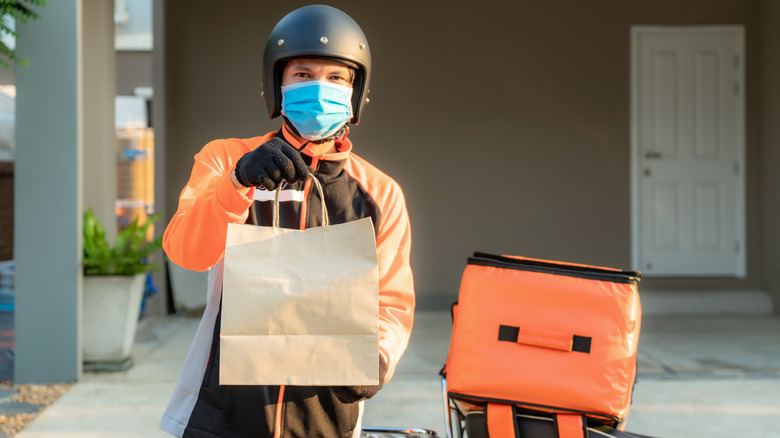 Shutterstock
We've all been there — it's late, you're dressed in your coziest attire watching something riveting on Netflix, and you want to get a bit of a snack but don't actually want to leave your couch cocoon. So, you scroll through your preferred food delivery app and order something to be carried right to your doorstep without you having to do anything at all. This type of service offers a ton of convenience, and all you need to do is pay a bit extra for the delivery fee and a tip for the driver. However, there's one more important thing you can do to help the driver out, and it has absolutely nothing to do with money — they want you to simply remember to leave your exterior porch light on (via Insider). 
According to a former delivery driver, this can help them feel a bit more safe when transporting your order, as the space they're going to be dropping off the package at (whether it's a porch or simply a small stoop or flight of stairs) will be well lit. This can help assure them nothing is lurking in the shadows, and can also help make visible any potential tripping hazards or other exterior things that could potentially compromise their safety. This is such a frequent issue that it even spawned a Reddit thread with 92 comments, including many from drivers themselves expressing their frustration at difficult delivering experiences.
Another key reason to turn your lights on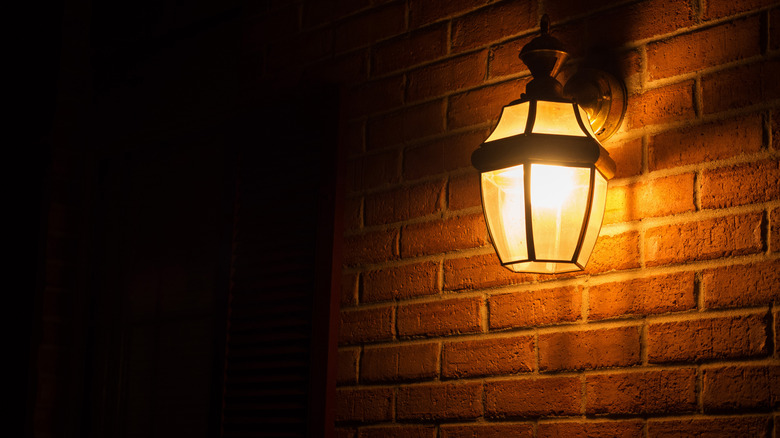 Shutterstock
One of the main reasons to ensure your porch light or exterior light is on when you're expecting a late-night order, is so that the driver feels safe when dropping off your food. However, there's another key reason that you should ensure your house isn't shrouded in darkness when you're expecting a delivery — it makes it really difficult to see your house number and thus locate where they're supposed to drop off your favorite tacos (via Insider).
This may not be an issue if you have those illuminated street numbers that glow and showcase a clear and visible number no matter how dark it is outside. A delivery driver that spoke with the outlet commented that "it was the biggest sigh of relief" when she was delivering an order to a house with that type of signage. If your house just has the standard numbers affixed to the front, make sure that you have them lit well enough that the driver can spot your house number to confirm without too much difficulty. Otherwise, you may be left waving on your porch, trying to communicate with the driver as they cruise along a street packed with dark houses and hidden house numbers.