Read This If You Recently Bought These Popular Pre-Packaged Muffins
Baked goods producer Give & Go Prepared Foods just announced on its website that it voluntarily recalled several muffin brands and varieties from store shelves, due to a possible contamination of the bacteria that causes Listeria. The notice was also released on the U.S. Food & Drug Administration website. The muffins in question are prepackaged snack items sold at retail box stores, minimarts, and groceries in the states. Give & Go says that no products sold outside of the U.S. are affected. 
The muffins listed by the company are sold to the various retailers under several names: Uncle Wally's, The Worthy Crumb, 7-Eleven Selects, Stop N' Shop, Freshness Guaranteed, Marketside, and Great Value. Walmart confirmed in a notice published on its website that affected Give & Go products are sold in both Sam's Club and Walmart stores. Several flavors in each of the brands are part of the recall, including banana nut, chocolate chip, and blueberry streusel, in both full size and mini versions. Give & Go is advising customers that purchased any of these muffins to throw out the food immediately. 
Here's why this could be dangerous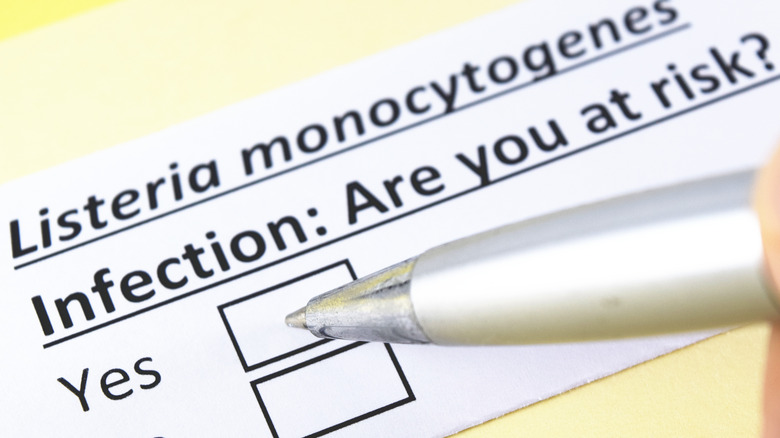 Shutterstock
In the press release on its website, Give & Go stresses that while there are no reports of people getting sick from any of the foods listed in the recall, it's pulling the products anyway "out of an abundance of caution." The company notes that the decision to issue the recall was made after becoming aware of a potential contamination through their "environmental monitoring program." The possible contamination in the muffins is of Listeria monocytogenes bacteria. According to the Centers for Disease Control (CDC), these food-borne bacteria cause Listeria, an infection that is particularly dangerous for older adults and people with compromised immune systems. 
On the mild end, Listeria can cause headaches, gastrointestinal problems, and fever, but in vulnerable individuals can also cause further life-threatening infections. It's also a very dangerous infection for pregnant women, with the potential to cause miscarriages or threaten the health of their babies. To find out if you have any of the baked goods included in this recall, go to the Give & Go website where all of the product names and flavors are listed, along with photos of the packaging and UPC codes. You can also call the company directly with questions about the recall at (844) 366-1171.