This Condiment Is Perfect For Pork Burger Season, According To Andrew Zimmern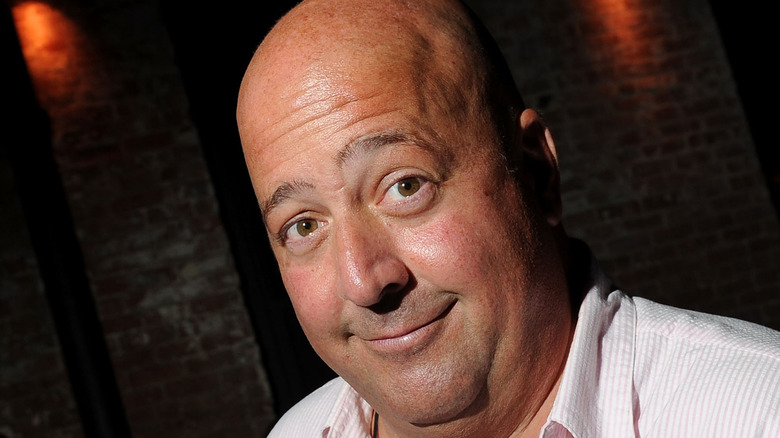 Jason Kempin/Getty Images
Leave it to Andrew Zimmern, the Travel Channel's "Bizarre Foods" host, to show us how to take our burgers to the next level. Zimmern took to Twitter to share that when he makes his pork burgers — which, honestly, may even be beyond nirvana, if there is such a thing — he tops them with a Mexican staple that offers your mouth a firework festival of flavors that even grill master Bobby Flay would enjoy.
But first, it's worth examining that burger. Zimmern's pork burger is a blend of pork and chorizo that he mixes with lime and lots of traditional spices, including cilantro, mint, and epazote, also known as Mexican tea and quite pungent. He also throws in a little bit of dark Mexican beer. If your taste buds are buzzing, get in line. Zimmern's pork burger definitely has it going on. But that's just the burger.  
The celebrity chef really brings out all those fiery flavors with what might be the new "it" condiment for your burgers, sandwiches, and everything else, when you want your food to deliver a tangy zing. What is this condiment, and what makes it so awesome?
Zimmern tops his pork burgers with a creamy but spicy tomatillo salsa that will make your taste buds dance. What we love about this tomatillo salsa is its unexpected texture and taste. 
Tomatillo salsa
Zimmern tweeted out his tomatillo salsa recommendation to his 1.2 million followers, writing, "Elevate your burger game by adding some tomatillo salsa on the seasoned pork patty. It's sweet, spicy, acidic and bright, definitely one of my favorite condiments." And how could it not be? Its ingredients echo the spices Zimmern used in his burger, only he adds some creamy avocado and a serrano chile to play off the sweet and tartness of the tomatillos.
If you are not familiar with tomatillos, Bon Appétit shares that they're small green tomatoes that grow in husks. They're not as sweet as regular tomatoes or as watery, but definitely more acidic in their raw form and oh-so-good.  
The James Beard Award winning personality says this tomatillo salsa "... will absolutely change your life," as he prepares it in his video on YouTube, and we agree. But he also cautions salsa verde lovers that this salsa is quite different. Zimmern goes on to reveal that when he makes this tomatillo salsa, he likes it "very salty," "very limey," and "very intense." However, he also says this salsa is not good for chips and dip because the flavors are too bold, noting "not every salsa is meant to have a chip dipped into it." Fair point. To add even more yumminess to his pork burger, after he piles on a spoonful of the salsa, Zimmern tops it with some fresh shredded Cotija cheese. This is a must-try!