Aldi Shoppers Are Loving Its New Greek-Inspired Hummus Flavors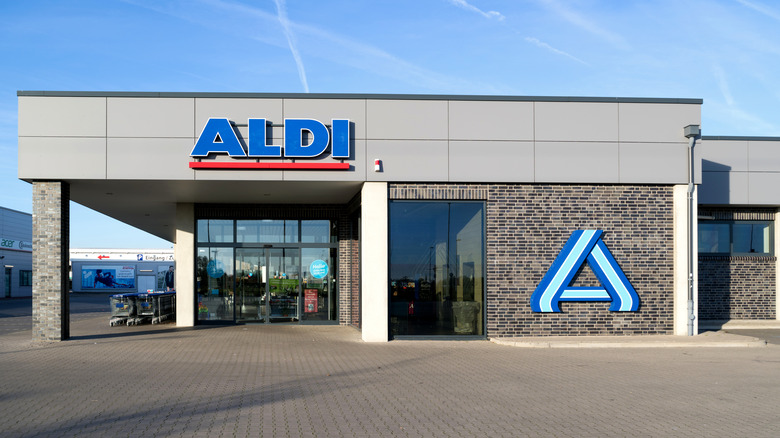 Shutterstock
If you feel like you are starting to get the travel bug, but aren't able to hop on a flight right now, then Aldi has good news for you. The popular grocery store is going international with the release of its new Greek-inspired hummus flavors, which promise to deliver the authentic dining experience of the sun-drenched Mediterranean, without you even having to leave your house.
Aldi's Park Street Deli brand hummus is already popular with shoppers for its regular offerings of classic, garlic, or red pepper hummus, which go well on sandwiches, wraps, or anything in between. But now, they have also just released a new, limited time hummus offering that is inspired by fresh, savory Greek food in three tasty new varieties, Greek Salad, Tzatziki, and Garlic Rosemary. Each hummus contains just 60 calories or less per serving, and they are a steal at only $1.95 per 8 ounce container (via Instagram). At that price, you'll want to try one of each.
Aldi's Greek-inspired products will make you feel like you're on vacation
Aldi's Greek-inspired fare has caught the attention of Aldi fans online, who were quick to rave about the tasty and authentic new dips. The popular Instagram account @aldifavoritefinds made a post alerting their followers to the "taste of Greek" that was sweeping through Aldi's shelves, and their followers responded with their own rave reviews of the new product. One follower replied, "The Greek Salad hummus is bananas, it's so yummy." Another added, "Omg the garlic rosemary is so good."
Fans can pair the hummus with Aldi's many other new Greek-influenced items, including its complete gyro sandwich kit, assorted Mediterranean dressings, wholesome mini pitas, and a variety of Greek extra virgin olive oils. So, if you're in the mood for something a little different, you'll definitely want to head to your local Aldi's for a complete authentic Greek dining experience that will make you feel like you are relaxing on a Mediterranean island vacation, even from your own kitchen table.