Auntie Anne's Newest Menu Item Combines 2 Popular Pretzel Flavors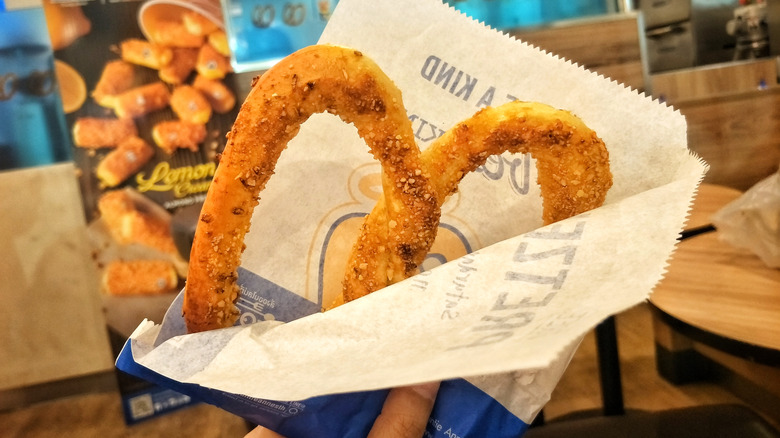 Shutterstock
Need a snack to munch on while watching the Summer Olympics this year? Auntie Anne's has the winning treat.
In collaboration with Coca-Cola and Olympic soccer player Abby Dahlkemper, the leading soft pretzel chain now carries the official Coca-Cola Olympic Games Snack Pack, Powered by Abby Dahlkemper at select locations. In it, they pack in both their original flavor and cinnamon sugar pretzel nuggets (marking the chain's first ever sweet and savory combo), according to a press release on PR Newswire. The snack pack also includes two medium Coca-Cola fountain sodas, making it the perfect game day snack, especially if you're huddled around the TV watching the Games with friends and family.
There's also special swag you can order, too, including a very limited-edition "Salty Collection" Auntie Anne's soccer jersey, numbered 1 to 100. Each jersey costs $85 plus shipping while supplies last, and you can follow Auntie Anne's social media accounts to be among the very first to hear about when the official drop date will be for this one-of-a-kind merch.
You can win prizes by trying this new Auntie Anne's menu item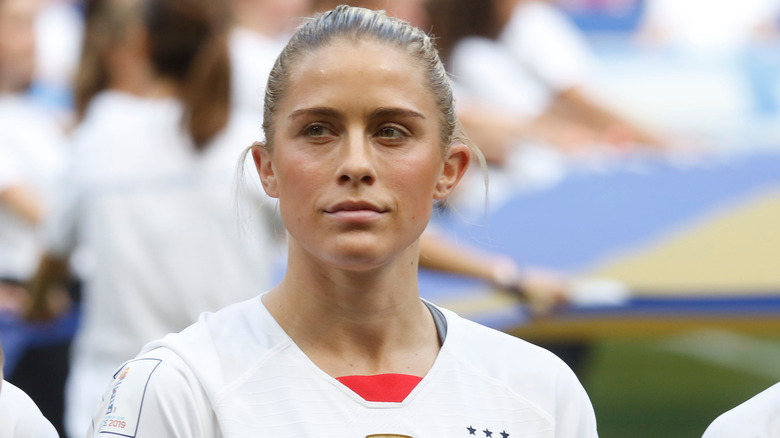 Shutterstock
Abby Dahlkemper, who is representing the United States women's soccer team in the Tokyo 2020 Summer Olympic Games, is enthused about partnering with both Coca-Cola and Auntie Anne's in this special promotion. As she says in the press release on PR Newswire, "It's an honor to represent a world-renowned brand like Coca-Cola and to partner with Auntie Anne's, it brings back so many memories. ... As a child, my family would always stop at Auntie Anne's on mall trips, and I used to love watching them hand-roll the pretzels. I am so excited to share one of my favorite snacks with pretzel fans across the country in celebration of the Olympic Games."
Though we might not all have Dahlkemper's soccer skills, you can still win your own "medals" this summer when you download Auntie Anne's app and become a Pretzel Perks member. When placing an order from now through August 22, you increase your chances of being the top "athlete" and winning a chance to talk to Dahlkemper herself in a one-on-one meet and greet. Other prizes, such as getting access to free Auntie Anne's pretzels for a year, signed Team USA clothing, and other Coca-Cola items are also up for grabs for participating in this summer challenge.
The Coca-Cola Olympic Games Snack Pack, Powered by Abby Dahlkemper is available at select Auntie Anne's locations now through August 22.