27% Agree This Restaurant Has The Worst Onion Rings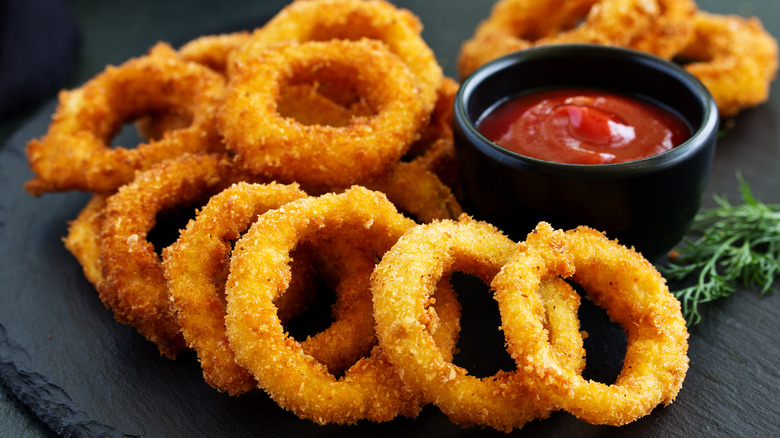 Shutterstock
Good onion rings can make or break a fast food restaurant experience. Too greasy and soggy, and these breaded and fried onions never make it to your mouth because you are too busy squeezing out every bit of oil before you could actually ever take a bite. Too cold? You might as well have skipped them all together. Not crispy and well-seasoned enough, and you will never order that chain's onion rings again.
Even celebrity chefs like Travel Channel's "Bizarre Food" host Andrew Zimmern know a thing or two when it comes to the basic characteristics that result in noshing down on the onion rings of your dreams. But perfectly golden onion rings that have just the right amount of crunch to them and enough salt to season so they don't taste bland are a thing to behold and will leave you weeping for more.
Mashed decided to conduct a survey to see how the onion rings from some our favorite restaurants stacked up. It might be surprising to learn that out of the 593 survey respondents, over a quarter — 27.49% — agreed one royal fast food chain had the worst onion rings they'd ever tasted. 
There can only be one ringmaster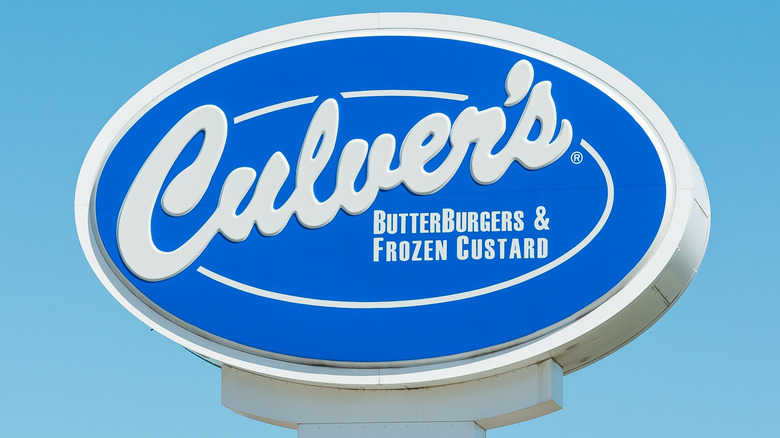 Shutterstock
Which fast food chain has the least despised onion rings? Well, there can only be one ring — onion ring, of course — to rule them all, and those are the rings that come from Culver's. Mashed survey responders crowned this fast food restaurant as the ringmaster, with this Midwestern fast food chain only receiving a little more than 15% of the onion ring lovers' vitriol.
We can vouch for the fact that they are beloved. Headquartered in Wisconsin, Culver's, per Taste of Home, served up over 9 million orders of their savory, crispy onion rings in 2017. What makes Culver's onion rings so delish? Could it be their batter? Taste of Home shares that there is indeed a link between the batter and their popularity. But, the only way to know for sure is to go to Culver and do the research in person, and maybe order up some of their frozen custard while you're at it.
Close on the heels of Culver's was Carl's Jr/Hardee's, who took 16.53% of the vote. After that we heard about White Castle's rings, with 19.39% of the vote, and then Jack in the Box, scoring 21.25% of the survey's votes.
Burger King onion rings crowned the worst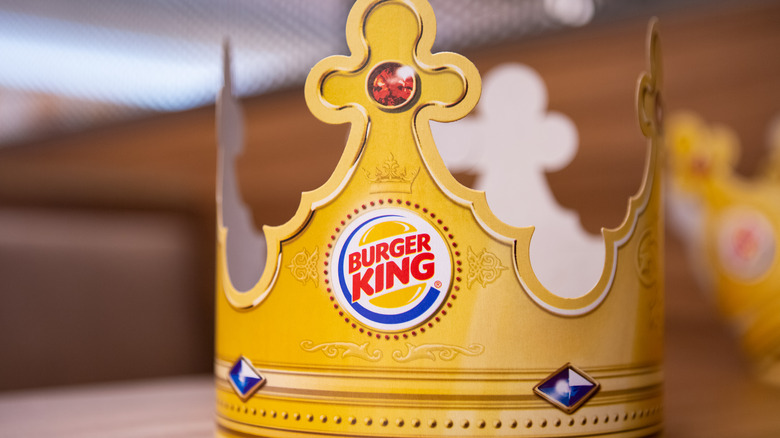 Shutterstock
Burger King was crowned as the fast food chain having the worst onion rings, receiving 27.49% of the unpopular vote. Why are people hating on Burger King's onion rings? Perhaps it is the fact that they are not made with onion rings. A writer at Cleveland.com shared his review of the chain's onion rings and was disappointed to find that they were not only slimy and soggy inside but made with minced onions. Maybe BK didn't understand the assignment?
Not everyone thinks Burger King's onion rings are a catastrophe. One reviewer at Serious Eats shared that the chain's onion rings could give him some serious pause the next time he needs to decide between fries and rings. Still, others are not so kind, and if you are among the 27.49% who dislike Burger King's onion rings, you are in good company. Per People, in 2017, onion ring aficionado and singer-songwriter Lorde revealed to Jimmy Fallon on "The Tonight Show" (posted on YouTube) that she secretly ran an onion ring Instagram review site, and even she isn't a fan of BK onion rings. She wrote, "I didn't actually know Burger King did onion rings, and good thing I didn't because they are not good. 1/5." (The account has been deleted.)