The Pasta Dish Joe Biden Can't Get Enough Of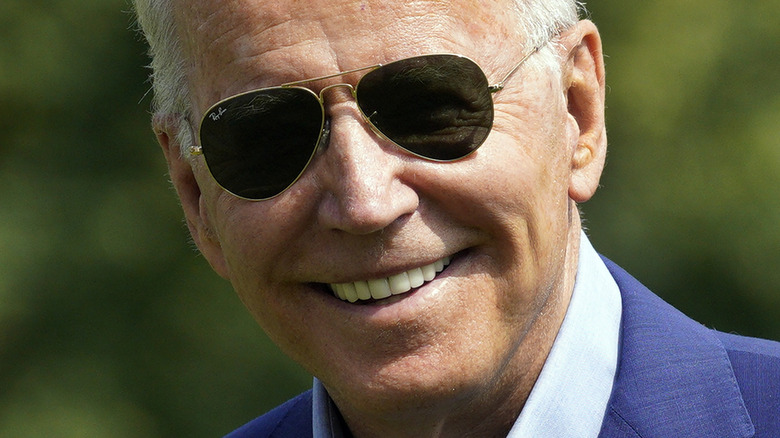 Bloomberg/Getty Images
Former Vice President and current president of the United States of America Joe Biden is kind of like your little brother who only ever got chicken tenders when your family went to a fancy restaurant, and who still orders from the kids' menu at age 28. As progressive as the 46th president is — ushering in an era of support for science, diversity in prominent roles, and tax credits for working parents — when it comes to culinary decisions, President Biden is notoriously vanilla. "Joe isn't exactly an epicurean," says Delaware Online, a publication from the president's home state. "His tastes lean toward classic Italian-American with his favorite being angel hair pasta with red sauce."
Eater echoes the assessment, revealing that before his bid for president, President Biden's rider for a slew of speaking engagements was specific (and quite consistent) when it came to his pasta. Angel hair pasta pomodoro was the order of the day during that particular stage of President Biden's career, and it would appear that not much has changed, culinarily speaking, since then. "It's capellini al pomodoro," the chef and owner of one of President Biden's favorite restaurants in Wilmington told Food & Wine of the commander-in-chief's usual dish. "If he's feeling racy, it's penne al pomodoro," he added. Saucy indeed, Mr. President.
The power of a plain pasta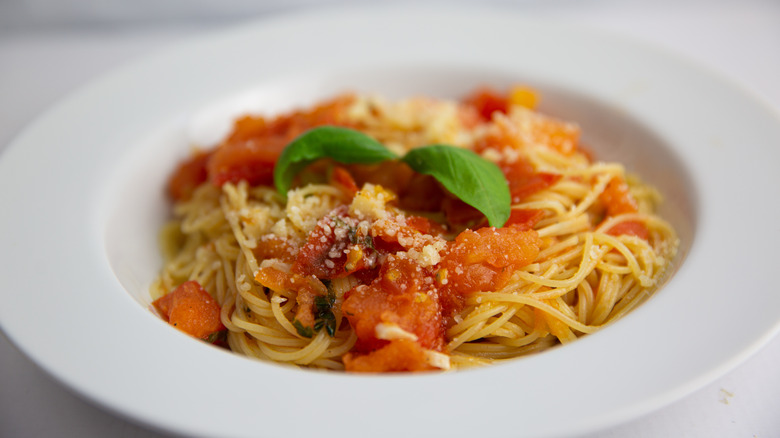 Shutterstock
You have to love consistency and a chill demeanor, especially when it comes to the guy carrying the nuclear codes, and President Biden certainly has that approach when it comes to food. While the president might never be accused of being a foodie, or having a particularly exciting list of indulgences ("I don't drink. I don't smoke. But I eat a lot of ice cream," Biden said in 2016, according to Eat This, Not That!), those around him seem comforted by the president's pedestrian penchants. "He's pretty much a basic eater," Dr. Jill Biden said of her husband (via The Washington Post). At home or on the campaign trail, the president would not only eat his trademark angel hair dish, but regularly knock back peanut butter and jelly sandwiches, chicken parmesan, and pints of the hard stuff. Ice cream, that is.
And, while some may accuse the president of having taste in food that is a little too hashtag-basic, perhaps there is more to Biden's pasta order than meets the eye. "Angel hair pasta doesn't get the respect it deserves," according to a writer for Food & Wine, whose experience at the Pasta World Championship confirmed her obsession with the pasta varietal. She goes on to explain that seeing capellini (the official, Italian name for angel hair pasta) celebrated on an international stage not only renewed her love for the pasta, but made her feel better about being what she calls "a fan club of one" for her beloved angel hair. Luckily for her, it looks like the president may have doubled the membership — and maybe raised the profile — of that particular fan club.