Creamy Broccoli Soup Recipe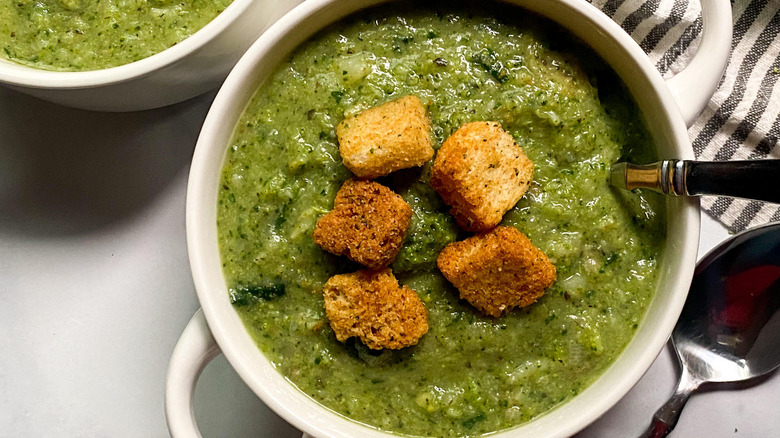 Miriam Hahn/Mashed
There's just something about creamy broccoli soup that hits the spot. While any sort of soup is delicious in the winter on a chilly night, this creamy broccoli soup also curbs cravings in the spring and summer months. The great part about this recipe is that it requires just a few ingredients, making it easy and affordable to throw together. What's not to love about that? The dish is filled with potatoes, broccoli, and cream, and it's hearty enough to eat on its own.
Recipe developer Miriam Hahn, who has whipped up plenty of tasty recipes for Mashed, is the brains behind this recipe. She shares that her favorite part is the ease factor. "What I love most is how absolutely delicious it is while being incredibly healthy. It is super hearty and can honestly be a meal on its own," she raves. "I often have it ready for a quick lunch!" This soup is perfect for a crowd or a simple family dinner. 
Keep scrolling to find out how to make this yummy, creamy broccoli soup that is sure to please you and whoever is lucky enough to try it.
Gather the ingredients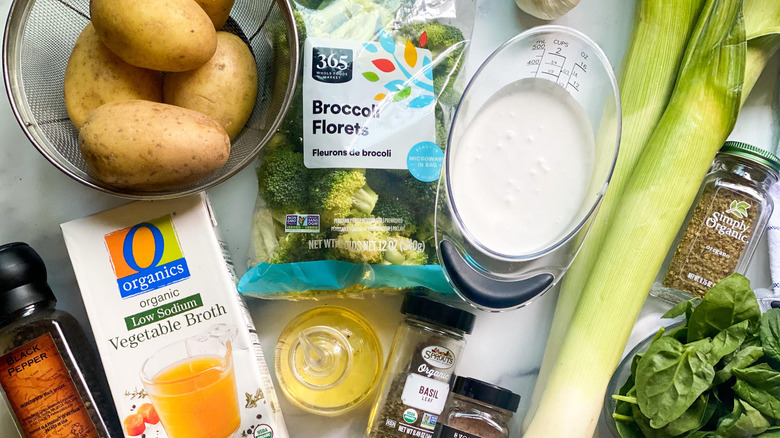 Miriam Hahn/Mashed
First things first! Gather all of the ingredients needed for the soup. Like we mentioned before, you won't need a whole lot, and it's sure to be an easy trip to the grocery store. Make sure to get some oil and a few chopped leeks. "Using leeks instead of regular onion adds a really great flavor, and the Yukon potatoes add to the creaminess without a lot of extra calories," Hahn notes. You will also need some garlic cloves because what recipe is complete without a garlicky flavor? The soup is filled with veggies, including broccoli, Yukon potatoes, and vegetable broth.
In addition, you'll need a cup of cream and several spices, including oregano, basil, salt, and pepper. You can also sub coconut cream for regular. Last but certainly not least are some croutons for garnish.
Heat the oil and add leeks and garlic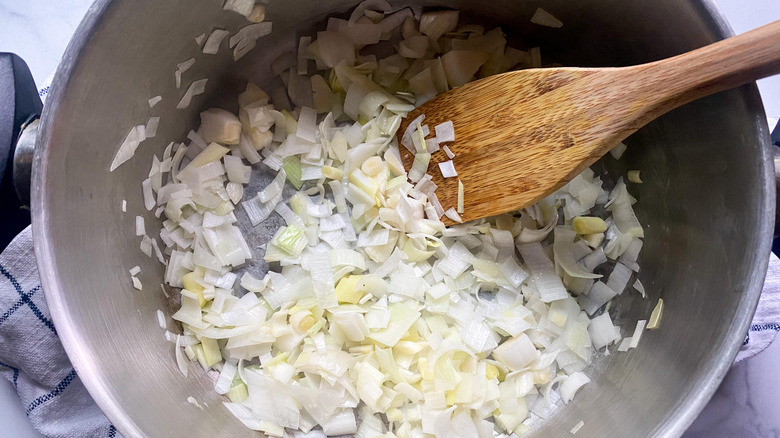 Miriam Hahn/Mashed
For the first actual step in the process, take out a pot that will fit all of the ingredients because you'll add them as you go. Next, add in the oil and put it over medium heat on your stove. Toss in the leeks and garlic and cook. This step only takes about four minutes to cook, so you can either set your timer or just keep an eye on the time. As the garlic and leeks cook, your kitchen should start to smell pretty dang good.
Add in the broth and other items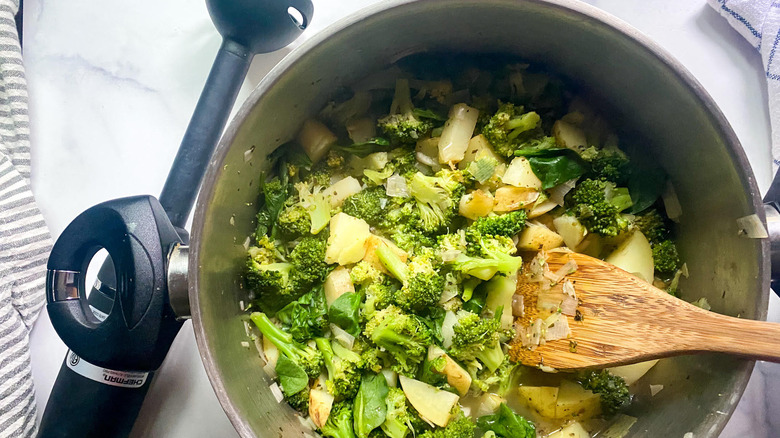 Miriam Hahn/Mashed
After the leeks and garlic cook together, it's time to add a few more items. First, throw in the broth, followed by the potatoes and broccoli, which make up the bulk of the soup. Next, you can add in the spices, including oregano, basil, salt, and pepper. Bring the mix to a boil and cook on low for about 15 minutes or until the potatoes are soft and tender.
Then, put in the spinach and give the mix a few big stirs. Give it a few minutes to wilt, and then move onto the next step.
Blend the soup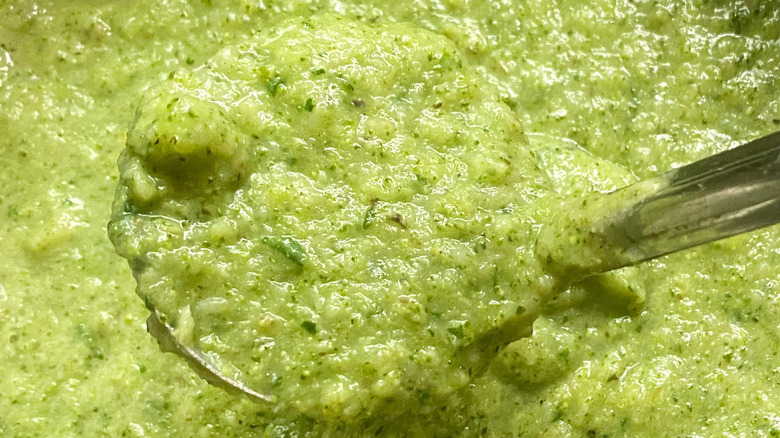 Miriam Hahn/Mashed
Once the spinach wilts, take out an immersion blender and blend the soup. Alternatively, you can pour the soup into an actual blender and blend it to the consistency that you desire. Hahn shares that she likes her soup a little bit chunkier, so she doesn't mix it for too long. If you prefer a thinner soup, you can leave it in the blender for a more extended time. You can do the same with an immersion blender. Consistency is all just based on personal preference ... either way, it will be delicious!
Add the cream and enjoy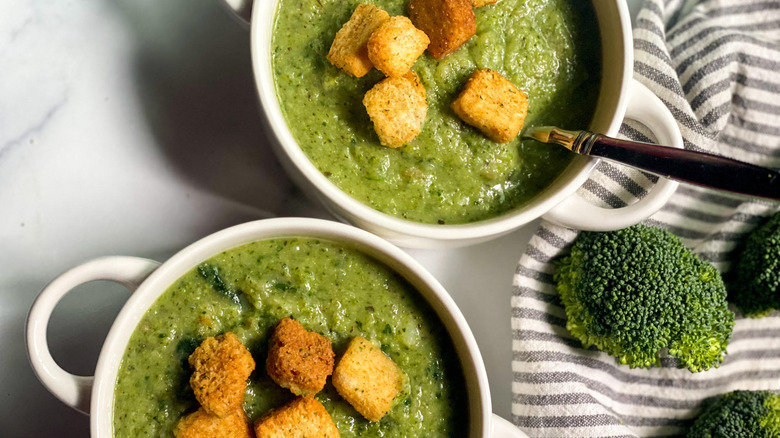 Miriam Hahn/Mashed
Once you're finished with the blender, pour in the cream and stir to combine. Now, the soup should be ready to serve. Feel free to use whatever bowls that you see fit. Hahn recommends topping the soup with croutons to add a little bit of crunch to the soup. "Often, I will top it with fresh hempseeds or even pumpkin seeds for a little crunch," Hahn says. "It is great with homemade bread." She also recommends serving it with crusty Italian bread. 
As far as serving suggestions, Hahn recommends serving this dish with "a green salad with fresh tomatoes" or tuna salad. "You can freeze the leftovers, and they will be good for at least a month," Hahn shares. "In the fridge, it will be fine all week in an air-tight container." 
Creamy Broccoli Soup Recipe
There's just something about creamy broccoli soup that hits the spot. Learn to make your own at home with this easy recipe.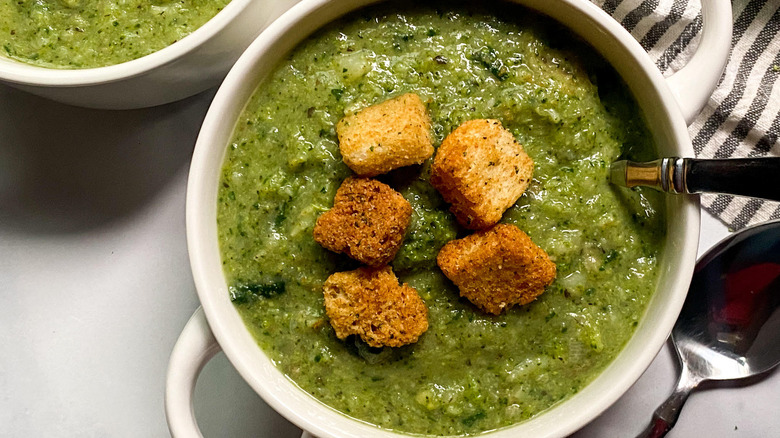 Ingredients
1 tablespoon oil
2 leeks, chopped
2 cloves garlic, minced
3 cups vegetable broth
2 cups Yukon potatoes, diced
6 cups broccoli, cut into small florets
2 teaspoons oregano
2 teaspoons basil
1 teaspoon salt
¼ teaspoon pepper
1 cup spinach
1 cup cream
Optional Ingredients
Directions
Heat up oil in a soup pot. Add the leeks and garlic, and cook on medium heat for 4 minutes.
Add in broth, potatoes, broccoli, oregano, basil, salt, and pepper. Bring to a boil and cook on low for 15 minutes or until the potatoes are tender. Add in the spinach, stir, and let it wilt for a couple of minutes.
Now blend the soup with an immersion blender or in an upright blender. Leave chunky for texture.
Add in the cream and stir to combine. Serve. Top with croutons if desired.
Nutrition
| | |
| --- | --- |
| Calories per Serving | 250 |
| Total Fat | 17.6 g |
| Saturated Fat | 9.4 g |
| Trans Fat | 0.0 g |
| Cholesterol | 54.3 mg |
| | |
| --- | --- |
| Total Carbohydrates | 21.1 g |
| Dietary Fiber | 4.4 g |
| Total Sugars | 4.3 g |
| Sodium | 463.8 mg |
| Protein | 5.1 g |