Unexpected Ways You Can Use Pumpkin Seeds
Shutterstock
Pumpkin seed season is here, friends, and it's time to get more creative than just throwing them into the oven after pumpkin-carving, out of obligation, and leaving it at that. That doesn't mean just throw them away. Pumpkin seeds, or pepitas, have a nutty and slightly sweet flavor that makes them a unique addition to everything from salads to sauces (via The Spruce Eats and Chowhound). Here are some novel uses for those slightly slimy Halloween byproducts that will take your fall meals up a notch.
Pesto is a fantastic use for your roasted pumpkin seeds. Yes, to use the seeds, you'll have to do a lot of shelling, but the result might just be worth it. Pesto doesn't ever have to be limited to basil and pine nuts — it's really just a versatile combination of nuts or seeds (something fatty) with any kind of herb, some oil, and maybe cheese, too (via Bon Appetit). Blend pumpkin seeds with basil (or parsley, cilantro, whatever green herb looks good!), good olive oil, salt, pepper, and garlic for a delicious spin on a classic (via The Savory Vegan).
More uses for the humble pumpkin seed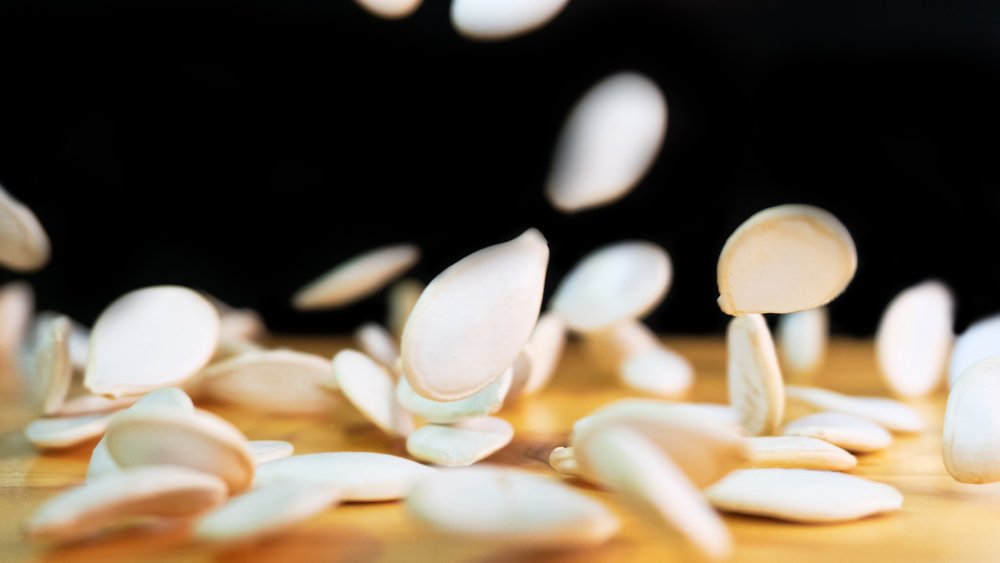 Shutterstock
You can also use roasted pumpkin seeds to top a delicious squash soup, where they'll add some texture, crunch, and an eye-pleasing visual effect (to anything, really). Ideally, you would have salted and seasoned the seeds after roasting, then tossed a handful on some rich soup before serving (via The Spruce Eats). Autumnal recipes like butternut squash soup go great with pepitas and are perfect for staying warm in quarantine. Another dish where pumpkin seeds can shine? Any kind of roasted fall veg or salad can be topped with pumpkin seeds, but they go especially well with earthy flavors like roasted beets, carrots, sweet potatoes, even cauliflower or kale. Throw in some hard cheese like pecorino or parm, add a zingy dressing, and there's your perfect fall side or lunch.
And because the internet gods never fail to deliver, there's so, so many other unusual uses for pumpkin seeds: Pumpkin seed milk, pumpkin seed butter, salsa with pumpkin seeds, pumpkin seed mole, and even pumpkin seed brittle! They're great wherever you'd use a nut, but almost more versatile because of their mild flavor. You can even roast them and munch on them as is, and It's Not Complicated recommends amping them up with some salt and spices. Or, enjoy them in a nutty, seedy trail mix. Don't say you don't know what to do with all those pumpkin seeds now.