Spiced Brown Sugar Latte Recipe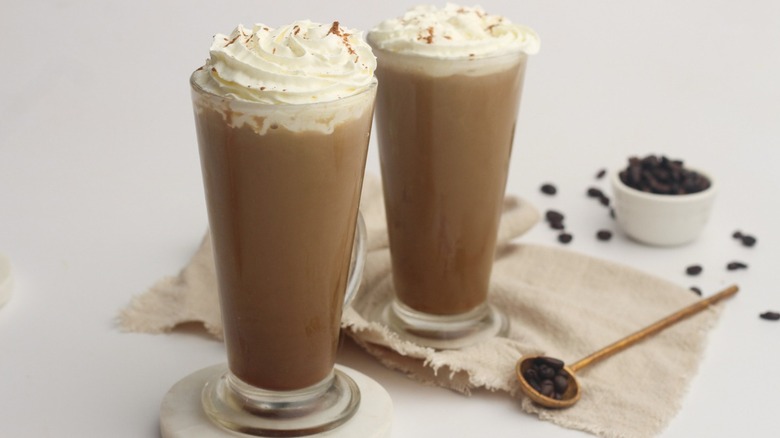 Susan Olayinka/Mashed
There's no denying that Starbucks has changed the coffee landscape forever. Coffee was once a plebeian beverage primarily prepared and consumed at home. Coffee houses, while popular in Europe, never really caught on in the U.S., at least not until Starbucks blew up in the mid-90s. Now, unless you're way out in the middle of nowhere, you're probably within a bean's throw of either a Starbucks or one of the numerous imitators it's spawned.
Whether you're a Starbucks regular or you're not such a fan, you've got to admit that there's a lot this chain does get right. Comfy couches, free WiFi, and best of all, a wide range of ever-changing but always tasty beverage options to choose from. What's not to like? Besides the high prices, that is. But now that Starbucks has opened our eyes to the myriad possibilities that coffee drinks have to offer, there's nothing to stop us from creating our own signature beverages at home.
One such coffee drink you're bound to enjoy is this spiced brown sugar latte from Susan Olayinka of the The Flexible Fridge. Olayinka calls it "very similar" to Starbucks' Iced Brown Sugar Oatmilk Shaken Espresso — in fact, maybe even a little bit better. As she tells us, "It tastes really good!" Best of all, this drink is a lot cheaper to make at home than it is to order from Starbucks or any other high-end coffee chain.
Gather the ingredients for your spiced brown sugar latte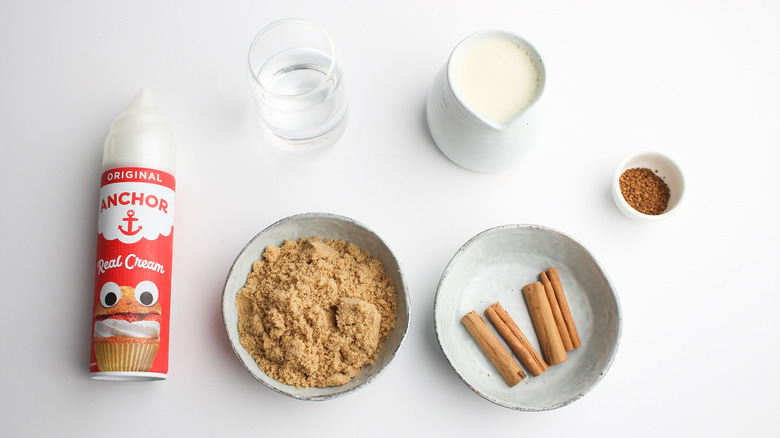 Susan Olayinka/Mashed
You're not going to need too many ingredients to make this spiced brown sugar latte. Of course, you're going to need some light brown sugar, and you'll also need a few whole cinnamon sticks. For the coffee part of this coffee drink, you'll be using the instant granulated stuff. Trust us, even if you're not an instant coffee fan, it works in this drink. You're also going to need some milk (whatever kind you're used to), and to finish things off, a good squirt of aerosol whipped cream. You may also want a straw to drink it with.
Start by making a coffee syrup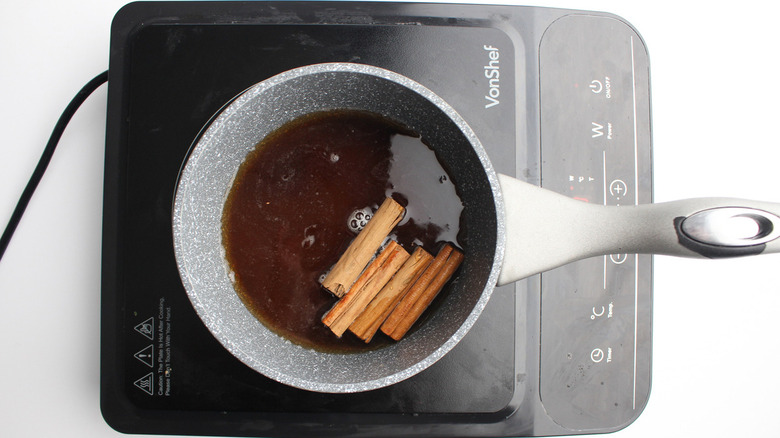 Susan Olayinka/Mashed
The first step in making this spiced brown sugar latte involves locating a suitably sized (small or medium) saucepan. Pour a cup of water into the pan, then add the brown sugar. Yes, it's quite a lot of sugar, but Olayinka explains: "You think it would taste really sweet, but it doesn't, as the cinnamon and coffee balance it out."
Stir in the sugar, then add the cinnamon sticks and the instant coffee. Turn the burner on to medium-high and bring the coffee syrup to a boil. Once it's boiling, let it bubble away for three minutes, stirring to make sure the sugar doesn't burn. After three minutes, turn off the heat, fish out the cinnamon sticks, and strain the coffee syrup through a fine-mesh sieve. If the mesh is plastic rather than metal, though, you should probably wait just a moment so the boiling syrup won't melt your strainer.
Be careful while you're heating the milk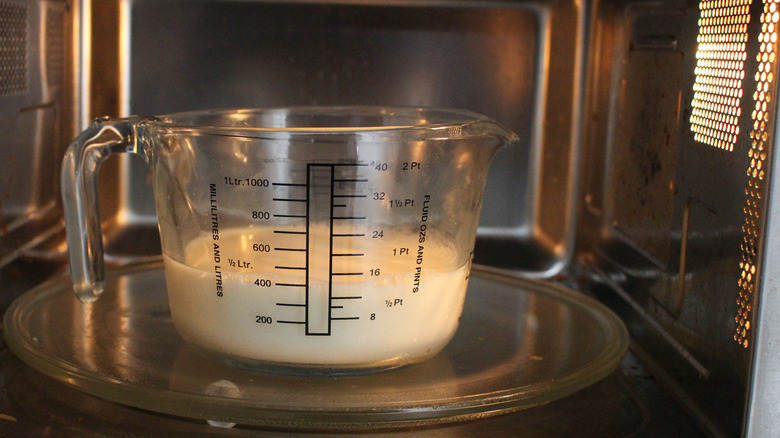 Susan Olayinka/Mashed
You're going to be heating the milk separately from the coffee syrup. Olayinka poured her milk into a heatproof cup and nuked it in the microwave for two minutes. If you prefer, you can also heat it on the stovetop until it's just simmering. Either way you choose to heat it, keep a careful eye on it since you don't want the milk to boil over or scorch. Scorched milk just tastes nasty, and there's not much you can do to rescue it.
Once the milk is hot, set it aside (off the heat!) for just a second while you divide the still-warm coffee syrup between two mugs, cups, or heatproof glasses. Pour the hot milk over the syrup, then finish off your coffee creation with a towering swirl of whipped cream. If you like, you can sprinkle some powdered cinnamon over the top, or you could also repurpose the cinnamon sticks used earlier as garnishes/stirrers.
While this drink makes a delicious afternoon treat, Olayinka says her favorite time to consume it is "Definitely for a breakfast pick me up," and tells us, "I would have it with something savoury like a panini or bacon sandwich."
This recipe lends itself to a number of tweaks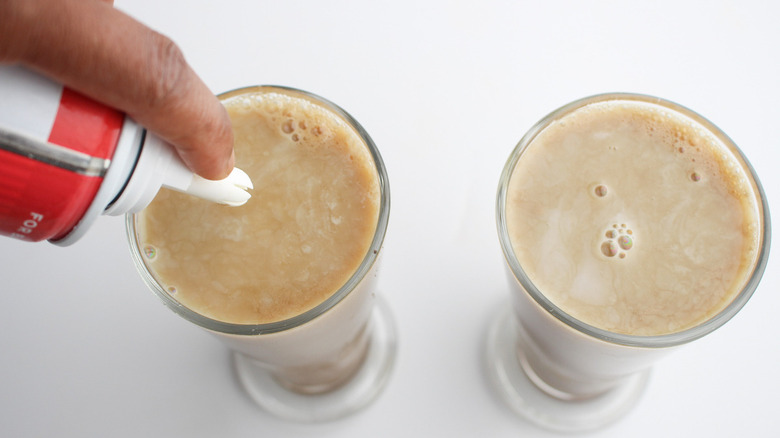 Susan Olayinka/Mashed
This simple recipe can be made in a number of different ways. Not only do you have your choice of heating the milk in the microwave or on the stove, but you can also change up the ingredients a bit and still wind up with a very similar-tasting drink. For one thing, Olayinka says "any other milk would do," so you can do as Starbucks does and go with oat milk instead of dairy. You could also opt for almond, coconut, or any other type of milk or plant milk you please.
Should you be instant coffee-averse, use a cup of strong brewed coffee in place of both the water and the coffee granules. If you don't have any cinnamon sticks on hand and are wondering whether the powdered stuff will work, Olayinka reassures us, "For sure you can add half a teaspoon of ground cinnamon for a substitute." And while spray whipped cream is always convenient, it's perfectly fine to whip your own cream, as well.
Spiced Brown Sugar Latte Recipe
This drink is a lot cheaper to make at home than it is to order from Starbucks or any other high-end coffee chain. Give it a try!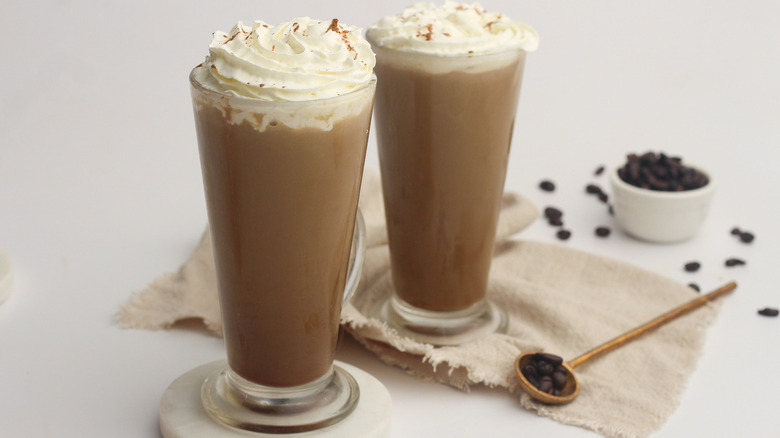 Ingredients
1 cup water
1 cup brown sugar
4 cinnamon sticks
2 teaspoons instant coffee granules
1 ½ cups milk
Optional Ingredients
Aerosol whipped cream
Ground cinnamon
Directions
Pour 1 cup of water into a small to medium saucepan and add the brown sugar, cinnamon sticks, and coffee granules.
Bring the mixture to a boil over medium-high heat and cook for 3 minutes.
Remove the cinnamon sticks and strain the coffee mixture through a sieve.
Heat the milk in the microwave for two minutes.
Pour the spiced coffee into 2 heatproof cups or glasses.
Pour the hot milk over the coffee.
Top the spiced brown sugar latte with whipped cream.
Sprinkle the drink with cinnamon powder if desired.
Nutrition
| | |
| --- | --- |
| Calories per Serving | 404 |
| Total Fat | 6.0 g |
| Saturated Fat | 3.4 g |
| Trans Fat | 0.0 g |
| Cholesterol | 18.3 mg |
| | |
| --- | --- |
| Total Carbohydrates | 84.8 g |
| Dietary Fiber | 2.8 g |
| Total Sugars | 79.7 g |
| Sodium | 104.6 mg |
| Protein | 6.2 g |