5-Ingredient Summer Pasta Recipe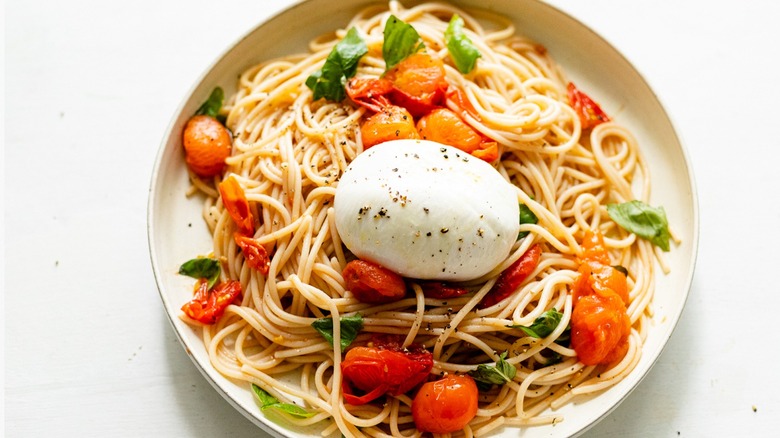 Sher Castellano/Mashed
If you're a hardcore foodie, summer may be your favorite time of year to experiment with new recipes that highlight the freshest ingredients of the season. There are summer fruits like raspberries, peaches, and melons, which are extra succulent and juicy in the warmer months. For those who want something more savory, the OC Register noted that summer is the perfect time to enjoy produce such as tomatoes and summer squash and herbs like basil and parsley. And if you're in need summer cooking inspiration, recipe developer Sher Castellano has you covered with a five-ingredient summer pasta recipe that makes it easy to shine a spotlight on the beautiful flavors of summer you know and love.
This delicious summer pasta combines cherry tomatoes and herbs with burrata cheese, which is kind of like mozzarella's rich, indulgent cousin. It's simple to make, requiring only several ingredients and no laborious chopping or mincing. That's good news for anyone who likes a quick, easy meal that won't make their kitchen feel as hot as the summer heat, but its simplicity also allows this pasta's fresh, seasonal ingredients to shine. 
Get your summer pasta ingredients ready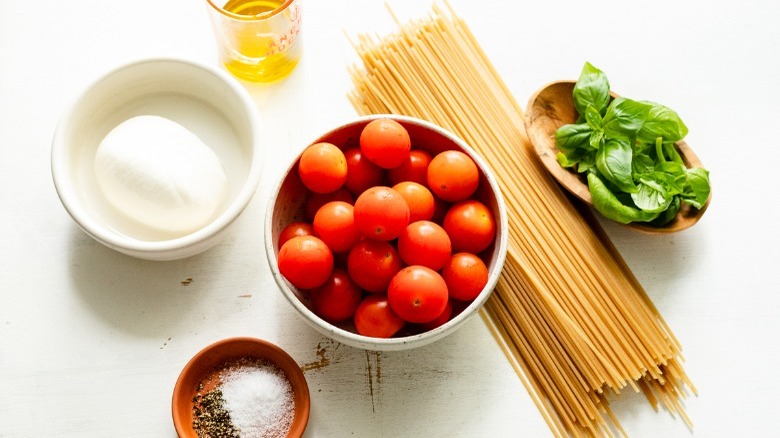 Sher Castellano/Mashed
Every recipe begins with the ingredients. If you're able to pick up fresh, local produce from a farmers market, that's ideal, but of course whatever you can find at your nearby grocery store will also make for a delicious dish. For this pasta, you'll need to round up dried spaghetti, cherry tomatoes, fresh basil leaves, olive oil, burrata cheese, and some salt and pepper. If you're curious about why cherry tomatoes specifically are used, Castellano explains, "Cherry tomatoes are sweet — especially in season during the summer. I recommend those for the flavor and size. Any bite-sized tomato would work though, [like] Sungold, grape, etc."
Castellano adds that this pasta is best with a long strand style of pasta. If you don't have spaghetti, she says bucatini will also work well.
Cook the spaghetti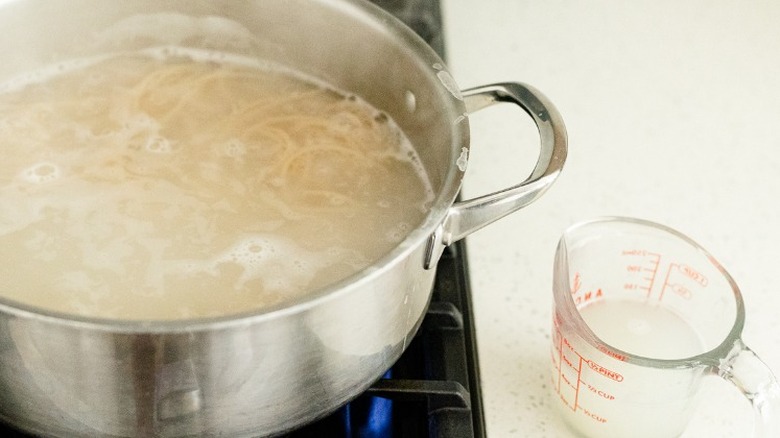 Sher Castellano/Mashed
The most important part of making any pasta is making sure you have a big pot of boiling water ready, specifically water that's been generously salted. Salting your pasta water helps add extra flavor to the pasta during the cooking process. Once your water reaches a nice, active boil, add your spaghetti, and cook it according to the al dente instructions located on the box. 
Castellano says most brands of dried pasta should have this information, but notes, "If it doesn't, typically al dente is about one minute short of recommended cook time." If you're feeling unclear about whether or not your pasta is al dente enough, you can always try a noodle to see how it tastes. When your pasta is done, drain it, but be sure to save some pasta water — ½ cup, to be exact.
Blister the cherry tomatoes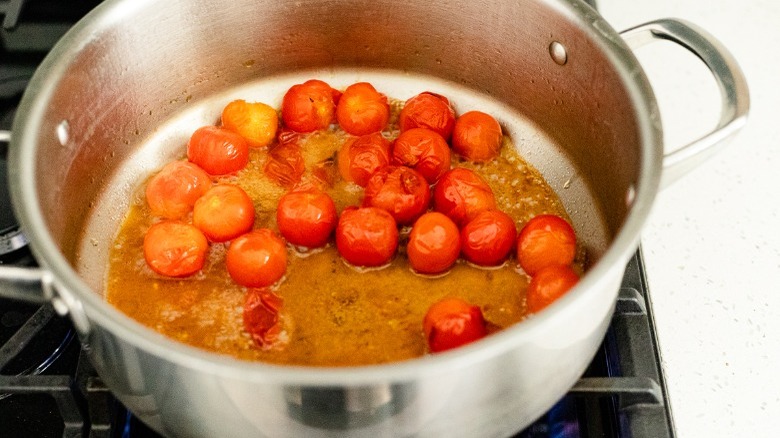 Sher Castellano/Mashed
Now that your pasta is done, put that same pot back on the stove over medium-high heat, and add some olive oil. Usually, extra-virgin is king, but Castellano notes that you should use regular olive oil in this case. "Extra-virgin olive oil has a lower smoke point, and olive oil is best for cooking," she says.
Then, add the cherry tomatoes, and let them cook until they're blistered and collapsing a bit. Make sure to only stir occasionally so the tomatoes have the chance to make contact with the pot, which will help them blister. The tomatoes will release some liquid as they cook, which is totally okay — it just means they're nice and juicy!
Combine everything together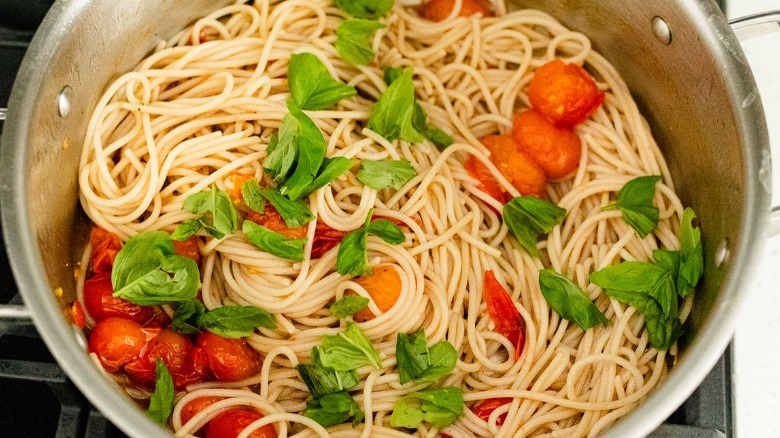 Sher Castellano/Mashed
After the tomatoes are good and blistered, add in your ½ cup of reserved pasta water along with some salt and pepper. Give everything a good stir, and bring the mixture to a simmer. Without stirring, let the liquid in the pot reduce until you're left with half of what you started with, then add the spaghetti. Toss everything together so the spaghetti is coated in the saucy tomato mixture, then remove the pot from the heat, and stir in most of the basil — just make sure to leave some leaves to garnish with.
Plate and serve your summer pasta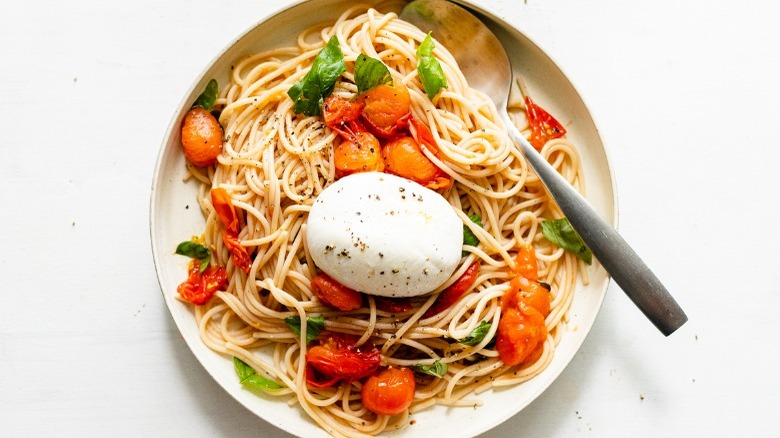 Sher Castellano/Mashed
You're now ready to serve! Plate your summer pasta, placing a beautiful ball of burrata in the middle of each serving, like a delicious cheesy egg in the middle of a spaghetti nest. Scatter the reserved basil leaves over each plate, plus a drizzle of olive oil and a sprinkling of pepper.
"I serve this with a big green salad and crusty bread," Castellano says, but of course, you can pair this pasta with whatever your heart desires. She also notes that if you have leftovers, they will keep for about two days. While this pasta is meant to be served hot, Castellano says that it can also work as a cold pasta salad-esque dish. A delicious summer recipe that can both warm you up and cool you down — what more could you ask for?
5-Ingredient Summer Pasta Recipe
This five-ingredient summer pasta recipe makes it easy to shine a spotlight on the beautiful flavors of summer you know and love.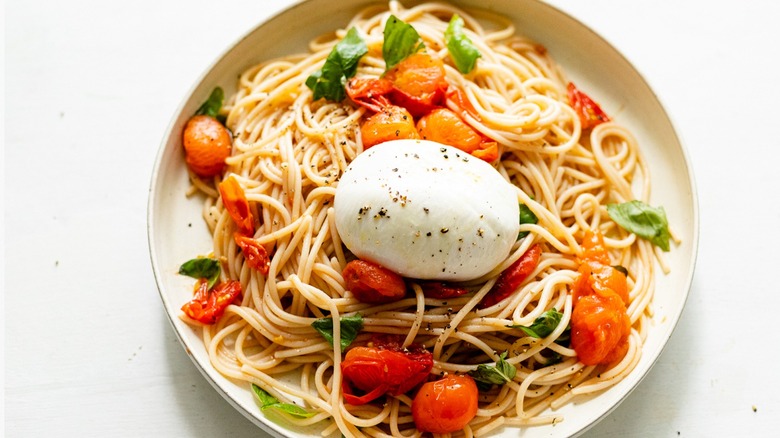 Ingredients
12 ounces spaghetti
1 tablespoon olive oil, plus more for serving
2 cups cherry tomatoes
4 ounces burrata cheese
¼ cup fresh basil leaves, plus more for garnish
Optional Ingredients
salt, to taste
pepper, to taste
Directions
Boil a pot of water. Make the spaghetti al dente according to package instructions. Before draining, reserve ½ cup of pasta water. Then drain, and set aside.
Return the pot to the stove over medium-high heat. Add in the olive oil and cherry tomatoes. Cook the tomatoes for 5 minutes, turning occasionally while allowing them to blister on all sides.
Add in the pasta water salt and pepper to taste, and stir. Bring it to a simmer, and let it reduce by half, about 3 minutes.
Add in the spaghetti, and toss lightly to coat.
Remove the pot from the heat, and gently fold in the basil.
Plate with burrata, more basil leaves, and more olive oil and pepper, if desired.
Nutrition
| | |
| --- | --- |
| Calories per Serving | 477 |
| Total Fat | 14.4 g |
| Saturated Fat | 6.2 g |
| Trans Fat | 0.3 g |
| Cholesterol | 28.9 mg |
| | |
| --- | --- |
| Total Carbohydrates | 67.3 g |
| Dietary Fiber | 3.8 g |
| Total Sugars | 4.7 g |
| Sodium | 192.2 mg |
| Protein | 18.7 g |