Easy Rye Bread Recipe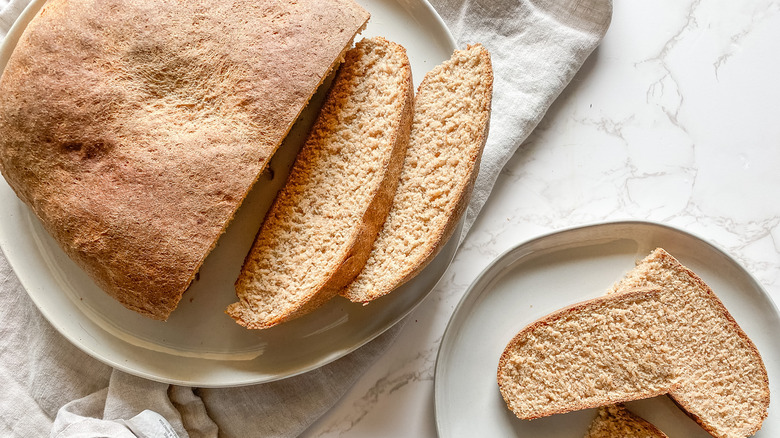 Kristen Carli/Mashed
Homemade bread is among one of the simpler luxuries in life. While it might seem like an intimidating process, there are many ways to make bread without ending up frustrated and covered in flour. Kristen Carli, a nutritionist, recipe developer, and owner of Camelback Nutrition & Wellness, has developed an easy recipe for rye bread that you can bake from the comfort of your own kitchen. If you've never experienced the aromas of freshly baked bread wafting through your house, you're in for a treat. 
Carli details the recipe step by step to make the seemingly daunting task really quite easy. Thanks to some helpful tips and advice, you'll be able to confidently bake a fresh loaf of bread. This recipe is ideal if you will be at home for a couple of hours. While the active steps are minimal and won't take you more than 10 minutes, you'll have to wait longer for the dough to rise. Don't rush the process; it's definitely worth it! 
Once you get a taste, we guarantee this bread won't last very long.
Gather up the ingredients for this easy rye bread recipe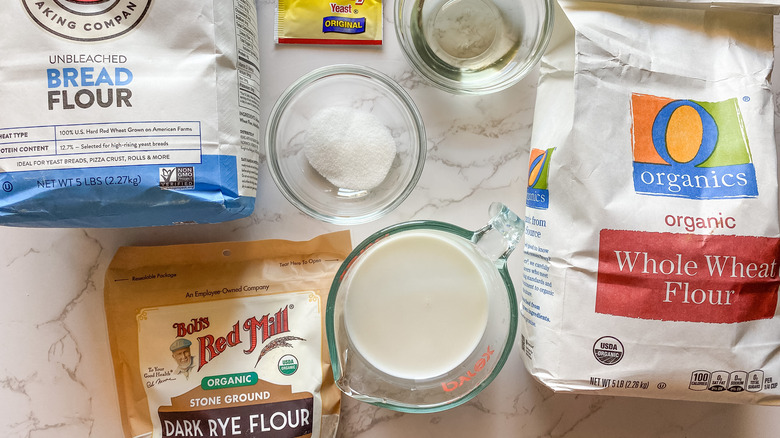 Kristen Carli/Mashed
First of all, you'll need water and sugar to mix with a packet of active dry yeast. This will help the fermentation start so that your bread rises fully. Carli doesn't recommend substituting instant yeast for this bread. 
Next you'll add whole milk to the dough to give it a rich flavor and a tender texture. It will also help brown the exterior of the bread, all while providing you with some extra nutrients. 
Salt is key for balancing out the flour and enhancing the overall taste of the bread. Meanwhile, adding oil to the dough helps improve the texture for slicing, while extending the shelf life. Carli notes, "I would use olive oil or canola here."
Finally, the bulk of the dough comes from a trio of flours. Carli opts for whole wheat, dark rye, and bread flour. For this particular recipe she doesn't recommend substituting flours. Bread flour contains a higher amount of protein compared with all-purpose, which means that it produces more gluten. In turn, your bread will have a pleasantly chewy elastic texture. Whole wheat flour also benefits from a greater protein content (via Food52), and it is high in nutrients and fiber. Dark rye flour is packed with rich, earthy flavors and nutritious qualities (via Healthline).
Activate your yeast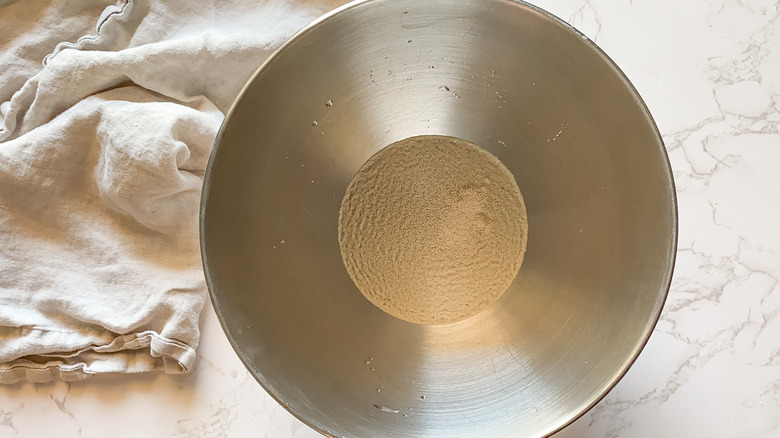 Kristen Carli/Mashed
To begin, you'll need to activate the dry yeast. Set out the bowl of your stand mixer and add the water, sugar, and a packet of dry active yeast. The water will rehydrate the yeast and the sugar will help to speed up the process. Allow the ingredients to sit for five minutes, or until the liquid starts to bubble. 
Carli warns, "Make sure to see bubbles in the yeast and water mixture before adding flour." If you move along without seeing bubbles, your bread won't rise successfully because, as Carli says, "your yeast might be dead."
Add the milk, salt, canola oil, and flours
Kristen Carli/Mashed
Once you're satisfied with the yeast mixture, add the milk, salt, oil, and the trio of flours to the stand mixer bowl. You'll want to use the dough hook attachment on your stand mixer to mix the dough on low speed for 10 minutes. You can do this by hand, but it's more work. 
Ensure that the ingredients have properly combined and no more streaks of flour are visible, then move on to the next step!
Transfer the dough to a greased bowl and cover it for one hour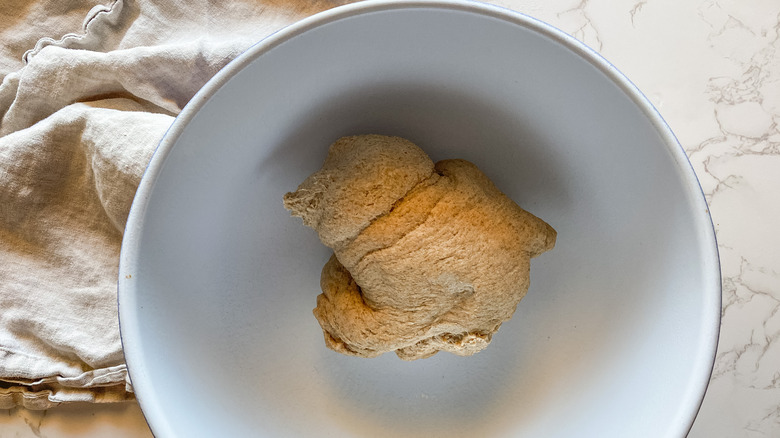 Kristen Carli/Mashed
Next, grease a large bowl with oil or cooking spray. Transfer the dough into the greased bowl and cover the top with a dish towel. Keep the dough covered for one hour to allow it time to rise. The dough should roughly double in size during this time. If it hasn't risen much, keep it covered until it reaches twice the original size. 
When your dough is almost ready, preheat your oven to 425 F so that it is warm by the time the dough is ready to bake.
Form the dough into a ball, place it on a greased baking sheet, and cover it again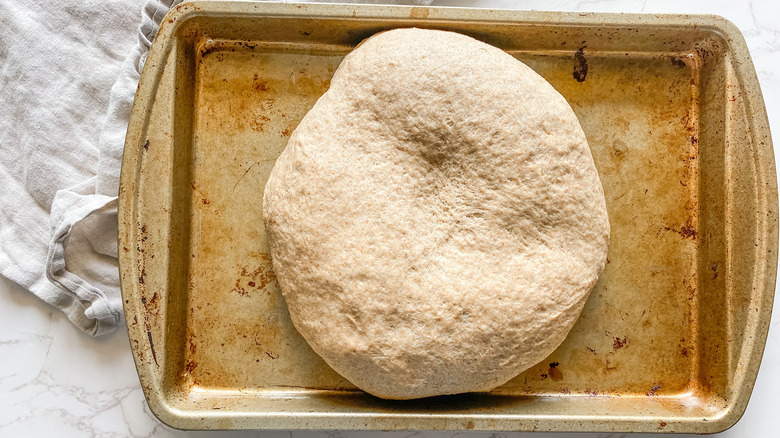 Kristen Carli/Mashed
Using your hands, punch the dough down in the bowl to let it deflate a bit. Form the dough into a ball and grease a baking sheet with nonstick cooking spray. Transfer the rounded dough to the greased baking sheet. 
Again, cover the dough with a dishtowel for an additional 30 minutes while it rises. Carli warns, "Make sure with each rise that the dough doubles in size." Otherwise you'll have overly dense bread. 
Bake the dough for 30 minutes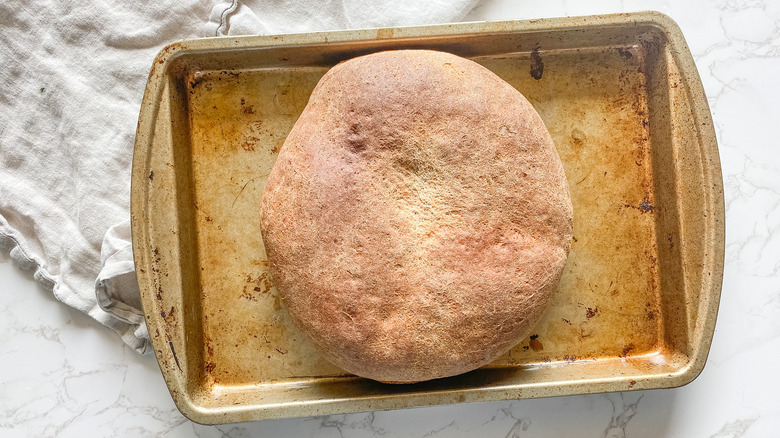 Kristen Carli/Mashed
Once the dough has doubled in size again, it is time to bake it. Transfer the baking sheet to the preheated oven and bake the rye bread for 30 minutes. 
When the bread has developed a golden brown exterior, it is ready. Remove the baking sheet from the oven and allow the bread to cool down to room temperature. While it is definitely tempting to slice into the bread immediately, it will maintain a better texture if you wait until it's no longer warm.
Serve this delicious rye bread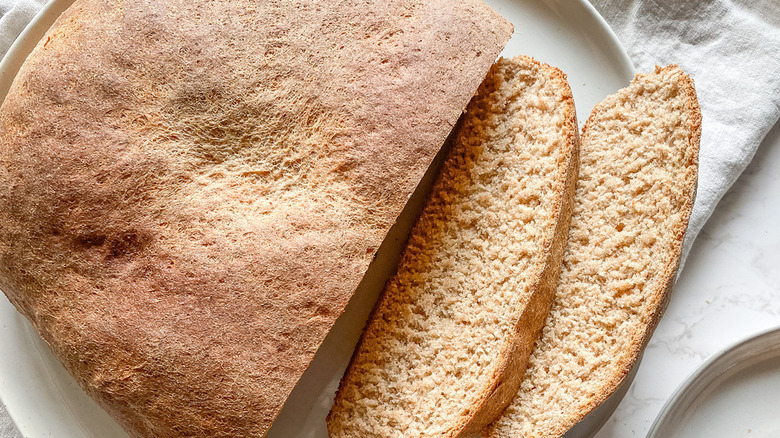 Kristen Carli/Mashed
Once you've let your bread cool down, it's time to slice right into it. This rye bread is certainly flavorful enough to eat a slice by itself, but it's not hard to think of how else to eat it.
"I love this with salted butter," says Carli. "I also love a turkey sandwich on rye." You can serve a slice of rye bread with soup, quiche, salad, or most meals, if we're honest. Thanks to the complex taste from the dark rye flour, this bread will be the highlight no matter what you serve with it. 
Store your bread in a plastic bag or bread box once it has cooled down. It should keep for about five days at room temperature.
Easy Rye Bread Recipe
This easy rye bread recipe walks you step by step through simple task of baking a fresh loaf of bread. And the prep won't take you more than 10 minutes!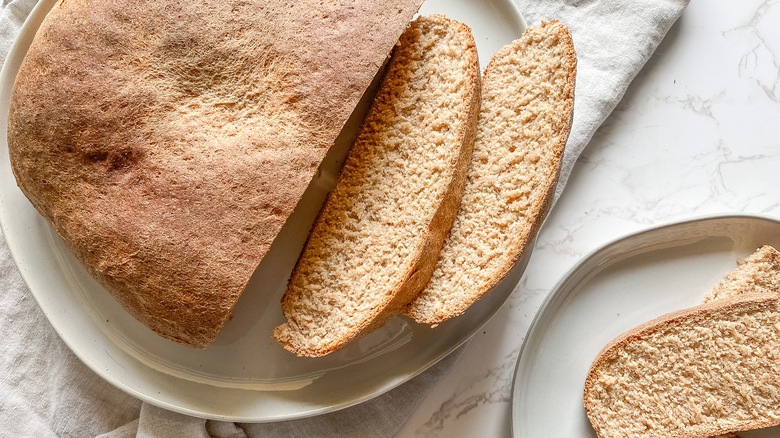 Ingredients
½ cup water
1 tablespoon sugar
1 packet active dry yeast
1 cup whole milk
2 teaspoons salt
2 tablespoons canola or olive oil
1 cup bread flour
1 cup whole wheat flour
1 ½ cups dark rye flour
Directions
Add the water, sugar, and yeast to the bowl of a stand mixer and leave them to sit for 5 minutes.
Add in the milk, salt, oil, and flours.
Using the dough hook attachment on the stand mixer, mix on low for 10 minutes.
Remove the dough from the stand mixer, and transfer it to a large greased bowl.
Cover the dough with a towel and allow it to rise for 1 hour.
Preheat the oven to 425 F.
After an hour, punch down the dough and form it into a large ball.
Spray a baking sheet with nonstick cooking spray and place the dough ball on top.
Cover the dough with a towel and allow it to rise for another 30 minutes.
Remove the towel and bake the dough for 30 minutes.
Let the bread cool, then enjoy.
Nutrition
| | |
| --- | --- |
| Calories per Serving | 165 |
| Total Fat | 3.8 g |
| Saturated Fat | 0.8 g |
| Trans Fat | 0.0 g |
| Cholesterol | 2.0 mg |
| | |
| --- | --- |
| Total Carbohydrates | 28.7 g |
| Dietary Fiber | 5.3 g |
| Total Sugars | 2.5 g |
| Sodium | 166.3 mg |
| Protein | 6.1 g |