Slow Cooker Chunky Applesauce Recipe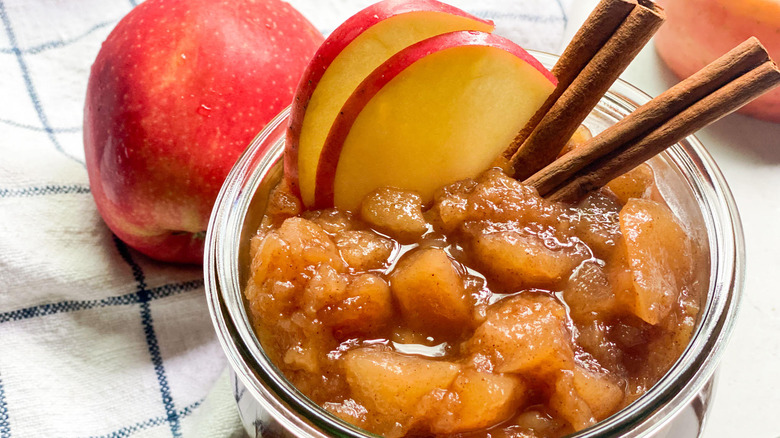 Miriam Hahn/Mashed
Why buy commercially-made applesauce from the store when you can whip up a batch of set-it-and-forget it applesauce with just eight minutes of prep time and a handful of ingredients, most of which you probably already have in your kitchen? Well, now is the perfect time to try whipping some up at home. Recipe developer Miriam Hahn has come up with a way to make applesauce that basically cooks and seasons itself right in your slow cooker. And Hahn knows of what she speaks since she also developed this delicious applesauce recipe that is meant for being made on the stove (which Hahn encourages you to use if you don't have a slow cooker or you enjoy the process of cooking over a stove).
"I started making this recipe years ago when my three girls were little," Hahn says. "It is such a simple recipe, and I would have them help by adding the ingredients [into] the slow cooker. They would get so excited because it makes the whole house smell so good!" You and your family will love making and eating this yummy dish, too, so let's get cooking. 
Gather your ingredients to prepare this slow cooker chunky applesauce recipe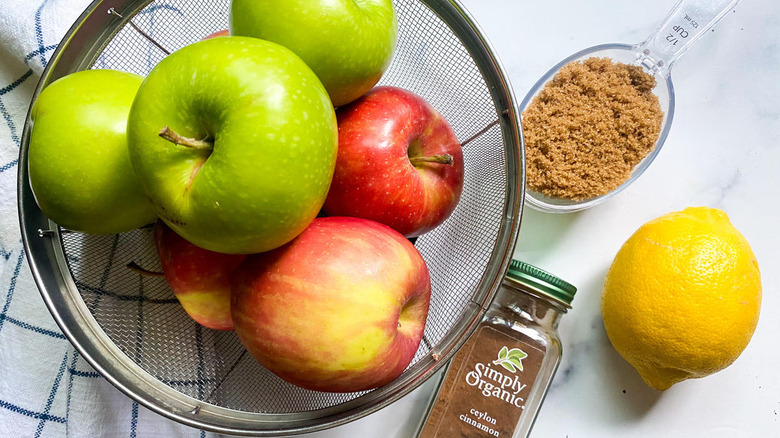 Miriam Hahn/Mashed
To make this slow cooker chunky applesauce recipe, you will need six average-sized apples. Since there are so many varieties of apples, you might be wondering which apples make the best applesauce. Recipe developer Miriam Hahn came up with a simple formula that balances the tartness of Granny Smith apples with the sweetness of Gala and Fuji apples, with three Granny Smiths and any combination of three Gala slash Fujis. However, Hahn encourages you to feel free to experiment with different apple varieties.
Similarly, although this recipe for slow cooker chunky applesauce calls for ⅓ cup of brown sugar, you can reduce or leave out the sugar, or substitute a different sweetener entirely. "You can use any type of sugar," Hahn notes. "If you want to sub with maple syrup or honey, you can use about ¼ to ⅓ cup." In addition, you will need the juice of half a lemon (about 1 ½ tablespoons, if you're using pre-squeezed), 1 teaspoon of cinnamon, and ¼ cup of water. 
Peel the apples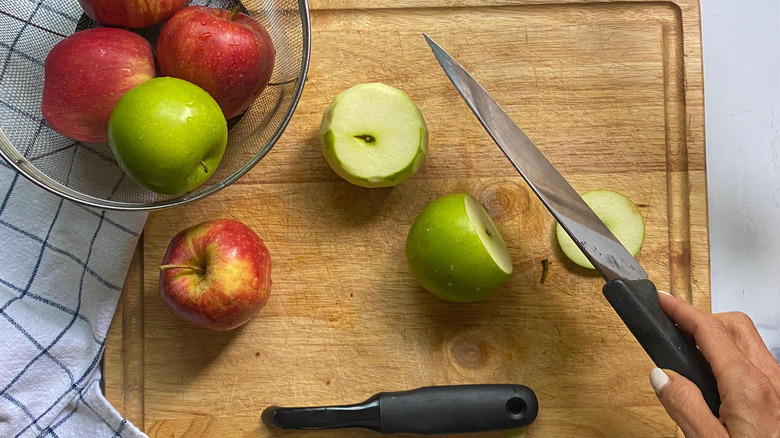 Have you ever wondered about the right way to cut and core an apple? Well, wonder no more, because Hahn explains it in a mere four steps. First, slice ¼ inch off the bottom and top of each apple. Then, peel from the top edge down. Once peeled, stand each one upright, and cut four chunks as close to the core as possible. Discard (or compost) the core, peels, and the top and bottom slices, and chop what remains into roughly ½-inch cubes. This method will make this process so much easier!
With a little sugar and spice, this slow cooker applesauce is everything nice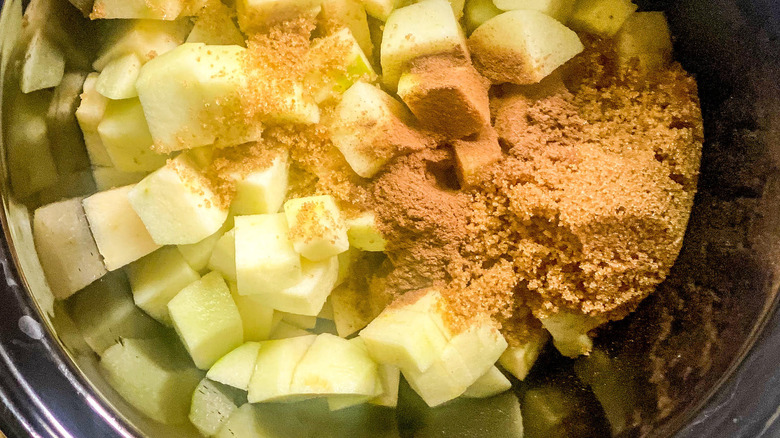 Miriam Hahn/Mashed
Next up, in one quick step, we're going to season those apples to get them ready for setting-and-forgetting. Place the apples into your slow cooker, and add the brown sugar, lemon juice, cinnamon, and water. (The water helps create the "sauciness" you'll want in your applesauce.) Stir the ingredients together well to combine. Also, as far as the sugar is concerned, Hahn says that it's fine to leave it out, reduce it, or substitute with a different sugar if you're so inclined.
Let the slow cooker work its magic on this delicious applesauce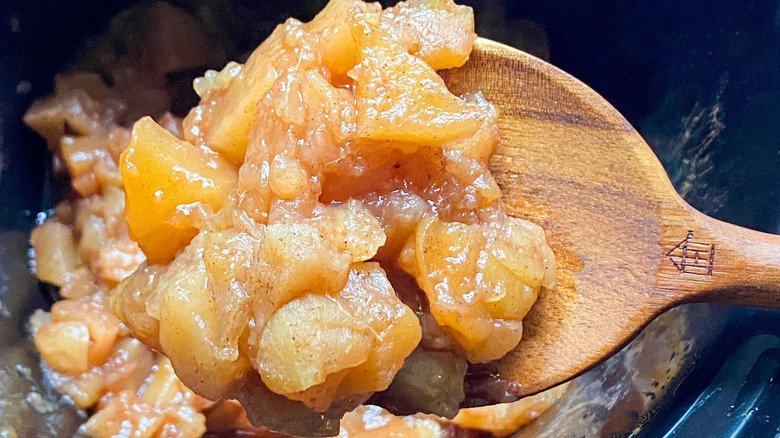 Miriam Hahn/Mashed
Now it's time to let the slow cooker do its thing: marrying the flavors of the applesauce and releasing lovely aromas throughout the house for hours. Set your slow cooker to high, and set the timer for three hours. Once the timer goes off, your applesauce is all ready to serve. However, if you want it less chunky, you can smoosh the apples with a potato hand-masher, or you can use an immersion blender. You can also let the applesauce sit in the slow cooker for another half hour before you have to start worrying about it overcooking. 
To serve, pick out some fun bowls. Feel free to top each serving with some fresh apple cubes and a dusting of ground cinnamon (or even a fresh cinnamon stick for presentation). Enjoy this dessert warm or cold, alone or on top of oatmeal. This recipe is sure to be a family favorite.
Slow Cooker Chunky Applesauce Recipe
This slow cooker chunky applesauce recipe will fill your home with such a lovely aroma, and it'll become a new family staple.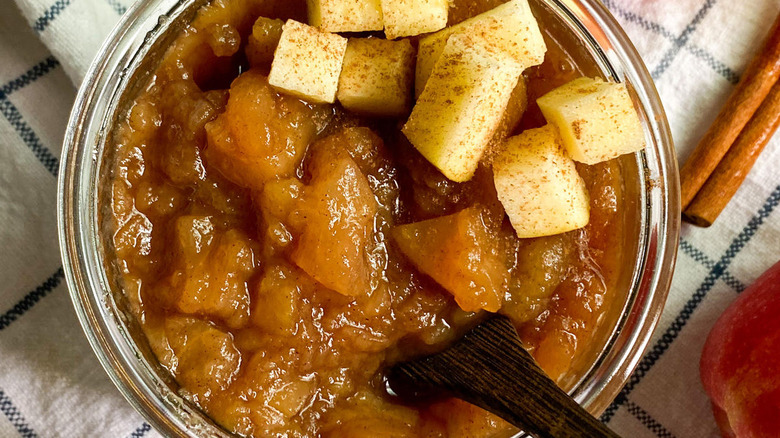 Ingredients
3 Granny Smith apples
3 Gala or Fuji apples
⅓ cup brown sugar
juice of ½ lemon
1 teaspoon cinnamon
¼ cup water
Optional Ingredients
apple chunks, for garnishing
cinnamon, for dusting the apple chunks
Directions
Peel and core the apples before cutting into roughly ½-inch cubes.
Place the apple chunks in the slow cooker.
Add the brown sugar, lemon juice, cinnamon, and water to the slow cooker, and stir well to combine.
Set the slow cooker to high and timer to 3 hours.
Serve alone or as an oatmeal topper.
Nutrition
| | |
| --- | --- |
| Calories per Serving | 109 |
| Total Fat | 0.3 g |
| Saturated Fat | 0.0 g |
| Trans Fat | 0.0 g |
| Cholesterol | 0.0 mg |
| | |
| --- | --- |
| Total Carbohydrates | 26.7 g |
| Dietary Fiber | 3.7 g |
| Total Sugars | 20.9 g |
| Sodium | 3.5 mg |
| Protein | 0.5 g |